My father probably has never dreamed or thought of a day when cowboy boots and blazers could walk side by side. Blazers look too modern and formal, while cowboy boots seem to bring the traditional and distressed style.
It is fortunate that I'm a young person and have a deep love for cowboy boots, so I have a different look. I realize that cowboy boots nowadays can be worn with everything in the closet, from chinos, cargo pants, tactical pants, suits, and of course, blazers!
Today, we will talk about cowboy boots and blazers, two fashion accessories that seem impossible to match but can perfectly go together.
Let's check it out!
Key Takeaways
Cowboy boots can absolutely go with blazers, but not all of them can. You should choose boots with an elegant style that look like a pair of dress shoes.
Stay away from boots that look too distressed or wild, as they will have the opposite style of a blazer.
How to wear cowboy boots is also very important. Pay attention, if you are a man, do not tuck long pants into cowboy boots. For women, western booties or ankle booties would be the recommended choice.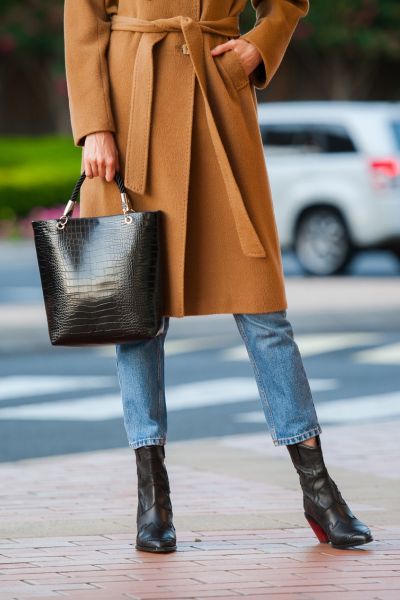 Cowboy boots today can perfectly match blazers, but not all of them can
If you love cowboy boots and have followed them for many years, you will know that cowboy boots today come in many different styles.
In addition to the distressed styles in the past that many people know, today Lucchese or Tecovas both offer very modern boots with an elegant style but still keep the classic feel.
That's the point, but those cowboy boots with a chic and formal look can work well with a blazer, whether for men or women.
When choosing any accessory for a blazer, you should keep their style in harmony. Blazers are known as luxurious and elegant fashion items, and cowboy boots should follow this vibe.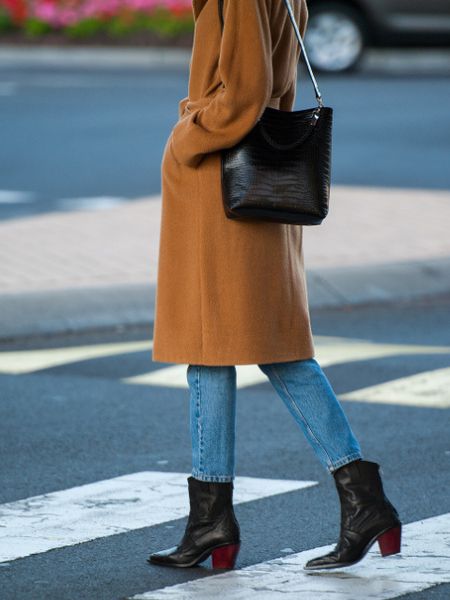 Today, many cowboy boots with a very unique surface can completely meet that. For example, the well-polished bovine cowboy boots with an elegant feel are perfectly suitable to go with a blazer.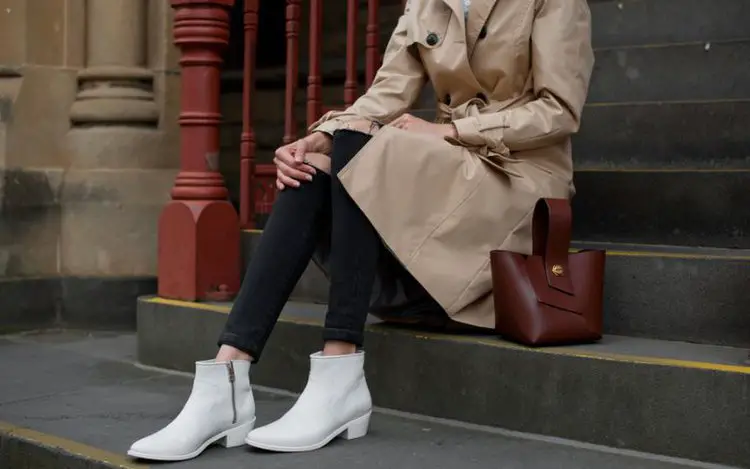 In addition, boots made from exotic leather such as caiman belly, lizard, python, or smooth ostrich leather can match the blazer well.
Caiman belly and python leather have fancy and classy scales while lizard one possesses amazingly uniform textures.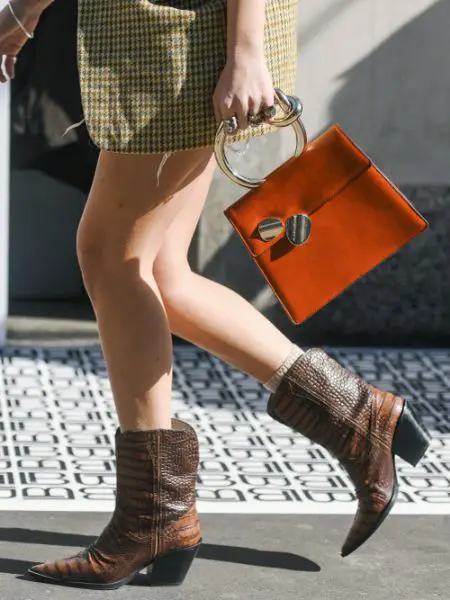 On the other hand, smooth ostrich leather features charming natural wrinkles. All of them give a harmonious look to most formal outfits.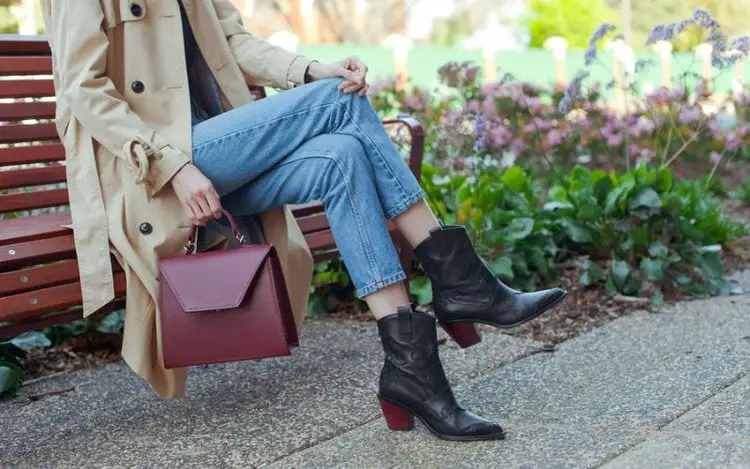 Even so, not all cowboy boots are a good choice
However, as I said at the beginning, besides formal and elegant cowboy boots that can be worn with dressy clothes like a blazer, distressed boots should not be an option.
The contrast in style between footwear and blazer is a no-no, you usually only see dress shoes with blazers, not steel-toe work boots, right?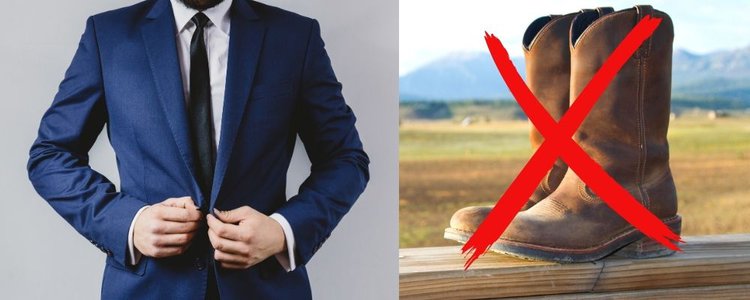 The main point here is that the more stylish cowboy boots are as dress shoes, the better. Nowadays, you can absolutely find such boots easily.
So, not just any cowboy boots in your house can pair with a blazer.
Wear cowboy boots and a blazer properly
The next thing you need to pay attention to is that you should not let the outfit ruin the harmony between cowboy boots and the blazer.
For men, for example, make sure you fit the boot shaft into your trousers so that the pant width has enough room to cover it all. This ensures you get a clean look and a smooth top-to-bottom look.
One of the things that Texans, especially men avoid today, is stuffing their pants into cowboy boots.
When the shafts of cowboy boots take the spotlight, they will create the feeling that you are showing off to the viewer because the shafts of cowboy boots often have a lot of elaborate patterns.
Meanwhile, women have more choices and freedom to style in their way. Tucking their pants into the boot shafts or not depends on their taste.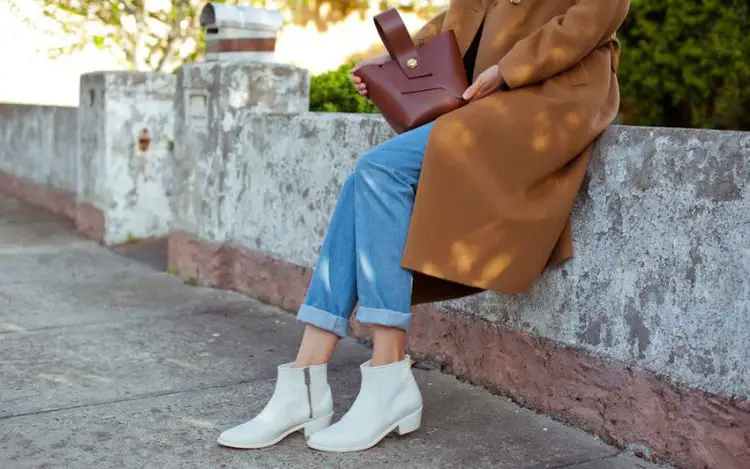 I've also seen some girls wearing cowboy boots with shafts covering their skinny pants and teaming them with blazers, it looks so fantastic!
However, the boot shaft is typical of the West with a special style, so you should consider if it is suitable to appear in elegant, formal or luxurious places.
These days, girls can find western booties or ankle boots that are incredibly stylish and classy to go with the blazer. In my opinion, these boots are wonderful options that you should consider.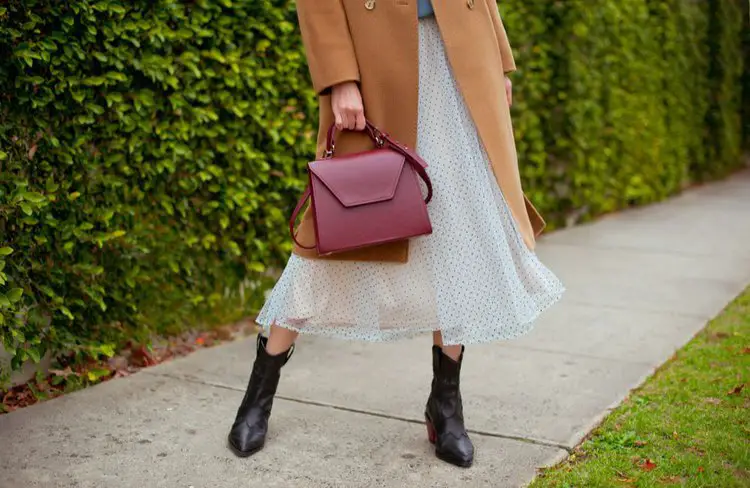 Before you leave
Overall, with the innovation and evolution in style day by day, you can absolutely find a pair of cowboy boots that are suitable to go with a blazer.
In general, the general rule is that you should create the best style harmony when combining cowboy boots with a blazer (or any other type of outfit).
A pair of cowboy boots with elegant vamps (like in dress shoes) would be a great choice.
Also, pay a little more attention to how to wear cowboy boots, and the style of the place you are going to, and you will find your suitable fashion.
Good luck!
Howdy y'all! I'm Grace, a Western style enthusiast with over 5 years of experience. From cowboy boots to western gear, I'm passionate about all things Western and dedicated to helping you find the perfect style to suit your taste. Join me and my fiancé Jay Gatz as we explore the rich history and timeless appeal of Western fashion together!