Cowboy boots are such a weird type of footwear for Americans. They hurt pretty badly when you try them on for the very first time, but Americans still love wearing them every day.
My grandfather wore them for more than five decades. As for me, I have also been putting on some pairs of cowboy boots for over 10 years.
Interestingly, people can become obsessed with these boots, even though the first time trying to set foot in them is not so great at all.
They are addictive, not because this is the American cultural identity. They are really comfortable to wear as a casual accessory.
I know it sounds crazy, but my friend was healed from an Achilles tendon injury that occurred years ago when he wore trainers with typically low heels and performed a bungee somewhere in Stratosphere SkyJump, Nevada, when he switched his trainers to cowboy boots.
He couldn't even continue to wear sports shoes because they always seem to cause stinging pains around the heel and calf since the footwear tends to overstretch these parts more.
Surprisingly, wearing cowboy boots can be pretty helpful in this case. I do not consider this a medical solution as it seems to only work for my friend's condition.
He gradually felt the pain running down the heels to the calf lessen significantly. This is likely due to the heel construction of cowboy boots, which take the pressure off the heels and calf while walking, leading to less stretch in these areas.
So he kept wearing cowboy boots until now and it feels amazing to be on his feet all day long at work with no discomfort.
Believe it or not, there must be some reasons why cowboy boots have been the top choice of Americans for decades when it comes to casual working footwear.
Let's check it out!
Work In Cowboy Boots: Are They Comfortable?
I would say Yes and No at the same time (but more of Yes) since people don't feel the same when wearing cowboy boots at work.
However, people can perceive some of the following benefits and downsides listed below when it comes to comfort when putting cowboy boots to work.
Why are cowboy boots comfortable to work in?
There are some good reasons why cowboy boots can be comfortable to put on while at work. Here's how!
Roomy toe boxes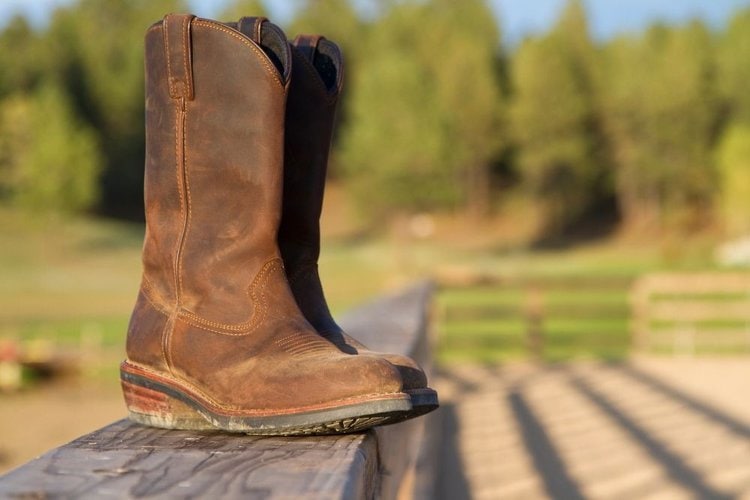 Toe boxes are a paramount factor when it comes to judging whether cowboy boots are comfortable or not. Fortunately, the wearer can benefit from cowboy boots. But I'm not talking about snip toes-something that squeezes your toes all the way.
What I want to mention is square toes and round toes, where your feet are like living in a heavy house with super spacious rooms to wiggle.
Round toes cowboy boots have a long history dating back to the 19th century, appearing as Roper boots.
This is the most comfortable feature when it comes to the roomy toe boxes of cowboy boots. The toes with a circular arc and wide width are ideal for extra wide feet that have never been able to fit snugly in other toes.
If you have pretty chubby feet or you have to walk and run on your feet all day long, like working on a farm, factory, construction site, or ranch, nothing can beat round toes to make them good for you.
Square toes almost never belonged in the world of cowboy boots until they became popular with Americans (even more than round toes).
They have a rather interesting design as a cross-section of snip toes. However, this does help provide a generous space perfect for toe wiggling. People say nothing is better for horse riding than snipping toes, but it's not true. Square receding toes can still work it out.
People wearing square toes don't feel an extremely spacious space in the toe box as they do with round toes, but the toes fit perfectly while making you feel the feet better.
This is extremely necessary for those who drive long distances every day to feel the brakes and the accelerators.
Built-in heel lift with a proper heel height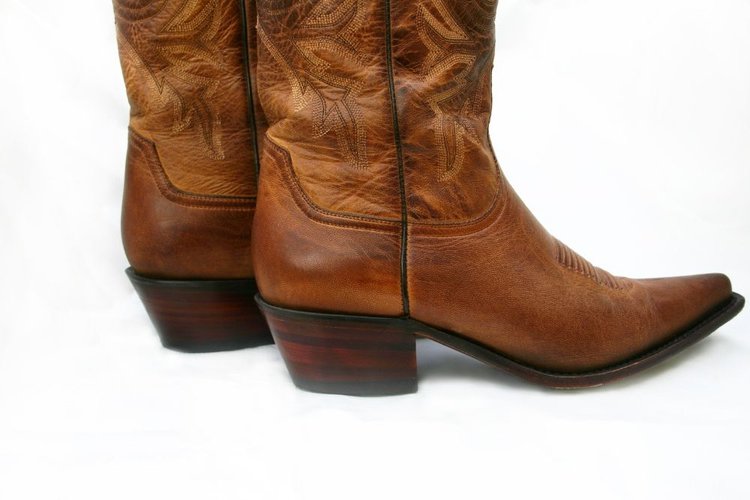 My friend (as I mentioned above) is grateful for these cowboy boots' features as they aided his recovery from the Achilles tendon pretty much.
People with this syndrome often have damaged bands of tough fibrous tissue due to overstretching during sports activity.
This can partially or completely rupture this tough fibrous tissue, causing pain and swelling. My friend couldn't even walk normally at first, and he always felt like his calf was being kicked whenever he moved.
This hindered his driving a lot as he needed to press the brake every few minutes on the road.
Cowboy boots come with built-in heels and the proper heel height (around 1.5 inches). When the heels are lifted a little bit when he moves, chances are he doesn't need to stretch the Achilles tendon to function well.
This helps speed up the healing process in this area, and yes, he feels most comfortable wearing cowboy boots and driving.
So are these features beneficial to others?
Some evidence indicates that 1.5-inch heels are ideal for arch and heel support. When walking in cowboy boots with such high heels, we tend to put less force on the heel and arch, which reduces the burden on these areas.
Therefore, you will be less likely to feel fatigued running along the calf to heel quickly when being on your feet for more than 10 hours a day.
Breathability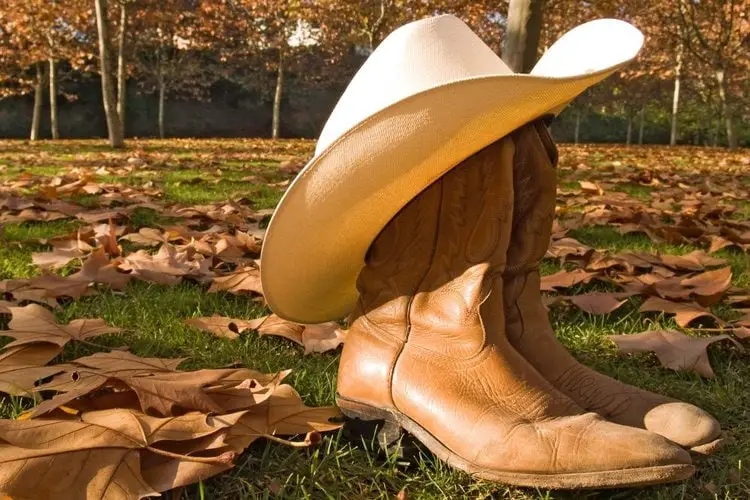 Yes, cowboy boots are perfectly breathable and ventilated all the way out. You shouldn't just look at their high shaft construction to gauge their breathability. The secret behind it is their real leather construction (not even including faux or bonded leather).
No surprise, traditional cowboy boots are made of leather from top to sole, inside out. The lining inside the boot structure is also stitched with leather instead of woven fabric.
The soles of traditional cowboy boots are made entirely of this material. To make leather soles, layers of real leather are stacked, compressed, and then cut into shape.
Believe it or not, real leather is one of the most ventilated natural materials. This is due to the porous structure of the leather along with the millions of pores on the surface.
Some exotic leathers with large pores, like ostrich leather, provide even better breathability.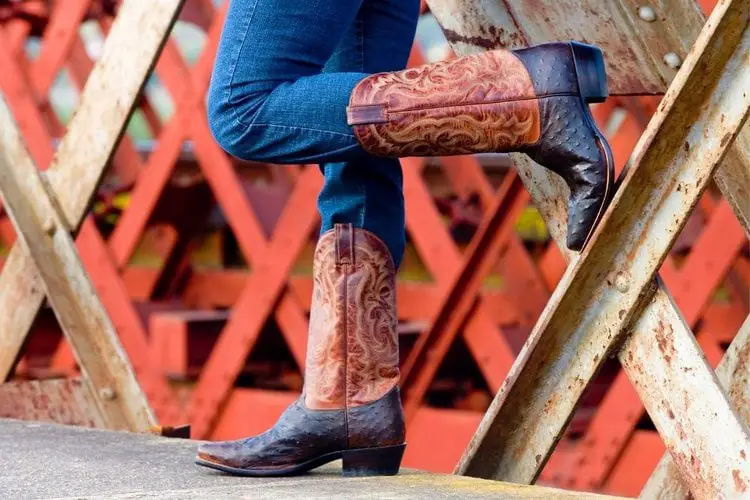 It allows air to circulate efficiently through the material. That's why leather can breathe pretty well even in hot, burning conditions like deserts or tropical, hot and humid climates. Your feet are not likely to heat up and sweat badly inside.
In addition, this material is very absorbent thanks to its porous structure. Even if your feet sweat, water and moisture will be immediately absorbed by the leather lining and leather insole.
Your feet are not likely to be covered in excessive sweat when wearing real leather cowboy boots.
If you are working as a metal worker or a mechanical engineer, this can be pretty helpful to cool down the irritated feeling while assisting with temperature regulation on the inside of boots.
That's why so many people like to wear barefoot under cowboy boots (me included). The feeling of coolness, comfort, and smoothness can drive away all impatience.
However, you shouldn't do this too often in hot weather. Sweat trapped in the leather lining and leather insole is more likely to degrade the leather construction, shortening the boots' lifespan.
Besides, leather cowboy boots also start to smell fishy and sour if they don't get cleaned and dried properly.
Snug fit
Not all cowboy boots fit snugly, but that should be the way you wear them. Otherwise, you may have worn cowboy boots that are smaller or larger than your foot size. Cramped doesn't mean cramped. It means that every nook and cranny of your foot is given just the right amount of space.
This helps limit chances of heel slippage, cramped toes, narrow vamps (or insteps) or heel slides happening while wearing cowboy boots.
You may suffer badly from serious blisters if these traits occur while wearing cowboy boots.
In addition, cowboy boots that fit snugly can help you feel your feet better. This allows your foot to press the brake correctly or slide into the stirrup smoothly.
Warmth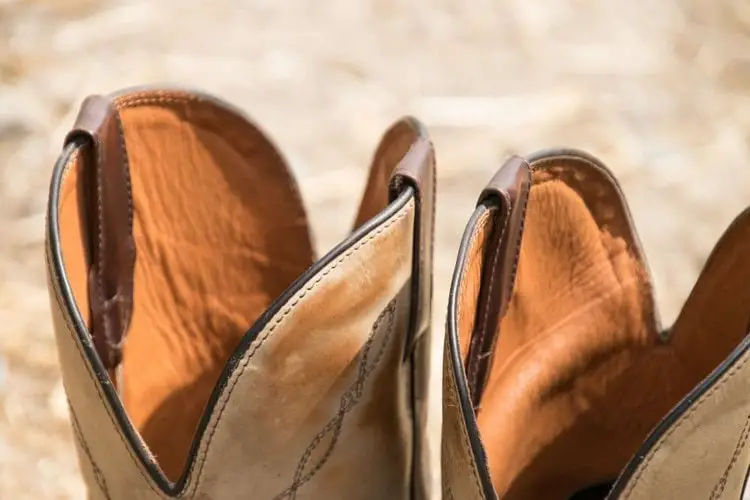 As mentioned above, cowboy boots are able to regulate the temperature inside while keeping your feet warm and cozy from the cold outside air.
This is due to the mid-calf boot shaft design that fits your pants and legs with no space in between. This effectively prevents cold air from outside from entering and touching your feet.
My friend's mother works in a frozen food factory. She had to be on her feet more than 10 hours a day in a room with an average temperature of about 50 degrees F.
This used to cause her feet to become severely allergic and swollen. However, things get better when she wears cowboy boots with wool socks whenever she works. She feels pretty warm and comfortable.
Some people wear cowboy boots when they have to go to the ranches or farms at 4 a.m. Sometimes the temperature can drop to about 41 degrees F or below.
In these cases, cowboy boots with rubber outsoles are a great lifesaver in keeping the feet warm, ensuring all-day comfort while working.
Flexible to mold to the feet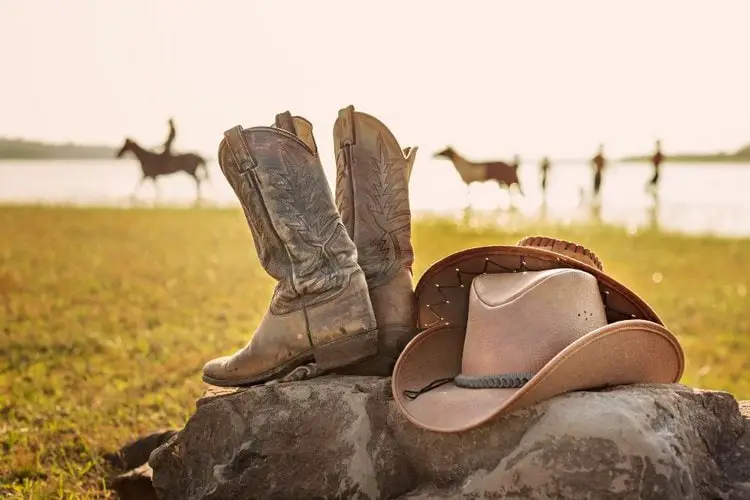 This is something you can only experience in cowboy boots and not in any other regular sports shoes, trainers, or work boots.
Other footwear will expand (or be very wide) during wear but is unlikely to shrink to perfectly fit your feet. Leather cowboy boots are a different story.
This is because of their leather construction, which is pretty much flexible enough to mold to the feet. The material will stretch during the break-in process and regular wear, but it will embrace your feet perfectly forever. They don't stretch too much until they can't be worn anymore.
Therefore, you will never feel cowboy boots fit too wide, even if you have picked a pair of boots a half size bigger than your size. This promotes comfort and proper blood circulation in the feet throughout your boot's lifespan.
Supportive foot system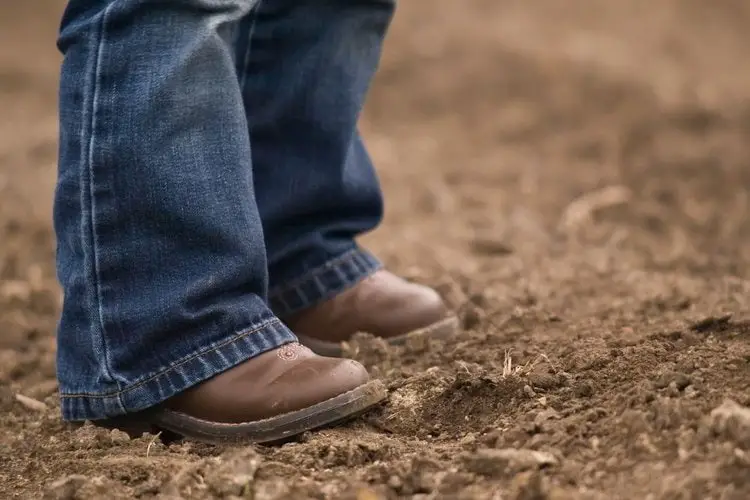 This part is not about traditional cowboy boots. But the good news is that more and more new designs of cowboy boots apply modern technologies to the midsole to provide the best comfort and foot support for the wearer.
One of the typical manufacturers is Ariat cowboy boots. 
They add a midsole with a structure containing gel pads, shanks, or cushions to absorb shocks in each footstep while promoting the energy return system.
The wearer is less likely to get their feet tired quickly when being on their feet for more than 8 hours a day.
As a result, there is no very bad soreness and pain around the feet at the end of the day.
Laceless system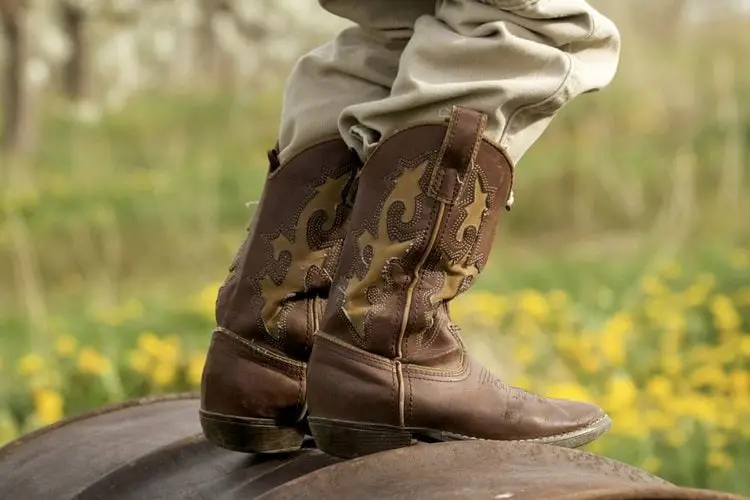 Unlike any other type of work boots that require you to tie the lace every time you are about to put them on, the laceless system of cowboy boots allows you to get them on and off ready pretty easily and quickly.
This also helps to prevent water, debris, sand or dirt from breaking into the boots through eyelet holes or gaps between the tongue and the inside like with lacing work boots.
Personally, I find it quite comfortable and happy since I don't have to wash the laces and clean the tongue as well periodically. You can also save some minutes with shoelaces every morning before rushing to the workplace.
Why ain't cowboy boots comfortable to work in?
Cowboy boots can be comfortable to work in but people also experience some downsides when wearing them. It's important to figure it out too.
Snip toes are bad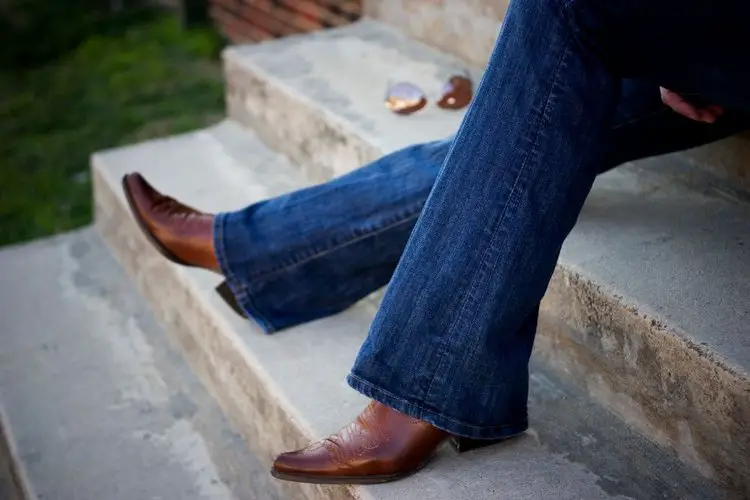 Snip toes are the proudest design of traditional cowboy boots.
But since we don't ride horses pretty much as often as a few centuries ago, these types of toes are more for elegance and fashion rather than function.
It makes your toes and legs look slimmer and longer. People will wear them indoors or at important events with formality.
But that's also why they are not ideal to work in. Even when the leather stretches during wear, snip toes still squeeze the toe and the ball of your feet all the way out.
As a result, your legs will suffer from poor circulation, numbness, or swelling while wearing pointed-toe cowboy boots for any type of work that requires you to walk, run or step up and down often.
That's why you just want to get rid of your snip-toe cowboy boots as soon as possible.
If you have to stand on your feet all day long or walk for miles every day, you won't want to try these boots once in your life.
However, snip-toe cowboy boots are still good for horse riding.
The boot shaft can be way too wide
Some cowboy boots come up with an extra wide boot shaft. I know they are ideal for chubby, muscular or pretty thick calves.
But it may also be too wide for some other wearers. Tucking wide boot shaft cowboy boots inside any pants is not easy since this can create some unnecessary clutter and unsightly bulge underneath the pants.
It possibly weighs your step down when you may need to move quickly for your job. Guess no one feels it right and comfortable when working with such outfits, especially if you have to walk up and down stairs constantly and carry some extra sacks on your shoulders.
Leather outsoles are pretty slippery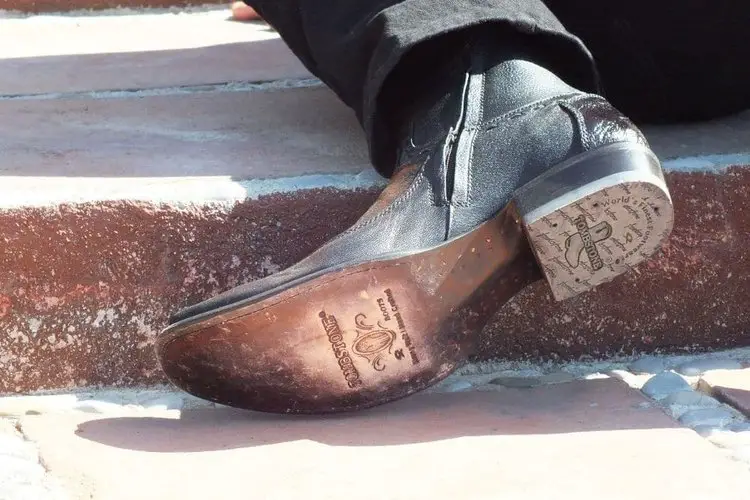 If you're about to go fishing or hunting in the Alaskan winter, you'd better stay away from leather-soled cowboy boots if you don't want to fall to your death at some point.
Leather outsoles can be pretty breathable in the summer, but they are extremely slippery on wet or moss-covered surfaces. This is because leather soles do not allow shaping easily on the surface due to their porous structure.
Therefore, most leather soles come with sleek surfaces, making them more prone to abrasion and slippage.
In addition, leather soles do not provide a certain amount of warmth because they are quite breathable. You might not want to wear these soles in the winter because they can cause frostbite on your feet.
The solution is to wear rubber-soled cowboy boots in these cases. This material is anti-slip, water-resistant, and has good heat transfer resistance. Your feet will most likely stay safe from the cold and slippery all the way.
Either cowboy heels or riding heels
Since these heels are made for riding horses, they don't literally work for jobs that require lots of walking or running off the ground every day. So these heels are definitely not suitable for working in.
Not to mention their shape, while Stockman heels or Roper heels often add about 1-1.5 inches to your height, which is not bad for foot support, these heel designs tend to lift your heels more than that (around 2 inches or more). 
This will put a bit more pressure on your feet all the way out, and gradually your ankles, heels, arch, and toes will suffer soreness from that. 
As a result, your feet and calves tend to get tired quickly or even swollen at the end of the day. 
If your jobs are not all about riding horses all day long, high-heeled cowboy heels and riding heels aren't the right things to do. 
Before you leave
I have worn cowboy boots for over 10 years of my life and, trust me, they are comfortable to work in. But keep in mind that there's nothing like "one size fits all". Cowboy boots are the same way.
The good news is that you have dozens of cowboy boot designs to figure out what makes you most comfortable wearing them to work. I hope this article is helpful to you.
Howdy y'all, and welcome to From The Guest Room, your ultimate guide to all things Western! I'm Jay Gatz, a lifelong cowboy boot enthusiast with over 5 years of experience in the Western style world. I'm excited to share my knowledge with you and help you discover the perfect cowboy boots and western gear to elevate your style. Let's explore the rich history and timeless appeal of Western fashion together!