It's not the first time I say cowboy boots nowadays are so elegant and can be used for so many types of work. A pair of well-polished cowboy boots going with slacks can be a great choice for business casual.
If you have browsed the cowboy boot market for the last 3 or 4 years, you will realize that they not only have distressed style but also a great formal look. For example, Tecovas is one of the best brands to make these cowboy boots. They definitely can please your taste.
Today, I will tell you more about this regard: cowboy boots for the office. It may sound weird to some newbies in this world, but believe me, it's so familiar to us, the die-hard fans of cowboy boots.
What cowboy boots are the great choice for office? Why? And our top recommendations!
Can You Wear Cowboy Boots for Office and How To Wear The Right One?
As I said above, many brands of cowboy boots nowadays have a flair for recognizing the potential of cowboy boots, it's beyond the distressed style!
Apart from a pair of classic smooth-surface boots that can make a clean look to go with dress pants for the office, you can find many pairs of exotic cowboy boots that are suitable for this formal place.
So many times I wear a pair of lizard boots with a glossy surface to go to the office, they work excellently when combined with my black suits. Or a pair of brown caiman belly cowboy boots with unique and stunning scales that make me feel proud to match with my chinos to the big meeting at the office.
The above combos are totally fine, as long as your outfits can create harmony and an elegant appearance – the first and foremost principle of office style.
In addition to the style, one thing that has improved a lot from the past is the boot's comfort. Modern cowboy boots with high-end designs can make you feel great for a long time of use while not being hot or heavy. Some types of roper-style cowboy boots with short shafts (around 9 inches tall) are very comfortable and convenient to put on/take off.
If you are a man, please be aware that you should never tuck your pants into the cowboy boot shaft. It's the most basic principle you MUST remember in this world to have a clean look.
The color of cowboy boots for men in the office should not be fussy. Some classic colors such as brown or black are the best choice to look good with dress pants instead of red, blue, or white.
In addition to boots, make sure your pants have wide and long ends that are enough to cover the shaft of the boots. It's also a big note!
If you are a woman, it's better to go for cowboy boots that are around or higher than your ankle (ankle boots or booties with western style).
The shaft of cowboy boots, even if it's very impressive, eye-catching, charming, and multi-purpose, honestly, it's not for some formal place such as the office. It's "too unique"!
Regarding toe shape, you should choose boots with narrow tips. Stay away from (broad) square toes that will make your feet look rough and big – not good at all! Snip toe, pointed toe or round toe will be your good friends.
The heel of women's boots should be higher than 1 ¾ inches to add a few more inches to your figure (and confidence).
The color of women's boots can be more diverse than men's because you can combine them with so many outfits such as skirts and dresses – not only pants. Choose ones that harmonize with your style but are still elegant enough for the office.
5 Best Cowboy Boots for the Office
It's no surprise to say modern cowboy boots can be used as dress shoes. And if you are new to this field and still cannot find these boots, we have some great suggestions below!
1. The Dillon from Tecovas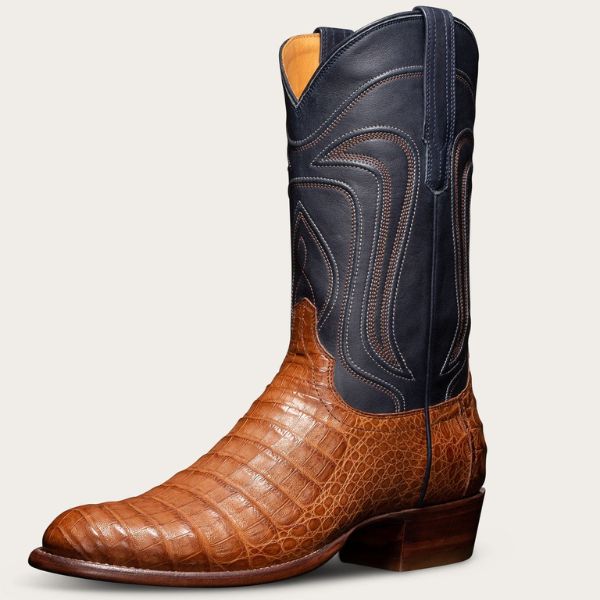 Tecovas is a very sensitive brand and as I notice, this brand can lead the waves of using cowboy boots as dress shoes. Just look at The Dillon cowboy boots, you will understand what I said!
The Dillon cowboy boots are handmade from high-end caiman belly leather. Their unique and gorgeous scales will impress you at first glance! Believe me, this classic look will never get old.
The surface of these boots is glossy thanks to the good polish which creates an elegant and formal feeling – it's the most important thing in the office.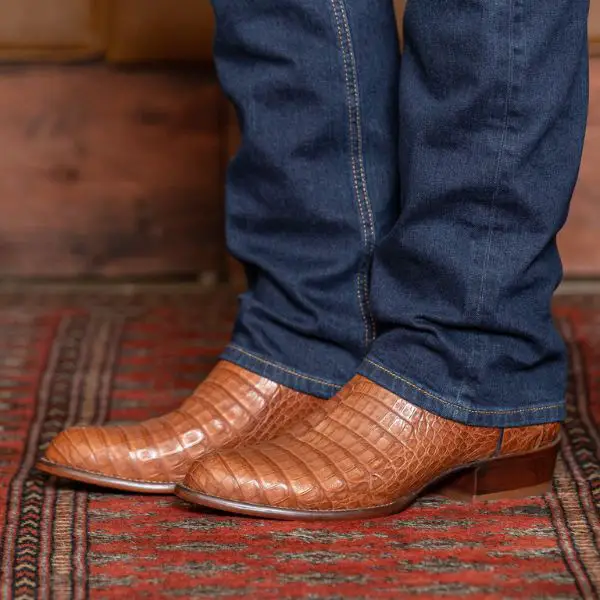 In addition, these cowboy boots can even be used as dress shoes, but they do not lose the traditional look. Their shape is still based on the classic western style – this makes these boots so great!
You will love the stacked leather heel, thin leather sole, classic round toe shape and unique surface of these boots. All features are put together for a sharp look to go with any type of dress pants for your workplace.
Overall, these boots will not make you feel any regret. Give them a chance to shine!
2. The Daisy from Tecovas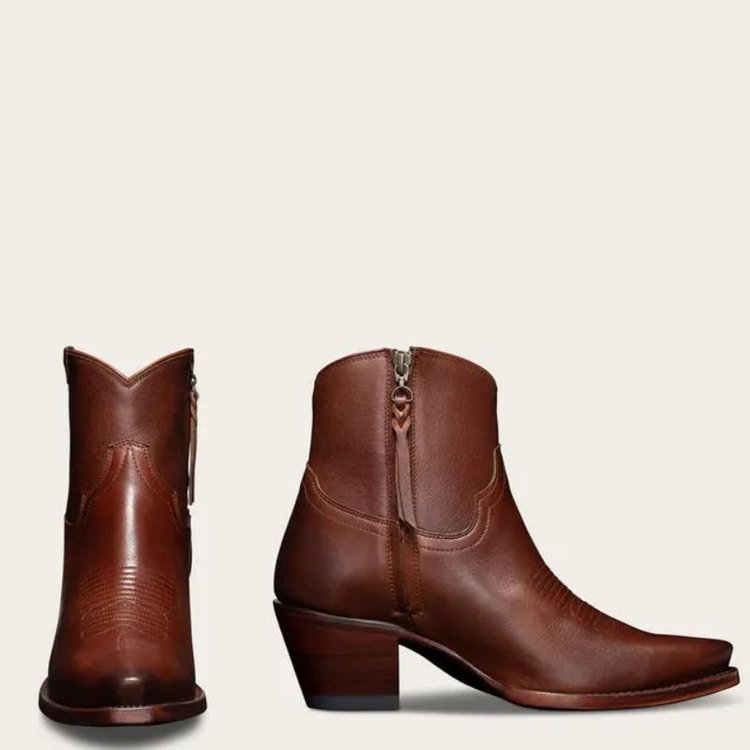 Not only men, but women can also wear cowboy boots to some formal places such as the office. As I mentioned above, you should focus on some types of cowboy boots with short shafts such as booties or ankle boots.
One of the brilliant women's cowboy boots for office that I want to recommend is the Daisy. With the fragile feeling combined with a delicate appearance, these boots should be your top choice!
The Daisy comes in many types with different materials, some highlights can be mentioned are smooth bovine and furry suede.
For the smooth version, The Daisy makes a great formal look, I love their classic western style without showing off the shaft too much.
The tall 2 ½" heel can add a lot of height to make a confident look, while the snip toe works really well to keep your feet looking slim and beautiful. Those features when combined with thin and sharp leather will work great for office style.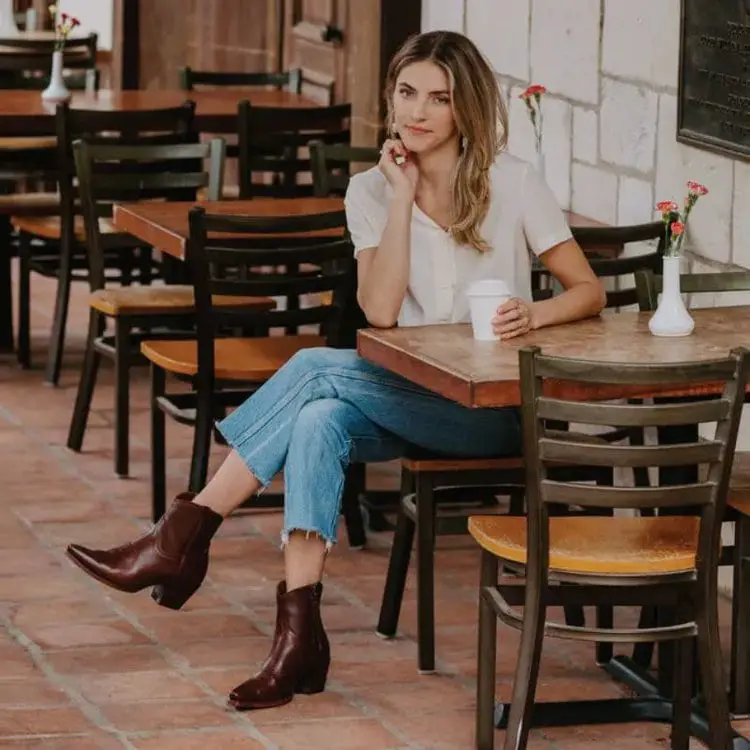 But if you like the cute look, opt for the suede version. They are so fragile with the light furry surfaces. These boots may be somewhat a bit distressed, but I believe it's good to make a highlight for the outfit without showing off too much.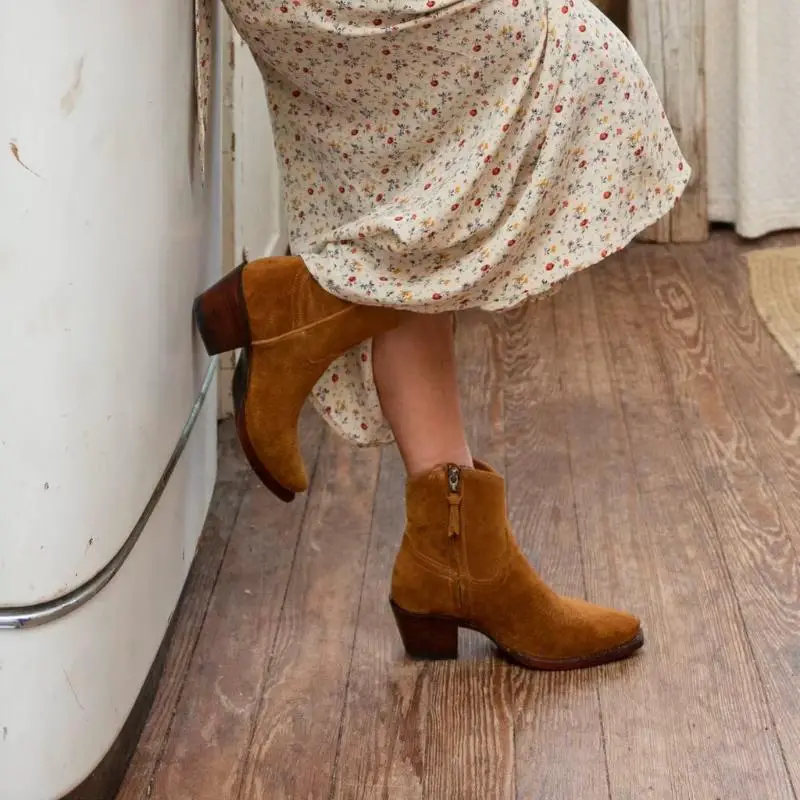 However, the high heel of these boots may cause some discomfort for your feet or knees if you stand for a long time. So, please consider this factor.
Overall, the style of these boots is really great. If you give them a try, you will not be surprised to hear that these boots are one of the most successful boots of Tecovas for women.
3. The Nash from Tecovas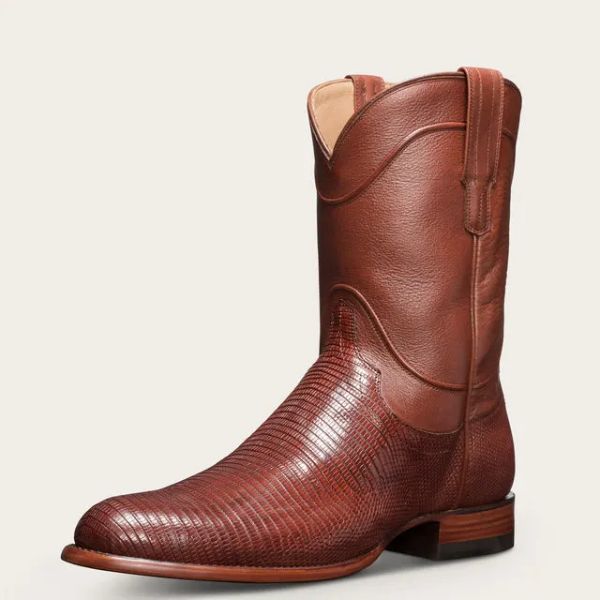 I have owned the Nash for a year and it's accompanied me to the office until now. Their surface is really awesome with unique lizard scales while showing the gloss thanks to being well-polished.
The shaft of these boots is quite minimal when compared to other boots. It is easy to understand because these boots are roper-style. The shaft is definitely different from traditional ones – it's shorter and does not have much texture.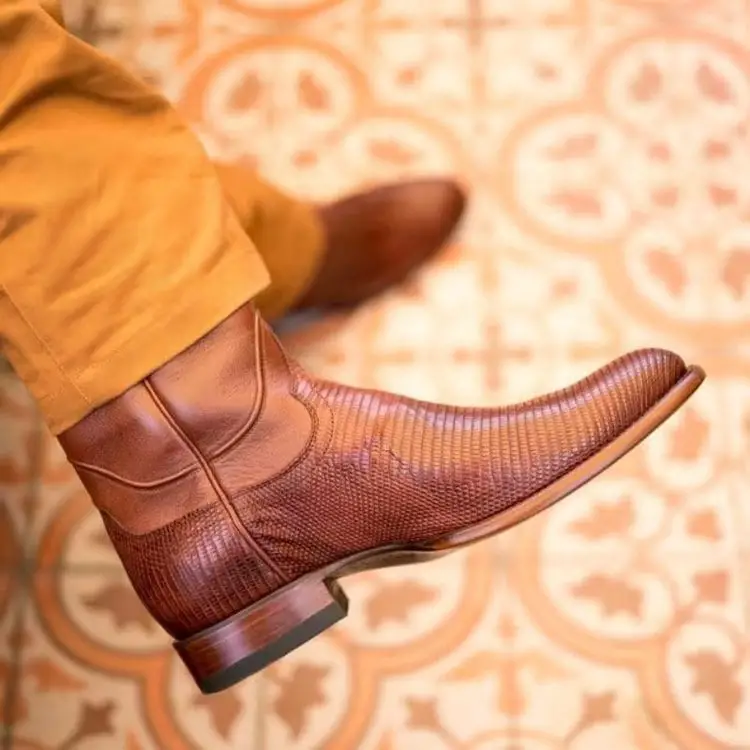 But it's a good thing! This style will work in the office, you don't need the fussy shaft with too many colors, but it's short enough to keep you comfortable all day while still retaining the classic breath. One more thing, short shaft boots make it easier to hide them under dress pants.
Back to the structure, along with the genius surface made from the lizard material, you will love the round toe shape, traditional roper heel, and classic leather sole. The boots are well-made to create an elegant feeling.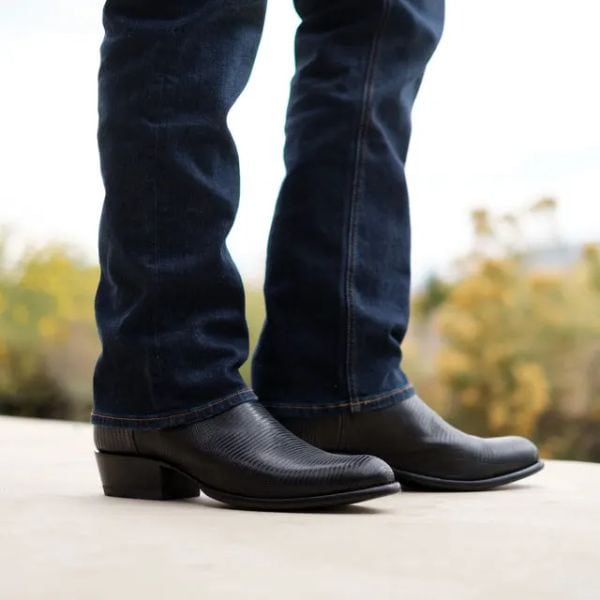 The Nash boots come in brown (bourbon lizard) and dark (midnight lizard) colors so they are super good to go to the office with pants such as khakis, slacks, or chinos.
4. Chisos No.1
Away from Tecovas cowboy boots for a while, we come to Chisos – A Brand of Will Roman, a true son of Western with the deepest love for cowboy boots, he knows everything about them.
The Chisos main products are traditional and roper-style cowboy boots. In this brand, you will find the heart of western boots. Just take a look at Chisos No.1.
You cannot go wrong with a smooth, well-polished surface and signature textures on these boots. These wonderful features explain why these Chisos No.1 can go great with dress pants for office outfits for a neat and professional look.
The round toe is very soft, narrow, and smooth combined with a classic structure profile (traditional shaft and heel) creating the elegant and masculine appearance of a gentleman – that's why you should wear them with khakis or dark-colored pants to create a high level of harmony, I bet it will meet your taste.
The traditional leather soles also make a great style as they don't cause a feeling of ruggedness like thick rubber ones. Regarding fashion, I always love the style of leather soles!
A bit of curling up at the toe's tip creates a Mexican style. It's also good to make a unique look (so confident and a bit arrogant) and receive admiring eyes.
However, it's not all, one of the best things that make Chisos cowboy boots stand out is their comfort! And with full-time work at the office, you will need it!
The main reason is that Chisos No.1 made from dairy cow hides – sounds a bit strange, but this type of leather feels stiffer (is not too much to cause pain), but it is stronger and safer to keep you protected, comfortable and confident.
The structure of these Chisos No.1 is also well-made for a relaxed feeling with leather heel counters (bad brands will use plastic, causing discomfort), stacked leather heels, and soft, flexible leather soles, and comfortable removable insoles.
Overall, as for style and feel, it's a great pair of boots to invest in for office or casual wear.
5. The Lucy from Tecovas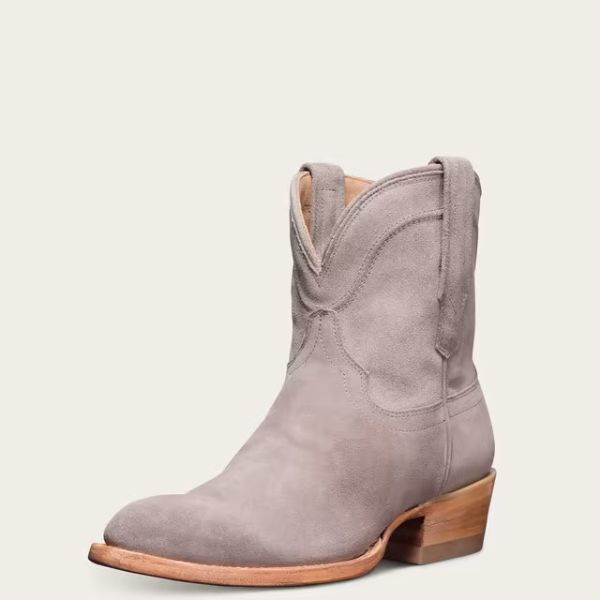 The Lucy super sweet boots from Tecovas will lighten your hard-working day. Looking at their surface, it's super light, soft, and gentle with a furry feeling. Subtle hand-laid cording really does great work to highlight the western style – And I just love that look.
The sweet style of these boots not only works great with skinny jeans but also goes perfectly with so many types of dresses or skirts.
The structure of these boots creates a very elegant look for the office with 1 ¾ inch, narrow, slightly curled-up toe shape (round), and short shaft. These features make you look tall and confident as well as have slim feet.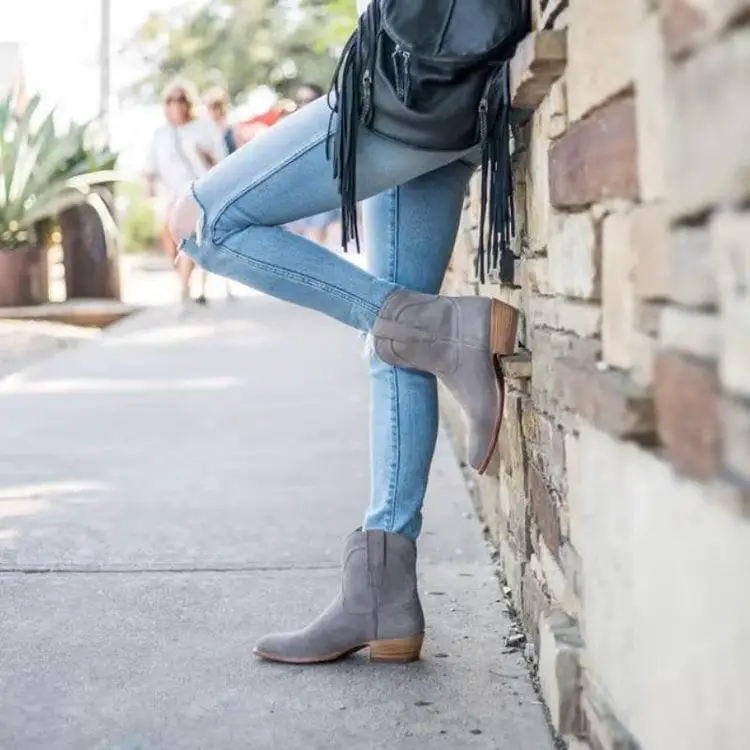 And don't forget to look at their sole and heel shape, they have a classic style that is really smooth and light.
The boots come in many colors, but I strongly recommend you opt for sand, gray, or sky blue. They are easy to mix and match with your elegant outfit for office style.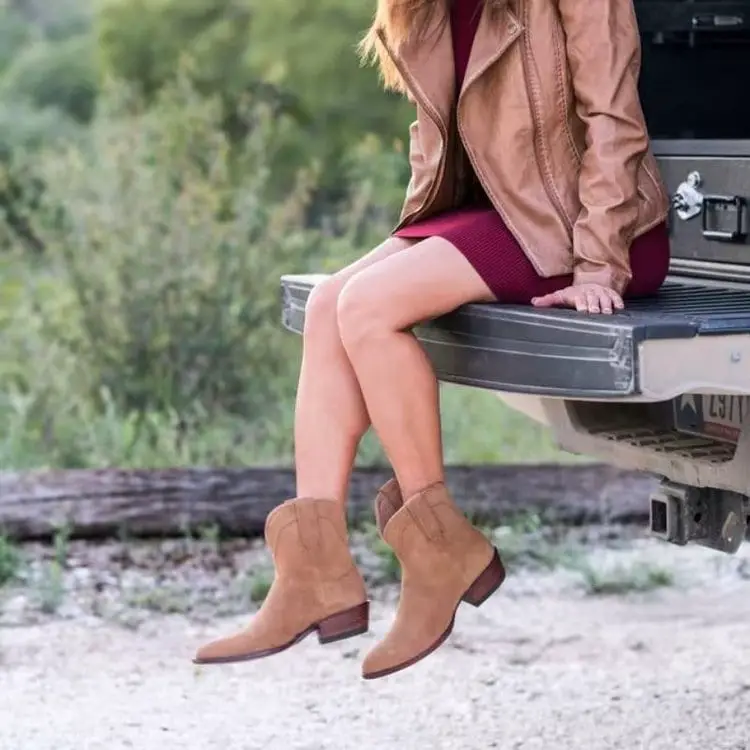 Some other features that make the boots the first choice of many ladies is that they are water-resistant. You can wear them in any season, even in the fall or winter with light rain and snow.
Sounds great, right?
Some last words
That's all, I will update this article if you guys love it or if I found some other interesting boots for the office.
Overall, you need to pay attention to the style, not only for the office, the style needs to be suitable for the place you want to go. Here's a small note for you: distressed cowboy boots may not be a good choice in the office.
With the cowboy boots recommended and the guide above, I hope you could find yourself a great pair.
That's it – good luck!