In fact, you can wear any type of sock with cowboy boots, from the normal to non-grip ones. But in the world of cowboy boots, over-the-calf socks are the most popular and favorite type of socks.
As the name says, this type of sock can cover your entire calf. This is very necessary for those who wear cowboy boots for outdoor work all day:
Wick moisture better and be cooler for the entire calf (caused by the tall construction of boots).
Prevent irritation (rubbing) from the tall shaft of cowboy boots better (no more blisters).
Warmer in winter and has better muscle support.
Stay up on your legs better, not sag easily while in constant contact with the boot shaft.
Help remove/put on cowboy boots smoothly.
…
Overall, over-the-calf socks are really good to wear with cowboy boots and I strongly recommend them for you, the cowboy boot lovers (and newbies)!
Over-the-calf socks made from different materials can give you different experiences. But I often choose ones based on the weather.
For example, in spring, summer or fall, cotton and polyester socks will work. They are really cool. But in the winter, the wool ones are a better choice to keep you warm (sometimes I just double up my socks or use thicker ones).
And one of the factors that I also pay attention to is the support of the socks. My wife has some problems with the arch (higher arch than normal) so she needs ones with good arch support and cushion. You should know about your foot health to make the right decision for the best comfort.
And don't forget the fit of socks, make sure they fit slightly tight (or maybe tight) to your legs and feet. Don't hesitate! Choosing the fit of socks is quite easy since socks have very good elasticity, it's not really a big problem even if you have large calves.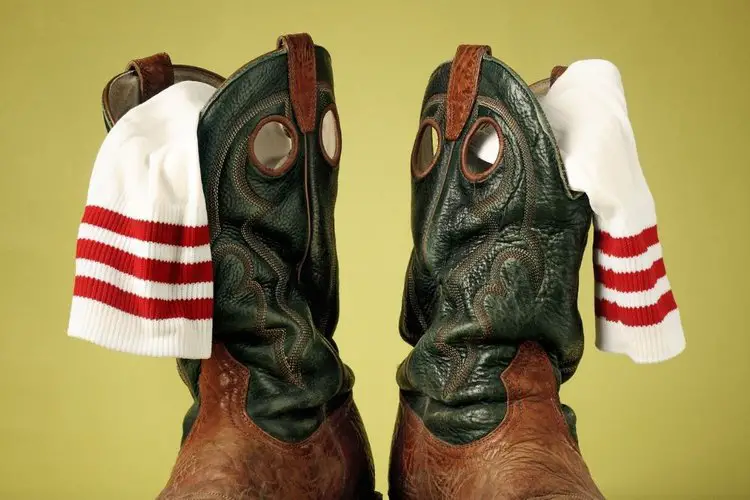 But note that if you pick some socks that are too small, they may not cover the entire legs and may fall down. They hold up best if the top is above the biggest part of your calves.
Talking about the holding-up features, you should choose socks with spandex at the top. They will wrap tightly around the top of your calves and stay up better.
Find some high-rated over-the-calf socks on e-commerce sites, read the descriptions, and some experiences of the customers. Then you can choose the right size and fit easily!
Alright, it's just a basic guide to choosing the right over-the-calf socks for cowboy boots. If you still get stuck in finding suitable socks for your legs, you can refer to the below picks.
5 Best Over-The-Calf Socks for Cowboy Boots
As recommended above, you can easily find good over-the-calf socks on e-commerce sites nowadays.
More specifically, some famous brands of cowboy boots such as Tecovas, Ariat, or Dan Post offer very great socks for your taste and needs.
Other familiar brands of cowboy boots worlds such as Wrangler (they make a very good accessory for western style) do a very good job of making over-the-calf socks.
Here are my suggestions!
1. Tecovas Boot Socks (3 packs)
If you have tried products from the Tecovas brand before (such as cowboy boots) you will know the high quality of their boots.
And the greater thing is they make cowboy boot accessories as excellently as their boots. Over-the-calf socks are one of them.
These socks are made from polyester blend material so they are moisture-wicking and super comfortable (soft, smooth, well-made and do not cause skin irritation).
The material of these socks is so breathable to make you cool in hot weather. More than that, thanks to the tall construction, they can keep you warm really well in the winter.
Another good feature that conquers me is their arch support. You will need it to reduce the stress on your entire feet, legs, and back while working hard. From there, release your mind and keep you comfortable all day long.
These socks also stay up great on your legs for a long time during use thanks to the spandex at the top.
I used these socks for more than a year (casual wear) and found out they were durable enough to serve my needs without any annoyance. The customer service of Tecovas is outstanding.
However, please note, on a winter day that is too cold outside, you may need another specialized pair of socks or double these socks to keep you warm.
Overall, give it a try, you will feel the difference!
2. Wrangler Men's Western Boot Socks (Pack of 3)
Last update on 2023-09-26 / Affiliate links / Images from Amazon Product Advertising API
So far, Wrangler is very famous for western accessories such as jeans (bootcut, cowboy cut, straight leg, etc.), shirts, and socks.
Over-the-calf Wrangler socks are also very well-known among my friends (cowboy boot lovers). They have many advantages that you can only find in high-quality socks for cowboy boots.
The main material of these socks is Polyester, so it offers a very good moisture-wicking feature to keep your legs and feet dry and feel relaxed throughout the day. Their surface is soft and smooth (the toe seam is also smooth) to not cause irritation.
The other materials are nylon and spandex – I can say nylon will add more resistance ability for these socks while spandex keeps them fit comfortably to your legs (elasticity) and stay up great.
These socks, for me, are not too thick but enough for support and comfort throughout the hard-working day. These Wrangler socks also offer a half-cushioned foot. You will have arch support for more comfort and reduced fatigue.
The socks also keep me warm very well even on cold winter days (a huge plus). In this regard, they are better than the above socks- but may be a bit hotter on summer days (lol).
Overall, they are still great socks that are worth your try!
3. Over-the-Calf Work Socks from the TCK store
Last update on 2023-09-26 / Affiliate links / Images from Amazon Product Advertising API
In fact, whether you are wearing cowboy boots or not, you should still wear over-the-calf socks for outdoor work. They often have better support, protection, and comfort for your entire legs.
The TCK store releases over-the-calf socks that are specific for heavy work. In addition to cowboy boots, you can wear these socks with other work boots for many jobs.
TCK over-the-calf socks come with polyester as the main material. It's very smooth and soft to pamper your skin leg throughout the day.
More importantly, the socks offer great moisture absorption so you will feel dry all day. Besides, these socks are very breathable with mesh panels, which keeps you cool while moving constantly. That's why I say these socks are so great for outdoor work!
Even better, these socks are well reinforced at the toe and heel, so these areas of your feet will not blister or numb if wearing rugged boots all day (especially steel-toe ones).
No more shock from the bottom feet with the cushion padded, it's extremely necessary for those who work on hard concrete or uneven terrain.
Lastly, two great things that I love about these socks are:
They can stay up well (thanks to spandex and rubber) on your legs while doing heavy work with very much movement.
They keep your feet and legs warm enough for winter days.
That's all! So great, right?
4. Dickies Over-the-calf Socks
Last update on 2023-09-26 / Affiliate links / Images from Amazon Product Advertising API
Dickies is also a very famous brand with its socks products, among them, the over-the-calf socks are outstanding. They can be very good socks for work in 4 seasons.
First and foremost, you will love the breathability of these socks. It is extremely important for tall socks to make you feel cool all day (thanks to polyester as the main material). Combined with moisture control ability, your feet will be dry and comfortable.
Even better, these socks can make your legs muscle stay strong for a long time as they can improve circulation – no more fatigue! This feature is something that makes these socks stand out from others.
Cushioned footbeds and legs make great comfort and reduce a lot of shocks while working. Plus, re-enforcement through toe caps also offers better protection.
These socks offer a variety of colors for you to choose from.
However, some guys still comment that these socks cause heat on some summer days. And I agree, I feel good while wearing this one in spring, fall, and winter but on hot days, the breathability of these socks is somewhat not enough.
Overall, these Dickies over-the-calf socks are great choices for your workplace.
5. Dan Post Over The Calf Boot Socks
Sale
Last update on 2023-09-26 / Affiliate links / Images from Amazon Product Advertising API
Dan Post is a well-known brand for cowboy boots made from various exotic leather with impressive comfort. But one other product of theirs – over-the-calf socks – also created a big hit in the world of cowboy.
The good fit of these socks is the main highlight. They stay up on your legs no matter what you are doing but do not cause squeezing.
And these socks are designed not only to work for cowboy boots but also for other work boots. They can reduce the fatigue on your legs with a good supportive fit.
Besides, these socks also offer the familiar yet important feature: moisture-wicking ability – they keep your feet dry and comfortable all day.
In addition, reinforced toe and heel will protect you from hitting your boots (especially if they are made from rugged material).
Lastly, these socks have ankle support – great for an uneven workplace. These are the new features compared to the above I recommended.
Last Words
Well, that's all! Hope you find yourself a good one to wear through this year.
Socks are a super necessary accessory to wear with cowboy boots (I know many people do not have this habit, and it's not good at all). Socks not only keep you comfortable and protected but are also good for your foot health.
Nowadays, cowboy boots and their accessories involve a lot of high-end technologies applied to them. Do not refuse but try them. These technologies can bring you long-term benefits that you have never thought of.
If you like this piece of article, I will produce more in the future for your needs. Just leave a comment to tell me.
Good luck! Have a great day! And enjoy great socks, guys!
Howdy y'all, and welcome to From The Guest Room, your ultimate guide to all things Western! I'm Jay Gatz, a lifelong cowboy boot enthusiast with over 5 years of experience in the Western style world. I'm excited to share my knowledge with you and help you discover the perfect cowboy boots and western gear to elevate your style. Let's explore the rich history and timeless appeal of Western fashion together!