The combination of jeans and cowboy boots is one of the perfect combinations in this world. But only when you know how to style them.
While it's easy to wear jeans with cowboy boots, keep in mind that the length of your jeans can affect your look. If they are too long, they will make you look old, and vice versa, it is not aesthetically pleasing.
Today, we will discuss the length of jeans to wear with cowboy boots. How long should it be enough?
A guide to choosing the length of jeans for cowboy boots
Before entering this article, we need to reiterate some basic principles so that newbies do not make these mistakes.
That is if you are a man, don't wear shorts or skinny jeans with cowboy boots.
Besides, if it's not for work but for fashion purposes, you shouldn't tuck jeans into the shaft of cowboy boots. You can see more causes on some topics in the attached links.
But if you are female, then ignore those rules, what matters is your creativity.
And now we start with bootcut jeans.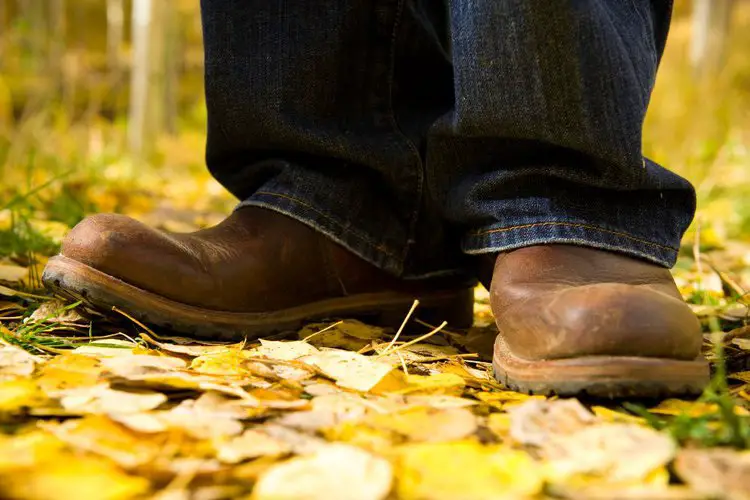 In fact, how long the jeans is depends on an individual's height, so there will not be any specific numbers.
As for bootcut jeans, they have a relatively close structure that hugs your legs from the knee up, but flares towards the end. This is great because the jeans will have enough space to tuck cowboy boots in.
However, the advantages of bootcut jeans are sometimes also their disadvantages. If you choose jeans that are too long, the flare (end) of the bootcut jeans will have many stacks, making you look messy and old. As you need a cleaner look, a pair of jeans that falls on the vamp of cowboy boots is just right!
Therefore, I recommend you choose jeans that cover 1/4 or 1/5 of the vamp part of cowboy boots.
Look at your back heel, the right distance is when the bottom of jeans is about 2 inches to 2 1/2 inches off the ground, which also means that it is about 1 inch away from the heel of cowboy boots.
The bottom of the jeans may stack a bit, don't worry, it will look good, but don't let it have many stacks (which means your pants are too long).
You should also note that the bootcut jeans should not be too short, i.e. just reach the ankle. This makes it easy to expose the shaft of cowboy boots when you're sitting. It won't look pretty!
To prevent the bottom legs of bootcut jeans from stacking too much, you can wear Wrangler cowboy cut jeans instead of bootcut jeans.
In general, cowboy cut jeans are quite similar to bootcut jeans, but the end of cowboy cut jeans is less flared. So they look neater and younger, especially those with slim bodies.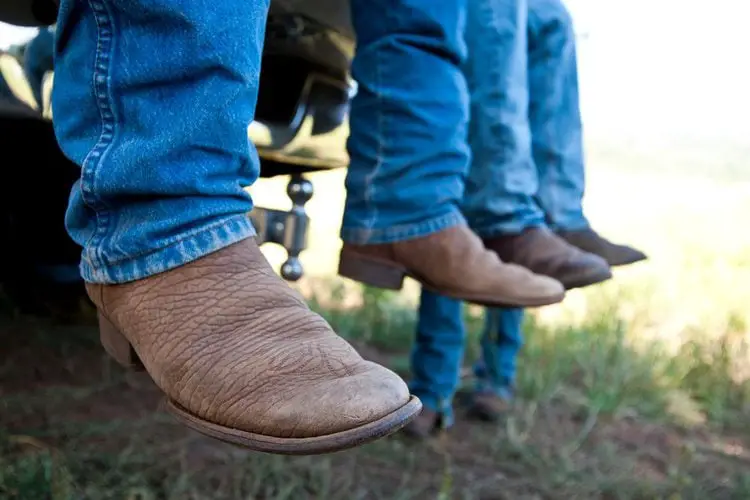 With straight-leg jeans, everything is smoother. The construction of these jeans is straight from top to bottom, so you'll get a clean look when wearing these pants with cowboy boots.
However, when choosing straight-leg jeans for cowboy boots, you will need to pay attention to the bottom of the jeans' legs. They need to have enough room for the shaft of cowboy boots.
My principle when choosing the length of straight-leg jeans for cowboy boots is quite simple and similar to boot-cut jeans. That is jeans of this type need to cover about 1/4 or 1/5 of the vamp of cowboy boots (when you are standing). In the back heel, it should still be 2 inches to 2 1/2 inches off the ground – about 1 inch away from the heel of the boots.
Unlike bootcut jeans when worn with cowboy boots, straight-leg jeans should not stack at the bottom of the legs. They should still be straight for a clean look. It also depends on the width of the pants, so you should consider the harmony between the length and width of the bottom legs to get that.
Straight-leg jeans also shouldn't be too short to expose the shaft too much. Well, cowboy boots' shafts peeking out from behind jeans are nice, but it's not a great idea if they're shown too much.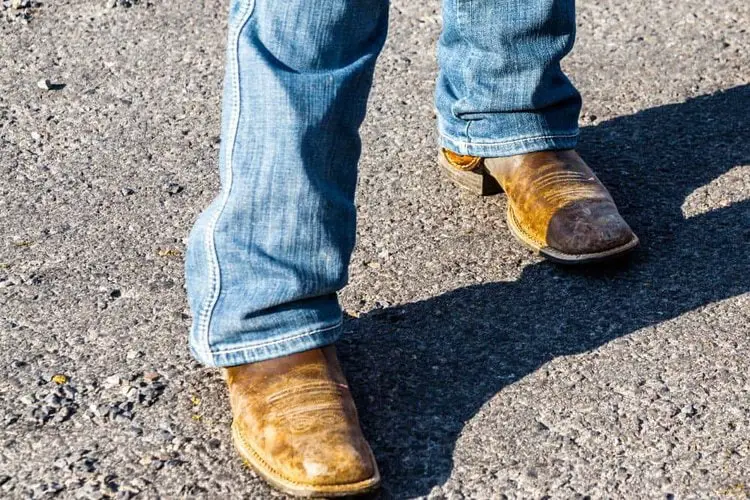 For women, the formula is similar, but you should note that bootcut jeans should not look sloppy. They should have a smooth flare from the calf to the end.
Another thing is that girls even wear skinny jeans with cowboy boots.
Actually, the length doesn't matter because you usually tuck skinny jeans into cowboy boots. But if you're wearing skinny jeans with ankle boots or booties, it might take a little care.
If you have rather long jeans, consider cuffing them above your ankle boots. Or else, skinny jeans don't need to be too long to reach the top of ankle boots or western booties. A gap of about 1 inch will bring a youthful fashion.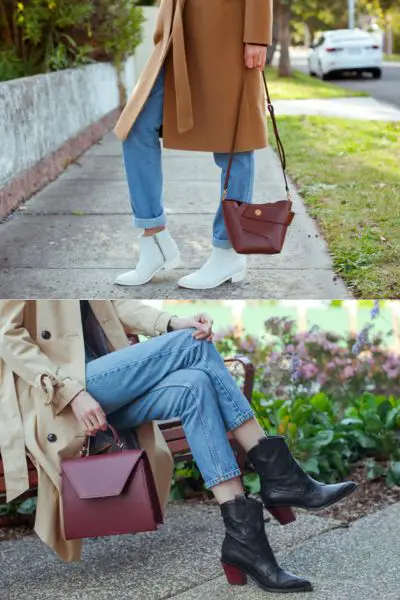 For ankle boots or booties with wide openings, you can choose skinny jeans that are longer than the ankle so that the boots can cover the end of the jeans. This is fine and gives a stylish look.
For pairing with cowboy boots, girls might choose short jeans that are tight-fitting and end around mid-thigh length. Incorporating ripped jeans in this style can create a look that's both sexy and fashionable.
Conclusion
In general, there are a few formulas that you should know:
Bootcut jeans should cover 1/4 or 1/5 of the vamp of cowboy boots and the back heel should be 2 to 2 1/2 inches off the ground. For men, the pants may stack slightly at the bottom, but for women, the pants should be smooth.
Straight-leg jeans should be the same length, but they shouldn't be sloppy at the end to maintain a clean look.
For women's skinny jeans, you may need a gap between the end of jeans and the top of cowboy boots, about 1 inch for a dynamic style. Or for cowboy boots with a wide collar, it's fine to let them hide the end of the jeans leg.
For women's short jeans, a sexy style can be done with jeans that do not reach the knee.
Anyway, be confident and make jeans your fashion statement!
Howdy y'all! I'm Grace, a Western style enthusiast with over 5 years of experience. From cowboy boots to western gear, I'm passionate about all things Western and dedicated to helping you find the perfect style to suit your taste. Join me and my fiancé Jay Gatz as we explore the rich history and timeless appeal of Western fashion together!