Among a ton of accessories for leather boots (including cowboy boots), one of the most necessary things is a boot tree. Without it, you can't say that you give good care to your boots.
Almost 100% good cowboy boots are made from leather, so they often face familiar situations such as cracking, deforming, or drying out after a period of use! These will ruin your feet and boots very quickly!
If you have boot trees, these situations can be reduced pretty much. Your cowboy boots can last a lifetime. The reasons are listed right below!
Boot trees prevent cowboy boots from getting moist inside
Cowboy boots are super easy to get hurt if constantly damp inside.
Specifically, moisture can soften the leather and when under the pressure of your weight, the boots will stretch. But when you take them out at night, when the temperature is low and cold, your boots will shrink. From there, uneven shrinkage and stretch cause cowboy boots to deform over time! The creases appear a lot in this case!
Besides, this amount of water inside the leather will wash out its natural oil and waxes – leading to drying out. In the worst scenario, the leather will crack.
Boot trees can hold the shape of cowboy boots very well, this tool won't let the boots shrink too much. They can absorb moisture very well to prevent boots from stretching. And the threat of moisture ends here!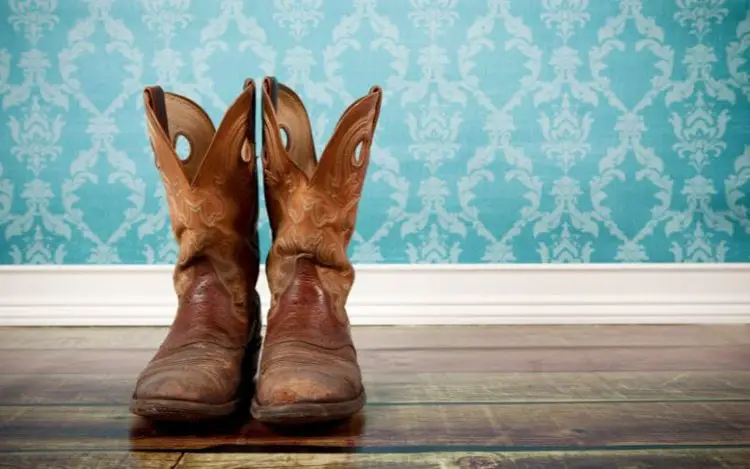 Boot trees prevent mold or mildew on cowboy boots
Moisture creates a perfect environment for mold or mildew to grow in your cowboy boots. It is even worse if you put your boots in the shoe box or wardrobe through the snowy season.
Your cowboy boots will have a horrible smell and affect your foot health. This way, cowboy boots can be destroyed quickly from the inside out.
And once again, the ability to absorb moisture helps you prevent all these things above! Many boot trees are made from cedar trees so they can leave a good smell after use! It's a really brilliant choice!
Boot trees are more effective than household items like paper toilets or newspapers (old school way)
Many of us like to tuck paper toilets or newspapers to fill the inside of cowboy boots to keep their shape and absorb moisture better.
It's a good way if you don't have boot trees! I admit it! But you will face the situation that some piece of paper gets stuck in the nook and crannies of your boots. It will take you a lot of time to remove them all.
Even worse, the ink of the newspaper can print on the inside of the boots and make them look dirty ( it is troublesome to remove this dirty mark too).
So, follow my advice, and invest in boot trees, you won't regret it! They are super affordable and save you a lot of time!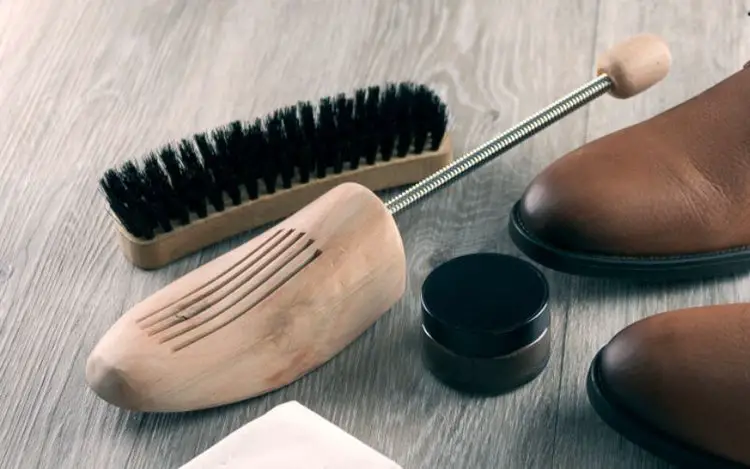 What boot tree should I buy for cowboy boots?
It's not hard at all, in fact, if you browse some online markets, you will find out that most boot trees are made with similar structures and made from cedar trees. Not many breakthroughs between them!
Choose the ones that are highly rated by the customers, with the right size, and right fit – that's it! Read the comments of the customers or ask customer support to know more if necessary (in case you buy them directly).
In my experience, don't use ones made from plastic or synthetic because they cannot absorb moisture or leave a pleasant smell as good as the cedar ones!
Classic cedar boot trees are effective, durable, and also very affordable! So don't waste your time or money finding any other weird tools!
And if you cannot find a good one, I have some suggestions right below!
The 3 Best Boot Trees for Cowboy Boots
Many brands have produced very good accessories for leather boots, but above all, FootFitter and Stratton are my favorites. Their boot trees are very well made and can bring plenty of benefits as mentioned above.
Besides, I also used the boot trees from Tecovas, a very famous brand of cowboy boots nowadays. They also do a very good job. More details will be revealed below!
1. FootFitter Western Cedar Boot Tree
Last update on 2023-03-16 / Affiliate links / Images from Amazon Product Advertising API
FootFitter Western Cedar Boot Tree is the first boot tree that I used the other day and I loved this product right that day!
They do a great job to make my boots stay in shape properly (my boots shrunk and creased a bit before). The creases and wrinkles disappear after a while.
Besides, these boot trees from FootFitter keep my boots always staying dry. With more than 15 years of wearing boots, I recognize that these boots stay new for a longer time compared to other boots that don't use boot trees. It saved me a lot of conditioners to restore their original surface.
It also makes my boots smell good after night and have a "fresh feeling", and it puts me in a good mood for the new day's hard work.
The Footfitter boot trees are stable and stand straight in my boots all night until I write these lines, they hold up very long!
The last thing I love about these boot trees is that they are made for western/cowboy boots. That way, it is easy to find the right one that fits great to your boots and is easy to put on/take off. In the past, I did use some shoe trees for my cowboy boots and these things are my nightmare!
2. Boot Insert from Tecovas (for both men and women)
I bought the Tecovas boot trees with a pair of lizard boots (the Nolan) and a pair of socks. They come to my doorstep 3 days before Christmas. And they are really a great gift from Tecovas at the end of the year!
Tecovas is famous because of the high-quality handmade and various exotic-style boots, no doubt. Besides that, I believe they do a great job making accessories for them!
Tecovas boot trees as I mentioned above, keep the shape of lizard cowboy boots well without any wrinkles or creases (which are very easy to appear in lizard leather). Until now, my boots still have a great surface, are very smooth and the scale still keeps the stunning unique look.
And I can't find any moisture or bad smell inside them every time I put them on (great deodorizing qualities). I love it because I have sweaty feet which is super uncomfortable!
Tecovas boot trees have various sizes and more than that, they have boot trees that are specific for men's or women's boots! It's great, in my opinion, and experiments, men's and women's boots still have many differences in structures, so many unisex boot trees cannot fit great for both!
Overall, it's a good one, very well made!
3. Stratton Cedar Boot Tree for Cowboy Boots
Last update on 2023-03-16 / Affiliate links / Images from Amazon Product Advertising API
Okay, now we come to the last one, it's from Stratton and as I said early, they also do a great job making many great accessories for footwear, including cowboy boots.
Stratton boot trees come with familiar materials: cedars, so they have a great cedar smell after each time of use. Besides, the ability to absorb moisture is no doubt, after a period of use, you will no longer feel damp in the bottom of your feet.
My cowboy boots after using the Stratton boot trees for a year do not appear in the situation of shrink or stretch or any signal of deforming. Besides, the boots have held up well until now and are very easy to put on/take off.
And I love how it is multi-use. Not only cowboy boots, but sometimes I still can tuck them in my dress shoes or fabric sneakers. It's also a huge plus!
As for caring boot trees, it is really easy to clean, you just need a dry cloth to wipe around them! That's all!
After a year, it doesn't show any signal of damage (worn) at the tip or heel and still has a great look, so I bet it can last for a very long time!
So, overall, the Stratton boot tree is definitely a wise investment for your boots!
Before you leave
In general, a boot tree is a must-have item to care for your cowboy boots. Your cowboy boots can last only 2 years or a lifetime, boot trees really contributed a lot in deciding that.
The shape or surface of cowboy boots absolutely degrades over time (as analyzed above), it's the nature of leather. Though boot trees cannot totally prevent that degradation, they still can remain the original quality of leather for longer. And more importantly, it can save a lot of money and time.
So, putting boot trees and cowboy boots in the same cart when buying is the best decision!