If you, the person searching for this article, are someone who has never owned or worn cowboy boots and is not really sure what they are and how good they are. Then this article is indeed for you.
With over 15 years of wearing cowboy boots, I know all about them, from past to modern. Their changes and the real value that cowboy boots bring.
Why are they good? Well, there are many reasons, but I will try to narrow it down to the most important categories!
Let's jump in!
4 Benefits of Cowboy Boots
Compared to many years ago, cowboy boots today have many developments in structure, technology as well as appearance.
Because of that, cowboy boots are better than ever today. They provide all of us with the essentials of a perfect pair of footwear: comfort, safety, versatility, you name it.
Think you know a lot about cowboy boots? Not yet, here are their limits!
Great comfort and safety
Cowboy boots are the embodiment of comfort. If you're looking for the comfort of sneakers, you won't get them. Cowboy boots offer a whole different feeling of comfort.
Their comfort comes from great warmth, understanding, and safety.
Cowboy boots have a high construction (over 11 inches) so they will provide good comfort even in the harshest weather. They are warm in winter, cool in summer and absolutely comfortable in different weather conditions.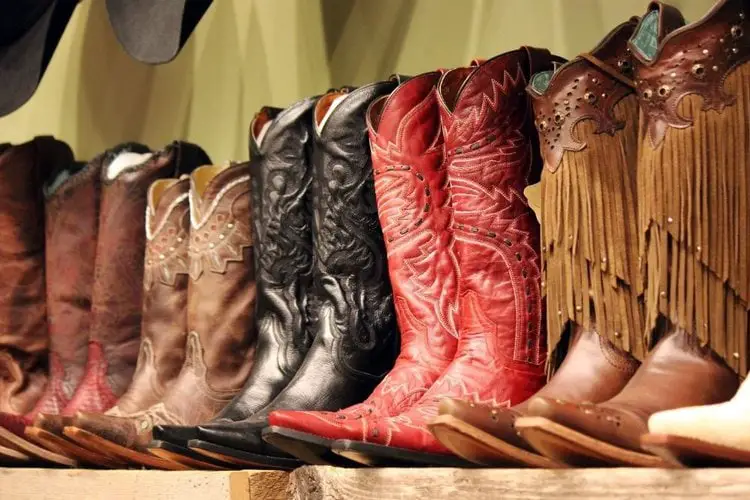 Made from 100% leather, the boots have very good resistance to external forces, which will be a very good protective layer to ensure high protection as well as smoothness regardless of environmental conditions.
You usually know about cowboy boots with slippery leather soles and narrow pointed toes. Still, cowboy boots now have various constructions with better comfort and safety for you to choose from.
For example, cowboy boots with round toes or square toes have more toe room. Their rubber outsole also ensures great balance. Many modern cowboy boots inherit this construction which is great for casual wear or for those who work on their feet.
Nowadays, many cowboy boots are reinforced at the toe and sole so well that they even meet the safety requirements for working on a construction site.
Sale
WOLVERINE mens Rancher St Work Boot, Dark Brown/Rust, 9.5 US
Goodyear Welt construction for added durability and strength to withstand the tough demands of any...
A strong steel toe that meets ASTM standard F2413-11 M I/75 C75 EH
Slip resistant rubber lug outsole to safely keep your footing in slippery conditions
Last update on 2023-09-22 / Affiliate links / Images from Amazon Product Advertising API
Cowboy boots also start to apply many advanced technologies to help them better support the arch and absorb shock. They also ensure good stability thanks to the shank. And more great features!
The variety in structure gives you more choices for different requirements and purposes.
For example, you can wear cowboy boots with leather soles in the summer because they are moisture-wicking and extremely breathable. And opt for rubber sole ones for all-day walking as they are easy to balance and absorb shock well.
Sale
Last update on 2023-09-22 / Affiliate links / Images from Amazon Product Advertising API
The rise of exotic leather in the world of cowboy boots brings interesting safety and comfort. Ostrich leather is very popular thanks to its extremely soft and comfortable properties, goat leather is very favored for summer because it has large pores and is very breathable, etc.
All in all, these days cowboy boots are all you need for comfort and safety!
Perfectly stylish
The original construction of traditional cowboy boots is already a masterpiece. In cowboy boots, you find confidence and a little bit of arrogance – this is what anyone, especially men, is always looking for.
The structure of cowboy boots has high heels, which will make you look taller and more attractive.
Toe shapes like round toes tend to taper towards the tip so they make your legs look slimmer. The square-toe boots with strong angles also bring out masculine beauty.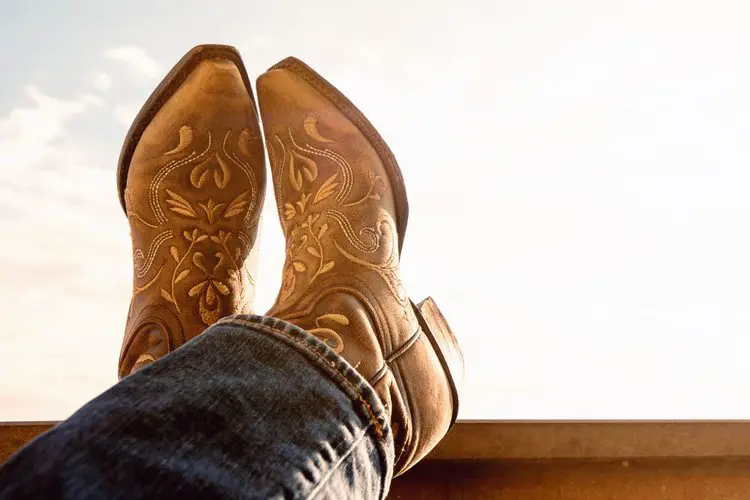 Today, the development and increasing variety of exotic leathers in the cowboy boots world gives us more options.
In need of a pair of elegant cowboy boots to go with dress pants? Caiman boots or lizard boots with a luxurious look are a perfect choice.
The variety of exotic leathers brings new styles to cowboy boots. Their finish is so unique that you will be hard-pressed to find that in any other boots.
Last update on 2023-09-22 / Affiliate links / Images from Amazon Product Advertising API
Me? I love a pair of cowboy boots made from blue alligator to wear with a suit to work at the office.
Extremely versatile
It is for the reasons mentioned above that today you will see cowboy boots appearing in many places across the United States, not just ranch in Texas.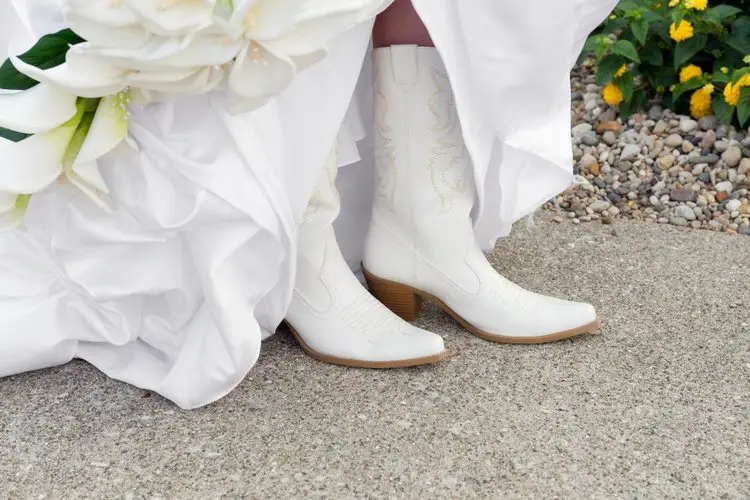 Cowboy boots are comfortable, safe, versatile and stylish to appear from the wildest areas to the most luxurious places in the world.
Ranch, jungle, construction sites, or Buckingham palace weddings, believe me, they can all live proudly there.
Sale
Last update on 2023-09-22 / Affiliate links / Images from Amazon Product Advertising API
Note:
While cowboy boots are suitable for many different places and you can use them for most purposes these days, you still need to pay attention to choosing the right cowboy boots for the job.
For example, cowboy boots for outdoor work will often not have an elegant look but seem quite rough. They offer greater safety and comfort.
Meanwhile, cowboy boots for indoor work are often slimmer as they are more refined.
And remember to carefully choose the right boots for your needs!
Convenient
Cowboy boots are easy to clean! Sounds weird, doesn't it? As big as cowboy boots, will it take you longer to clean?
Totally not! Cowboy boots have far fewer nooks and crannies than boots like hiking boots. You won't have to spend a ton of time cleaning and drying them. Trust me.
Besides, putting on cowboy boots is also very easy as you don't have to waste time tightening the laces – only one slip-in and done. Just be careful to buy the right size of boots.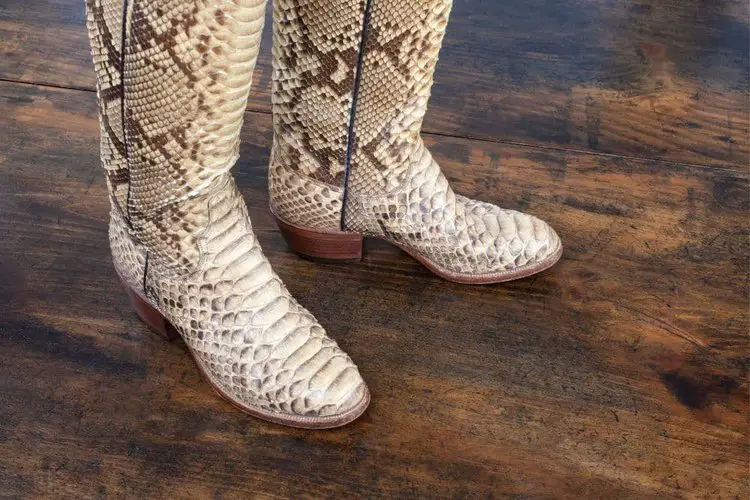 Conclusion
The main reasons cowboy boots today win your heart are that they are incredibly comfortable and stylish while providing good protection.
Modern cowboy boots are versatile, thanks to the variety in textures, materials, and styles. You can take them anywhere you want to serve whatever job.
However, you should still focus on picking the right type of cowboy boots for your purpose. Don't bring wild-style cowboy boots to the office or an expensive pair of caiman boots to construction sites. That's so wrong!
Anyway, good luck!
Howdy y'all! I'm Grace, a Western style enthusiast with over 5 years of experience. From cowboy boots to western gear, I'm passionate about all things Western and dedicated to helping you find the perfect style to suit your taste. Join me and my fiancé Jay Gatz as we explore the rich history and timeless appeal of Western fashion together!