I'm pretty sure that among all of us, there are many people who do not have the habit of wearing socks with cowboy boots. Well, that's not good.
Maybe that habit started long ago when the economy was poor and the socks weren't really as good as they are now.
Today, socks play a very important role when accompanying cowboy boots, they have good sweat absorption, great support for the soles, and much more.
However, choosing socks with cowboy boots is not easy. For the best experience, thin and thick socks also are all essential items for you.
Today, we will tell you all about it.
Let's see!
Thick socks vs thin socks for cowboy boots: Which is better?
It's hard to say that you can only wear one type of socks for the rest of your life with cowboy boots. Because they also depend a lot on your needs.
I like to wear cowboy boots with thick socks in winter, outdoor work, or during break-in periods. Meanwhile, the thin sock is a good choice for summer, indoor work, or casual wear.
To explain the above choice, thick socks, especially wool socks, will ensure you feel warmer for winter.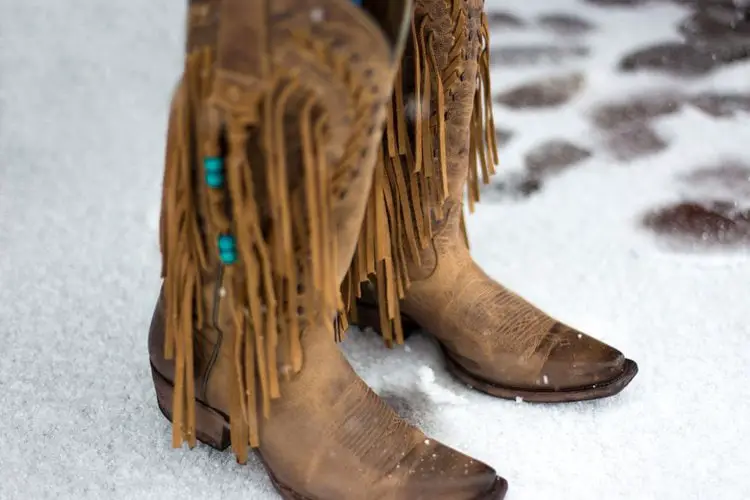 Thick socks are also great for outdoor work as they usually have thicker padding and are more comfortable, so they will absorb shock very well. Many socks now are well reinforced at the toe, heel, and especially arch support. Therefore, the thick sock is really a very good choice for outdoor work.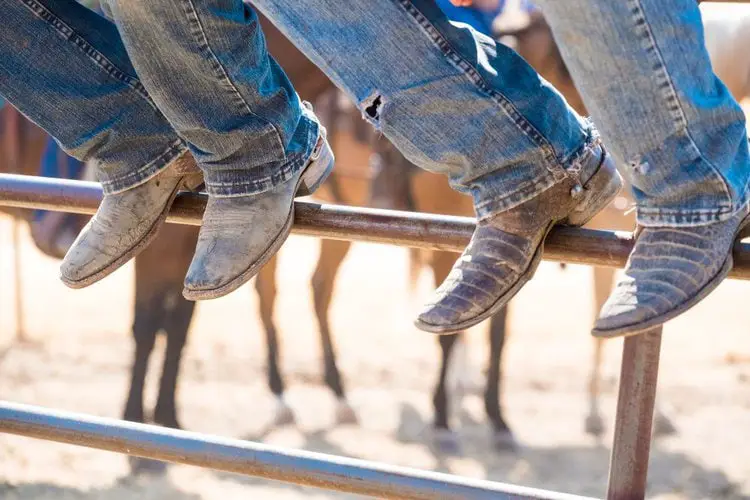 Whether it's winter or outdoor work, your feet will still easily get wet with sweat, thick socks can absorb sweat better than thin ones.
Cowboy boots are usually quite stiff at first, you will need to wear them more to break in them, making the boots softer and more comfortable. This is also the time your feet experience pain. A pair of socks with thick padding will be your savior.
Another use where thick socks come in handy is when your cowboy boots are loose, they can fill in gaps and ensure a tighter fit. You don't have to worry about your feet slipping inside cowboy boots.
Meanwhile, you will need thin socks for light work such as office work, casual wear, or summer. The main reason is that they are more breathable, soft, and comfortable.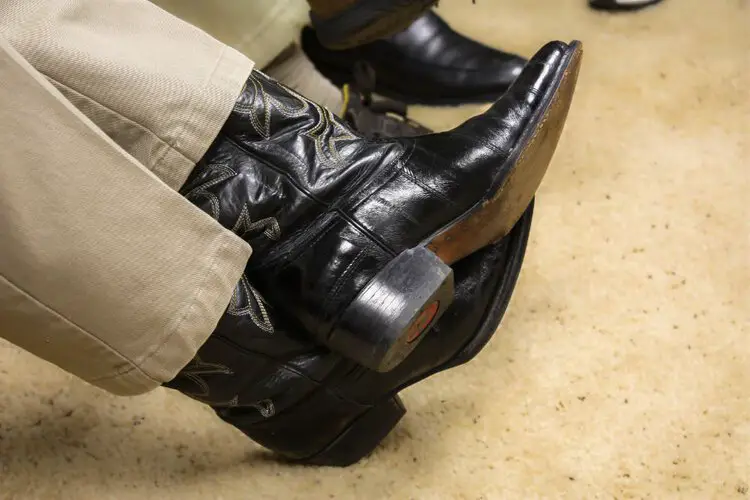 Thin socks usually won't make you feel stuffy like thick ones. They're thin and more breathable, that's for sure. This is a must-have feature in the summer.
You need a pair of boots that feel light, and wearable for sitting all day at the office or simply for a night out. You don't need too much support or reinforcement for your feet.
Even so, you should still make sure your socks have good sweat absorption and good stretch. These things will make you very comfortable.
Are you supposed to wear thick socks with cowboy boots?
You don't have to always wear thick socks with cowboy boots, although as I said above, they're a good choice for winter, outdoor work, or during a break-in.
In fact, many people like to wear dress socks with cowboy boots, because they are thin and soft, so they are very suitable for casual wear or outdoor work. For those who don't know, cowboy boots these days are very nice and can be worn for business casual.
You don't necessarily need to wear thick socks with cowboy boots in many cases, but you should still choose socks that hold up well and reach at least mid-calf. This will ensure that your calves don't get irritated from scratching the boot shaft.
Conclusion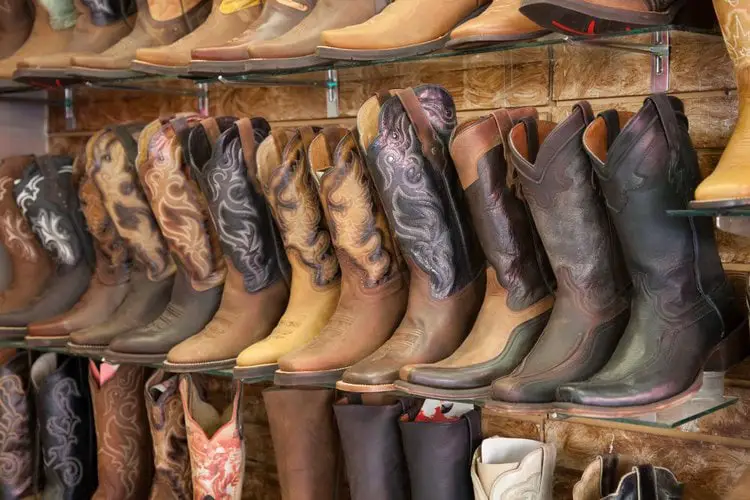 In general, using cowboy boots with thick or thin socks depends a lot on your intended use.
If you really need comfortable boots for work and warmth in winter, thick socks will be a reasonable choice. They also help you get through the break-in period smoothly and make loose boots fit better.
During that time, if it's summer and you only plan to use cowboy boots for indoor or casual wear, thin socks are better to go with cowboy boots as they are softer, breathable, and more comfortable.
It's all up to you!
Howdy y'all, and welcome to From The Guest Room, your ultimate guide to all things Western! I'm Jay Gatz, a lifelong cowboy boot enthusiast with over 5 years of experience in the Western style world. I'm excited to share my knowledge with you and help you discover the perfect cowboy boots and western gear to elevate your style. Let's explore the rich history and timeless appeal of Western fashion together!