One of the things that I love most about cowboy boots of the 21st century is that they are incredibly versatile in style.
Nowadays, you can not only wear cowboy boots with jeans for ranch but also for many different purposes that require an elegant look. I usually wear cowboy boots with dress pants to the office, my wife likes to wear them with skirts for casual wear.
Among elegant outfits, a tuxedo always ranks very high with its chic and clean look. That's why I tried pairing a tuxedo with some of my cowboy boots.
And as a result, some look great and clean from top to bottom, while others give an inconsistent look.
Today, we will talk about wearing cowboy boots with a tuxedo. Do they really match? If so, how to find the best look for the whole?
Let's check it out!
Key takeaways
The variety of styles of cowboy boots today offers more choices for users. And you can absolutely choose boots with enough elegance and luxury to go with a tuxedo.
Cowboy boots with a tuxedo should also have an elegant look, so they should have a well-polished finish or luxury surface of some exotic leather.
When wearing cowboy boots with tuxedo pants (or trousers or suit pants depending on you) you still need to make sure their bottom legs can cover the entire shaft of cowboy boots, not too wide and not too narrow. Never tuck pants into boots!
Wearing Cowboy Boots With A Tuxedo: Does It Work?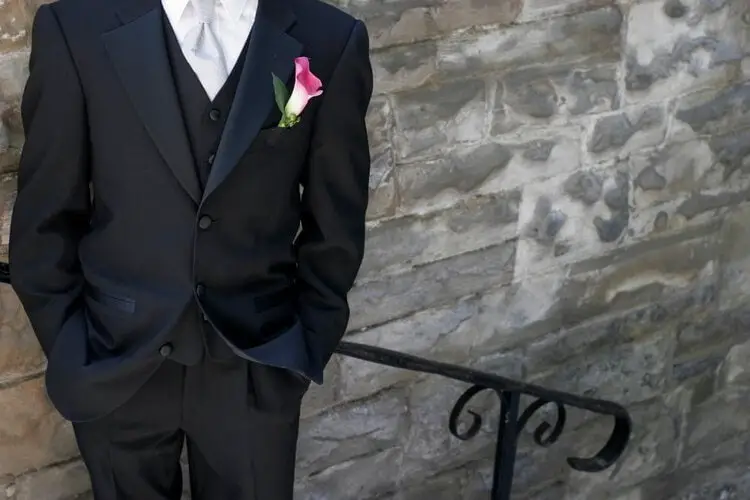 My passion for cowboy boots was passed down from my dad, so I'm pretty well aware of how cowboy style has changed over the decades.
The development of many new bootmakers with liberal and creative styles has brought a very impressive new breeze to these seemingly old and traditional boots.
Today's cowboy boots not only have the same wild, distressed look as decades ago. Instead, you will find many boots with an extremely elegant and modern style. They are sure not to be inferior to any expensive dress shoes.
Therefore, the answer is very simple. Now, you can easily find cowboy boots that can match well with a tuxedo. They can match well with your tuxedo and create harmony on the whole.
Search for handmade cowboy boots from beloved boot brands like Lucchese or Tecovas, and you'll see what I mean.
Cowboy boots made from traditional leather such as bovine or bull hide have a well-polished appearance that can bring an elegant and luxurious feel.
Meanwhile, boots made from exotic leather such as lizard, python, blue alligator, or caiman belly boots all offer classy looks with their unique and characteristic textures.
The elegance and class in the style of the above cowboy boots can match well with a tuxedo.
Not only me, but many people have actually worn cowboy boots with elegant outfits like suits or tuxedos and also have similar feelings.
I love a pair of brown-toned caiman boots to wear with my tuxedo. The unique and striking scales of caiman leather really go well with the tuxedo for an elegant and classy style.
Meanwhile, my friend opts for a pair of cowboy boots made from well-polished calf leather to go with the tuxedo. He gets a desirable clean look!
As I said, though, many cowboy boots are perfectly suitable for a tuxedo, but not all. There are a few issues you should be aware of.
Specifically, you should know about the type of cowboy boots as well as their style. In addition, it's great to learn how to style cowboy boots with a tuxedo in the right way.
What kind of cowboy boots are suitable for a tuxedo?
You should choose cowboy boots with an elegant and sophisticated style to have the right look when wearing a tuxedo.
On the market today, there are two distinct styles of cowboy boots: elegant and distressed.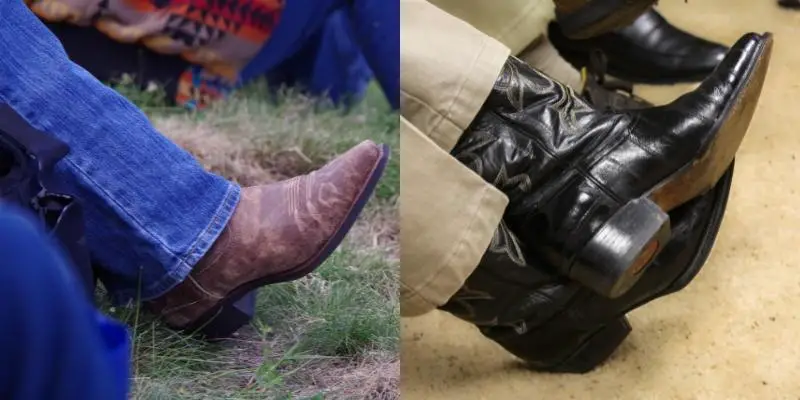 Cowboy boots with cracked leather and distressed color should be excluded in this case.
A tuxedo is the epitome of classy style. If you pair it with wild and distressed cowboy boots, it will result in an absurdity. How horrible it is!
In addition to the distressed style, you also need to avoid cowboy boots with colorful or too-bright hues such as blue, red, and yellow.
When picking cowboy boots for a tuxedo, brown and black colors should be your main choices. They give a classic and clean style while retaining harmony with your favorite tuxedo.
Tuxedos not only represent the luxury of the nobility of the past, but also represent their elegant style. Therefore, cowboy boots also need to be elegant to match tuxedos.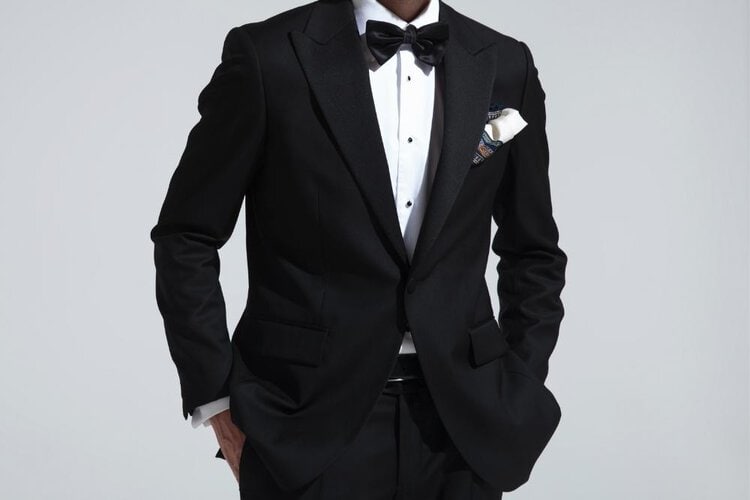 It is no coincidence that Gatsby in a pink suit could not defeat Tom in the war for Daisy (The Great Gatsby novel). The pink suits are not (and cannot be) representative of the old-money world in those days!
Regarding cowboy boots, as mentioned above, the boots should have a well-polished appearance with classic and dark colors. Or, cowboy boots made from exotic leather as mentioned above would be good choices.
In addition, cowboy boots should have an elegant construction and modern style. You can search for types of cowboy boots with classic construction or roper style.
The boots should have round toes with a tapered tip to ensure a soft look. Square toes can be a little rough while pointed toes seem too extreme.
The heels of cowboy boots may be slightly higher than usual. 1 1/2 inches to 1 3/4 inches would probably be the ideal height. They give you enough comfort while walking but high enough to make you look confident, tall, and attractive.
Adequately high heels and a narrow toe shape towards the end also work to make your feet look slimmer and more polite.
In addition, I prefer to use leather sole boots instead of rubber ones. Leather soles have a more delicate appearance and go better with a tuxedo. On the other hand, the rubber soles look a bit rough in my opinion.
However, choosing the right cowboy boots will depend a lot on your senses. So, if you already own many different cowboy boots, don't hesitate to try them out because cowboy boots and tuxedos are possible choices.
But if this is your first time with cowboy boots, then I believe my tips are worth it.
However, choosing the style and color of cowboy boots and their color is not all. You will also need to be careful in styling them. This is what we are going to discuss below!
How to style cowboy boots with a tuxedo?
Whether you're wearing tuxedo pants, trousers, or suit pants, one thing you need to remember is that they should have bottom legs that have enough room for you to cover the shaft of your boots.
If you're new, you should know that in terms of style, no one tucks pants into the shaft of cowboy boots, unless their job requires them to do so. However, I believe once you wear a tuxedo, your job won't force you to do that.
Revealing the shaft of cowboy boots will greatly affect the elegance of the overall outfits (like what we mentioned in this article). This only creates a stylistic imbalance between the top and bottom because the shafts of the boots often have many textures and are colorful, they don't have a neat look like the vamp, heel, or sole.
The bottom leg of your pants should not be too wide or it will look so old and sloppy. Also, don't let it be too narrow, or when you hide the boot shaft into the bottom legs of tuxedo pants, the patterns of the shaft and V collar will be imprinted on the surface of the pants. I'm sure you don't want this to happen!
For extra safety, you can choose roper-style cowboy boots, as these boots have fairly low shafts.
In addition, pants to wear with cowboy boots probably need to be a little longer than usual. This way, the entire shaft of cowboy boots can be covered.
Normally, when I don't wear boots, I'll make sure the pants just touch the ground or are at most 1 inch off the ground at the back heel.
When wearing boots, I usually make sure the tuxedo pants can cover 1/4 or 1/5 of the boot vamp.
When hiding the shaft of the cowboy boots completely, you can own a neat look. You can check out some more articles on choosing the right length of pants to wear with cowboy boots here!
And that's all you should know about how to style cowboy boots with a tuxedo! Pretty simple, right?
Before you leave
Overall, with the variety in construction and style, the 21st-century cowboy boots are absolutely a great choice for a tuxedo.
There's no denying that choosing footwear to wear with a tuxedo is not easy. I have to admit that I'm lucky that I give my cowboy boots the chance to pair with new items, as well as give myself one more chance to try this fancy style.
What about you? Hurry up, let's give them a try!
Howdy y'all! I'm Grace, a Western style enthusiast with over 5 years of experience. From cowboy boots to western gear, I'm passionate about all things Western and dedicated to helping you find the perfect style to suit your taste. Join me and my fiancé Jay Gatz as we explore the rich history and timeless appeal of Western fashion together!