Suede cowboy boots stand as the quintessential choice, transcending seasonal boundaries with their lightweight design and undeniable femininity.
They effortlessly harmonize with a diverse array of ensembles, making them a vital addition to any woman's wardrobe.
If you've yet to embrace this fashion essential, it's high time you considered adding at least one pair of suede cowboy boots to your fashion arsenal.
In this guide, we'll delve into an array of outfit ideas that showcase the incredible versatility and enduring style of these boots.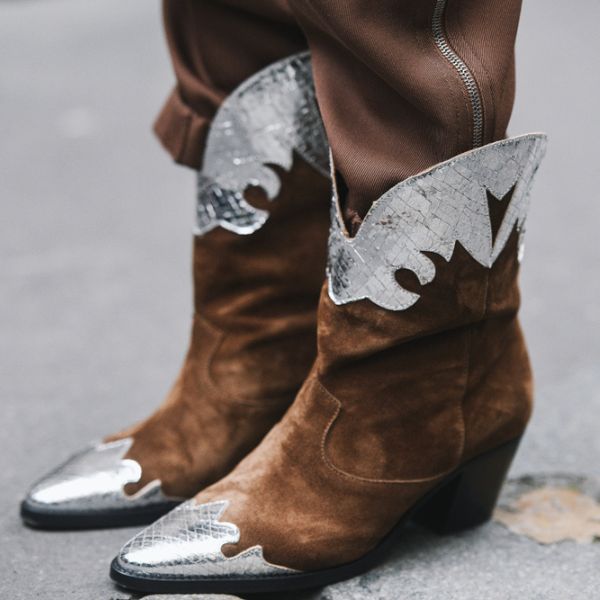 1. Suede Cowboy Boots with Dresses and Skirts: Casual and Beyond
First and foremost, this combination effortlessly combines the rugged charm of cowboy boots with the graceful lines of dresses and skirts.
It represents fashion's contrast and versatility, making it an attractive and innovative option.
Suede cowboy boots are the epitome of comfort, making them the ideal choice for a day out in the city, a weekend getaway, or an evening gathering.
They ensure that you can walk confidently and comfortably, whether you're exploring the urban landscape or enjoying a night on the town.
Moreover, this style adapts effortlessly from day to night, a testament to its modernity. When you think of enhancing your wardrobe with suede cowboy boots, think of dresses and skirts as the front runners.
They perfectly capture the essence of contemporary fashion, ensuring that you're always in style.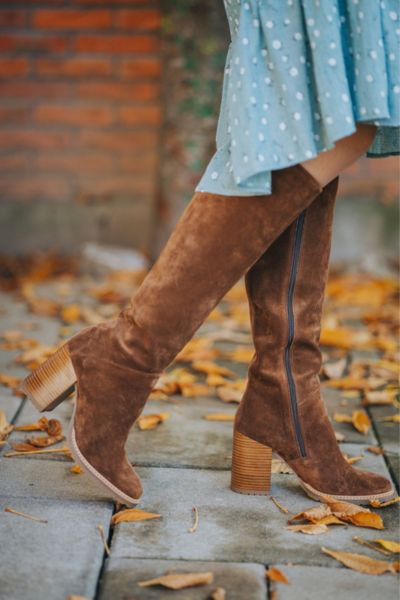 Imagine wearing a simple, elegant dotted A-line dress in a cool blue hue, paired with rich brown suede cowboy boots. The stark contrast between the colors is not only visually striking but also an attention-grabber.
For a lovely and laid-back look, opt for a midi boho dress paired with suede ankle or calf-height cowboy boots.
This combination exudes a bohemian charm that's perfect for those who appreciate a touch of the unconventional in their style.
If you're thinking about summer style, let's style a simple mini/midi dress/skirt in a thin, light fabric with suede cowboy boots.
The lightweight and breathable materials make this combination an ideal choice for staying cool and chic during warm days.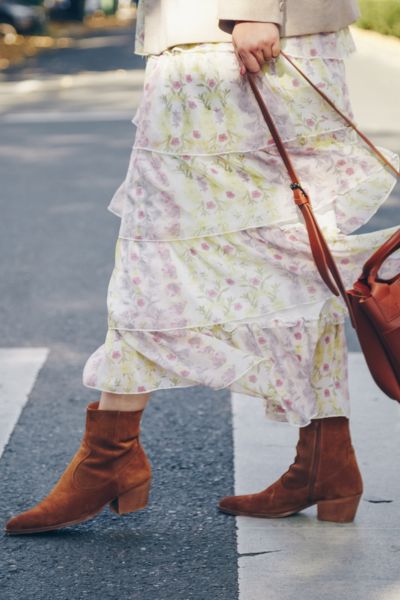 For an outfit that radiates cuteness and femininity at its peak, choose a layered midi boho skirt or dress in a light color.
Pair it with suede ankle brown cowboy boots and a leather brown bag. This ensemble is a stunning testament to the charm of suede boots with dresses and skirts.
It's a look that can seamlessly transition from casual strolls to stylish street fashion.
With its boho-inspired aesthetics and a touch of rustic charm, this outfit exemplifies the endless possibilities that suede cowboy boots bring to your fashion journey.
It's a blend of cute and feminine that's perfect for every occasion.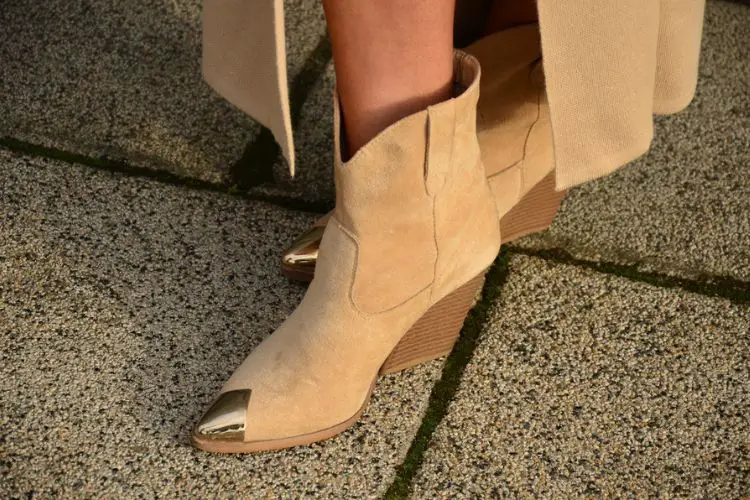 For a captivating and contemporary ensemble, consider a maxi split dress paired with suede ankle booties.
The subtle peek of the boot from behind the dress adds an element of intrigue, creating a look that's both stylish and unconventional.
Each of these outfit ideas demonstrates how suede cowboy boots and dresses work harmoniously to define your modern, city-inspired style.
These combinations are a testament to the versatility of this pairing and should be your first consideration when elevating your wardrobe.
2. Outfit Ideas for Formal Fall and Winter
As the air turns crisp and the leaves take on a golden hue, it's time to elevate your style for the fall and winter seasons.
Suede boots, a versatile fashion choice, can transition seamlessly from casual to formal wear.
Let's explore how to infuse a touch of elegance into your wardrobe, perfect for chilly days and evenings.
Pair your suede boots with cozy sweaters, chic over-the-knee boots, structured blazers, and timeless trench coats, and accentuate the look with accessories like a handbag and a stylish headscarf or beret.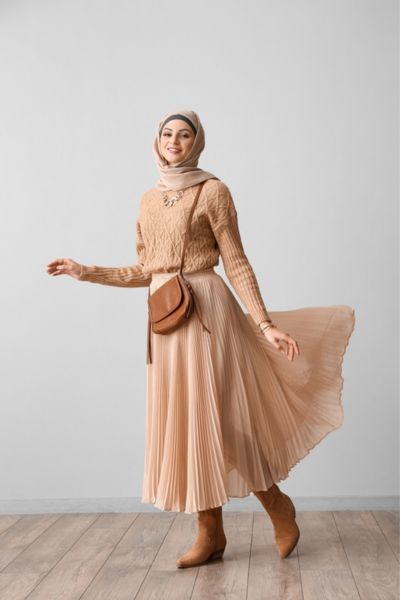 Let's cover yourself in a monochromatic cocoon of elegance. Brown suede cowboy boots, a light brown maxi skirt, and a matching sweater come together in harmonious unison.
This ensemble is not only elegant but also light and undeniably feminine. To complete the look, don't forget a brown leather crossover bag, which not only adds a practical touch but also elevates the outfit's overall aesthetic.
It's a combination that speaks of sophistication and warmth, perfect for formal occasions or simply strolling through the city on a crisp fall day.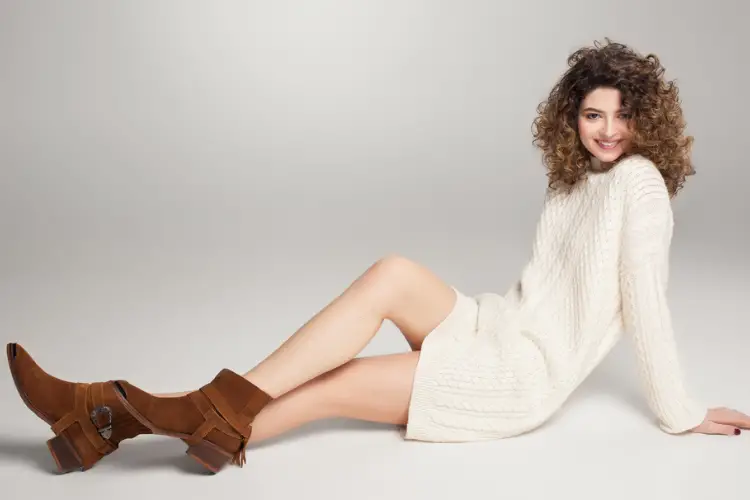 For those seeking a simpler yet attractive look, consider a white midi sweater dress paired with brown suede cowboy boots.
The white sweater dress adds an air of formality, while the brown suede boots provide the perfect contrast.
This combination effortlessly strikes the balance between simplicity and allure, making it suitable for various occasions, from office meetings to evening gatherings.
It's a classic pairing that transcends seasons, radiating elegance while keeping you warm and comfortable during the chilly days of fall and winter.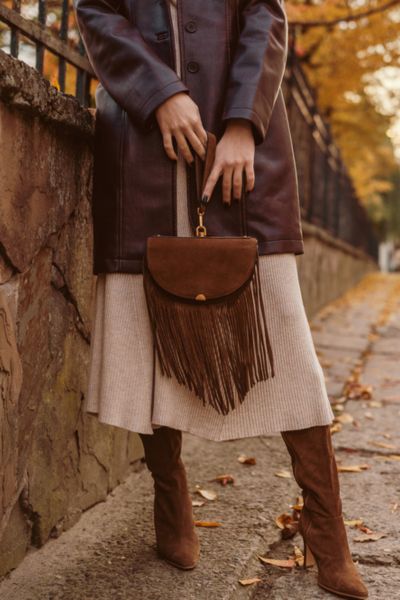 You're stepping out on a chilly fall or winter morning, radiating formal and classic sophistication. Tall suede cowboy boots, in a rich, earthy hue, effortlessly complement a beige midi dress.
The addition of a brown leather blazer brings a level of refinement that's hard to match. It's a combination that blends the formal with the classic, making you the epitome of sophistication.
To complete the look, reach for a leather purse adorned with delicate fringe. This additional detail adds a touch of the unexpected, further elevating the overall aesthetic.
It's a combination that exudes confidence and poise, perfect for professional settings, formal events, or whenever you want to make a lasting impression.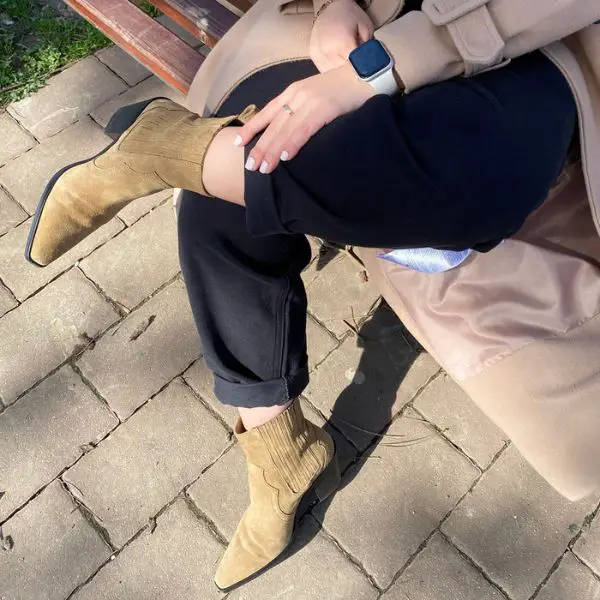 For a look that exudes urban modernity, consider pairing black regular slacks with sand-colored suede ankle cowboy boots.
Top it off with a beige blazer for a sophisticated touch. To complete the ensemble, add a smartwatch for a dash of tech-savvy style.
This combination effortlessly embodies the spirit of the city, where the modern meets the classic.
It's a versatile and refined choice suitable for business meetings, city outings, or any occasion where you want to make a contemporary fashion statement.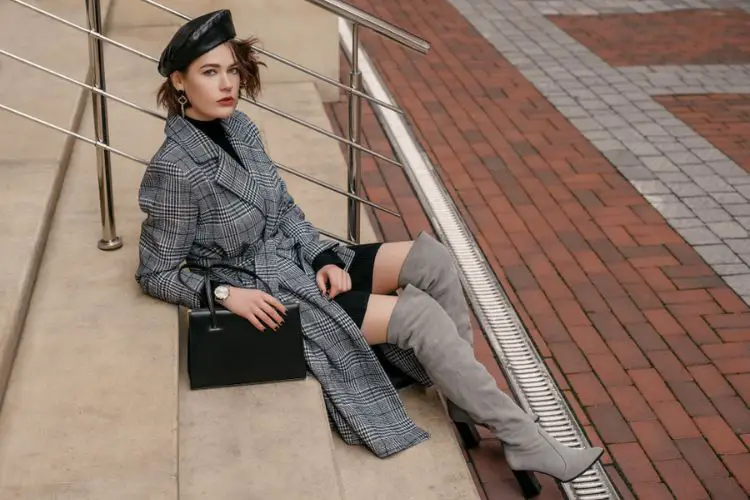 Over-the-knee cowboy boots crafted from suede leather are an easy find, and they can transform your style effortlessly.
For a stunning street-style look, picture yourself in a black mini tight-fit dress. Layer it with a plaid grey blazer for a perfect blend of elegance and edge.
Slide into grey suede over-the-knee cowboy boots, and complement the outfit with a black leather bag, a beret, and a sleek handwatch.
This ensemble is a winning choice for those who want to make a fashion statement on the streets.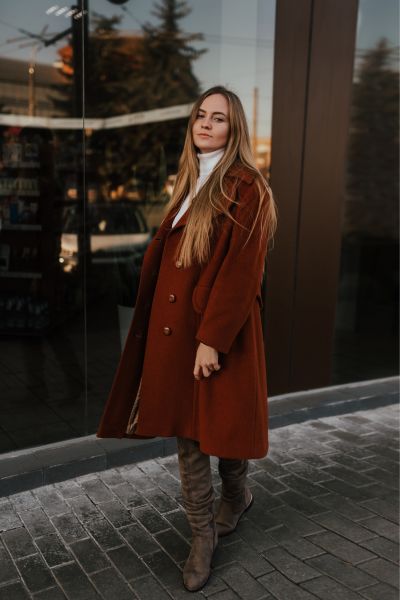 Or, embrace classic formality with over-the-knee cowboy boots.
Black shorts pair seamlessly with a white turtleneck sweater, while a brown blazer adds an air of sophistication. Don't forget to accessorize with a vibrant color necklace on the white background of the sweater.
Slip into grey over-the-knee cowboy boots, and you have a look that's both formal and perfect for fall and winter.
It's an ensemble that effortlessly bridges the gap between classic style and modern sensibility.
3. Suede Cowboy Boots and Jeans: A Timeless Wardrobe Essential
When it comes to fashion, there are timeless combinations that never go out of style, and suede cowboy boots with jeans are undoubtedly one of them.
This iconic pairing isn't just a staple; it's an absolute essential for every wardrobe.
It holds the rare distinction of being versatile enough to adapt to any occasion, from casual to formal, street style to beyond.
What sets this combination apart is its incredible ease of mixing and matching, allowing you to curate a look that's distinctly your own.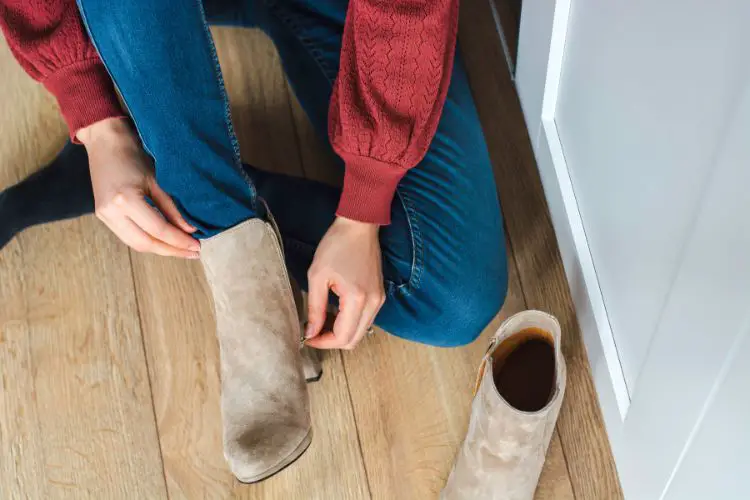 Suede cowboy boots and jeans have the kind of chemistry that's instantly appealing. It's a union of rugged charm and everyday comfort, creating a fusion that bridges eras and fashion sensibilities.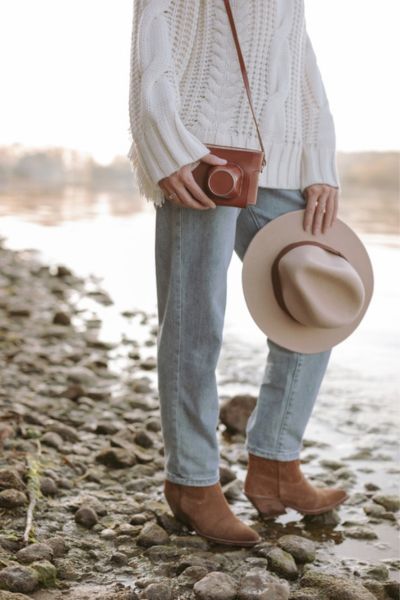 When it comes to versatility, few combinations match the magic of relaxed-fit light blue jeans and suede cowboy boots.
Add a white sweater to the mix, and you have a look that's as stylish as it is cute.
Grab a leather bag, and you're ready to conquer the world, whether it's the street, a travel adventure, or just casual wear.
This ensemble is a testament to the adaptability of suede cowboy boots with jeans, proving that you can look effortlessly fashionable no matter where the day takes you.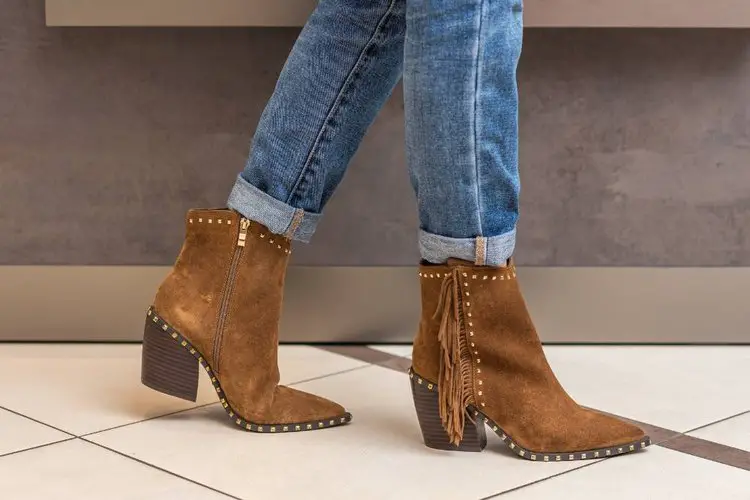 When sporting jeans with ankle cowboy boots, consider creating a fashionable gap between the jeans' hemline and the top of the boots.
This subtle styling choice adds a touch of chic to your look, making the most of your footwear's unique appeal.
With this combination, you have the freedom to pair your jeans and boots with a wide range of tops. Whether it's a tank, a classic tee, or the timeless charm of a pearl snap shirt, the options are nearly endless.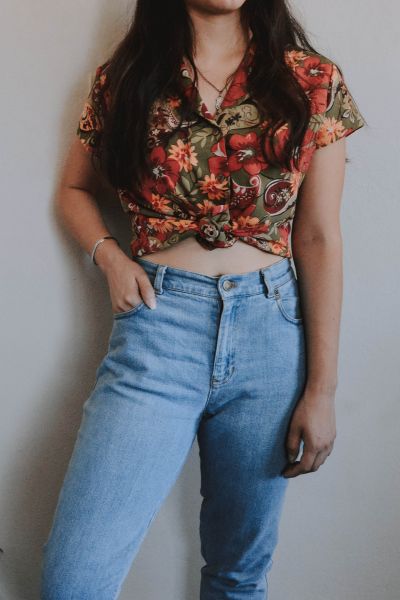 The beauty of suede cowboy boots and jeans lies in their adaptability, and this tip allows you to play with your personal style in delightful ways.
For that finishing touch of timeless appeal, don't forget to complement this ensemble with a fringe leather coat or a classic denim coat.
These outerwear options provide both warmth and an extra layer of style, making sure you're ready for any adventure, whether it's a casual day out or a night on the town.
Last words
Suede cowboy boots are a timeless, versatile, and essential addition to any wardrobe. They effortlessly adapt to various occasions and styles, from dresses and skirts to jeans, making them your go-to footwear for a wide range of looks.
As you explore the fashion possibilities they offer, remember that with suede cowboy boots, the sky's the limit.
So, elevate your style and let these boots be your fashion statement for any occasion.
Howdy y'all, and welcome to From The Guest Room, your ultimate guide to all things Western! I'm Jay Gatz, a lifelong cowboy boot enthusiast with over 5 years of experience in the Western style world. I'm excited to share my knowledge with you and help you discover the perfect cowboy boots and western gear to elevate your style. Let's explore the rich history and timeless appeal of Western fashion together!