Cowboy boots aren't just for the ranch anymore; they're a versatile and stylish choice for women who want to rock a cute and fashionable look.
In this article, we're about to unveil the secret to achieving that adorable yet chic appearance with cowboy boots. So, why should you consider these iconic boots for your cute outfit ideas?
Versatility in Material and Construction
One of the key reasons why cowboy boots can elevate your style game is their incredible versatility in material and construction.
Unlike some other footwear options, cowboy boots come in a wide range of materials, from traditional leather to suede and exotic skins.
This variety ensures that there's a pair of cowboy boots for every outfit and every occasion.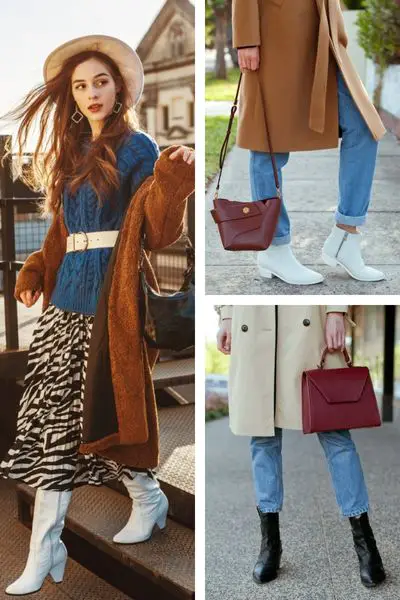 Not Just for the Ranch
Gone are the days when cowboy boots were exclusively reserved for the ranch. Today, they've transcended their humble origins and made their mark in the world of fashion.
Whether you're strolling down city streets, heading to the office, or enjoying a night out with friends, cowboy boots are your versatile companions. They seamlessly blend the rugged charm of the Wild West with a modern, urban edge.
Now, let's delve into the secrets of creating those cute and charming outfits with cowboy boots. Whether you're aiming for a sweet Southern belle look or a trendy urban cowgirl vibe, we've got you covered.
From pairing them with sundresses to incorporating them into your everyday casual attire, we'll provide you with expert tips and outfit inspirations to ensure you turn heads wherever you go.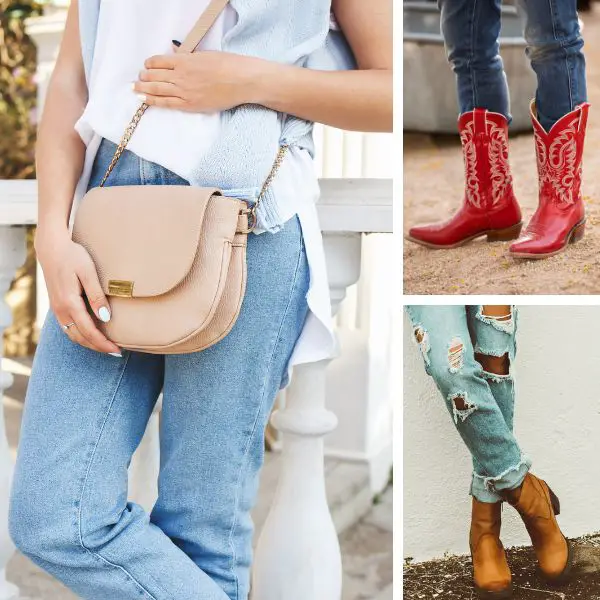 Get ready to unlock the potential of cowboy boots in your wardrobe and discover the many ways they can add a touch of cute and captivating to your fashion repertoire.
So, without further ado, let's dive into the world of cowboy boot outfit ideas and unleash your inner style icon!
Cowboy Boots and Dresses, Skirts or Sweaters
When it comes to creating an effortlessly cute look, pairing dresses, skirts, or sweaters with cowboy boots is a fantastic choice.
Here, we'll explore some stylish ideas to help you achieve that perfect blend of elegance and Western charm.
1. White Knitted Sweater Dress with Brown Ankle Cowboy Boots
For this style, let's start with a cozy white knitted sweater dress that exudes warmth and comfort. Then, add a dash of Western flair with a pair of brown ankle cowboy boots.
The combination of the soft, woolen texture of the dress and the rugged yet cute appearance of short-shaft cowboy boots is a match made in fashion heaven.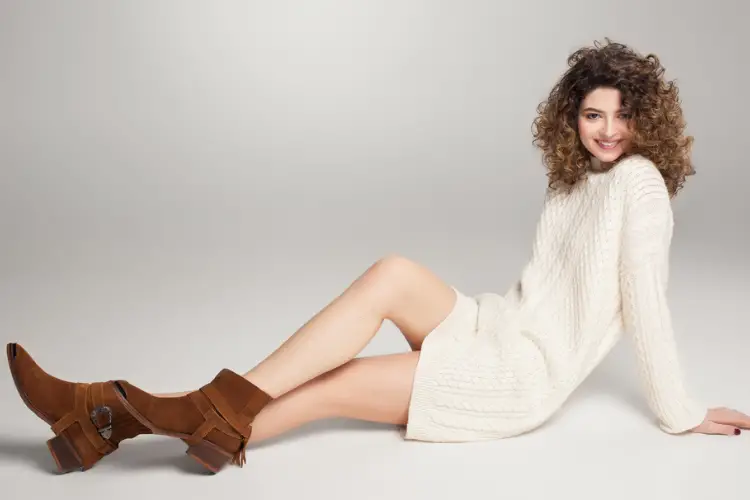 What truly makes this outfit stand out is the delightful contrast between the pristine white of the dress and the earthy brown of the boots.
It's a look that's sure to turn heads and give off an effortlessly cute vibe.
2. Monochromatic Brown Ensemble
For a more monochromatic and sophisticated approach, consider a brown midi skirt paired with a matching sweater.
This cohesive color scheme creates a harmonious and chic look. Elevate the style with a crossover handbag and suede cowboy boots in a complementary shade.
The uniformity of color creates an elegant yet adorable aesthetic that's perfect for various occasions, from casual outings to more upscale events.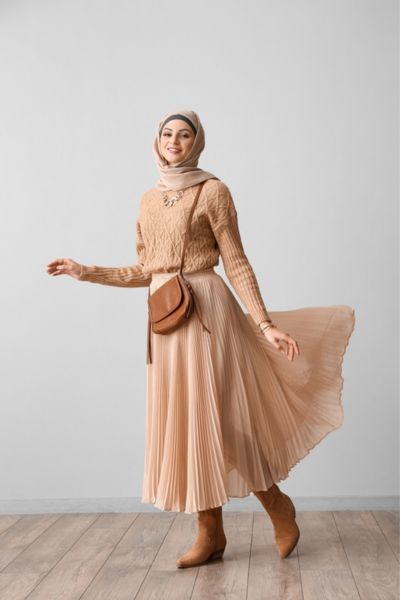 3. Brown Blazer, White Midi Skirt, and Cowboy Boots
If you're aiming for a sophisticated yet cute ensemble, here's a winning combination. Start with a brown blazer that exudes professionalism and confidence.
Pair it with a white midi skirt and a cozy blue sweater for a dash of color. To add that hint of Western charm, complete the outfit with black cowboy boots.
The contrast between the formal blazer and the playful cowboy boots creates a striking balance, resulting in a look that's both stylish and sweet.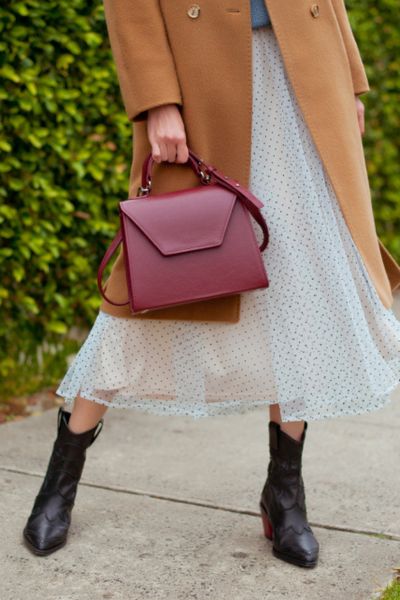 These ideas showcase just a glimpse of the endless possibilities when it comes to pairing dresses or skirts with cowboy boots.
Whether you're in the mood for a charming, casual look or want to elevate your style to a more refined level, cowboy boots are your versatile companions for creating super cute outfits.
Stay tuned as we explore more creative outfit ideas that will make your heart and fashion sense smile!
Ankle Cowboy Boots: A Shortcut to Cute and Stylish
Ankle cowboy boots, with their short shafts and distinctive Western flair, are your secret weapon to effortlessly infuse cuteness and style into your wardrobe.
They're incredibly versatile and can be paired with jeans, dresses, skirts, or even shorts.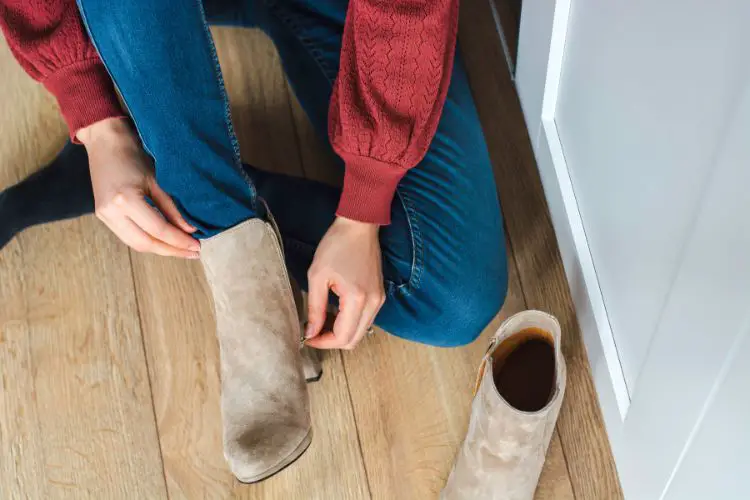 Here, we'll explore some tips and ideas to make the most of these delightful boots.
1. Short Cowboy Boots with Unique Details
One of the quickest ways to add extra charm to your outfits is to opt for short cowboy boots with eye-catching details. Consider boots featuring concho straps, studs, or fringe.
These embellishments not only infuse a playful and stylish edge into your look but also make a statement.
It's all about adding a touch of Western flair to your outfit that's both super cute and fashion-forward.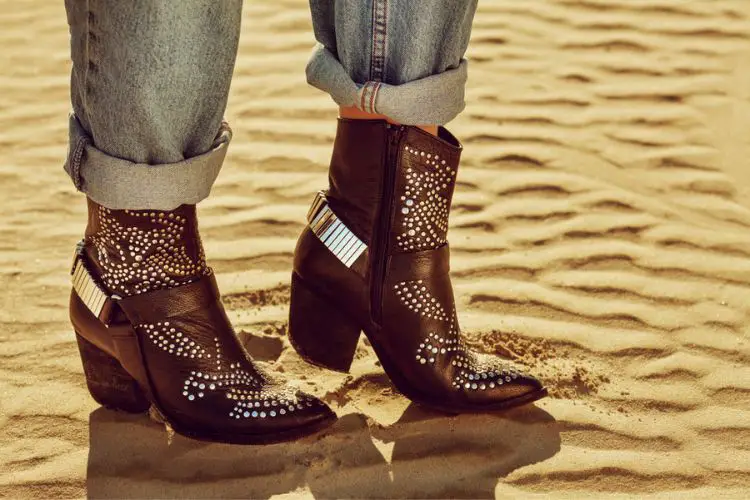 2. Cute Jeans and Cowboy Boots Combo
For a classic yet cute appearance, pair your ankle cowboy boots with jeans. To take it up a notch, try this pro tip: cuff your jeans just above the top of the boots.
This small but significant detail creates a fashionable gap between the jeans and the boots, drawing attention to the boots and highlighting their cuteness.
This look is perfect for casual outings, offering a blend of comfort and style.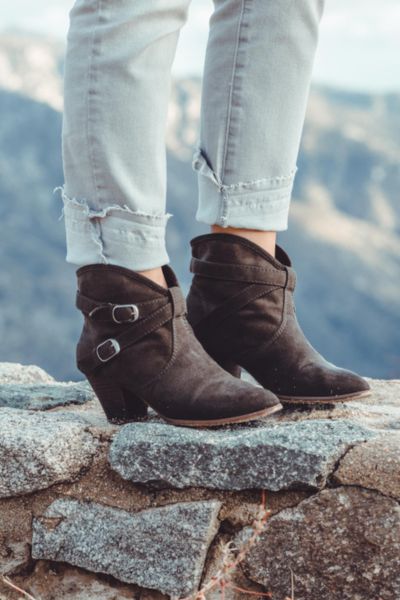 3. Midi or Boho Dresses with Ankle Cowboy Boots
When you're rocking a midi or boho dress, ankle cowboy boots are the perfect companions.
To complete the look, consider adding a wide brim hat, which not only provides a touch of elegance but also enhances the Western-inspired aesthetic.
Finish off your outfit with a stylish wood handbag to create a cohesive and adorable ensemble that's perfect for various occasions, from casual days out to picnics and outdoor events.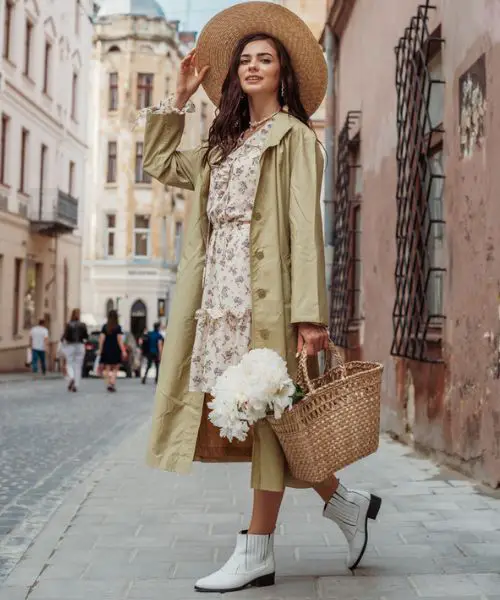 Cowboy Boots and Relaxed fit, Loose fir or Flare Jeans
Cowboy boots and jeans are like a dynamic duo in the world of Western-inspired fashion.
Whether you prefer loose fit, relaxed fit, or flare jeans, you can count on these classic boots to add a touch of cute and stylish flair to your outfit.
1. Embrace Relaxed Fit Jeans with a Sweater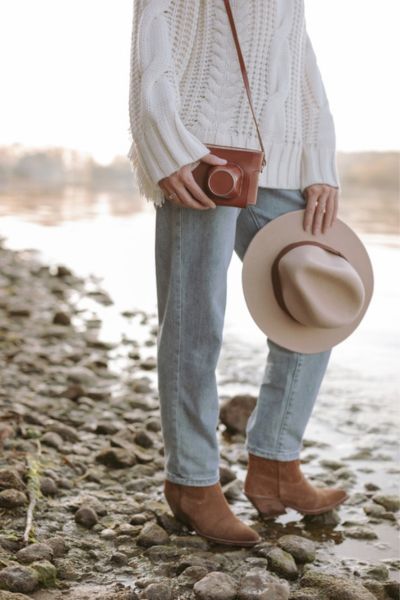 If you're sporting relaxed-fit jeans, you're already in the comfort zone. Pair them with a cozy sweater to create a laid-back yet cute look.
The juxtaposition of the relaxed jeans with the rugged charm of cowboy boots adds a playful dimension to your style.
To enhance the overall outfit, consider adding some well-chosen accessories. A few bracelets or a charming necklace can go a long way in elevating your appearance.
2. Elevate Your Look with Flare Jeans and a Blazer or Coat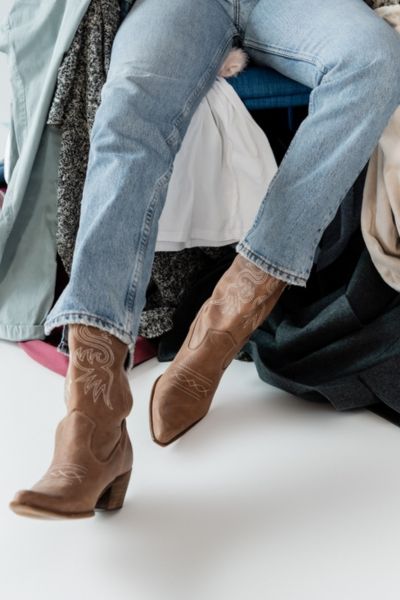 For a more elevated and sophisticated take on the cowboy boots and jeans combo, opt for flare jeans. These stylish jeans create a sense of drama and elegance.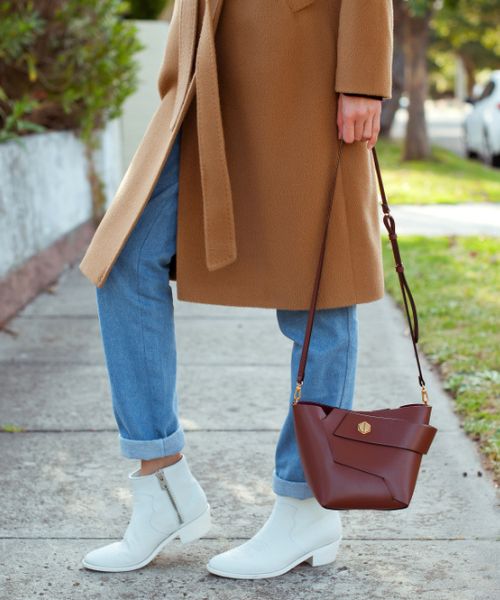 Pair them with a well-fitted blazer or light coat to introduce a hint of formality while maintaining a cute and Western-inspired aesthetic.
Don't forget to accessorize with a stylish belt and a crossbody bag to complete the look.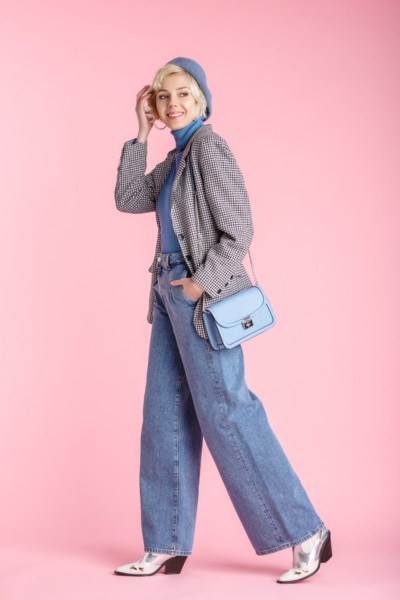 Suede Cowboy Boots: A Recipe for Feminine Cuteness
Suede cowboy boots, with their soft texture and charming appeal, are your ticket to a feminine and light-hearted style.
These boots add a delightful touch to your outfits, especially when paired with dresses and skirts. Here, we'll delve into some ideas and tips to make the most of these adorable boots.
1. Midi Dresses for a Touch of Elegance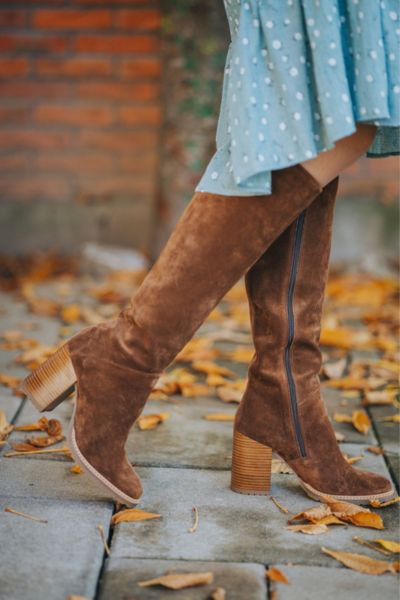 Midi dresses are your best friends when it comes to achieving a light and feminine look with suede cowboy boots.
The gentle swish of a midi dress adds a touch of elegance, while the suede boots infuse a sense of playfulness.
The combination creates a perfect balance, resulting in an outfit that's super cute and stylish. Don't forget to complement the look with a crossbody bag or handbag for a polished finish.
2. Boho Dresses for a Bohemian Vibe
If you're a fan of bohemian style, suede cowboy boots can be your perfect companions.
Pair them with a boho dress that features flowy fabrics, floral patterns, and perhaps even a touch of lace.
The softness of the suede boots complements the bohemian aesthetic beautifully, creating a light and carefree look that's ideal for casual days or outdoor events.
To complete the ensemble, consider adding some boho-inspired accessories like layered necklaces or bracelets.
3. Layered Skirts for a Fashionable Twist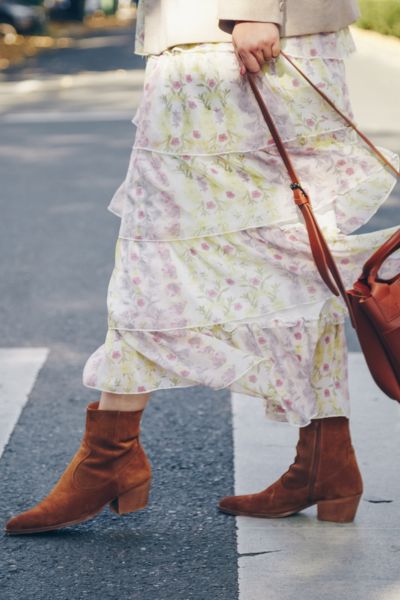 Layered skirts are a fantastic choice to add depth and dimension to your outfit. Combine them with suede cowboy boots to create a look that's not only cute but also fashionable.
The interplay of textures and lengths between the layered skirt and the soft suede boots adds an element of intrigue to your style.
Finish off the look with a leather handbag to tie everything together.
Suede cowboy boots have a unique ability to make your outfits light and cute while embracing a feminine charm.
Whether you're going for an elegant midi dress, a bohemian boho dress, or a fashion-forward layered skirt, these boots can effortlessly enhance your fashion sense.
The key is to find the right dress or skirt that resonates with your style and allows the boots to shine.
Shorts and Cowboy Boots: Embracing the Cute and Casual
Wearing cowboy boots with shorts can be a delightful and fashionable choice.
To achieve a look that's both cute and stylish, consider opting for shorts made from lighter fabrics rather than denim.
Lighter fabrics create a more feminine and carefree vibe, making it an excellent choice for various occasions.
1. Cotton or Linen Shorts for a Feminine Touch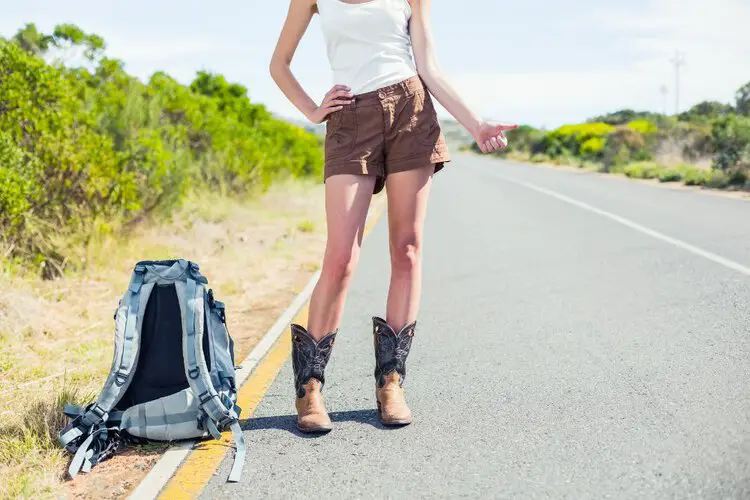 If you want to maintain a cute and feminine look when pairing shorts with cowboy boots, choosing non-denim shorts is a fantastic strategy.
Lighter fabrics, such as cotton or linen, add a softer and more delicate texture to your outfit.
These materials drape gracefully and create a sense of movement that aligns perfectly with a feminine aesthetic.
To complete the look, keep it simple and casual with a tank top, plaid shirts, or a tee. These tops provide a relaxed and easygoing feel that complements the laid-back charm of cowboy boots and shorts.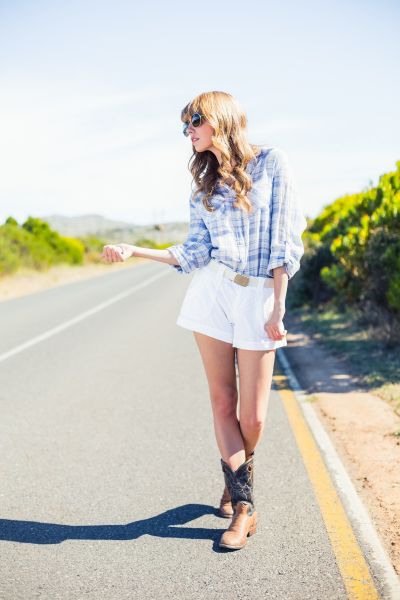 Tuck your top into your shorts for a clean and polished appearance, or leave it untucked for a carefree vibe.
The choice of top allows you to adapt the outfit to various settings, from picnics in the park to casual outings with friends.
2. Denim Shorts and Cowboy Boots: Balloon Sleeves for Added Charm
Denim shorts exude a casual, slightly edgy vibe. To balance this with a touch of cuteness and style, choose a top with balloon sleeves.
Balloon sleeves are known for their whimsical and feminine appearance.
They add a sense of volume and flow to your top, which beautifully complements the more structured and rugged look of cowboy boots and denim shorts.
Opt for tops in light and airy fabrics to maintain a cute and relaxed vibe. Pastel colors or floral patterns can enhance the femininity of the outfit.
The combination of shorts and cowboy boots can be a fun and charming style statement.
Whether you're strolling through a summer festival or enjoying a sunny day out, this ensemble is all about embracing cuteness and a relaxed vibe.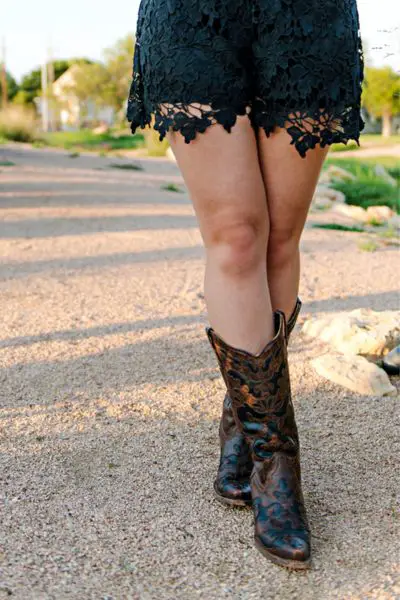 Experiment with different types of shorts and accessories to discover the perfect combination that suits your personal style.
Never Forget Accessories
Accessories are the secret sauce that takes your cowboy boot outfit to the next level.
Whether you're pairing your boots with jeans, dresses, skirts, or shorts, these added touches can make all the difference in your style.
From denim trucker shirts to light coats, hobo bags, and wide-brim hats, these accessories can enhance your outfit in various ways.
They add depth, character, and sometimes a touch of the Wild West charm to your ensemble.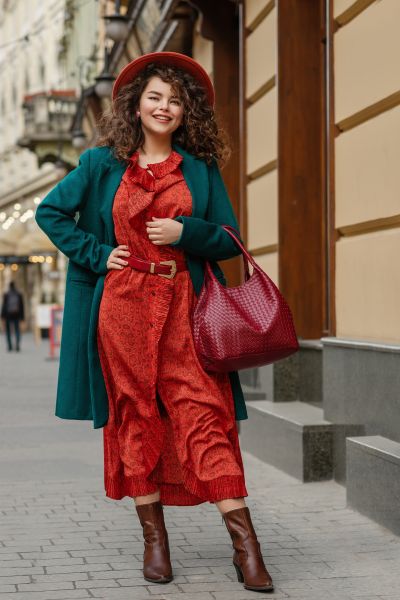 Whether it's for a casual day out, a special occasion, or just to express your personal style, accessories play a pivotal role in achieving the perfect outfit.
So, never underestimate their power and potential when you're putting together your cowboy boot-inspired outfits.
Wrap it up
Throughout this article, we've explored the myriad ways in which these boots can infuse your outfits with a touch of cuteness and fashion flair.
From pairing them with dresses, skirts, and jeans to embracing the art of accessorizing with denim trucker shirts, light coats, bags, and wide-brim hats, we've witnessed how cowboy boots can be the cornerstone of a fashion statement that's both cute and captivating.
The key to mastering this art lies in the art of balance, creativity, and personal expression.
Whether you're headed to a casual outing, a special event, or simply looking to make a statement, your cowboy boots are your trusty companions for this journey.
It's all about combining the rugged charm of the Wild West with a touch of modern elegance.
So, as you continue your quest for the perfect cute look, remember to keep experimenting, innovating, and making these beloved boots your own.
With the right outfits and accessories, you can confidently step out into the world, turning heads and expressing your unique style.
Howdy y'all, and welcome to From The Guest Room, your ultimate guide to all things Western! I'm Jay Gatz, a lifelong cowboy boot enthusiast with over 5 years of experience in the Western style world. I'm excited to share my knowledge with you and help you discover the perfect cowboy boots and western gear to elevate your style. Let's explore the rich history and timeless appeal of Western fashion together!