As the autumn leaves paint the world in shades of gold, and the air turns crisper with each passing day, you find yourself in front of your closet. It's a wardrobe filled with cozy knits and, of course, your trusty pair of cowboy boots.
In this moment of fall fashion contemplation, a question arises: "Can I wear cowboy boots with a sweater?" Fear not, dear style enthusiast, for we're about to unravel the secrets of this stylish and creative pairing.
Fall is all about cozy comfort and style that effortlessly captures the essence of the season. And what better way to embrace this change than by pairing the timeless appeal of cowboy boots with the snug warmth of sweaters?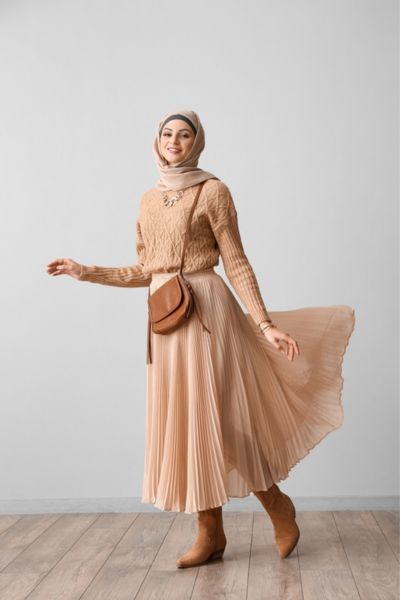 Can I Wear Cowboy Boots with a Sweater?
Let's dive right into the heart of the matter. Can you really pull off cowboy boots and sweaters together?
Absolutely! This dynamic duo is not only a possibility but a fantastic choice for your wardrobe.
Cowboy boots have come a long way from their dusty beginnings on the ranch. They've gracefully made their transition from the frontier to the fashion world.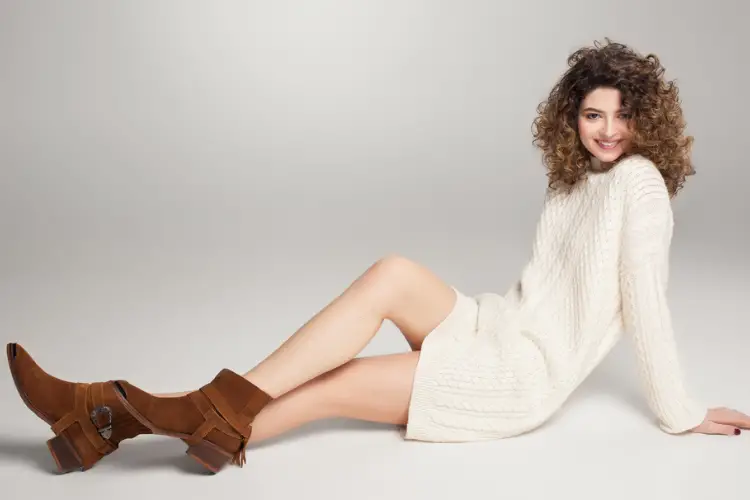 What makes cowboy boots so special is their unparalleled ability to effortlessly straddle the line between rugged and refined.
It's precisely this versatility that makes them a perfect companion to your beloved sweaters.
Wearing cowboy boots with a sweater can be a stylish choice for various occasions and settings, depending on your personal style and the specific outfit you put together.
Whether you're aiming for a rustic look, embracing Boho chic, or going for a sleek urban style, cowboy boots can be your trusted companions.
With the right accessories and seasonal adjustments, you can confidently explore the world in comfort and style.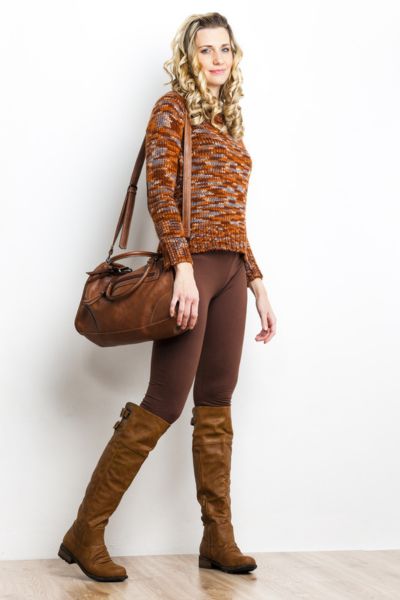 However, while cowboy boots and sweaters are perfect for cold weather, they may not be the best choice on scorching hot days.
Sweaters are designed to keep you warm, which can lead to overheating in high temperatures. Opt for lightweight, breathable fabrics instead.
Cowboy boots, with their sturdy construction, can trap heat and cause discomfort in hot weather. Your feet may become sweaty and uncomfortable.
On hot days, prioritize comfort by choosing lightweight, breathable clothing and open-toed shoes. Save your cowboy boots and sweaters for cooler seasons when they can shine.
If you love the Western look, explore warm-weather alternatives like lightweight Western-style shirts and sandals. Stay stylish without overheating.
Save your cowboy boots and sweaters for cooler days and opt for weather-appropriate attire when the temperature soars.
Construction and Materials: The Key to Cold Weather Comfort
When it comes to braving cold weather, your choice of clothing and footwear plays a pivotal role in keeping you warm and stylish.
Cowboy boots and sweaters have distinct construction and materials that make them standout options for colder seasons.
1. Sweaters: Cozy and Insulating
Sweaters are typically crafted from high-quality knitted materials like wool, cashmere, or blends of natural fibers.
These fabrics are renowned for their excellent insulation properties, trapping warmth close to your body to keep you toasty in cold weather.
The construction of sweaters involves multiple layers of knit, creating pockets of air that act as insulators. This design not only enhances warmth but also provides breathability, preventing overheating when you move indoors.
Sweaters are known for their durability, making them a reliable choice for cold weather. Their tight knit resists wear and tear, ensuring they can withstand the rigors of chilly seasons.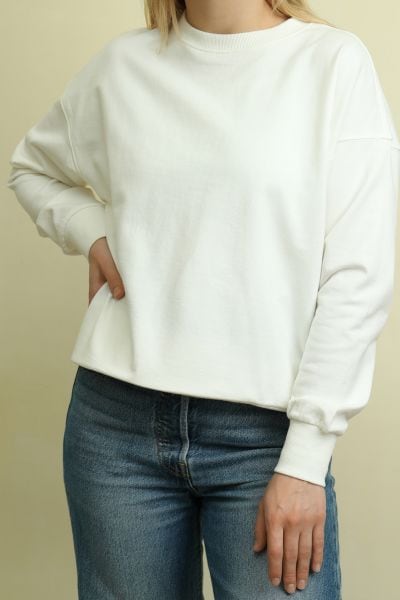 2. Cowboy Boots: Rugged and Warm
Cowboy boots are often made from premium leather, which is naturally insulating and helps retain heat. Leather's ability to conform to your foot's shape ensures a snug and warm fit.
The construction of cowboy boots is designed for durability and warmth. They typically feature multiple layers of leather, which provide an extra barrier against cold air and moisture.
Many cowboy boots come with cozy, insulated linings, adding an extra layer of warmth and comfort. These linings can be made from materials like shearling or Thinsulate.
Over-the-ankle or knee-high cowboy boots offer more coverage, keeping your lower legs warm even in the coldest of weather. The taller shaft also helps prevent drafts from entering your boots.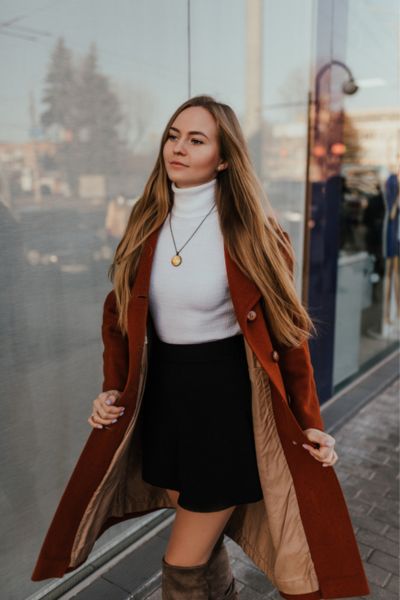 Together, cowboy boots and sweaters create a winning combination of warmth and style for cold weather.
The insulating properties of sweaters and the cozy comfort of cowboy boots ensure that you're well-prepared to face chilly temperatures while looking effortlessly stylish.
Additionally, both cowboy boots and sweaters are incredibly versatile.
You can mix and match different styles, colors, and patterns to create a wide range of outfits suitable for various cold weather occasions, from casual outings to festive celebrations and professional settings.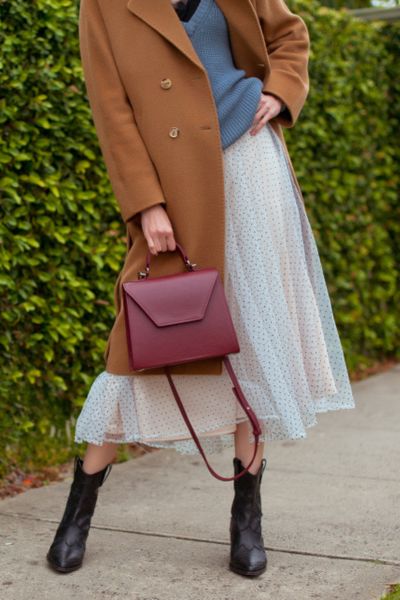 Cowboy Boots and Sweaters Outfit Ideas: A Cold Weather Fusion of Warmth and Style
As the chill of fall, winter, and early spring sets in, the need for warmth doesn't have to compromise your style.
Cowboy boots and sweaters offer a harmonious blend of coziness and fashion, making them the perfect choice for cold weather seasons.
Idea 1. Casual Outings:
When it comes to dressing for casual outings, comfort and style are key. One combination that effortlessly balances these elements is to pair cowboy boots with cozy sweaters.
Not only does it keep you warm during those crisp fall days, but it also offers a chic and relaxed look that's perfect for a variety of informal settings.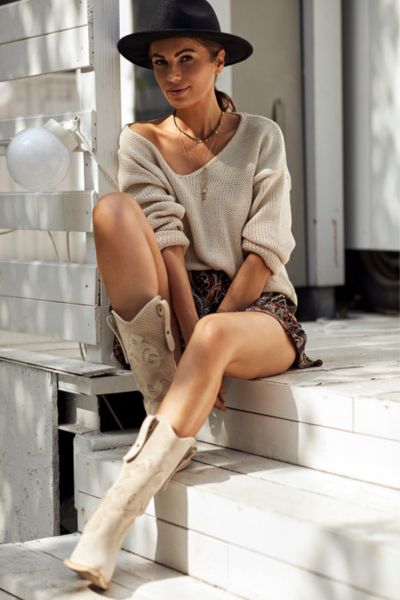 For a delightful twist on the cowboy boots and sweater combination, consider this outfit idea: floral mini skirts paired with classic-style white cowboy boots. This choice is not only trendy but also remarkably versatile.
The floral mini skirt serves as the centerpiece of this ensemble. Its vibrant patterns and colors create a striking contrast with the classic white cowboy boots, making them pop and drawing attention to your footwear.
The skirt's shorter length also plays a role in elongating your legs, giving the illusion of height and grace.
Sweaters are the unsung heroes of fall fashion. Their coziness adds a layer of comfort to your outfit, making you feel snug and warm during casual outings.
Beyond their practicality, sweaters bring an element of elegance to the entire ensemble. Whether you opt for a cable-knit pullover or a loose, oversized cardigan, sweaters can effortlessly elevate your look.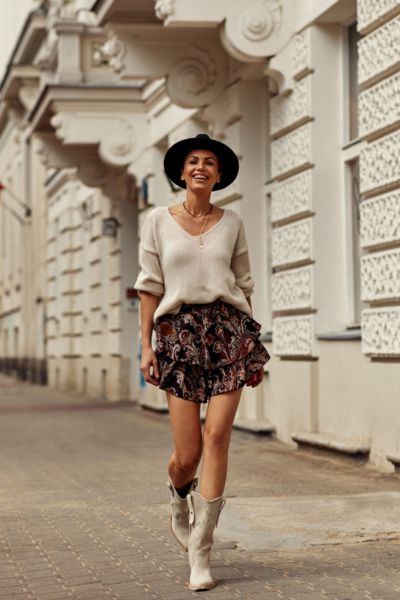 To round off this stylish and relaxed outfit, consider adding a classic cowboy hat. This iconic accessory not only complements the cowboy boots but also enhances the Western charm of the entire ensemble.
The hat brings a sense of authenticity and style, making you feel confident and ready to embrace the day.
Whether you're meeting friends for coffee, exploring your favorite local spots, or simply enjoying a leisurely day out, this outfit ensures you look and feel your best.
Or, wearing jeans with ankle cowboy boots and a sweater is also a winning combination that strikes the perfect balance between laid-back charm and fashion-forward flair.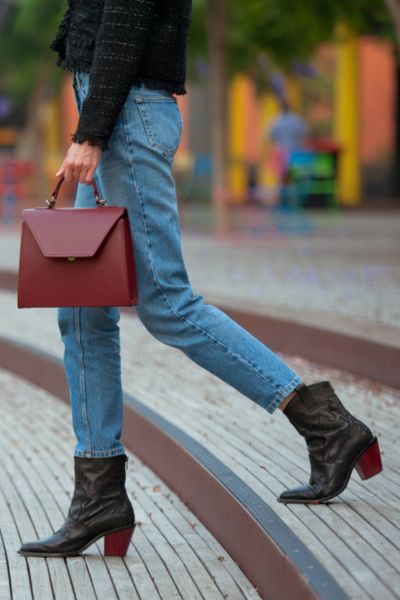 Pair your sweater with slim fit straight leg jeans. These jeans offer a sleek silhouette while ensuring maximum comfort.
The black ankle boots, with their shorter shaft, provide a modern and versatile twist to the classic cowboy boot style. These boots perfectly match your black sweater, creating a cohesive and chic appearance.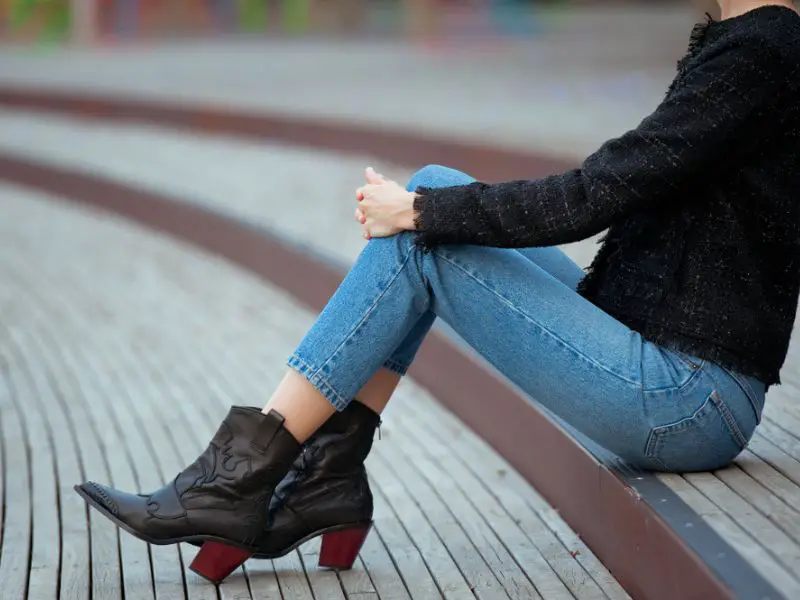 The fashionable gap between your jeans and the top of your boots is a key element of this outfit. It adds a unique and fashion-forward touch to your look, allowing you to showcase the boots while maintaining a sense of casual coolness.
Feel free to accessorize your outfit as desired. You can add a belt for an extra touch of style or incorporate statement jewelry to personalize your look further.
Sunglasses and a crossbody bag can complete your casual outing ensemble.
Idea 2. Date Nights:
Date nights are all about creating a lasting impression, and what better way to do that than with an outfit that seamlessly combines style and confidence?
Cowboy boots and sweaters, when matched well, can elevate your date night look to a whole new level, ensuring you stand out and make a memorable impact.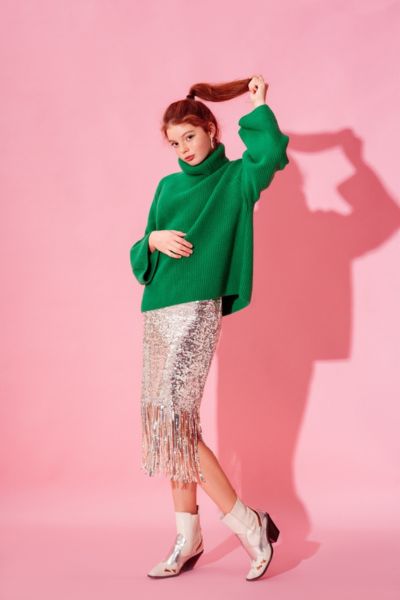 For a date night outfit that's bound to turn heads, consider this striking combination: a vibrant green knitted turtleneck sweater with wide sleeves paired with stylish white ankle cowboy boots.
The magic of this ensemble lies in the contrast of colors and textures.
A bold, green knitted turtleneck sweater is not only a statement piece but also an excellent choice for date nights.
The rich, eye-catching color exudes confidence and sets you apart from the crowd. The wide sleeves add a touch of drama and flair to your overall look, making it clear that you've put thought into your outfit.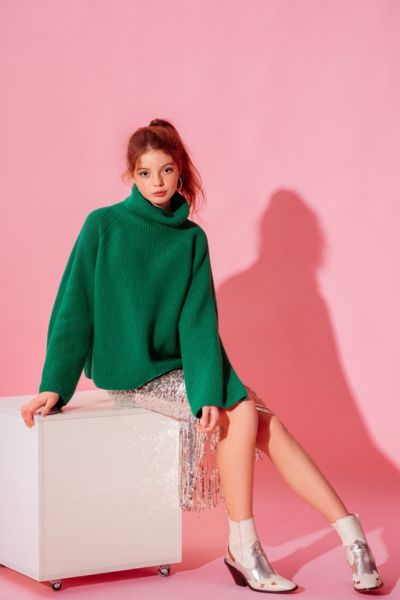 White ankle cowboy boots, with their sleek design and attention-grabbing presence, serve as the perfect complement to the boldness of the green sweater.
They add a touch of sophistication and Western charm to your outfit, ensuring you look chic and stylish while maintaining an element of comfort.
To take your date night look to the next level, consider pairing your sweater and cowboy boots with a sequin skirt adorned with fringes.
The sequins shimmer under the romantic glow of evening lights, creating an air of enchantment. The fringes add playful movement to your outfit, making it dynamic and engaging.
This balance ensures you're not only visually captivating but also relaxed and ready to enjoy your date night to the fullest.
Idea 3. Urban Styling:
When it comes to urban styling, the blend of sophistication and comfort is key.
Cowboy boots and sweaters offer a unique opportunity to create an effortlessly elegant look that stands out in an urban setting.
Let's delve into why this combination works, using your outfit as a prime example.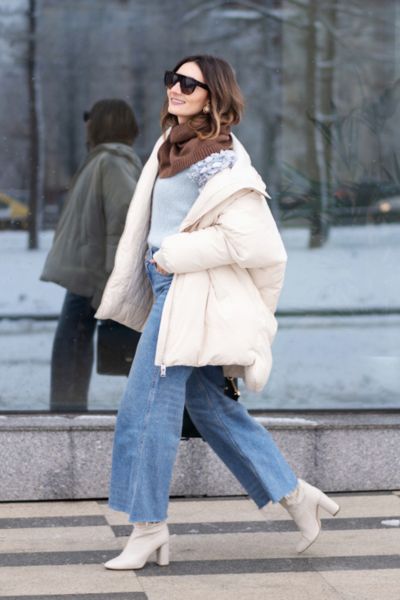 Start with a beige oversized down jacket. It's a modern classic that not only keeps you warm but also exudes urban sophistication. The neutral tone sets the stage for the rest of the outfit, creating a canvas for your style.
Beneath your jacket, opt for a knitted sweater. The tactile quality of the knit adds depth and texture to your outfit while keeping you cozy in the city's chill.
This combination of a sleek jacket and a textured sweater strikes the perfect balance between urban chic and comfort.
Pair your sweater with flared jeans. This timeless choice adds a touch of vintage charm to your look while flattering your figure. The classic denim provides a sturdy foundation for your ensemble.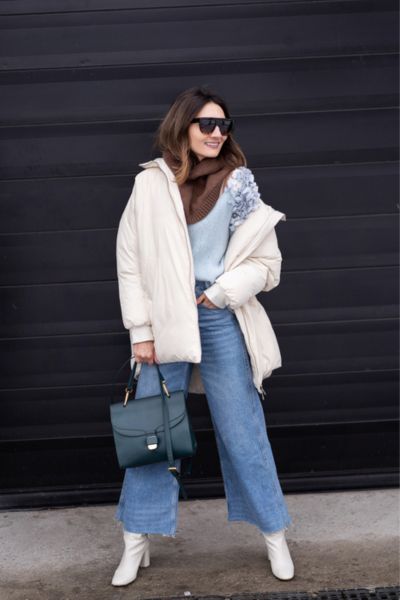 Accessorize with a stylish handbag and a pair of glasses. The handbag adds a functional yet fashionable element to your outfit, while the glasses lend an air of intellectual sophistication.
Now, let's talk about the pièce de résistance: your pointed-toe white cowboy boots.
These boots, with their refined silhouette, elevate your outfit to a whole new level of urban elegance. The sharp, pointed toe and the pristine white color exude sophistication and draw attention with every step.
Idea 4. Work and Business Casual:
In the realm of work and business casual settings, the fusion of style and sophistication is essential.
Stylish cowboy boots and sweaters offer a distinctive way to achieve this elegance while ensuring you look polished and professional.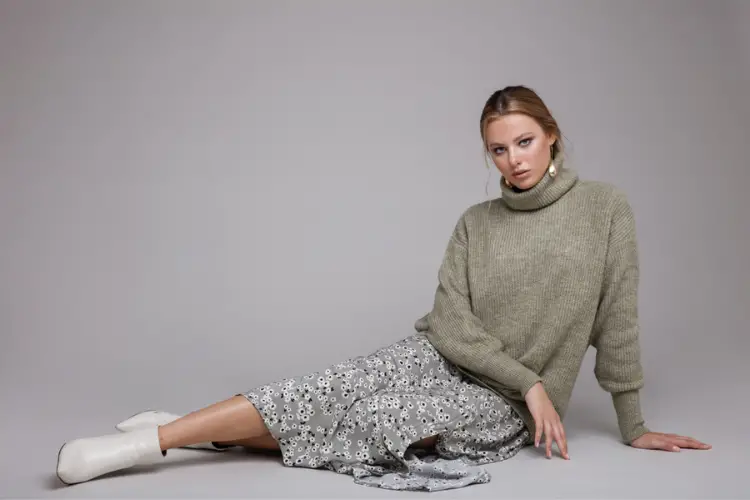 Begin with a pale green sweater. Its soft and understated color exudes a sense of calm and sophistication. The sweater serves as the foundation of your elegant ensemble, offering both warmth and grace.
Pair your sweater with a gray boho midi skirt. This choice adds a touch of bohemian chic to your outfit while maintaining a professional edge.
The midi length is both stylish and office-appropriate, making it a versatile addition to your wardrobe.
White ankle cowboy boots, with their clean and streamlined design, bring an unexpected yet captivating element of elegance to your work attire.
The white hue serves as a striking contrast to the pale green sweater and gray skirt, ensuring your boots are the star of the show.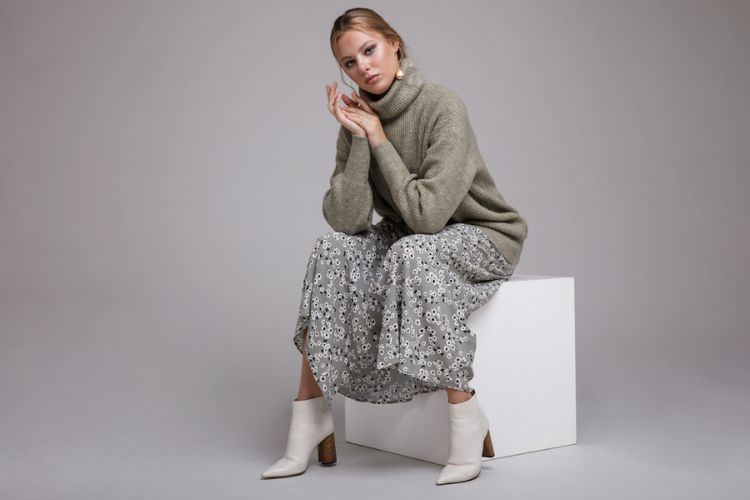 The combination of a pale green sweater, a gray boho midi skirt, and white ankle cowboy boots is a testament to the power of simplicity in elegance.
It's an outfit that speaks volumes without being overly ostentatious, making it perfectly suited for work and business casual settings.
Idea 5. Festive Occasions:
Festive occasions call for a touch of glamour and a dash of style that sets you apart from the everyday.
Cowboy boots and sweaters, when thoughtfully paired, can infuse your outfit with a festive charm that's both unique and eye-catching.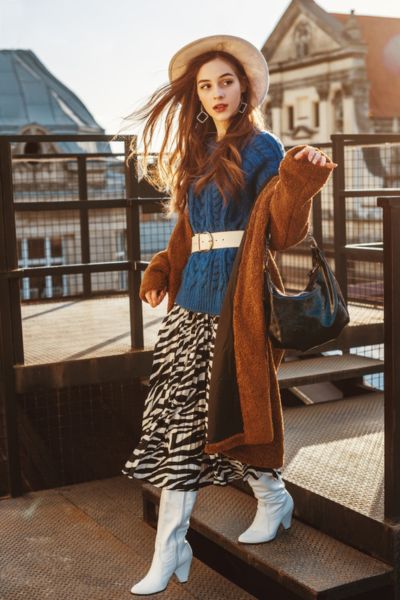 Festive occasions are all about celebrating in style, and your outfit should reflect the spirit of the event.
Start with a trendy brown faux fur coat. It adds a layer of luxe elegance to your outfit, providing both warmth and opulence. The rich brown color sets a festive tone and creates a lavish backdrop for your ensemble.
Beneath the faux fur coat, opt for a blue knitted sweater. The vibrant hue adds a pop of color to your outfit, infusing it with vibrancy and energy.
The sweater's cozy texture also brings a sense of comfort to your festive attire.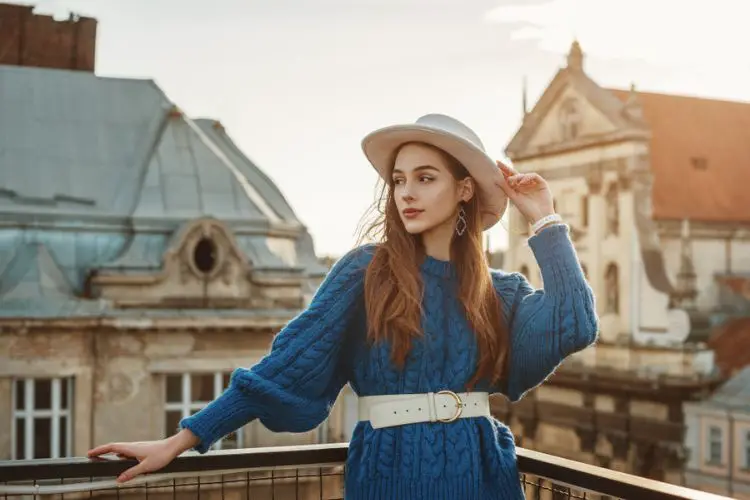 Accessorize with a wide belt and a stylish hat. The belt cinches your waist, creating a flattering silhouette and emphasizing your style.
The hat not only complements your cowboy boots but also adds a chic touch that elevates your overall look.
Pair your sweater with a pleated zebra print skirt. The bold print injects an element of excitement and festivity into your outfit, making it clear that you're ready to celebrate. The pleats add playful movement and depth to your ensemble.
The boots, with their elevated height and pristine white color, serve as a striking contrast to the boldness of the zebra print skirt. They add a sense of flair and individuality to your festive attire.
Last Words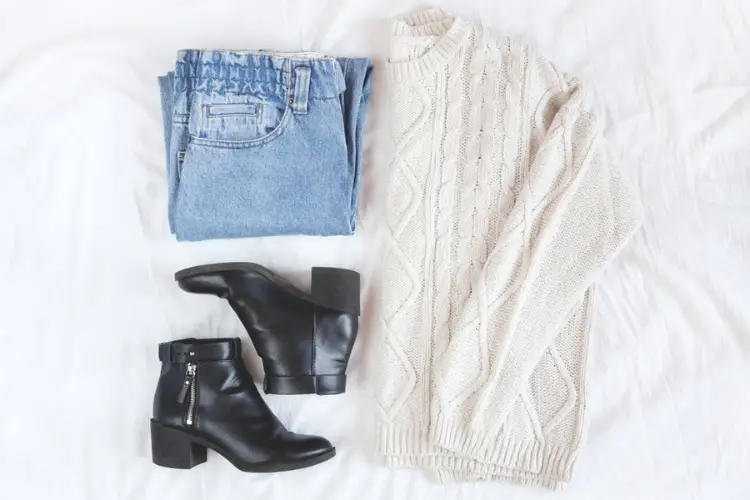 In the world of fashion, some pairings are simply timeless. Cowboy boots and sweaters are a dynamic duo that effortlessly balances comfort and style.
From casual outings to festive occasions and even cold weather days, these wardrobe essentials have proven their versatility.
While they may not be the go-to choice for scorching hot weather, their construction and materials make them perfect for cooler seasons.
So, embrace the charm of cowboy boots and the warmth of sweaters, and let your fashion adventure unfold in style and comfort.
Howdy y'all, and welcome to From The Guest Room, your ultimate guide to all things Western! I'm Jay Gatz, a lifelong cowboy boot enthusiast with over 5 years of experience in the Western style world. I'm excited to share my knowledge with you and help you discover the perfect cowboy boots and western gear to elevate your style. Let's explore the rich history and timeless appeal of Western fashion together!