When it comes to the world of cowboy boots, enthusiasts and fashion aficionados alike can agree on one thing: the timeless appeal of round-toe cowboy boots.
In the realm of footwear, few styles manage to strike a balance between classic design and unparalleled comfort as effortlessly as these boots.
Round toe cowboy boots have stood the test of time, not just for their iconic appearance but also for the unmatched ease they offer to those who wear them.
In the following article, we will delve into the reasons why round-toe cowboy boots have earned their esteemed status as the most popular toe types in both style and feel.
Furthermore, we will explore the art of styling these boots, revealing just how super easy and fast it can be to create striking, fashionable looks that leave a lasting impression.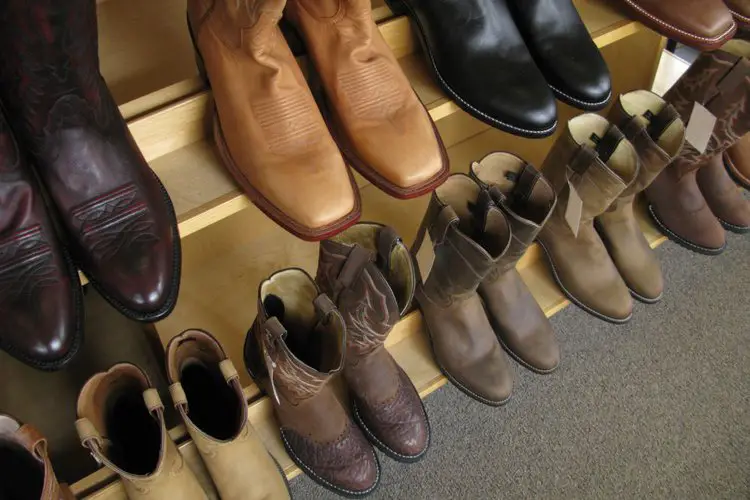 Why Round-Toe Cowboy Boots Reign Supreme:
Round toe cowboy boots boast a design that effortlessly blends versatility and timeless elegance.
Whether you're dressing up for a night out on the town or embracing the casual charm of Western-inspired fashion, these boots seamlessly adapt to various styles and occasions.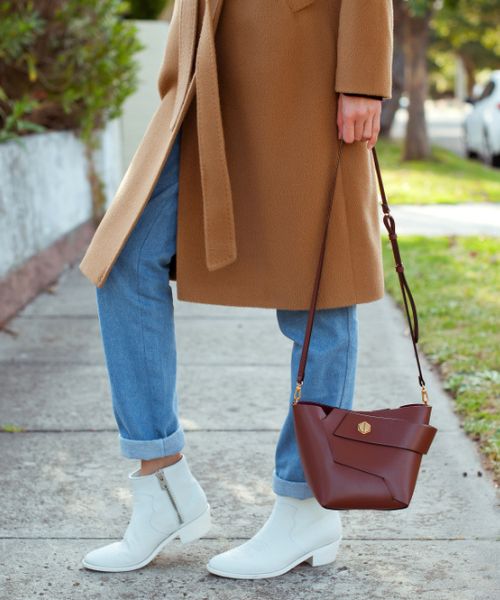 One of the key reasons behind the popularity of round-toe cowboy boots is their exceptional comfort.
The rounded toe provides ample room for your toes to wiggle comfortably, making them ideal for extended periods of wear.
This feature ensures that you can effortlessly transition from a day at work to a night of dancing without any discomfort.
The classic design of round-toe cowboy boots is often enhanced with modern details and finishes.
From intricate stitching patterns to innovative material choices, manufacturers continue to reinvent these boots, ensuring that they remain relevant and appealing to fashion enthusiasts of all ages.
Now that we've explored the fantastic ways to style your round-toe cowboy boots with jeans, let's venture into other wardrobe possibilities to make the most of these iconic boots in your fashion repertoire.
1. Relaxed Jeans for a Cute and Comfortable Look:
When selecting relaxed-fit jeans, you're not only ensuring a cute and comfortable all-day appearance but also embracing a classic vibe.
The choice of blue-hued jeans adds a touch of traditional elegance while maintaining a stylish edge.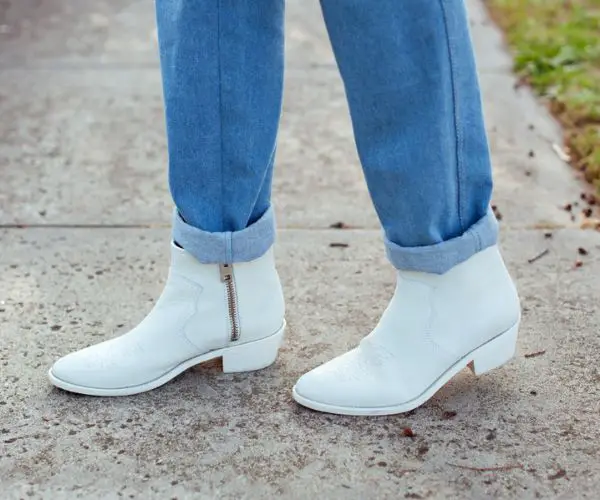 To amplify the style quotient, consider ankle cowboy boots, creating a fashionable gap between the jeans and the boots. This combination strikes a perfect balance between casual comfort and chic allure.
2. Street Style with Ripped Jeans:
For those fashion-forward individuals seeking a bold and edgy look, ripped jeans are the answer. When paired with cowboy boots, ripped jeans make a statement.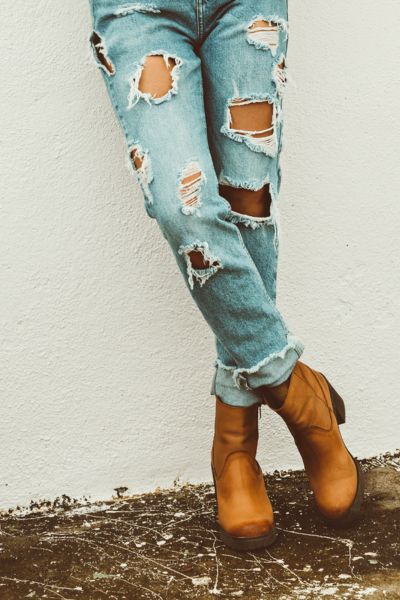 Look for bootcut or straight-leg ripped jeans to maintain a stylish aesthetic while ensuring all-day comfort. This daring pairing adds an element of creativity and innovation to your ensemble.
3. Skinny or Slim-fit Jeans for a Modern, Youthful Look:
For a modern and youthful appearance, embrace the slim fit of skinny jeans. Pair them with a simple T-shirt, tank top, or tee for an effortlessly stylish look.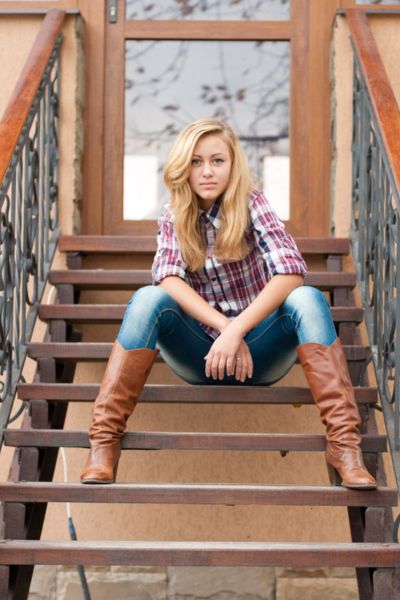 You can also choose to layer with a sweater or blazer when the weather calls for it. When styling skinny jeans with cowboy boots, ensure the jeans are neatly tucked inside the boots.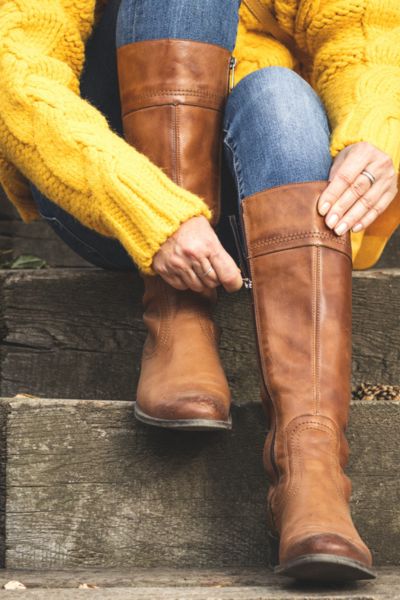 This not only accentuates the sleek lines of the boots but also provides a clean and polished appearance. On the other hand, relaxed-fit jeans should be worn over cowboy boots, preserving the traditional look.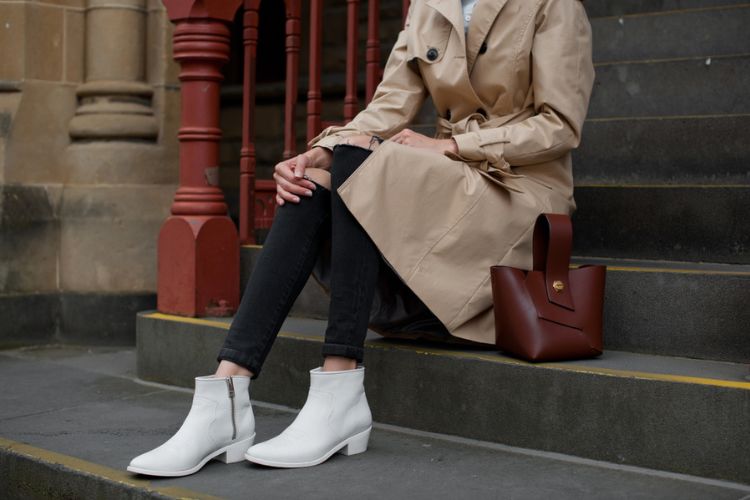 4. Dark Jeans for a Timeless Elegance:
Dark jeans exude a timeless elegance that pairs harmoniously with round-toe cowboy boots.
Their deep hues complement the classic appeal of the boots, making them a versatile choice for both casual and semi-formal occasions.
When paired with cowboy boots, dark jeans elevate your look, adding a touch of sophistication to your Western-inspired outfit.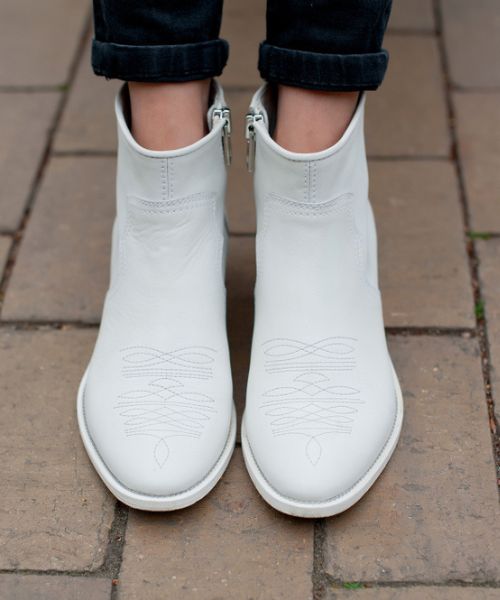 The beauty of combining jeans and cowboy boots lies not only in their style versatility but also in their practicality.
This pairing is perfect for outdoor activities and offers comfort and flexibility, allowing you to confidently adapt to different occasions.
5. Faded Jeans for a Relaxed, Vintage Vibe:
On the other end of the spectrum, faded jeans offer a relaxed, vintage vibe that effortlessly aligns with the Western charm of cowboy boots.
The worn-in look of faded jeans creates a casual, lived-in feel, making them an ideal choice for laid-back outings and outdoor adventures.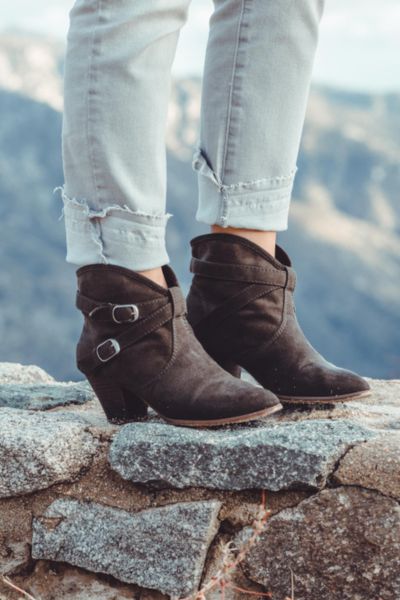 Pairing faded jeans with cowboy boots exudes a sense of rugged authenticity, celebrating the boots' heritage.
In chilly and cold weather, such as fall or winter, consider wearing cozy sweaters with your outfit for added warmth.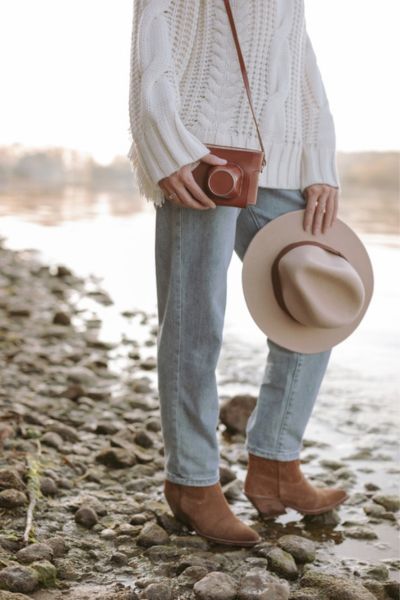 With a versatile selection of jeans, from dark to faded, you have the freedom to express your style while showcasing the timeless appeal of round-toe cowboy boots.
6. For a Sexy Look, Opt for Ripped Hem Denim Shorts
If you're aiming for a sexy and edgy look, consider ripped hem denim shorts.
This style choice adds a touch of allure to your outfit, and when paired with round-toe cowboy boots, it creates a striking contrast between rugged and stylish elements.
The combination of the distressed denim shorts and the classic boots exudes confidence and a daring sense of style.
Opting for a sleeved t-shirt adds a touch of ease and comfort to your ensemble. The lightweight fabric and breathable design make it an ideal choice for warm weather.
Whether you're strolling through the city or enjoying a day outdoors, this combination ensures you stay cool while exuding effortless style.
Beyond denim shorts, explore the versatility of light fabric shorts for everyday wear. These shorts are known for their breathability and comfort, making them an excellent choice for casual outings.
Their airy feel ensures you stay cool in warm weather while still looking fashionable. Pairing them with round-toe cowboy boots adds a touch of Western charm to your everyday look, creating a balanced blend of comfort and style.
For a versatile and everyday look, a classic tee is the go-to option. Its simplicity and timeless appeal make it a perfect match for round-toe cowboy boots and shorts.
Whether you're running errands or meeting friends for a casual gathering, this pairing strikes a balance between comfort and style, ensuring you look effortlessly chic while going about your day.
When traveling, you can opt for shorts and round-toe cowboy boots paired with a stylish shirt and a pair of sunglasses to create a dynamic and fashionable ensemble.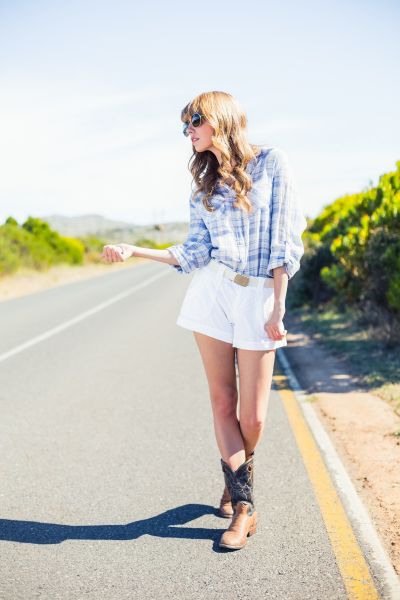 Not only does this outfit exude style, but the sunglasses also serve the dual purpose of shielding your eyes from the sun while adding a cool and fashionable touch to your overall look.
With these top choices, you can create a harmonious and stylish outfit that perfectly complements your shorts and round-toe cowboy boots, offering both comfort and flair for any summertime adventure.
7. Dresses and Skirts: Light and Feminine Feel
For a charming and relaxed look, consider pairing round-toe cowboy boots with dresses or skirts.
This combination is perfect for casual wear, offering a touch of Western flair to your outfit. Here are some styling suggestions:
Midi or Boho Skirts/Dresses:
Opt for midi-length or bohemian-style skirts and dresses to pair with tall cowboy boots. This combination exudes a classic Western-inspired look, blending charm and style seamlessly.
When selecting maxi skirts or dresses, ankle cowboy boots are the best choice. This pairing maintains a sense of style and comfort, allowing you to look effortlessly cute and relaxed.
Ankle boots allow you to flaunt the entire length of your boots, making them the centerpiece of your outfit.
When you wear a maxi skirt or dress, the shorter boot shaft ensures that the boots take the spotlight, showing off their intricate designs, embroidery, or unique finishes.
The charm of a 2-strap dress lies in its simplicity and elegance. The clean lines and minimalistic design of this dress style create a sleek backdrop for your round-toe cowboy boots.
Whether you opt for a solid color or a subtle pattern, the 2-strap dress provides a canvas for your boots to shine. This combination exudes a sense of refined casualness that's perfect for daytime outings, picnics, or casual gatherings.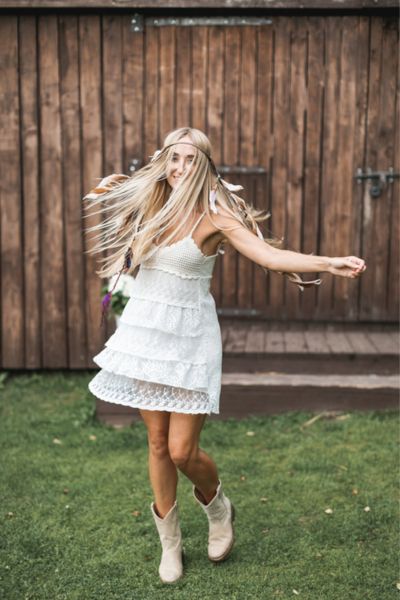 A classic A-line dress is a timeless choice that complements the Western-inspired allure of cowboy boots.
The flared silhouette of the dress adds a touch of femininity, while the boots bring a hint of rugged charm.
Whether you're donning an A-line dress for a summer garden party or a relaxed weekend brunch, this pairing effortlessly blends style and comfort.
It's an ensemble that's as suitable for a leisurely stroll as it is for a quaint outdoor wedding.
Go with Suede Cowboy Boots
When it comes to creating a light and feminine look with dresses and skirts, suede leather cowboy boots are your secret weapon.
Suede leather, known for its soft and supple texture, adds a gentle touch to your ensemble. The tactile feel of suede enhances the overall comfort and elegance of your boots, making them a perfect match for dresses and skirts.
By exploring these outfit options, you can confidently style your round-toe cowboy boots with dresses, skirts, jeans, and shorts, creating a versatile and fashionable wardrobe that suits various occasions and personal preferences.
Before you leave
In conclusion, the allure of round-toe cowboy boots knows no bounds, offering a versatile canvas for your fashion creativity.
Whether you choose to pair them with jeans, shorts, or dresses and skirts, these iconic boots effortlessly elevate your style.
From the classic appeal of dark jeans to the relaxed charm of faded denim, from the comfort of a sleeve t-shirt to the everyday ease of a tee, and from suede leather's soft touch to the striking display of ankle boots with maxi skirts/dresses, the options are boundless.
Round-toe cowboy boots not only make a fashion statement but also provide comfort and practicality for various occasions, whether you're exploring the outdoors, attending casual gatherings, or expressing your unique style.
With the right choices in outfits and accessories, you can showcase these boots in all their glory and embrace the Western-inspired charm they bring to your wardrobe. Let's enjoy this style!
Howdy y'all, and welcome to From The Guest Room, your ultimate guide to all things Western! I'm Jay Gatz, a lifelong cowboy boot enthusiast with over 5 years of experience in the Western style world. I'm excited to share my knowledge with you and help you discover the perfect cowboy boots and western gear to elevate your style. Let's explore the rich history and timeless appeal of Western fashion together!