There are many different types of cowboy boots: Riding boots, Stockman, Roper, Western boots,… Each type of boots has its own characteristics that are loved by many people. One of those features is the heels of cowboy boots.
Today, FromTheGuestRoom will have a topic to evaluate and compare between riding heel and walking heel.
Are you ready? Let's go!
Riding Heel vs Walking Heel
To get the most accurate look at the riding heel and walking heel of cowboy boots, we will assess their strengths and weaknesses.
What is a riding heel?
Let's take a look at some of the salient features of this traditional heel.
Design of riding heel
Because this is a traditional heel, you can also call it cowboy heel. Riding heels can be 2 inches or more in height.
The back heel is usually not 90 degrees upright from the ground, but it's inclined at an angle of 60 to 70 degrees above the ground.
Riding heel is not flat and block-like, but it's underslung or tapered. The bottom of the Riding heel is usually made from leather, but sometimes it can be made from rubber or synthetic.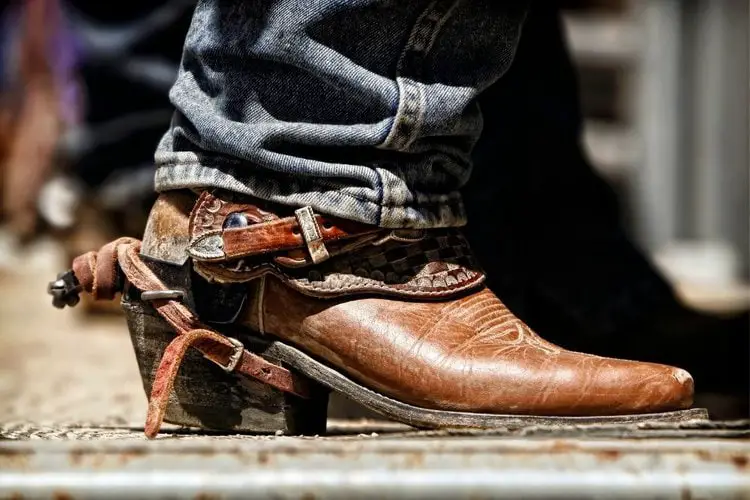 You can easily find Riding boots with Riding heels in brands such as Ariat, Dan Post, Lucchese, Durango, Laredo, etc.
Normally, if you notice, riding cowboy boots often come with round toe, snip toe or pointed toe.
Why is there such a characteristic? Let's continue reading.
Advantages of riding heel
When looking back, cowboys in the western United States needed sturdy boots to protect their feet when working on farms. Also, These cowboy boots were required to have a few more essential characteristics for riding easily. That's why riding heels were born.
Traditional cowboy boots with a pointed toe or round toe will easily get into and out of the saddle's stirrup, slippery outsoles will help them slide easily in the stirrup bar.
And one of the most important things: the riding heel is high and inclined enough to help the cowboy boots hook into the stirrup. So, this feature will prevent cowboy boots from sliding forward too much and falling off the saddle's stirrup.
Cowboys often place the ball of the foot on the stirrup bar when riding, but if unfortunately, their foot slips forward, they don't worry too much as a high and slanted heel touches the bar and stops their foot.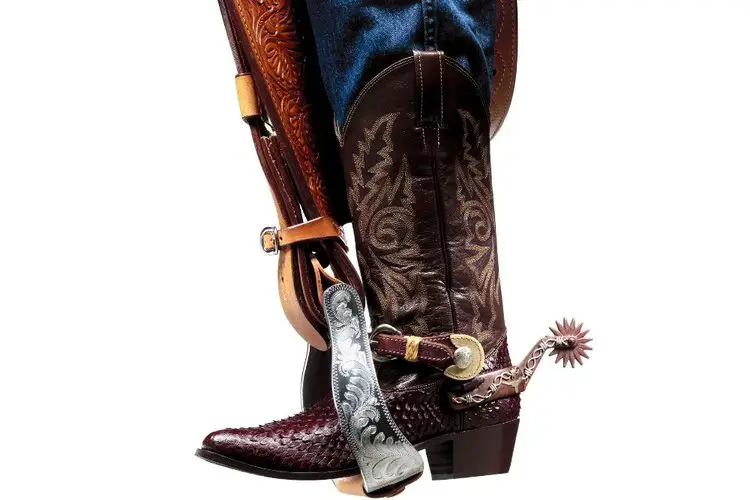 With the above feature. You can see that riding heel is perfectly suitable for horseback riding.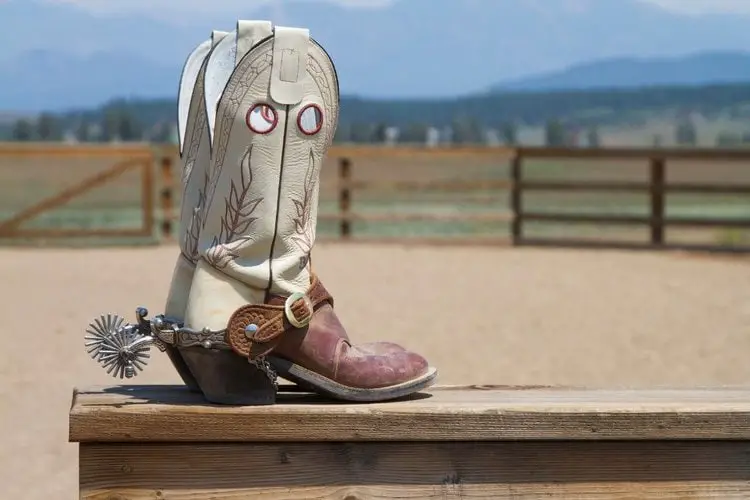 What if you don't ride a horse but still love cowboy boots?
The following is so convincing that you do not give up the decision of cowboy boots with Riding heels:
The heels of cowboy boots have been shown to be good for your gait, and you'll get a nice gait with a riding heel.
The height of Riding heel makes you taller and more confident – like a strong and masculine cowboy.
What could be better than that?
Disadvantages of riding heel
Otherwise, if you wear boots with a riding heel higher than 2″ (about 3″ or more), it isn't good for you when working/walking outdoors all day long. (Read more: Are Cowboy Boots Bad For Your Feet?)
If you wear cowboy boots with heels that are too high, your hips, knees, back and ankles will be subjected to more pressure than usual.
What is a walking heel?
What about walking heel? What makes them popular? Let's check out!
Design of walking heel
Compared to riding heel, walking heel also has a slanted shape, but less so. Besides, the walking heel is usually lower with only about 1.5 inches in height. The walking heel is usually made from rubber, but sometimes it can also be made from leather (bottom) or synthetic.
The bottom of walking heel is also wider than that of riding heel, making it easier to walk, which explains its name.
It's easy to find cowboy boots with walking heels on the market, Laredo, Dan Post, Ariat, Tony Lama, Double H,… all of them have cowboy boots with walking heels.
Cowboy boots with walking heels are usually Stockman, Western boots, Work boots, etc.
Advantages of walking heel
As the name implied, walking heel supports those who enjoy using cowboy boots for standing and walking on their feet, rather than just sitting still.
Yes, it is extremely flexible and comfortable for traveling all day! The construction has a standard height (1 to 1 1/2 inches) along with a relatively wide bottom that greatly aids your movement.
With a rubber bottom (most of them), walking heel is also more anti-slip than riding heel, thereby ensuring your steps are more stable.
Nowadays, people prefer to use walking heel to riding heel, as it is easier to balance, can be used for more different types of work but still retains the traditional style with a slanted look.
Disadvantages of riding heel
Besides the strengths of a riding heel that walking heel cannot have, walking heel is the type of heel that has very few weaknesses.
The weakness of a walking heel may be that it cannot help you to lift your height as dramatically as a riding heel. If you want to look arrogant like a real cowboy, riding heels will help you better than walking heels.
Should you choose Riding heel or Walking heel?
Just like in the article "pointed toe vs square toe", we have conducted a survey about the opinions of cowgirls and cowboys.
Everyone's opinions about "walking heel vs riding heel" is not totally opposite or harsh as "pointed toe vs square toe".
They love both types of heels.
To be honest, you don't need to be too considerate in choosing walking heel or riding heel. Choose a heel style of cowboy boots based on your purpose.
For example, if you want to choose cowboy boots for riding, or boots that can provide you with a confident, stylish gait and good look, riding heel is the best way to go.
But if you want to choose cowboy boots that bring comfort for everyday wear, walking heel is definitely a wise choice.
| | | |
| --- | --- | --- |
| | Riding heel | Walking heel |
| Comfort | ⭐⭐⭐ | ⭐⭐⭐⭐⭐ |
| Balance and stability | ⭐⭐⭐⭐ | ⭐⭐⭐⭐⭐ |
| Style | ⭐⭐⭐⭐⭐ | ⭐⭐⭐⭐ |
| Function | ⭐⭐⭐⭐ | ⭐⭐⭐⭐⭐ |
Here are some ideas about "walking heel vs riding heel"
1. What's the difference? I'm a little clueless right now – Melvin Gödecke

2. Riding even though I do not ride – Matt Perry

3. I like both. On a square toe I like a walking heel. I like a riding heel on pretty much everything else. Except ropers. I don't wear ropers because I like my boots taller – Nick Ryan

4. I like them all for looks I like the cowboy heel but I don't care so long as it's a cowboy boot. – Lee Nicholas

5. This is what I wear, I just love the look and feel of tall heels. The underslung angle and spur ridge are riding heel characteristics, but I just walk in these – they aren't exactly stirrup heels lol. – Jey Ping

6. Riding heel for bull riding walking heel for everyday stuff – Kelvyn Walker

7. I have to have at least a little under sling on the heel. It's all visual for me. I prefer that look .- Tommy Robinson

8. I'm only 5ft 8, so for me riding/cowboy heel, so I can be a little taller. plus I like more traditional boots like medium round toes. – Nick Maynard

9. Walking heel for broad square, for everything else I like a nice No.3 or No.4 riding heel – J M De Hoyos

10. I don't know what constitutes a riding/walking heel, but my favorite pair of boots has a 1.5 inch heel, and it's perfect for me – Chris C-Esquire

11. I prefer the riding heel…like the look the best. I do not think any of my boots have walking heels. I do not ride, just prefer the look. – Victor Harrelson

12. Not sure. I don't really notice heel height or shape too much. Whatever is the standard for Lucchese, or Tecovas. No roper heels though. – Jared Wagaman

13. I prefer what feels better. I typically like the cowboy heel because it feels more agile to me. But a nice roper heel on my square toed boots feel pretty good. It all comes down to what feels the best to you. – Michael Peters

14. Walking heel or anything between 1 3/8 and 1 5/8″ anything higher and I don't have enough foot for that. Underslung is also good because then where I walk is right at the center of the heel instead of towards the back of the heel. – Gregory Colotario

15. Walking heel for me. Just more comfortable. – Mark Nessmith
Conclusion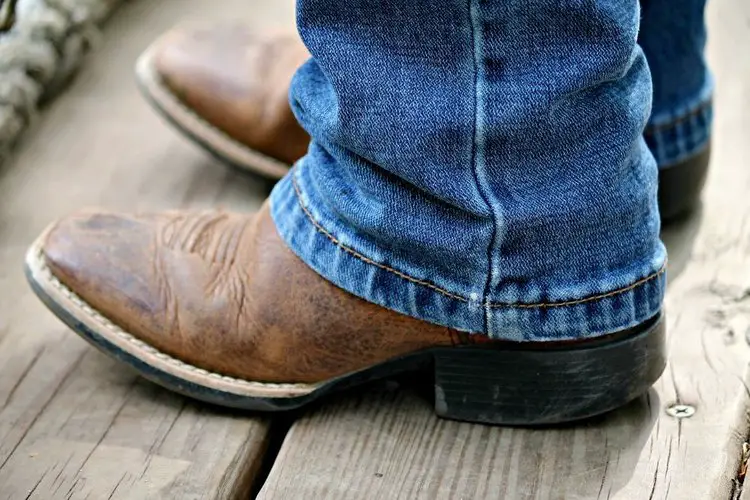 It would be unfair to judge whether riding boots and walking boots are better. Because each type of heel has its strengths and weaknesses depending on your intended use.
Personally, I like to use walking heel for casual use and riding heel when going to the office.
How about you?