There are many questions about cowboy boots. Although they sound a bit funny, it is not difficult to understand as cowboy boots have changed a lot over time, in terms of structure, form or use.
To this day, many newbies still don't really know the true use of cowboy boots when they see these boots in many places, from fashion runways to vast fields.
Well, cowboy boots were created from the very beginning to help farmers work on farms. And because of that, they also support farmers riding.
The word "cowboy" in cowboy boots indicates cowboys, and cowboys live more on horseback than on the ground. So, the answer to today's topic is pretty straightforward, you can absolutely wear cowboy boots to ride a horse.
However, since cowboy boots have undergone many evolutions and changes in construction, not all of them can be used for riding.
Why is that so? I'll tell you more details right below!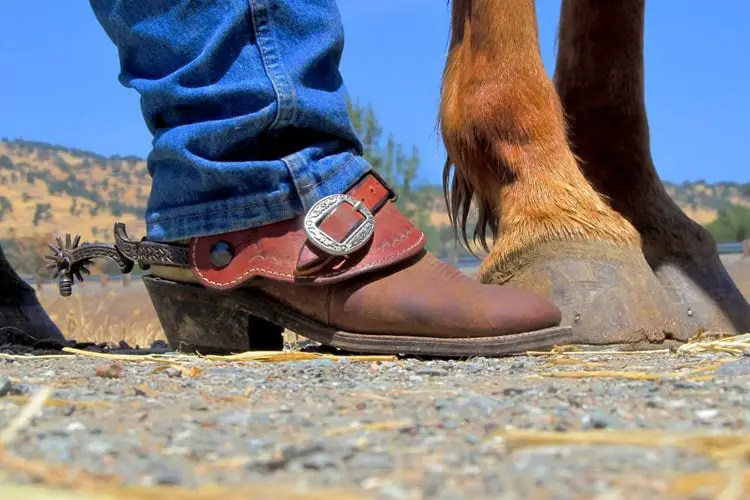 Can You Really Ride A Horse With Cowboy Boots?
It is true that one of the original reasons cowboy boots were born was to assist the wearer (farmers) in riding a horse to work on the farm.
Therefore, cowboy boots can completely be used for horseback riding! Without a doubt!
If you've ever seen the construction of traditional cowboy boots, you'll know they have a lot of great features to provide adequate protection and support to the wearer while riding a horse.
The first and most obvious one is the pointed toe (or round toe). This feature makes it easier for cowboy boots to get in or out of the saddle stirrup with their tapered tip.
What's more, there is a leather sole with a very flat and sliding bottom. Similarly, this helps the cowboy to easily slide his foot into the stirrup.
The heel of cowboy boots is quite high (1 1/2 to 2 inches) and can be hooked in time to keep the cowboy's foot from slipping out of the saddle stirrup (moving forward).
Finally, it's the high shaft of cowboy boots. You can immediately recognize that this feature can ensure the cowboy's feet are not scratched if accidentally brushed against the metal pieces (or hard, sharp objects) of the saddle stirrup.
In addition, cowboy boots have a high shaft and are made from 100% leather, so they are very effective in keeping cowboys warm in winter, or against the high temperatures of the summer heat.
Those are the most obvious reasons why cowboy boots are such a great choice for horseback riding.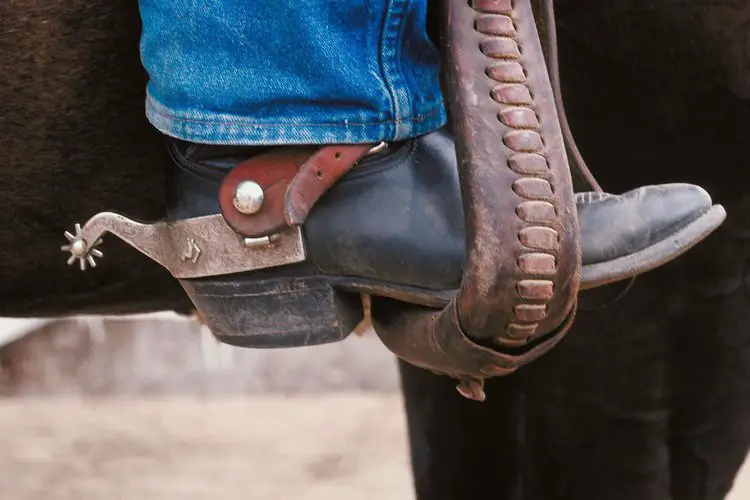 Today, not all cowboy boots are suitable for riding
One of the reasons that people today have misconceptions about whether cowboy boots are really used for riding a horse is that there are many cowboy boot variations emerging every day.
Today, you can see a lot of cowboy boots for aesthetic purposes or for casual wear, not just for working.
Typically, cowboy boots have a rubber sole, short heel, short shaft (9 to 10 inches) and a square or broad square toe.
These are cowboy boots for people who stand on their feet instead of sitting on horseback. And this type of cowboy boot also does not last as long as the traditional cowboy boots mentioned above.
These are cowboy boots that offer good balance and high comfort for the wearer with these features:
A rubber sole has good grip and shock absorption
A square toe has plenty of room for comfortable toes
A short heel ensures better balance and does not put a lot of stress on the arch, ankle, knee or back
A short shaft for easy put on/take off boots
Overall, these cowboy boots are very convenient and comfortable for casual wear, but will have many limitations when used for horseback riding.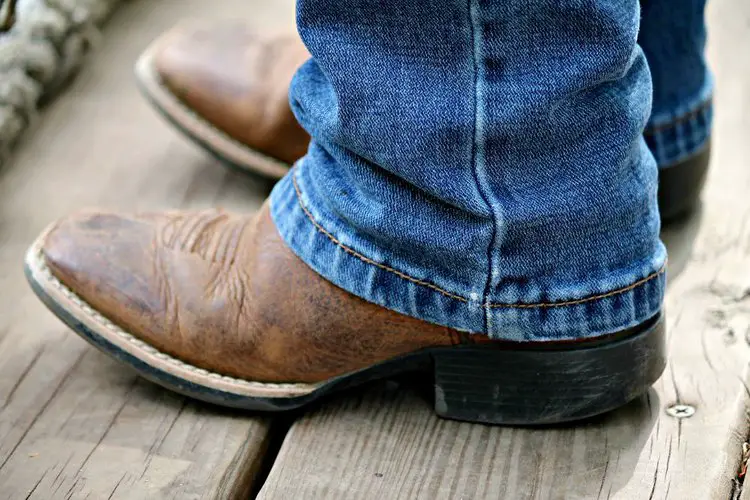 For instance, the grippy rubber sole and the wide square toe cause more trouble than traditional features when you want to tuck your foot into the saddle stirrup.
Also, the short heel does not guarantee that it will be able to hook onto the stirrup to protect your foot from sliding forward and out of the stirrup.
Therefore, there are many misconceptions about the true ability of cowboy boots! Many people don't know what cowboy boots are actually used for.
But if you intend to buy a pair of cowboy boots for riding, you can follow my instructions at the beginning of the article.
Before you leave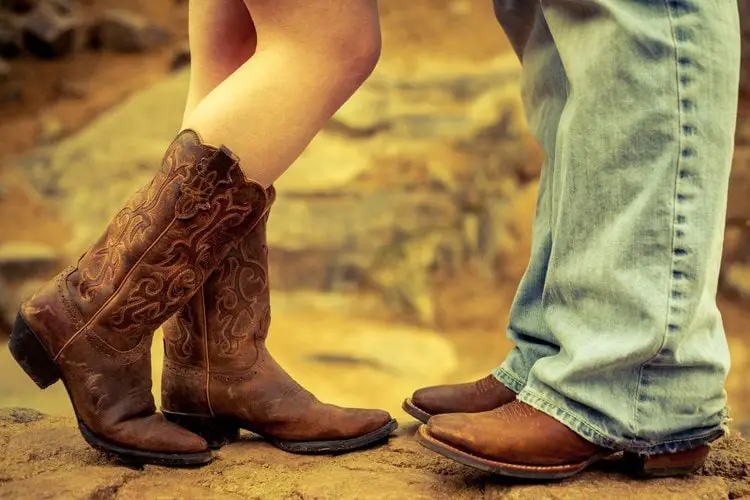 Although there are many variations of cowboy boots today to better suit the masses, most of them are still very suitable for riding, especially traditional-styled boots.
A traditional cowboy boot with a pointed toe (or round toe), smooth leather sole and high heel (1 1/2 inch to 2 inches) is a good and safe choice for riding.
You should clearly distinguish these cowboy boots, traditional vs modern, for the most comfortable and safe riding.
Good luck!
Howdy y'all, and welcome to From The Guest Room, your ultimate guide to all things Western! I'm Jay Gatz, a lifelong cowboy boot enthusiast with over 5 years of experience in the Western style world. I'm excited to share my knowledge with you and help you discover the perfect cowboy boots and western gear to elevate your style. Let's explore the rich history and timeless appeal of Western fashion together!