Embracing the timeless allure of Western fashion, this style guide is devoted to the ladies who cherish the classic elegance of cowboy boots paired with jeans.
Unlike their male counterparts, who often opt for a subtle showcase of the boot's foot and emphasize the vamp and toe shape, women have mastered the art of tucking skinny jeans into their boots for a seamless and stylish look.
This approach allows them to display the full silhouette of their boots, highlighting the feminine curves, vibrant colors, and intricate stitching patterns that characterize women's cowboy boots.
The ensemble celebrates the boots in their entirety, transforming them from mere footwear to a statement piece that complements various outfits, from casual denim to playful dresses and skirts.
So, if you're aiming for a chic Western vibe without compromising on sophistication, let's delve into the art of tucking your jeans into cowboy boots for a truly captivating ensemble.
In the following sections, we'll explore the style guide to achieving this iconic look and provide inspiring outfit ideas to enhance your wardrobe with this classic yet contemporary Western flair.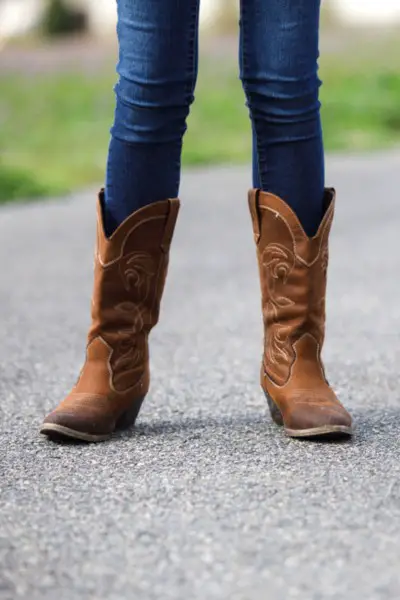 How to Tuck Jeans into Cowboy Boots?
Achieve an elegant look with these basic steps for tucking your jeans into cowboy boots:
Prepare Your Jeans: Before wearing them, make sure your jeans are smooth. For a better fit within the boot, cuff the hem if necessary.
Socks First: Wear tall, snug socks that will rise above the top of your cowboy boots.
Tuck and Smooth: Slide the jeans over your socks, ensuring they're neatly tucked in place.
Step into Boots: Carefully put your feet into the boots, guiding your jeans in smoothly.
Adjust for Comfort: Once your boots are on, adjust the jeans from the knee upwards to prevent any discomfort or wrinkling.
Walk Test: Move around a bit to make sure everything feels right and looks good. Re-tuck the jeans into the socks if they shift.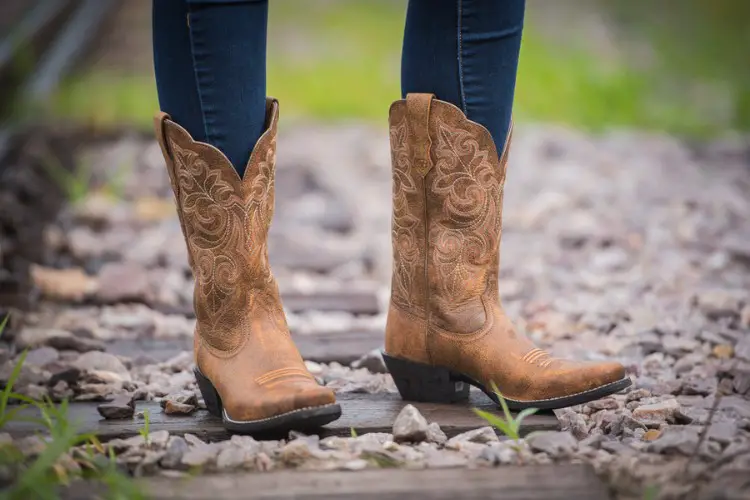 However, to master the art of tucking jeans into cowboy boots, and to ensure a sleek and polished look, one must pay careful attention to how the jeans fit around the calf.
A flawless execution not only elevates your style but also enhances comfort. Follow these pro tips to perfect the tuck:
1. Select the Right Fit:
Choose cowboy boots with a shaft that comfortably fits around your calf.
The boots should be snug but not tight, providing enough space to tuck in your jeans without cutting into your leg or restricting movement.
2. Jeans That Complement:
Go for skinny or straight-leg jeans that align with the contours of your legs. Jeans that are too loose can create a bulky appearance, while those that are too tight may hinder circulation when tucked in.
These styles of jeans closely follow the contours of your legs, creating a smooth line that complements the sleek silhouette of cowboy boots. There's no excess fabric to wrinkle or bunch up, ensuring a clean look.
Overall, tucking skinny or straight-leg jeans into boots can elongate your legs, creating balanced proportions and a flattering profile.
3. Smooth Out:
Before slipping into the boots, smooth the jeans down to the ankle to minimize bunching. This helps the fabric lie flat against your skin, ensuring a clean line from knee to boot.
4. Adjust the Opening:
If the opening of the boot shaft is wide, it may require a more precise tuck to prevent the jeans from peeking out awkwardly. Consider a neat cuff or using boot straps for a secure fit.
5. Fold for Precision:
If the jeans are a bit loose around the ankles, consider folding them inward before tucking to create a tapered effect that will stay put within the boot shaft.
6. Evaluate the Leather:
Examine the leather around the calf of your boots. It should give slightly, allowing for a comfortable tuck, but still maintain its shape to support the jeans.
7. Final Fit Check:
After tucking the jeans in, do a fit check by walking around and sitting down to ensure there's no pinching or slipping.
The jeans should stay in place, conforming to the boot's silhouette for an elongated, clean look.
8. Routine Readjustments:
As you move throughout the day, it's normal for the fit to change slightly. Be prepared for quick adjustments to maintain that pristine look.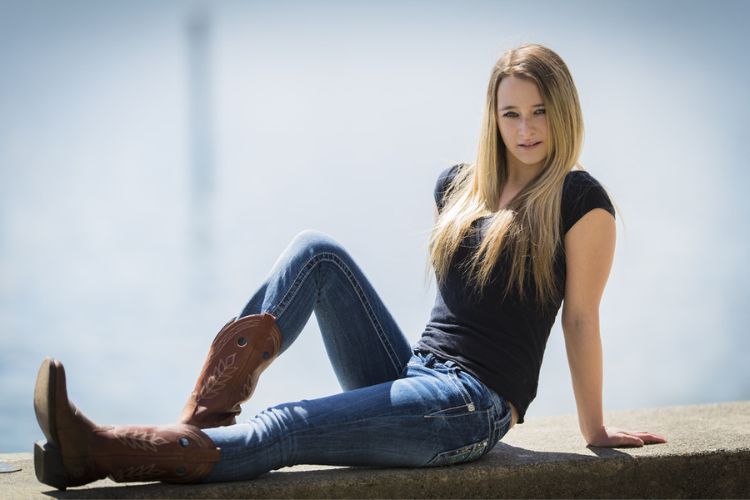 Jeans to Avoid When Tucking into Cowboy Boots
When it comes to tucking jeans into cowboy boots, certain styles and fits of jeans can complicate the look or result in a less than flattering appearance.
Here are types of jeans that are generally not recommended for tucking into cowboy boots:
Flared or Bootcut Jeans: These are designed to fit over boots, not to be tucked in. Tucking them in can result in bulky folds and an uneven silhouette.
Baggy or Loose-Fitting Jeans: Excess material can bunch up, making it difficult to achieve a smooth tuck. This can lead to discomfort and a disheveled look.
Capri or Cropped Jeans: They are too short to tuck into boots properly and can lead to awkward gaps between the jeans and the boots.
Heavily Embellished or Distressed Jeans: Jeans with a lot of embellishments or distressing can distract from the sleek look of cowboy boots and may also damage the interior of the boots.
Cuffed Jeans: While a single small cuff might be fine, large or thick cuffs can create bulk around the calf area, which is not ideal for tucking.
Thick, Stiff Denim: Jeans made from very thick or stiff denim may not tuck smoothly and can be uncomfortable to wear inside snug-fitting boots.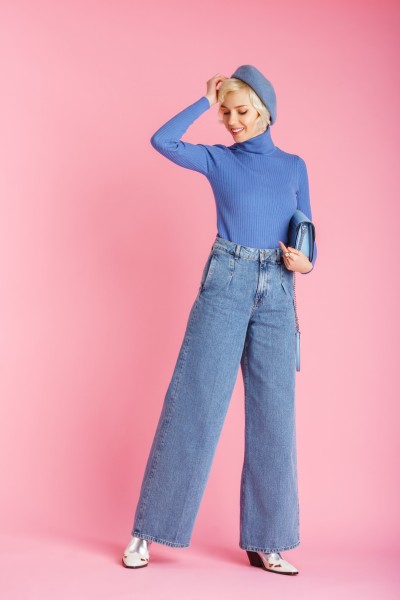 For a nea tuck, it's best to opt for slim-fit or straight-leg jeans made from flexible, lighter-weight denim.
These styles will more easily slide into the boots and conform to the shape of your leg and the boot, creating a streamlined and polished look.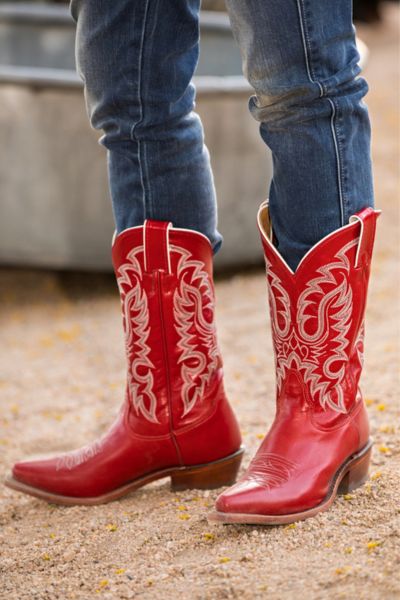 Jeans Tucked into Cowboy Boots Outfit Ideas
When it comes to creating outfits with your jeans tucked into cowboy boots, there's a range of styles you can explore, from casual and everyday looks to more dressed-up options.
1. Classic Casual with a Western Twist
Embrace the timeless appeal of the West with this versatile ensemble perfect for spring to autumn.
Begin with a pair of sleek black skinny jeans — a staple for their flattering fit and the way they allow your brown cowboy boots to take center stage.
The contrast between the black jeans and the warm hue of the boots creates a visually striking look.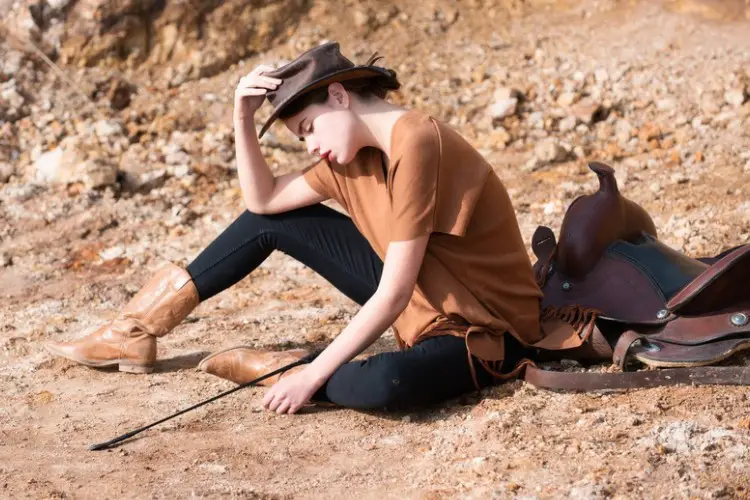 For the top, opt for ease and comfort with a soft, well-fitted t-shirt. Brown is always a great choice, but don't shy away from embracing color or subtle patterns.
This simple combination is effortlessly chic and serves as a solid foundation for layering.
When the temperatures dip, a suede fringe jacket becomes the centerpiece of this outfit, adding texture and movement with every step you take.
Not only does it provide warmth, but it also elevates the look with its intricate detailing and nods to classic Western attire.
Alternatively, for a touch of sophistication, swap out the fringe for a structured blazer. This piece can smarten up your casual wear without sacrificing the laid-back essence of your cowboy boots and jeans.
To complete the look, a wide-brim hat not only offers protection from the elements but also introduces an element of mystery and charisma to your aesthetic.
Choose a hat in a neutral tone that complements your boots for a cohesive and stylish finish.
2. Versatile Layers: From Rugged Charm to Feminine Flair
Revamp the classic jeans tucked into cowboy boots outfit by pairing them with a diverse array of tops to match any occasion.
Transform your outfit from simple to sophisticated with the right shirt:
Button-Downs for Elegance:
Choose a button-down shirt for a refined look that transitions seamlessly from a day at the office to an evening out.
Tuck it neatly into your jeans to highlight your silhouette and complement the boots.
Pearl Snap Shirts for a Touch of Western Glam:
For a hint of cowboy authenticity combined with modern flair, a pearl snap shirt is your go-to. Its unique closure adds a decorative yet masculine detail that harmonizes with the sturdy elegance of cowboy boots.
Plaid Shirts for Rustic Versatility:
A soft plaid shirt introduces pattern and color while maintaining the outfit's rugged charm.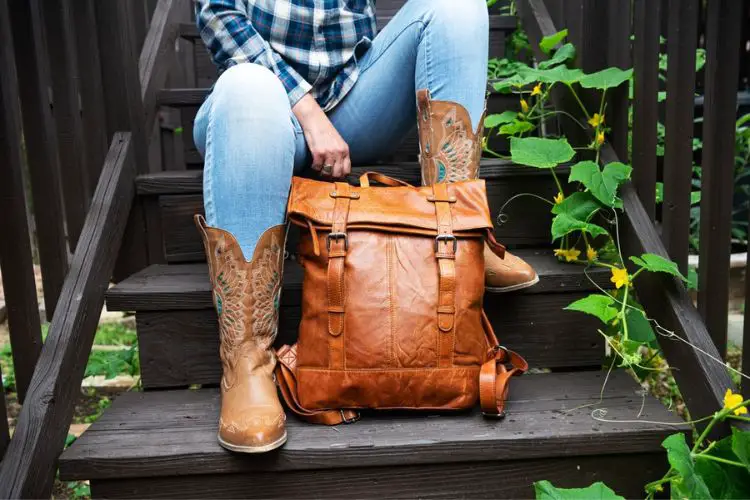 Push the sleeves up and leave the top fastening open for a casual yet refined look.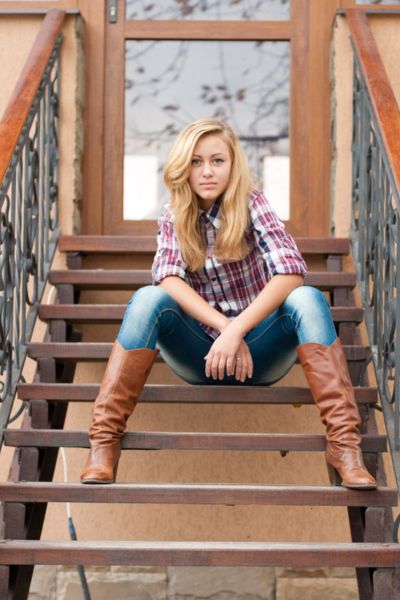 To add layers and textures to these looks:
Denim Coat for Timeless Appeal:
This creates a harmonious balance without overwhelming the outfit, allowing your boots to shine.
Dotted Swing Coat for a Feminine Twist:
When you aim for a lighter, more playful look, a dotted swing coat brings an element of whimsy. Its flowing cut and playful pattern introduce a contrasting softness to the structured boots and fitted jeans.
Slide into a suede puffer vest for an extra layer that adds warmth without bulk. The suede texture underscores the Western theme while the vest cut keeps the look streamlined and modern.
Remember, when mixing denim, varying the shades is key. A lighter chambray shirt with darker indigo jeans creates dimension and visual interest, ensuring your outfit has depth without the monotony of a single wash.
With these combinations, you can craft an outfit that's as suitable for a day of errands as it is for a casual dinner date.
Whether you choose to lean into a traditional Western look or mix it up with contemporary touches, these layered options with jeans tucked into cowboy boots offer a range of styles to explore and enjoy.
3. Cozy Charm: Sweaters
On cooler days, a sweater is a charming and unexpected addition to a jeans-and-cowboy-boots outfit, providing both warmth and a touch of femininity.
This comfy pairing works well for a range of activities, from strolling through the city to a casual meet-up with friends.
When pairing sweaters with cowboy boots, consider the following:
Play with colors by coordinating your sweater with your boots. Earth tones and neutrals are a safe bet for a cohesive look, but don't shy away from vibrant colors that can make your outfit pop.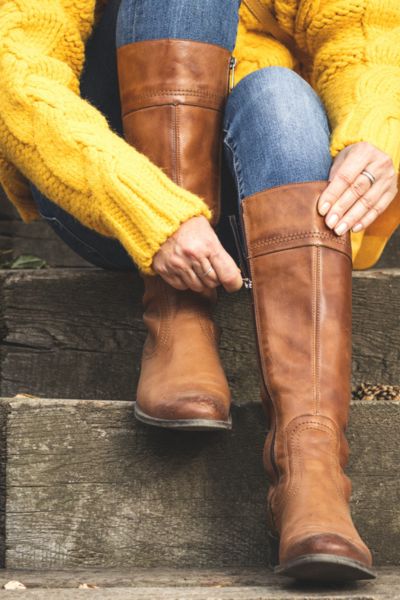 The key to nailing this look is in balancing proportions. A fitted sweater with high-waisted jeans tucked into boots can elongate the figure, while a loose, oversized sweater can offer a laid-back feel without overwhelming your frame.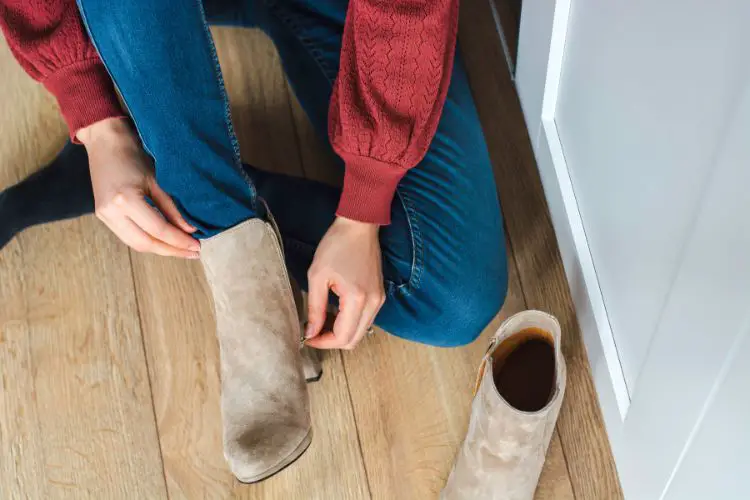 For a contemporary twist, try ankle cowboy boots. They're a great match with cropped jeans and a chunky knit, maintaining a Western vibe while leaning into a more modern style.
Finish the look with accessories that complement your Western wear. Simple jewelry, a felt hat, or a leather belt can tie the outfit together and underscore the cowboy boot styling.
With these tips, you can create an inviting ensemble that combines the cozy appeal of sweaters with the timeless allure of cowboy boots, making for a practical yet stylish outfit suitable for the colder months.
4. Street Style Staples
For those who want to infuse some edgy street style into their wardrobe, pairing ripped jeans with cowboy boots is a bold choice that speaks of individuality and urban flair.
This combination can cater to a variety of looks, from grunge-inspired to chic and distressed.
Ripped Denim for Attitude:
Ripped jeans, whether they are lightly frayed or heavily torn, pair exceptionally well with cowboy boots. The ruggedness of the boots complements the distressed denim, creating a harmonious contrast.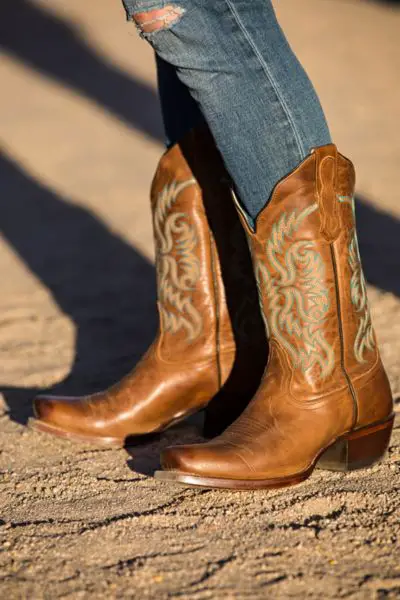 Intentionally Wrinkled Jeans:
Choose faded jeans with a wrinkled texture to add a relaxed yet intentional feel to your look.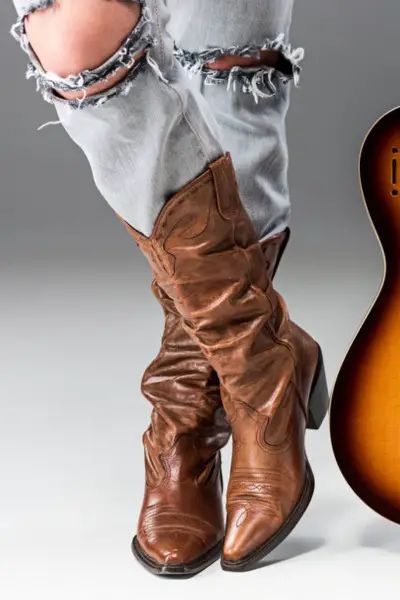 Tucking these into cowboy boots that also feature wrinkles or slouches on the shaft can create a cohesive, laid-back vibe.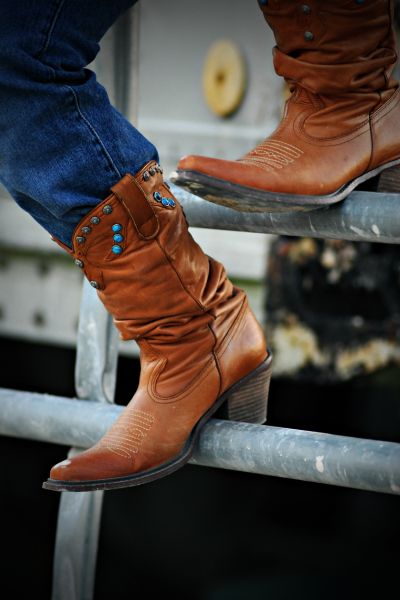 When embracing street style with cowboy boots and jeans, the goal is to look effortlessly cool and collected.
It's about showing off your personal style with confidence, using the boots as the foundation for a look that's as comfortable on the city streets as it is within the rustic confines of a country music festival.
Last Words
In a world where fashion is an expression of self, the timeless charm of jeans tucked into cowboy boots stands as a testament to the enduring allure of Western style.
This look isn't just about a trend; it's about crafting an identity that blends the rustic spirit of the frontier with the modern rhythms of today's streets.
For women seeking a blend of comfort, style, and a touch of audacious femininity, this guide has navigated through the ins and outs of flawlessly tucking jeans into cowboy boots.
From the streamlined steps ensuring a sleek silhouette to outfit ideas that span casual to street-chic, these sartorial insights empower you to embrace this classic fashion statement in ways that resonate with your personal aesthetic.
So stride forth with confidence in your cowboy boots, the leather contouring gracefully around your calves, your jeans tucked neatly within, embodying both the legacy of Western wear and the dynamic flair of contemporary fashion.
Howdy y'all, and welcome to From The Guest Room, your ultimate guide to all things Western! I'm Jay Gatz, a lifelong cowboy boot enthusiast with over 5 years of experience in the Western style world. I'm excited to share my knowledge with you and help you discover the perfect cowboy boots and western gear to elevate your style. Let's explore the rich history and timeless appeal of Western fashion together!