Floral dresses, a quintessential, timeless wardrobe staple, effortlessly pair with cowboy boots to create a fashion statement that exudes both femininity and charm.
The combination is not only adorable but also versatile, capable of transitioning from casual to more formal settings throughout various seasons.
This delightful fashion fusion encapsulates the essence of the Western lifestyle while offering endless possibilities for creating stunning looks.
Let's delve into the art of blending these two elements seamlessly and explore the art of pairing cowboy boots with floral dresses.
1. Lovely Spring
Spring, with its temperate climate and blooming landscapes, offers the perfect backdrop for seamlessly pairing floral dresses with cowboy boots.
As the temperature begins to rise, it's time to embrace the beauty of this fashion fusion.
For a casual spring look, consider donning a boho-inspired midi floral dress, complemented by a pair of rich, brown leather cowboy boots.
Top off your ensemble with a matching brown handbag, and you'll be ready to effortlessly navigate the season with style and ease.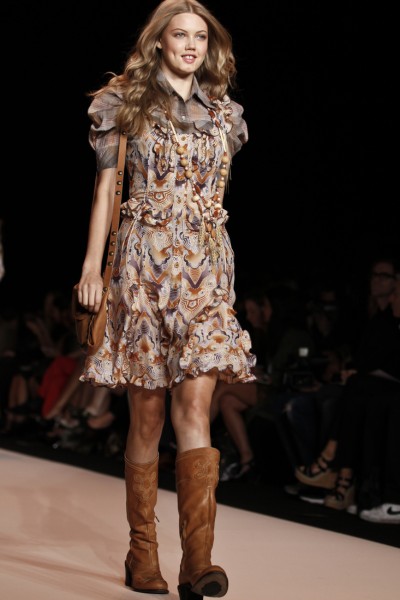 If you're seeking a more urban flair, opt for a maxi floral dress in vibrant colors, matched with a handbag that echoes those hues.
Pair this ensemble with cowboy boots featuring floral textures to infuse a unique vibrancy into your city style.
The key here is to find harmony in color and style from head to toe, creating an eye-catching and fashionable statement that's perfect for spring.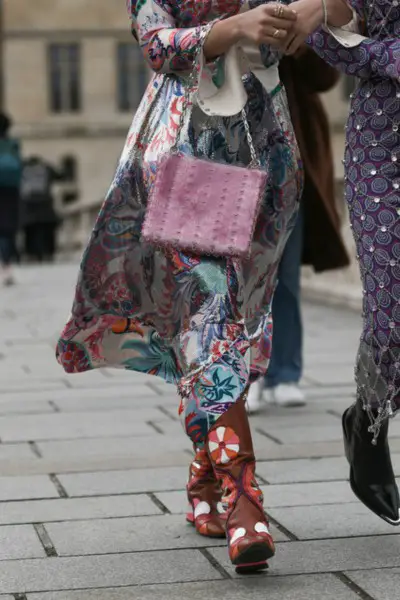 For a simpler yet chic spring look, choose a vintage-style floral dress. This classic piece pairs flawlessly with any style of cowboy boots.
Accessorize with a tote or crossover bag and a wide-brim hat, embracing the essence of the Western lifestyle with grace and charm.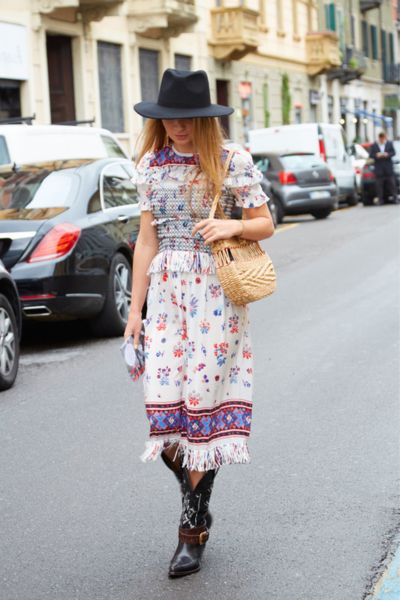 In a nutshell, these versatile combinations are all you need to make a lasting impression during the spring season.
The interplay between floral dresses and cowboy boots offers a delightful fusion of style and comfort that's perfect for embracing the beauty of spring.
2. Summer Chic
As the mercury rises and the days grow longer, comfort and breathability become paramount in the world of fashion.
Fortunately, summer allows us to create effortlessly stylish looks by pairing floral dresses with cowboy boots designed for the season.
For a look that's both comfortable and breathable, consider opting for a simple midi floral dress constructed from lightweight, airy fabrics.
Paired with ankle cowboy boots, preferably in suede, this combination offers both style and comfort during hot summer days.
Complete your ensemble with a charming straw tote bag and a radiant smile to perfect your summer look.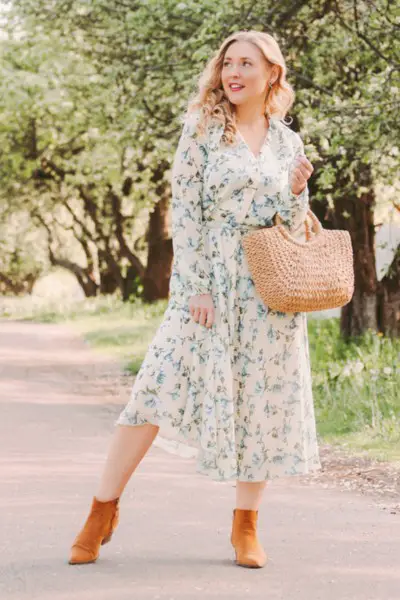 Looking for something casual yet captivating for a scorching summer day? An off-shoulder floral dress with a thigh-length hemline is an ideal choice.
Paired with classic cowboy boots, this ensemble not only keeps you comfortable but also proudly showcases your love for Western style.
Add a stylish leather belt to accentuate your waist for a polished and clean look, making it perfect for casual occasions.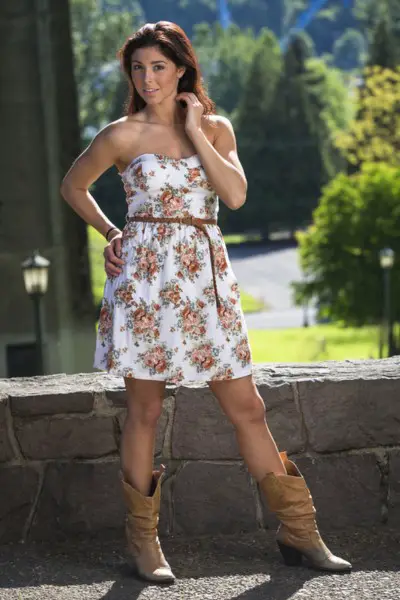 For the utmost simplicity and breathability, consider wearing a white high-low lace dress with floral textures.
This versatile choice harmonizes beautifully with cowboy boots while ensuring your comfort in the summer heat.
With this combination, you can stay cool and show off your cowboy boots in all their glory.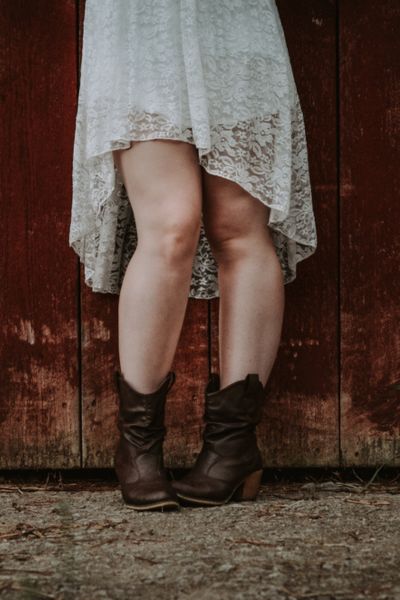 3. Romantic Autumn
Autumn, with its crisp air and falling leaves, provides the perfect canvas for the romance of floral dresses and the rugged charm of cowboy boots to shine.
Imagine the effortless elegance as your dress glides freely among the autumn foliage.
For a truly enchanting fall look, opt for a floral midi dress paired with cowboy boots featuring a wrinkled texture at the shaft.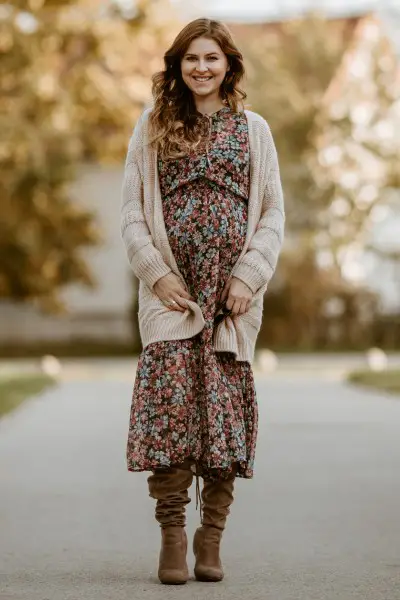 This combination captures the essence of the season's romance while keeping you in style. If there's a chill in the air, simply drape a cozy cardigan over your shoulders.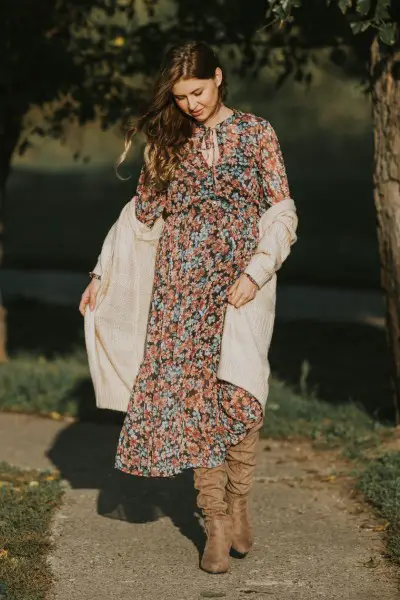 A helpful tip is to select a floral dress with a palette of rich, multi-colors and pair it with a light-colored cardigan to achieve a harmonious balance in your overall look.
It's a recipe for a perfect autumn outfit that effortlessly merges style and comfort.
Seeking a more urban-inspired ensemble? Try a layered midi dress in a light hue and complement it with a beige blazer or a trench coat.
Add a wide-brim straw hat and complete the look with a straw tote bag.
This combination exudes feminine urban style, allowing you to gracefully transition from city streets to autumn landscapes while maintaining an air of sophistication.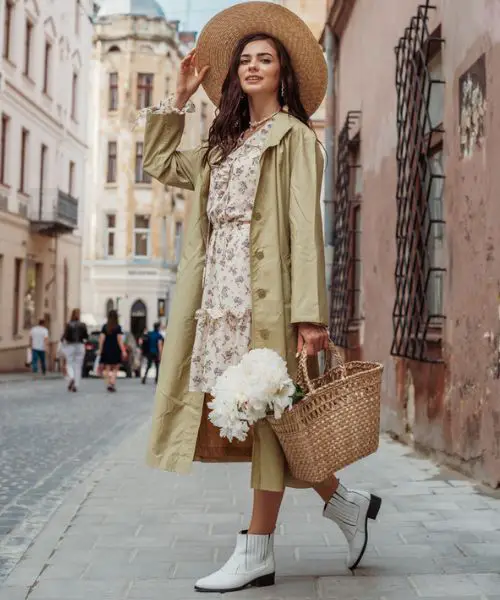 For this urban style, you have the flexibility to choose from various types of cowboy boots, whether they are ankle boots or classic ones.
So, go ahead and pick the cowboy boots that best match your style.
4. Winter Elegance
Winter brings a unique charm to fashion, and what better way to embrace the season's chill than by donning a warm dress with a delicate floral motif paired with classic cowboy boots.
The combination exudes comfort and style, making it a must-try for the winter months.
A maxi dress with layered textures not only keeps you cozy but also adds depth to your winter style.
Pair it with suede cowboy boots, preferably in rich brown tones, to create a warm and fashionable ensemble.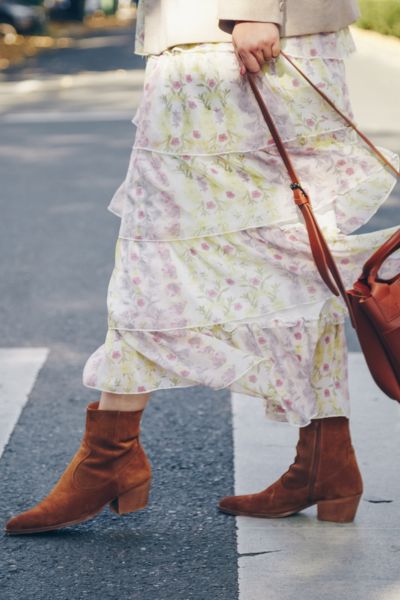 To combat the cold, you can layer up with a trench coat or a blazer, ensuring that you stay toasty without compromising on style.
This outfit is a perfect choice for the city, where winter fashion meets urban sophistication.
Alternatively, to add a pop of color and style, you can wear a maxi dress with a cardigan in contrasting colors, yet harmonious in style.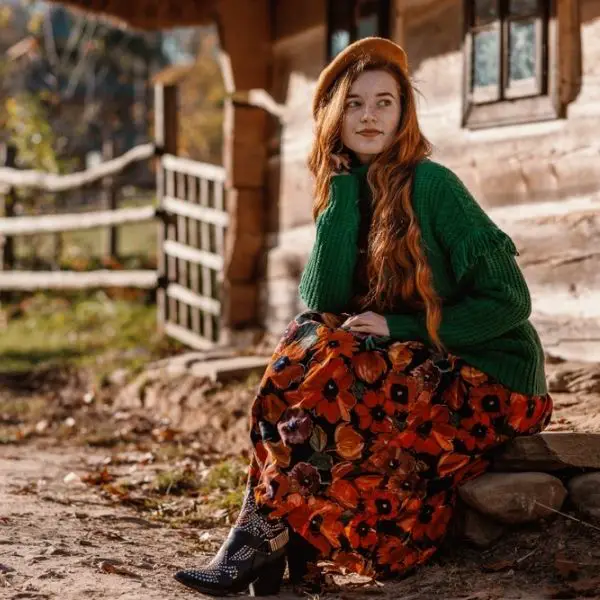 For instance, if your floral dress's main color is red or orange, consider a rich green cardigan. Pair this combination with one of your dark-colored cowboy boots, and top it off with a beret.
This ensemble not only keeps you warm but also adds a touch of vibrant elegance to your winter look, ready to conquer the season in style.
Conclusion
Floral dresses and cowboy boots, a timeless fusion of charm and Western flair, provide an array of stylish possibilities throughout the seasons.
From the freshness of spring to the romantic hues of autumn and the cozy elegance of winter, these combinations offer an exquisite balance of comfort and fashion.
Whether you opt for a casual look, an urban ensemble, or a warm winter outfit, the key lies in the harmonious pairing of floral motifs with the perfect cowboy boots.
With the right choices, you can effortlessly conquer any season in style.
So, as the leaves fall or the snowflakes descend, remember that floral dresses and cowboy boots are there to keep you fashionable and cozy in every season.
Let your fashion sense blossom with the beauty of nature!
Howdy y'all, and welcome to From The Guest Room, your ultimate guide to all things Western! I'm Jay Gatz, a lifelong cowboy boot enthusiast with over 5 years of experience in the Western style world. I'm excited to share my knowledge with you and help you discover the perfect cowboy boots and western gear to elevate your style. Let's explore the rich history and timeless appeal of Western fashion together!