I love how cool and smooth my feet are when I put my bare feet into leather-insole cowboy boots. These are the best sensations ever.
But the problem is that I only wear cowboy boots to do my simple daily chores (since I'm working as a freelance writer). Many of us wear cowboy boots for heavier jobs from dusk till dawn.
A close friend of mine runs a large farm in Missouri. He used to wear cowboy boots every day to graze his sheep to the top of the hill and bring them home when it was dark. He walks dozens of miles every day, and that really abuses his feet.
What I mean is, wearing socks with cowboy boots becomes much more important when you do highly abusive jobs. You can feel significant support from the thickness and cushion of the socks—something that is often lacking in the construction of cowboy boots.
Therefore, the combination of the right socks and cowboy boots will reduce blisters, corns, and aches at the end of the day when you've walked dozens of miles through different terrain.
This is the most common benefit when wearing socks with cowboy boots for heavy-abused jobs. But to learn more about other cases of wearing socks with boots and what types of socks work best, scroll down and dive in.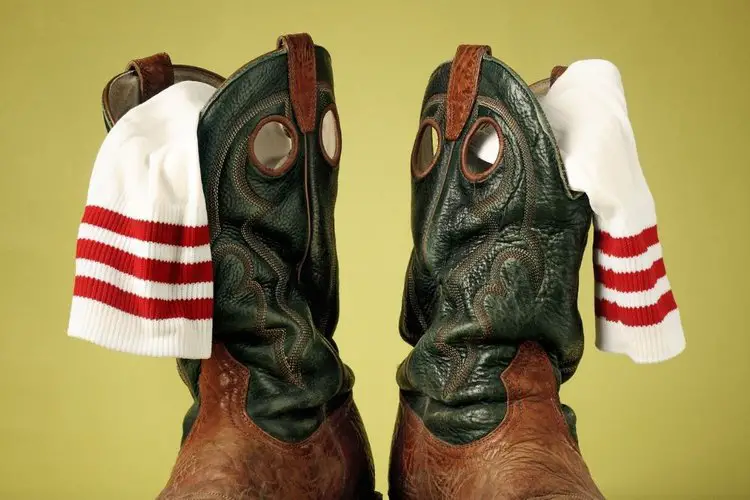 Are you supposed to wear socks with cowboy boots?
Yes, you should (even if I really don't like the feeling of wearing socks under cowboy boots in the summer).
Socks are one of the funniest fashion items, so they can say a lot about your character.
But in this article, we don't look at this aspect. Here are the reasons why you should wear socks with cowboy boots: these things can save your feet.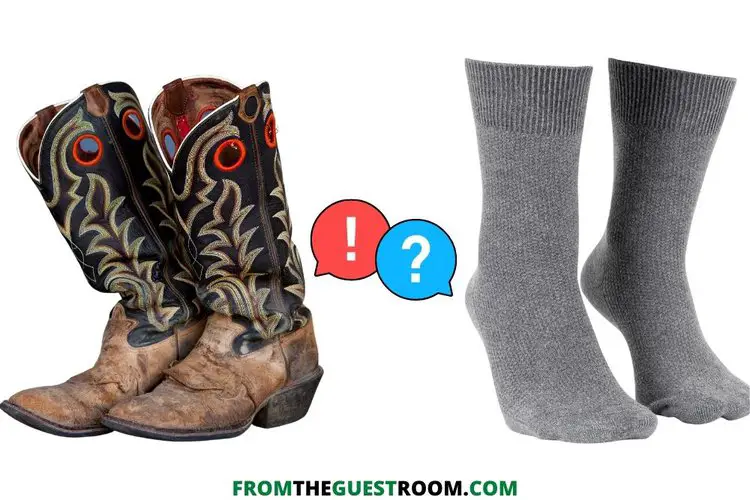 Why do you need to wear socks with cowboy boots?
There are many good reasons to do so. Let's explore right below!
1. Protect feet from external forces
First, socks save your feet from injuries caused by external impacts as you walk. This is especially true for the case of my friend, whom I mentioned at the beginning of the article.
When your feet have to walk miles and miles over rocky, steep, or high-risk terrain, thick socks act as a cushion to help reduce external forces on your feet—what we usually call shock absorption.
Therefore, your feet will have a lower chance of experiencing calluses, sore feet, injuries, or blisters due to friction with the leather or fabric insole or lining of cowboy boots.
2. Socks are well-absorbed
Secondly, they absorb sweat well. Although leather is an ideal material to resist bad smells, as it breathes well and usually doesn't retain odors as much as fabrics.
But that doesn't mean they're naturally deodorizing. Therefore, your real leather boots will also smell bad if your feet work hard all day without socks.
In this case, the material of the socks plays an important role if you need them to absorb sweat and reduce odors significantly. We'll cover which materials to use below.
This also helps prolong the life of leather cowboy boots since you won't toss them in the trash just because their smell freaks you out.
In addition, this benefit will also help protect the feet from the bacteria developing inside the boots due to the damp and smelly environment inside.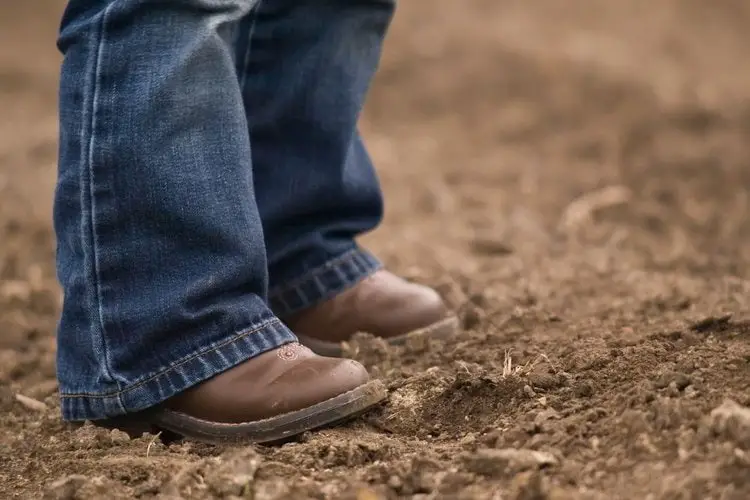 3. Warm the feet up
Thirdly, socks are heavenly warm. Many of us will get considerable warmth from structured cowboy boots when we need them the most (in winter).
Most cowboy boots usually lack insulation or some thick fabric lining to keep the feet warm in sub-zero temperatures. But don't worry too much, because socks will do this for you.
Thick socks are very important to keep your feet from freezing and frostbite. Some socks use advanced materials that help heat and radiate heat to the feet effectively.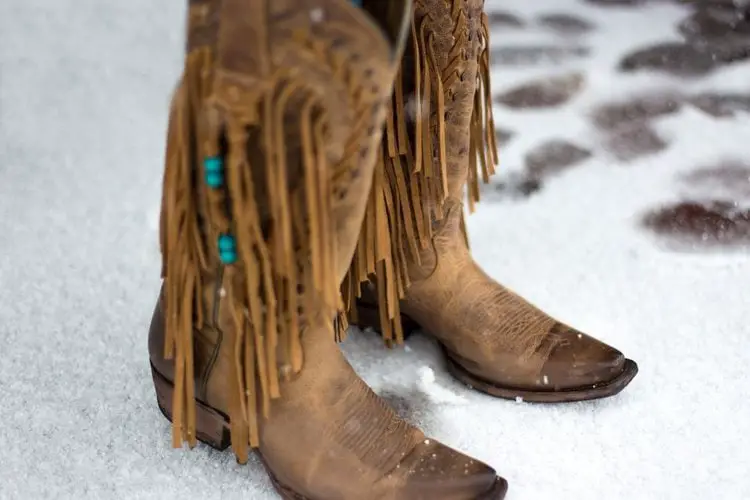 4. Tighten cowboy boots' gap
Many of us often feel cowboy boots are too wide in the calves or ankles (in case you own slender legs and feet). If you really need something good to fill these gaps, socks are here to help.
There are a few tricks you can use to fill those gaps like folding your socks around wide areas or double socks to reduce the gaps. There are almost no side effects when using this method.
Read more: 
5. Prevent blisters from rubbing
Real cowboy boots often break in slower than other footwear. This material is tough and stiff right out of the box, and it takes time and heat from the feet to soften and hold up the feet comfortably.
During the break-in process, calves or ankles (if wearing ankle cowboy boots) can often form blisters or scratches from rubbing bare skin against the inside of the boot. And wearing socks with a length that exceeds the height of cowboy boots can help you avoid this pain.
6. Easy to put on / take off cowboy boots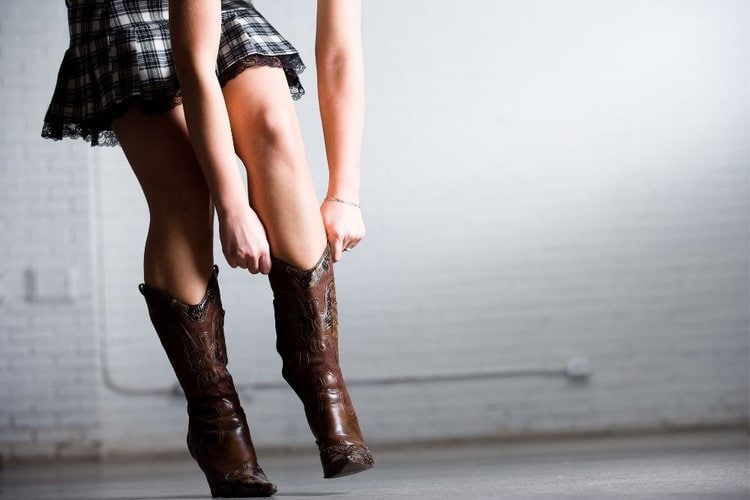 One thing that I love most about wearing socks is that they support the put on / take off cowboy boots process smoothly.
You can hardly put on / take off cowboy boots with sweaty legs after a long day at work without a boot jack. Wearing socks with good absorbency will help you get through that.
When do you need to wear socks with cowboy boots?
Well, you should wear socks whenever you intend to put cowboy boots on your feet.
Whether you are doing simple daily chores like me or whether you are often walking for miles and miles every day in cowboy boots like my friend, you should always go with the right socks. That way, you can benefit from all of these small and warm things in one way or another.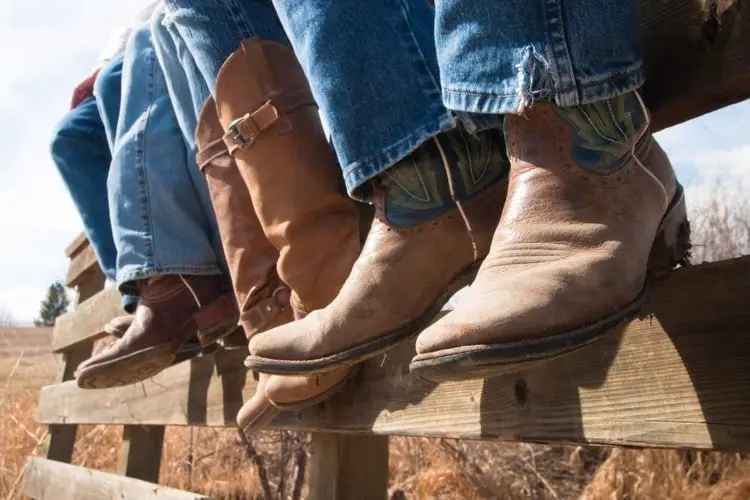 Who needs to wear socks with cowboy boots?
People doing heavy-abused jobs like construction workers, ranchers, farmers, truck drivers or hunters are the ones who need to wear thick socks with cowboy boots the most.
In these cases, the thickness and material of the sock play a decisive role in the protection of the foot. Today, there are many types of socks that provide great support for the toe and heel (reinforced) to ensure your feet are protected and comfortable all day long.
Also, if you do light office work, you probably only need a pair of thin cotton/silk socks with cowboy boots if you don't want your feet to get uncomfortably heated.
Many of today's socks have arch support that is also ideal for people with flat feet, high arches, or plantar fasciitis.
Are Cowboy Boot Socks Worth It?
What kind of socks are best for cowboy boots?
It's hard to conclude which one is best for your case since we have so many types of socks out there to choose from. But we always have a general rule of wearing socks that are longer than the length of cowboy boots, like calf socks, crew socks, mid-calf socks, thigh-high socks, or knee-high socks.
In addition, the choice of socks also depends on the following factors:
Socks by materials
This factor is very important. It almost determines all the benefits that socks can bring to your feet when it comes to wearing them with cowboy boots. Below I'll guide you through some popular sock materials.
1. Cotton (pure and blended types)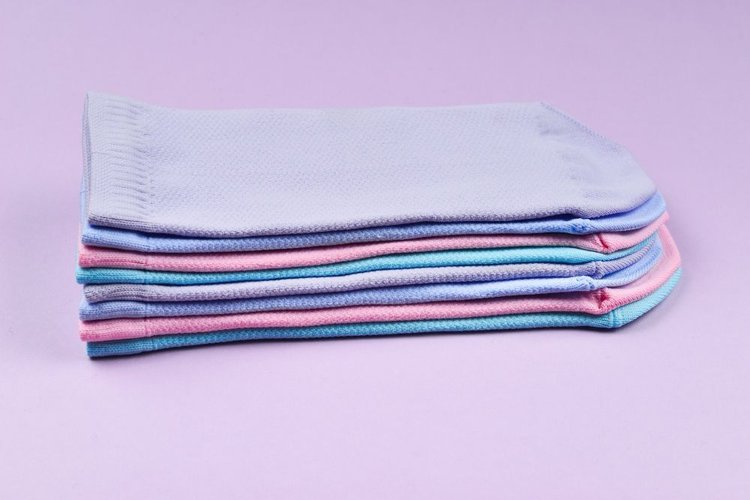 Pure cotton or 100% cotton is considered a high-class line of socks on the market today. They are produced from natural cotton fibers, so they are naturally soft, supple and long-lasting.
But it will be very difficult to find true 100% cotton socks because their structure will be added to 5-20% other materials such as spandex or polyester to increase elasticity.
Pros:
Breathable and well-absorbed structure
They are not irritating to the skin
Do not heat your feet
Dry quickly after washing
Great durability
Easy to clean to remove stains
Cons:
Not too smooth on the skin
Get much heavier when soaked in water
Resist shocks poorly
Recommended product
Last update on 2023-09-22 / Affiliate links / Images from Amazon Product Advertising API
2. Pure bamboo socks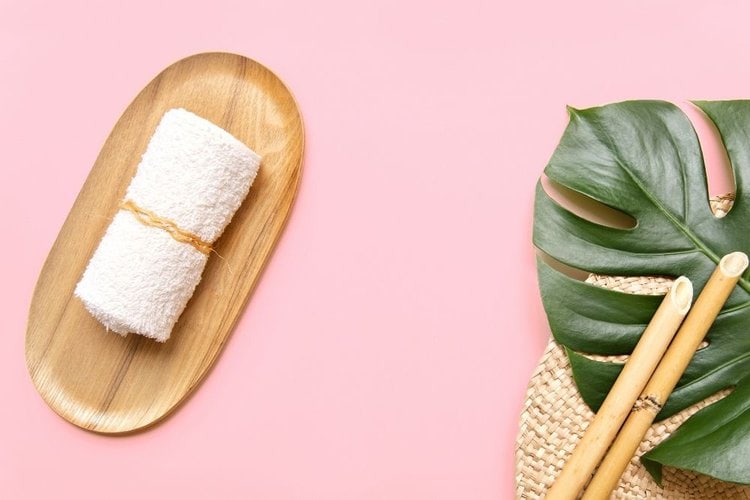 Bamboo fabric material in recent years has emerged as a phenomenon of eco-friendly materials. It is mainly manufactured from natural bamboo fiber.
Thanks to that, they have the ability to absorb 40% more moisture than cotton. They are also capable of wicking away moisture and sweat while keeping the skin comfortable and dry.
If you are one among those who sweat a lot and are constantly on your feet, this is the best material for you. This material also has natural antibacterial ingredients, so it is suitable for combating foot odor.
Pros:
They are light and soft
Good breathability and quick dry
Ability to repel odors
Work well to cool feet in the summer
Cons:
Probably thinner than you expect
Not enough shock resistant
Only suitable for the hot season.
Recommended product
Last update on 2023-09-22 / Affiliate links / Images from Amazon Product Advertising API
3. Merino Wool socks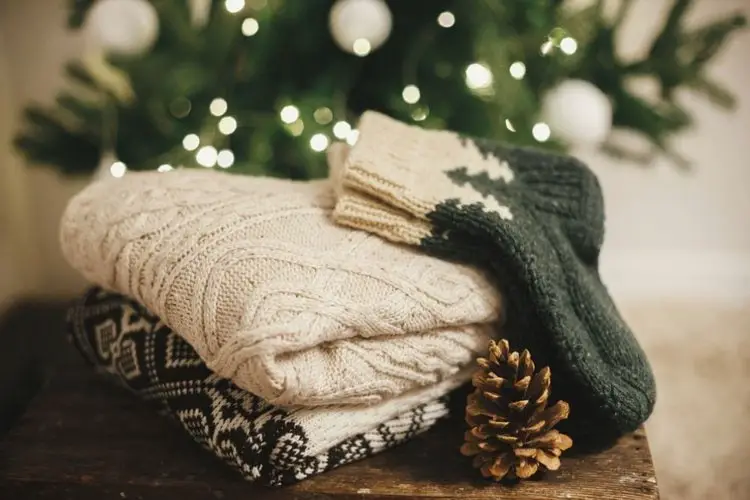 This is the best choice for winter and those who often walk for miles every day. This material is produced from Merino sheep. They are quite thick but soft and durable.
They also have the ability to repel odors and regulate foot temperature. In particular, they also absorb moisture perfectly and insulate heat well.
If you often have to walk constantly on your feet with cowboy boots in winter, this is the best material you should go with.
Pros:
They are exceptionally durable
Good shock resistance
They are thick and extremely warm
Repel odors partially
Do not cause itching or allergies
Ability to regulate the temperature of the feet
Cons:
Recommended product
Last update on 2023-09-22 / Affiliate links / Images from Amazon Product Advertising API
4. Synthetic-made socks
Aside from natural-made socks, you'll also have a choice of synthetic materials like nylon, acrylic, spandex, or polyester.
These materials are especially durable, much more than natural fibers. They are also studied by humans to overcome the disadvantages of natural fibers, such as better wrinkle resistance, color fastness, and elasticity.
However, in terms of breathability, softness, and absorbency, they cannot be compared with natural fibers, although they are generally quite lightweight and breathable. These materials are suitable for operating light-abused activities on cowboy boots.
Pros:
They are the most durable
They don't wrinkle and are colorfast
Lightweight and breathability
They are researched to be antibacterial, anti-odor
Have the best elasticity
Cons:
Less soft than natural fibers
Less absorbent of moisture and perspiration.
Recommended product
Last update on 2023-09-22 / Affiliate links / Images from Amazon Product Advertising API
Socks by how they fit and support
Socks to wear with cowboy boots should fit comfortably around your feet, calves, and ankles. They shouldn't fit too snugly, too loosely, or too tight. That will interfere with blood circulation around the feet and lead to numbness or pain here pretty quickly. It's a very terrible feeling while in the middle of your work.
If your mid-calf socks often slip down after a certain period of movement, you should choose socks with a longer length. That way, even if they slip down, they won't go lower than the length of your cowboy boots.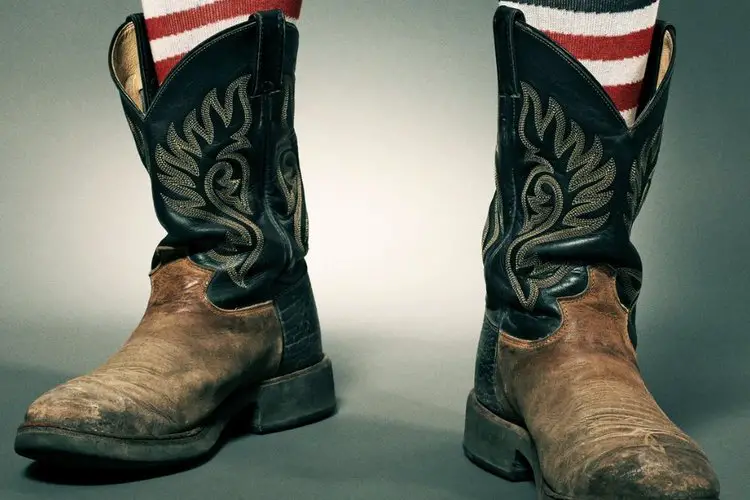 In addition, sock cuffs are also very important. You should choose socks with wide cuffs that are able to hold up well. They will be less likely to drift downwards when moving continuously.
Some socks have an extra layer of cushion in the arch and heels, acting like additional insoles for the foot. If you are a hunter or rancher (like my friend), you should consider it.
In addition, socks should have thin or nearly invisible seams. Your feet won't get hurt by accidentally pressing on these rigid threads.
Before you leave
Socks are almost an indispensable item when it comes to having the most comfort while wearing cowboy boots.
They act as shields to protect your feet from external influences. In addition, they also significantly prolong the life of cowboy boots by minimizing the amount of moisture from your feet's perspiration seeping into the lining and insole of the boots.
If you have any confusion so far, kindly leave us your comments and we're here to help.
Howdy y'all, and welcome to From The Guest Room, your ultimate guide to all things Western! I'm Jay Gatz, a lifelong cowboy boot enthusiast with over 5 years of experience in the Western style world. I'm excited to share my knowledge with you and help you discover the perfect cowboy boots and western gear to elevate your style. Let's explore the rich history and timeless appeal of Western fashion together!