Every year, fashion trends evolve, offering girls a plethora of choices to express their personal style.
When it comes to staying on-trend, many girls are now turning to the versatile cowboy boots and wondering how to incorporate them into their outfits without appearing too country.
At From The Guest Room, our mission is to help women look their best every day, and today we bring you a wealth of fashion experiences to guide you in wearing cowboy boots with a modern twist.
Join us as we explore the art of donning cowboy boots without compromising your chic sensibilities. So, saddle up and discover the best styles that suit your taste!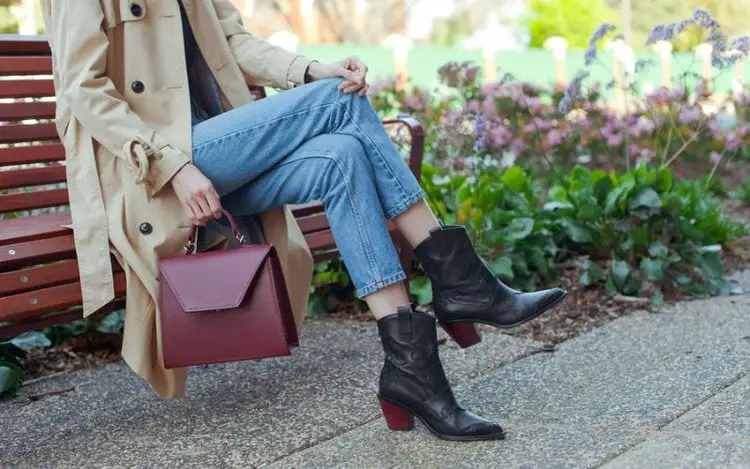 How to Wear Cowboy Boots Without Looking Country?
Cowboy boots, originating from the countryside, possess distinct features that can inadvertently give off a country vibe if not styled appropriately.
Luckily, the increasing popularity of cowboy boots has led to a diverse range of options available from various bootmakers.
Now, you can find the perfect pair of cowboy boots that align with your modern fashion preferences.
1. Modern style: Cowboy boots and a Blazer
You may not have considered this combination, but pairing cowboy boots with a blazer creates a perfect city look.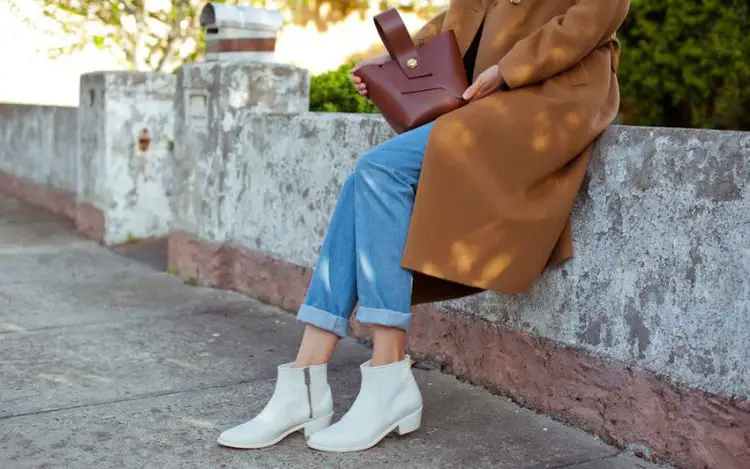 You can opt for ankle cowboy boots and pair them with jeans that fit snugly around the buttocks but loosen up at the ankle, remember to ensure the jeans won't touch the boots.
Pair this with a slim-fitting t-shirt and a blazer that falls just above the knee. You now master the art of modern fashion with this ensemble!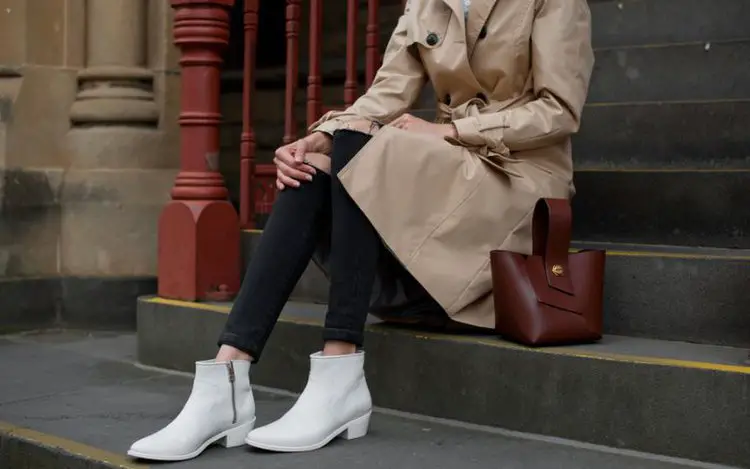 For a variation, replace jeans and t-shirts with dresses, ensuring the colors complement each other and the fit is just right. This fashion style is ideal for colder days, offering both style and functionality.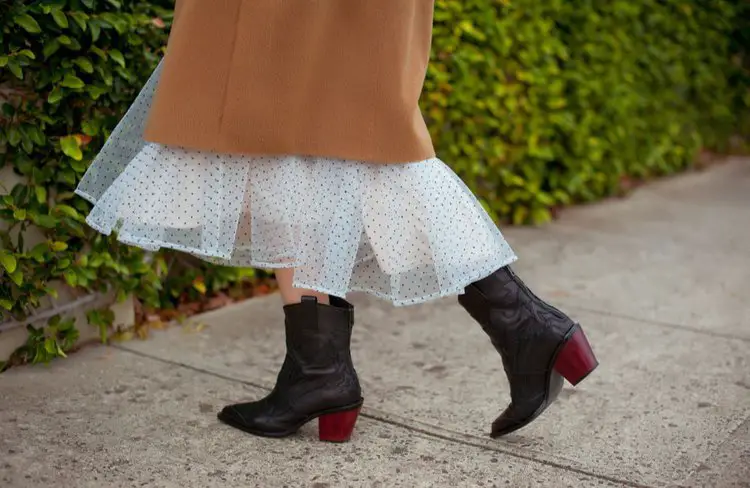 2. Classic style: Cowboy boots with a Short Skirt or Dress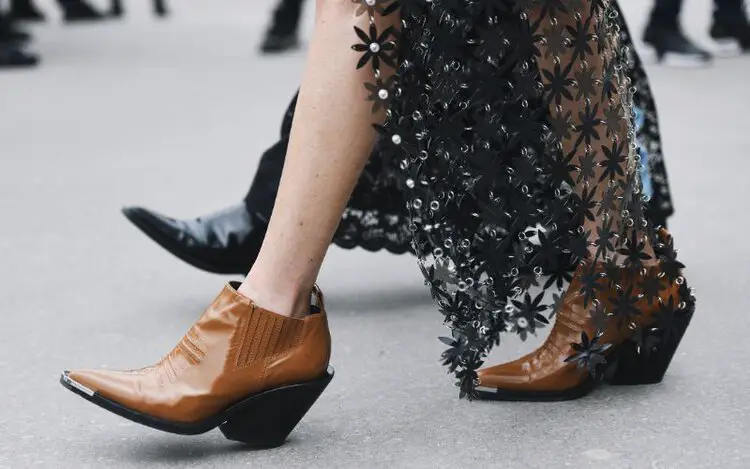 When in doubt, turn to the classic combination of cowboy boots with a short skirt or dress.
Skirts and dresses are timeless staples in every girl's wardrobe, and they can truly shine when paired with cowboy boots. Don't be afraid to experiment with different patterns and styles.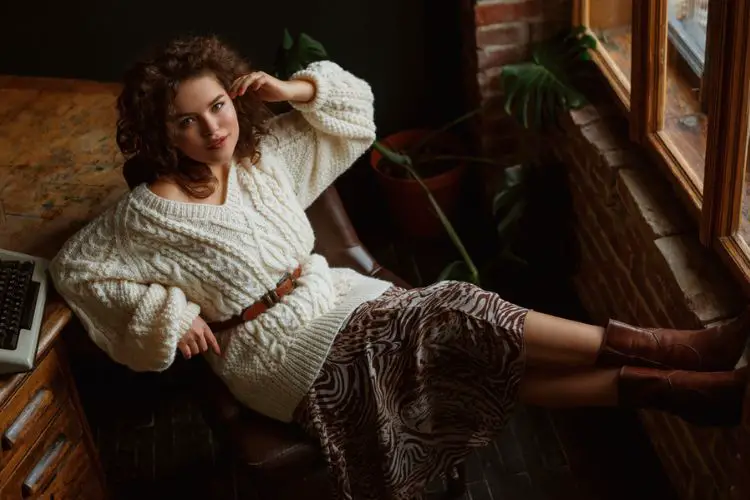 For example, a checkered dress paired with knee-high boots can be transformed with subtle accessories, making you the center of attention this summer.
Sale
Last update on 2023-09-22 / Affiliate links / Images from Amazon Product Advertising API
Cowboy boots with short skirts never go out of style and offer an attractive, youthful, and beautiful appearance.
Embrace your personal taste and add creative touches to your outfit to stand out from the crowd.
Last update on 2023-09-22 / Affiliate links / Images from Amazon Product Advertising API
Opt for neutral-toned cowboy boots to achieve a dynamic look with your short skirts.
For a touch of elegance and sophistication, choose black or tan boots. Alternatively, combine cowboy boots with plain plaid skirts for a simple yet mysterious look.
3. Chic look: Cowboy Boots with a Sweater Dress/Shirt
Sweater dresses exude a soft and gentle vibe, making them a perfect match for cowboy boots. Petite girls can achieve a stylish and lovely look by pairing cowboy boots with a sweater dress.
Last update on 2023-09-22 / Affiliate links / Images from Amazon Product Advertising API
Traditional girls, on the other hand, can create a chic and sexy ensemble with this combination. This outfit is perfect for weekend coffees or afternoon strolls with friends. You can even wear it to night parties without compromising elegance and grace.
For a laid-back yet sophisticated look, opt for a neutral-colored sweater shirt and pair it with your favorite distressed or classic cowboy boots.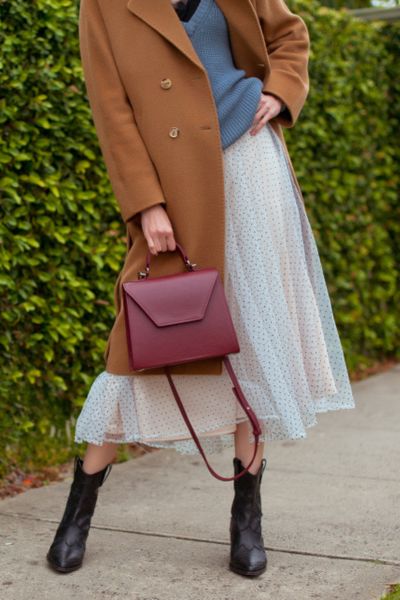 The contrast between the soft texture of the sweater and the ruggedness of the boots creates an appealing balance. Add a pair of skinny jeans or leggings to complete the outfit.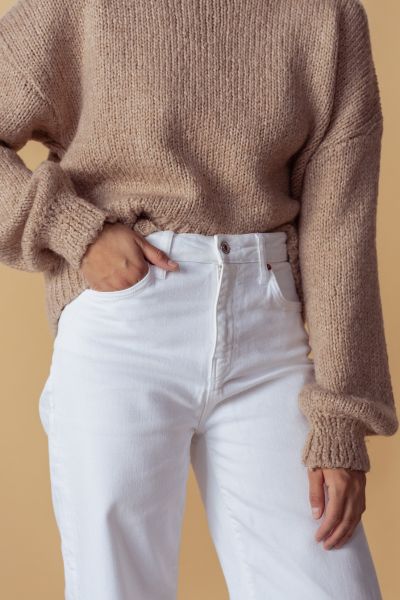 This combination works well for brunch dates, shopping trips, or even a relaxed evening out.
4. Dynamic fashion: Cowboy Boots with Shorts
The combination of short jeans and cowboy boots is undeniably perfect. If you want a cool outfit that never goes out of style, this pairing is your best bet.
Alongside classic fashion pieces like leather pants or jackets, simple shorts offer a stylish and dynamic look when paired with boots.
Last update on 2023-09-23 / Affiliate links / Images from Amazon Product Advertising API
Short jeans are effortless to pair with any type of cowboy boots, be it classic or modern, creating a modern and sexy style.
Add an extra touch of allure by wearing a sheer shirt and complementing the outfit with bold red lipstick.
Statement rings or layered rings can elevate your look when going out with friends or exploring downtown.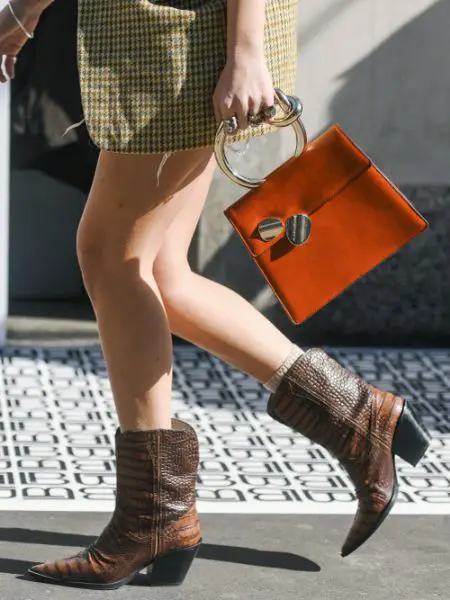 5. Glamorous look: Zipper Cowboy Boots with Distressed Jeans
Zippered cowboy boots are not only beautiful but also versatile when it comes to mixing and matching with different types of outfits.
Pairing a pair of zippered cowboy boots with distressed jeans creates a glamorous yet slightly rugged look.
Cuff your jeans at the bottom to maintain overall balance and create the illusion of longer, slimmer legs.
Sidefeel Women's Boyfriend Jeans Stretchy Loose Ripped Distressed Denim Pants Size 6 Sky Blue
NOTE: According to customer feedback, this jean's size is smaller than normal size, pls choose size...
Texture: Made of soft denim fabric, even after repeated wearing, this denim stays true to original...
Features: Casual Pants, Ripped, Skinny, Blue Jeans, Long, Straight Leg, Semi stretch fabric,...
Last update on 2023-09-23 / Affiliate links / Images from Amazon Product Advertising API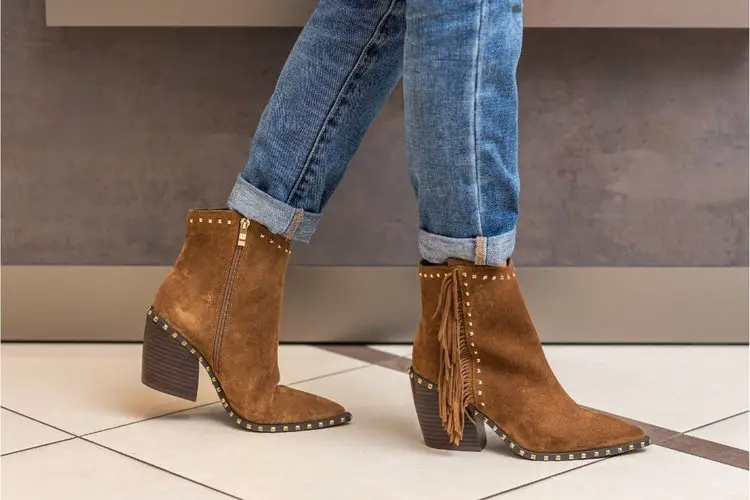 6. Simple but Effective Style: Jeans and Elegant Cowboy Boots
Achieving a chic and non-country look with cowboy boots is easier than you think. When it comes to pairing jeans with elegant-style cowboy boots, you can create a stylish and effortless ensemble.
For a sophisticated vibe, choose elegant cowboy boots with sleek lines and refined detailing. Opt for designs that showcase subtle stitching or metallic accents, exuding an air of refinement rather than rustic charm.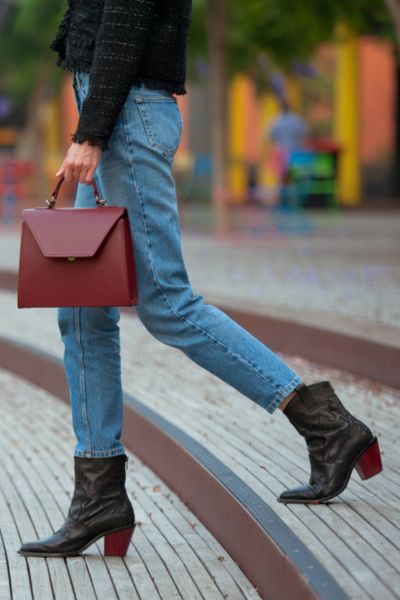 When selecting jeans, opt for a well-fitted pair that flatters your figure. Consider dark-wash jeans or black denim for a polished and elevated look.
Let the jeans and boots complement each other by leaving a slight gap between them, showcasing the unique style of the boots while maintaining a modern aesthetic.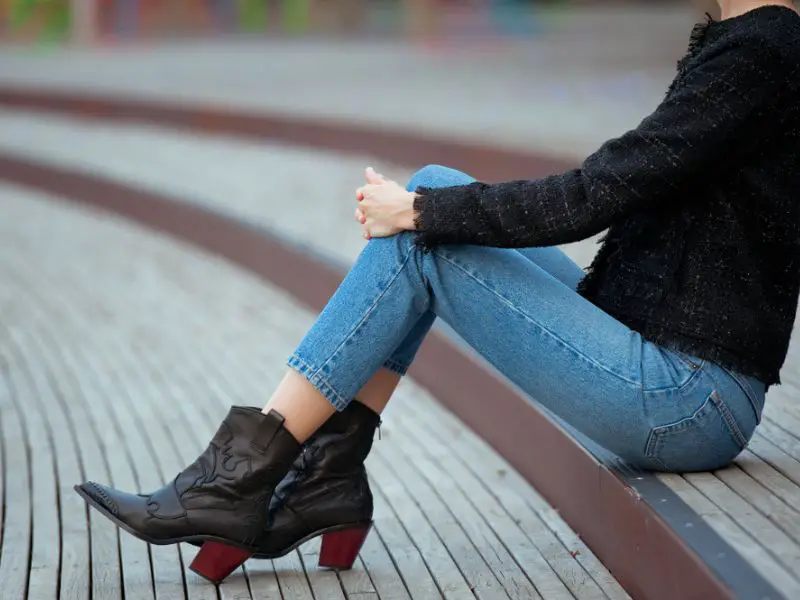 To complete the outfit, choose a complementary top such as a tailored blouse or a fitted sweater. Keep accessories minimal for a sleek and sophisticated appearance.
With this simple yet effective combination of jeans and elegant cowboy boots, you can confidently showcase your personal style while defying the traditional country stereotypes associated with cowboy boot fashion.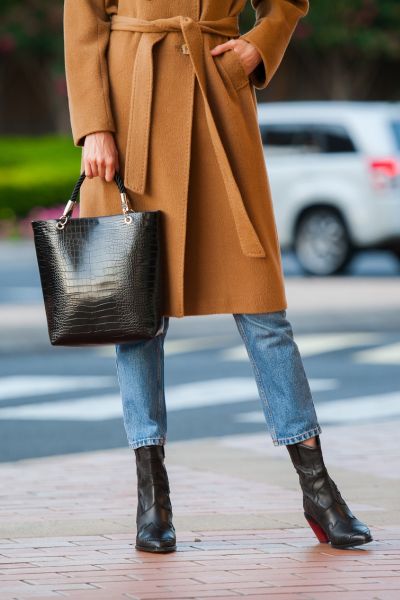 7. Attitude: Be Confident
The appeal of cowboys and cowgirls extends beyond their appearance; it lies in their confidence, swagger, and boldness.
These characteristics contribute to the beauty of a true cowgirl. No matter which style you choose or how you transform your look, remember to hold your head high.
Your confidence will enhance the overall beauty of your outfit, allowing you to define cowboy boots rather than being defined by them. Let your attitude speak for itself!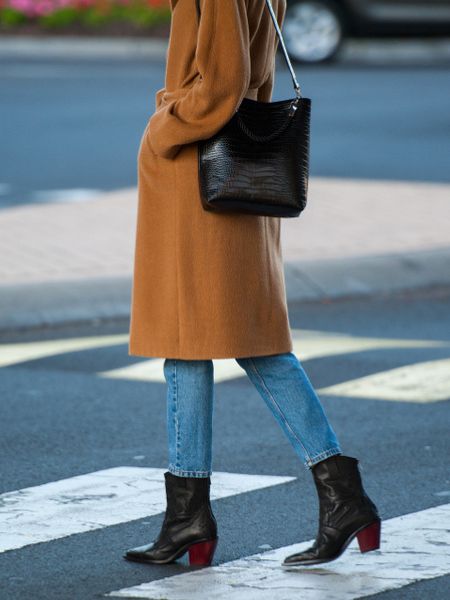 Tips for the Best Look with Cowboy Boots
If you have an ideal height with long legs, feel free to choose any pair of boots that you like, as long as they complement your outfit.
If you have shorter legs, it's best to avoid cowboy boots with a scallop featuring lots of fur or knee-high boots, as they can make your legs appear even shorter and disrupt the overall balance of your appearance.
Additionally, avoid wearing cowboy boots with flat soles and short heels, as they can make your legs look bulkier.
Choose the right size cowboy boots
Don't wear too tight cowboy boots or they deform your skin and your toes.
Otherwise, too-large cowboy boots are also no good. They make you look not very unsightly because the boots don't sit straight on your legs and it's difficult for walking.
You will look elegant and fashionable when matching a short skirt or short dress with over-knee cowboy boots. Adding a turtleneck, now you get a perfect set of clothes.
Besides, do not let the leather around the calf of cowboy boots is too loose, your calves should fill the gaps, but not too tight.
This way you get a neat and modern look!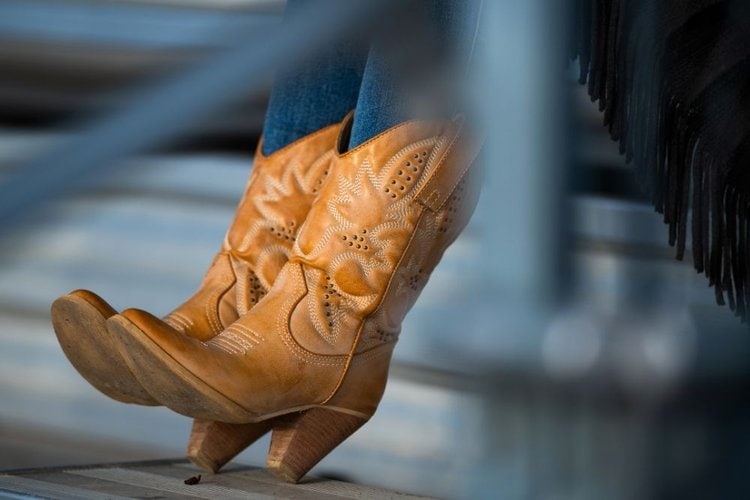 Choose suitable types of boots
Distinguish between different types of cowboy boots and consider choosing outfits and accessories that complement them.
Traditional and ankle boots are two popular choices among women, and when combined with the right outfits, they can create a sweet and fashionable look.
Additionally, pay attention to color harmony between your outfit and boots. For instance, pair red cowboy boots with a colorful floral dress for a vibrant ensemble.
Sale
Roper Womens Ingrid Boot, Multi, 7
BEAUTIFUL COLOR- Super Cute 7 inch short fashion Cowgirl Boot with Textile Heel styling.
COMFORTABLE CUSHION INSOLE - Everyone loves the comfortable cushion insole designed to keep you...
LOOKS AND FEELS LIKE REAL LEATHER - This Fashion Short Western Boot is crafted from high quality...
Last update on 2023-09-22 / Affiliate links / Images from Amazon Product Advertising API
Conclusion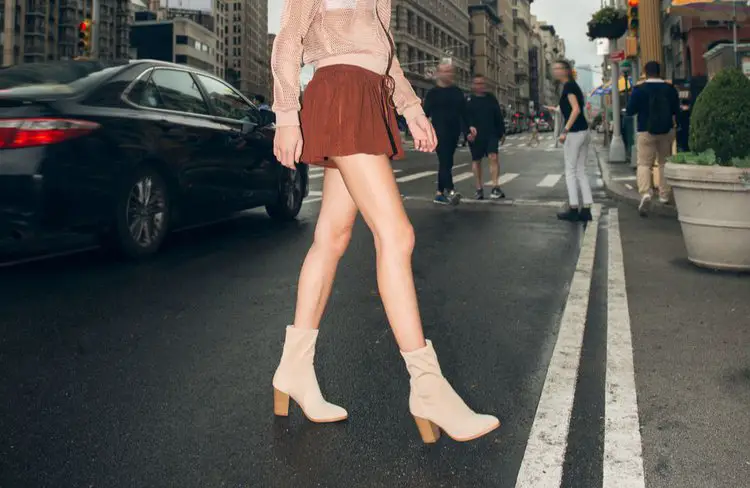 As we conclude our journey on how to wear cowboy boots without looking country, remember that fashion is all about expressing your unique style and personality.
Cowboy boots, once synonymous with the countryside, have now become a versatile fashion statement embraced by stylish individuals everywhere.
By following the tips and outfit ideas we've shared, you can confidently rock cowboy boots with a modern twist while maintaining your chic sensibilities.
Whether you opt for a modern city look with a blazer, embrace the classic combination of cowboy boots with a short skirt or dress, create a chic ensemble with a sweater dress, sport a dynamic outfit with shorts, or exude glamour with zipper cowboy boots and distressed jeans, it all comes down to embracing your individuality and wearing your boots with confidence and attitude.
Remember, fashion is not defined by rigid rules but by your own interpretation and creativity. Take the time to experiment, explore different styles, and find the perfect cowboy boot ensembles that make you feel your best.
With the right pair of boots, a touch of Texas flair, and your own personal twist, you can rock cowboy boots with style and elegance while staying true to your own fashion sensibilities.
So, saddle up and let your fashion journey with cowboy boots begin. Embrace the spirit of the Wild West, add a dash of Texas charm, and showcase your unique style with confidence.
Now go out there, strut your stuff, and make a fashion statement that's as bold and beautiful as the Lone Star State itself. Good luck, and happy boot styling!
Howdy y'all, and welcome to From The Guest Room, your ultimate guide to all things Western! I'm Jay Gatz, a lifelong cowboy boot enthusiast with over 5 years of experience in the Western style world. I'm excited to share my knowledge with you and help you discover the perfect cowboy boots and western gear to elevate your style. Let's explore the rich history and timeless appeal of Western fashion together!