The annual fashion trend is always changing and gives girls hundreds of choices. To follow such a trend, girls start to search for how to coordinate with cowboy boots.
There are a variety of choices such as skirts, dresses, short jeans, etc. These are both dynamic and trendy items in girls' wardrobes.
However, how to wear cowboy boots without looking country is the question that brings headaches to many beautiful modern girls.
With the motto of giving women a better look every day, FromTheGuestRoom will bring you countless fashion experiences.
Now, join us to know how to wear cowboy boots without looking country.
Let's check it out and choose the best style you love below!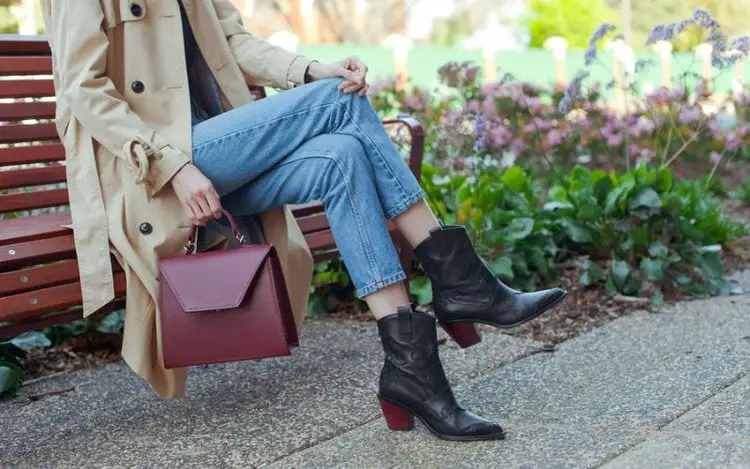 How to Wear Cowboy Boots Without Looking Country?
Cowboy boots are among footwear that comes from the countryside and have very specific features.
In fact, if you don't know how to choose boots as well as coordinate with a suitable outfit, you will look country somehow.
It's amazing that these days, cowboy boots have become more popular which stimulates the creation of many bootmakers. You can now choose the right pair of cowboy boots that match the modern style you desire.
Some boots have an elegant look with a great polished finish, while others are feminine with floral prints, etc. Some cowboy boots with 3-inch heels, pointed toes and deep scallops are also perfect choices for creative fashion.
Using your senses, you will be able to choose from a wide variety of quirky cowboy boots that will suit your style.
1. Modern style: Cowboy boots and a blazer
I believe very few people think of this, but these days, cowboy boots with a blazer are a perfect match for the city look.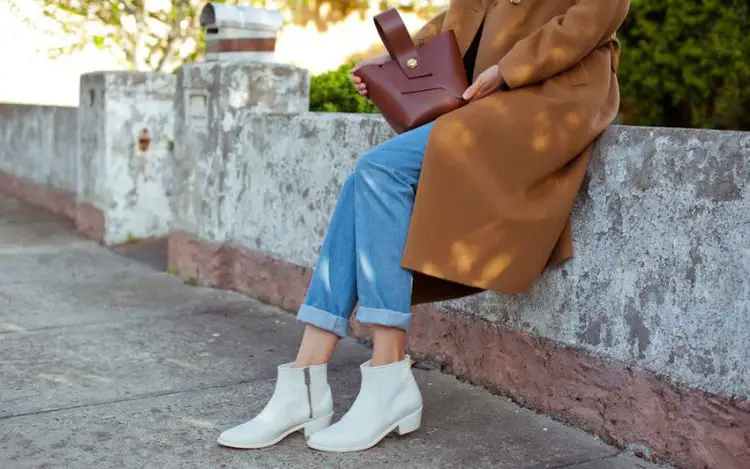 Ankle cowboy boots can perfectly go with a pair of jeans that are tight at the butt but fit loose at the ankle – the jeans don't touch the boots.
Then put on a single slim T-shirt and finally put on a blazer that reaches almost to the knee.
You can master modern fashion with this combination.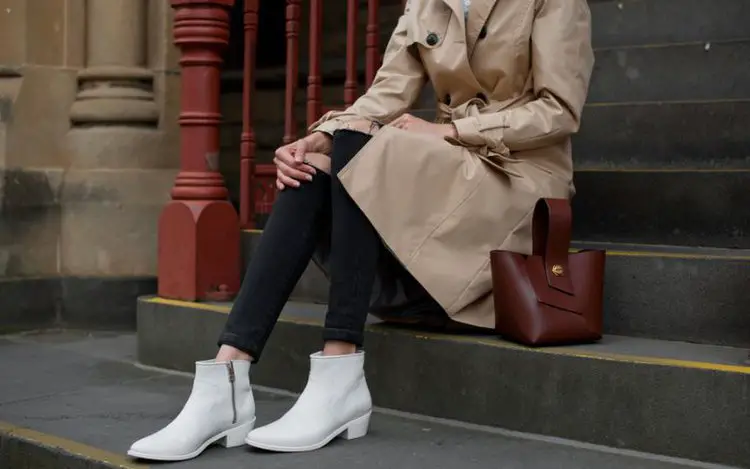 In addition, replacing jeans and t-shirts with dresses is not a bad choice at all. Just make sure the colors match the outfit and they fit well, everything will be great.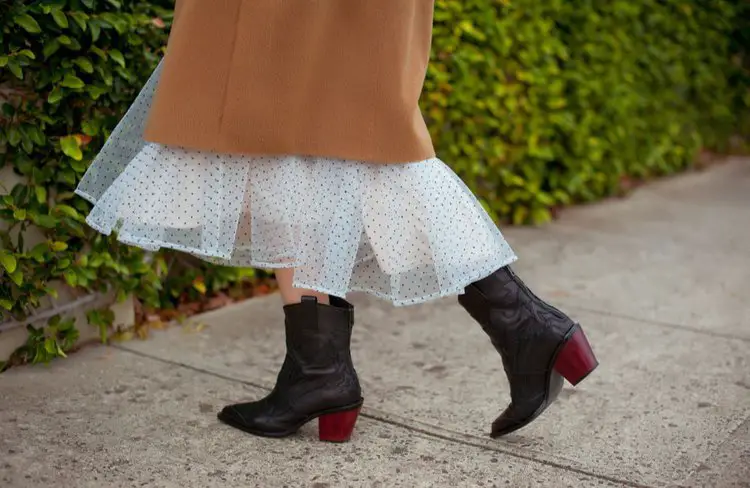 This fashion style is perfect for cold days. It feels stylish and functional at the same time!
2. Classic style: cowboy boots with a short skirt or dress
Well, you want to match your cowboy boots with something in your wardrobe. But you don't know how to pair them perfectly?
If you aren't sure about styling, just go with a dress or a short skirt.
Skirts or dresses are always familiar items in girls' closets, but they are enough to stir this summer when matching with cowboy boots.
Don't worry about being bored with a checkered dress and classic knee-high boots.
Just make a little change (maybe some accessories), and you will become the focus of attention in this dynamic summer.
Sale
Last update on 2023-05-27 / Affiliate links / Images from Amazon Product Advertising API
Cowboy boots with short skirts have never been an outdated outfit when it is easy to style and brings you an attractive, youthful and beautiful appearance.
You can completely rely on your own taste to change a bit to have a different and creative outfit.
If you have a perfect body with a slender waist and slim legs, don't hesitate to put on this combination, you'll be attractive anyway.
Last update on 2023-05-26 / Affiliate links / Images from Amazon Product Advertising API
Cowboy boots with neutral tones are always the perfect choice for dynamic short skirts.
If you are a fashion trend follower, you must know this unwritten rule in mixing clothes.
When combining cowboy boots and short skirts (office dresses), you should choose black, tan boots. This way, you would have an elegant and noble ensemble.
In addition, combining cowboy boots with plain plaid skirts give you a simple yet mysterious look.
3. Chic look: cowboy boots with a sweater dress
A sweater dress always brings a soft and gentle feeling to the viewers.
Petite girls will look stylish and lovely when matching cowboy boots with a sweater dress.
Last update on 2023-05-27 / Affiliate links / Images from Amazon Product Advertising API
Otherwise, for traditional girls, mixing cowboy boots with sweater dresses brings them a chic and sexy look.
This outfit is perfect for a weekend coffee or an afternoon stroll with friends.
You can also wear them to night parties without worrying that it will affect your elegance and courtesy.
4. Dynamic fashion: cowboy boots with shorts
We can't deny that short jeans and cowboy boots are such a perfect couple.
If you want to own a cool outfit without being out of style, this combination is the best choice.
Besides classic fashion pieces such as leather pants or jackets, simple shorts always bring a stylish, dynamic look for women when combined with boots.
No products found.
Short jeans are easy to pair with boots. No matter what type of boots, whether classic (traditional boots) or modern (ankle boots), short jeans come great with them and offer a modern and sexy style.
Simple but attractive, this is undoubtedly one of the most popular combinations for this spring-summer fashion trend.
If you want to create an accent in others' eyes, add an extra sheer shirt to increase the charm when going with cowboy boots. Don't forget to adorn yourself with noble red lipstick.
Some accessories such as statement rings or layering rings give you an extraordinary look when going downtown or having coffee with friends.
5. Glamorous look: zipper cowboy boots with distressed jeans
Zippered cowboy boots are one of the boots with a convenient design. It is beautiful and easy to mix and match with many types of costumes.
A pair of zippered cowboy boots with distressed jeans – this combination creates a dusty but equally glamorous look.
You should cuff your pants at the bottom to balance the overall appearance. This way creates the illusion that your legs are longer and slimmer.
No products found.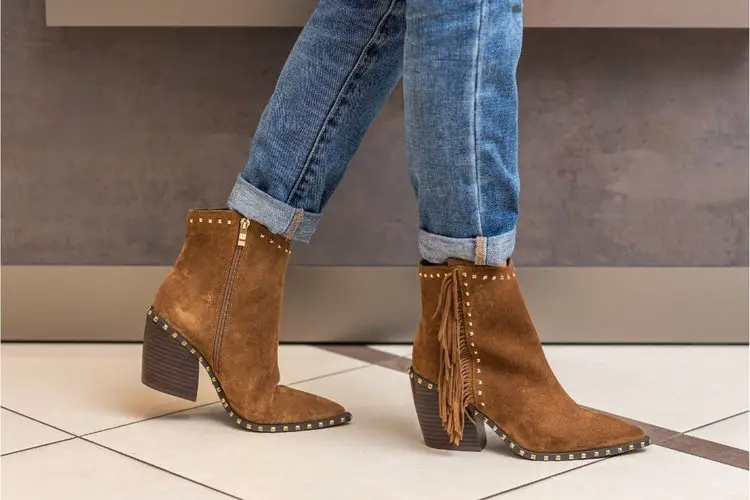 6. Attitude: be confident
Cowboys and cowgirls aren't famous just because of their appearance, but also for their attitude.
Confidence, swagger and arrogance – all these characteristics make the beauty of a true cowgirl.
Every scheme or every transformation is all nonsense if you keep your head down to the ground. Keep your head up, and you will have comprehensive beauty with your beloved cowboy boots.
Let your class do the talking! Cowboy boots won't be what define you, you are the one who defines cowboy boots.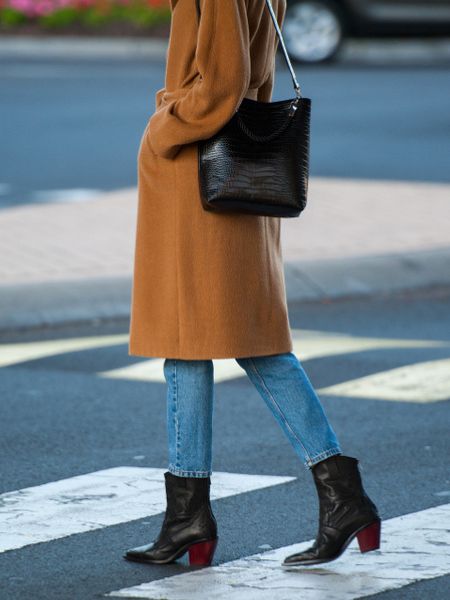 Tips for the best look with cowboy boots
If you have an ideal height with long legs, you can freely choose any pair of boots you like as long as it suits your outfit.
Girls with short legs should avoid choosing cowboy boots that have a scallop with lots of fur or knee-high cowboy boots.
These boots make your legs look shorter, and the overall appearance isn't balanced.
The second thing to note for short-legged girls is not to wear cowboy boots with flat soles. They make your legs look bigger.
Choose the right size cowboy boots
Don't wear too tight cowboy boots or they deform your skin and your toes.
Otherwise, too large cowboy boots are also no good. They make you look not very unsightly because the boots don't sit straight on your legs and it's difficult for walking.
You will look elegant and fashionable when matching a short skirt or short dress with over-knee cowboy boots. Adding a turtleneck, now you get a perfect set of clothes.
Sale
Last update on 2023-05-27 / Affiliate links / Images from Amazon Product Advertising API
Besides, do not let the leather around the calf of cowboy boots is too loose, your calves should fill the gaps, but not too tight.
This way you get a neat and modern look!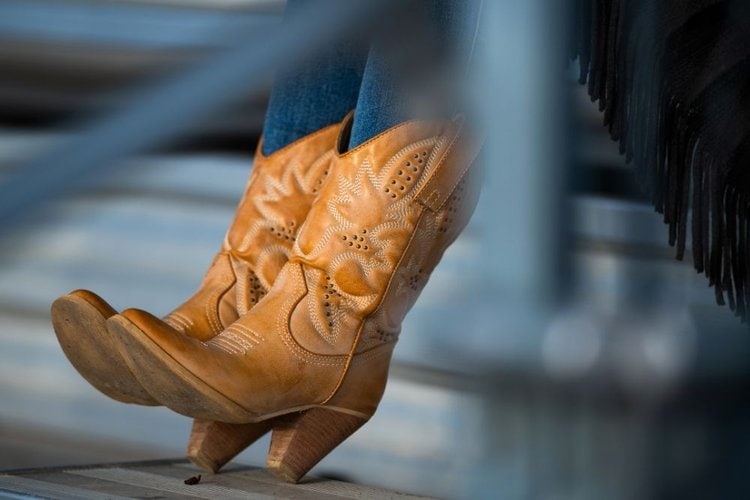 Choose suitable types of boots
You should clearly distinguish the different types of cowboy boots. Depending on the boots' type, consider choosing a suitable outfit and accessories to go with them.
For example, two types of cowboy boots that are very popular with women are traditional and ankle boots.
If properly combined with a matching outfit, they will not cause looking country at all. Ankle boots or traditional style are easy to pair with different skirts and dresses to create a sweet look.
Also, the colors of the boots are worth considering too.
The color harmony between the outfit and the boots is also essential. For example, A pair of red cowboy boots should go with a colorful floral dress.
Sale
Roper Womens Ingrid Boot, Multi, 7
BEAUTIFUL COLOR- Super Cute 7 inch short fashion Cowgirl Boot with Textile Heel styling.
COMFORTABLE CUSHION INSOLE - Everyone loves the comfortable cushion insole designed to keep you...
LOOKS AND FEELS LIKE REAL LEATHER - This Fashion Short Western Boot is crafted from high quality...
Last update on 2023-05-27 / Affiliate links / Images from Amazon Product Advertising API
Conclusion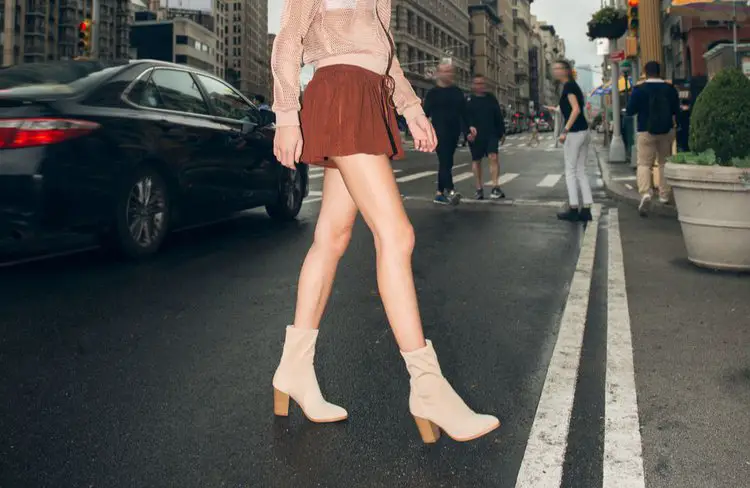 The evolution of cowboy boots has brought new beauty and a new look regarding fashion aspect.
You ladies can get the look you want, as long as you know how to work with cowboy boots.
That will help you complete your appearance in others' eyes. So, spend your time researching and finding the best ensembles for your style.
Anyway, I hope you know how to wear cowboy boots without looking country.
Good luck!
Howdy y'all, and welcome to From The Guest Room, your ultimate guide to all things western! I'm Jay Gatz, a lifelong cowboy boot enthusiast with over 15 years of experience in the western style world. I'm excited to share my knowledge with you and help you discover the perfect cowboy boots and western gear to elevate your style. Let's explore the rich history and timeless appeal of western fashion together!