One of the biggest challenges for cowboy boots is putting them on. And I'm sure that's something that many people encounter, especially in tight-fitting boots.
The good news for you is that cowboy boot manufacturers start to add zippers to their boots. The zipper is really a great solution to help you put on / take off cowboy boots because they can expand when needed.
However, finding a pair of cowboy boots with zippers is not really easy, and even more difficult for women when the main customer base of cowboy boots is mostly men.
But don't worry, we are always here for our girls who love the western style!
We will find the top 7 coolest cowboy boots with zippers for you.
Shall we?
In A Hurry? Here Are The Top 3 Picks for You
The 7 Best Women's Cowboy Boots With Zipper on The Side
The good news for you is that although the main customers of cowboy boots brands are mostly men, the majority of cowboy boots with zippers belong to women's boots.
Especially ankle cowboy boots or western booties, they often have the addition of zippers in the structure.
Interestingly, many women's boots have a zipper attached with some fringe to create a soft and feminine look. Some boots also cleverly cover the zipper. You don't have to worry about them being scratched and losing their smooth surface.
Although I am a big fan of cowboy boots with a classic and traditional look (usually no zippers), I don't really have any problems with zipper boots. If cowboy boots are too hard to put on and you still insist on tucking your feet in, it can cause them to have creases and wrinkles, and lose their shape. The zipper can reduce these risks for you!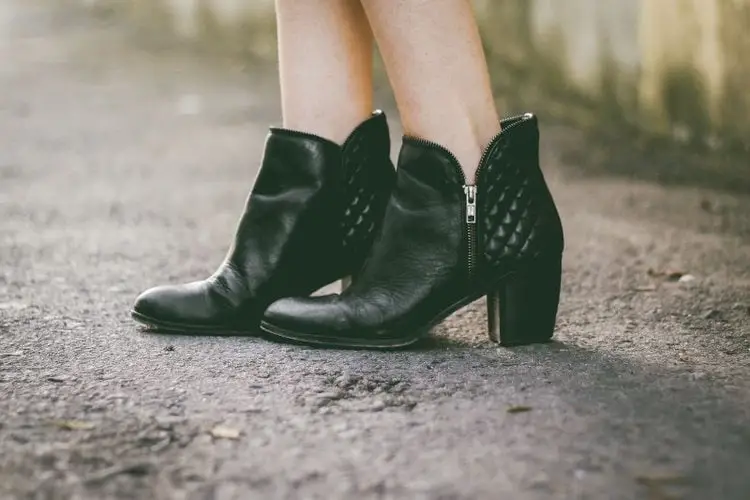 The zipper makes it easier to put on/take off your shoes, that's for sure. But what I like best is that, with zippers, you won't have to worry about your boots getting wrinkled while struggling to put them on.
You don't really need a boot jack or a boot horn to put them on / take them off. And you can save some money!
In addition, zippers can also help you clean the inside of cowboy boots easily. Just unzip, and everything is ready for cleaning!
And the last thing I like the most is that the zipper can help you adjust the fit of the boots. Want to have some fresh air for your feet? Slide the zipper down a bit, that's it!
That's all I love about cowboy boots with zippers and why I recommend them.
And now, it's time for our topic, 7 best cowboy boots with zippers are waiting for you!
1. The Jenny Boots from Tecovas
You will fall in love with The Jenny boots at first sight because of their lovely and cute design. The Jenny offers both a modern and classic look.
At 6 inches tall, The Jenny Boots are just above your ankles, so they're great for wearing skinny jeans (or leggings) and showing off part of your ankles.
What is remarkable is that the structure and surface of these boots are very nice. You can see their well-polished finish and darkened toe (for the honey version). This gives a sharper feel!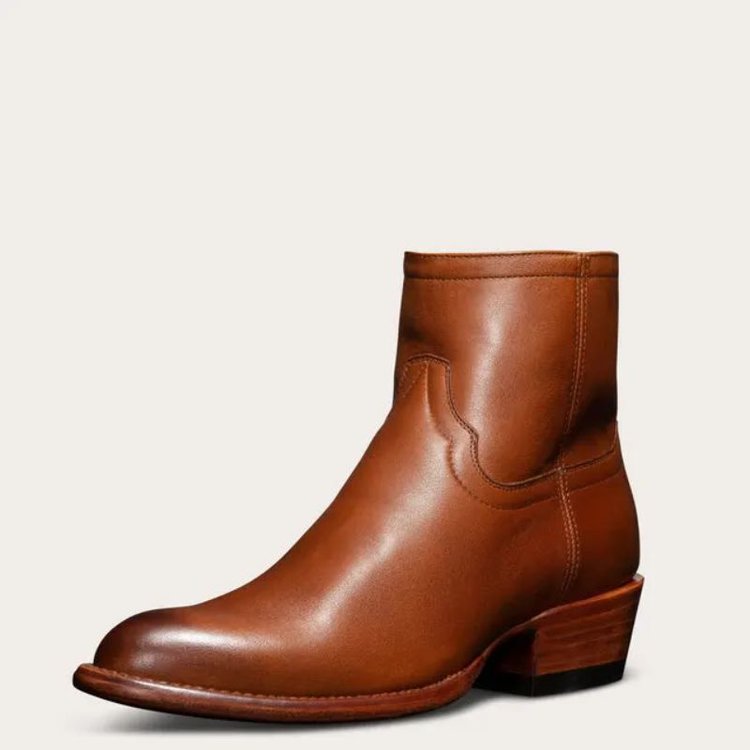 Meanwhile, the boots have a round toe that seems to taper much towards the tip, plus their finish, The Jenny makes your feet look slim. What's more, a 1 3/4 inch heel can help you look taller and more confident.
In general, these boots come with a classic vibe but still have good sophistication and elegance. In addition to skinny jeans, a fancy dress or skirt are all good choices for these boots.
And most importantly, these boots have delicately covered zippers, along with a gentle fringe attached to the slider for an elegant look.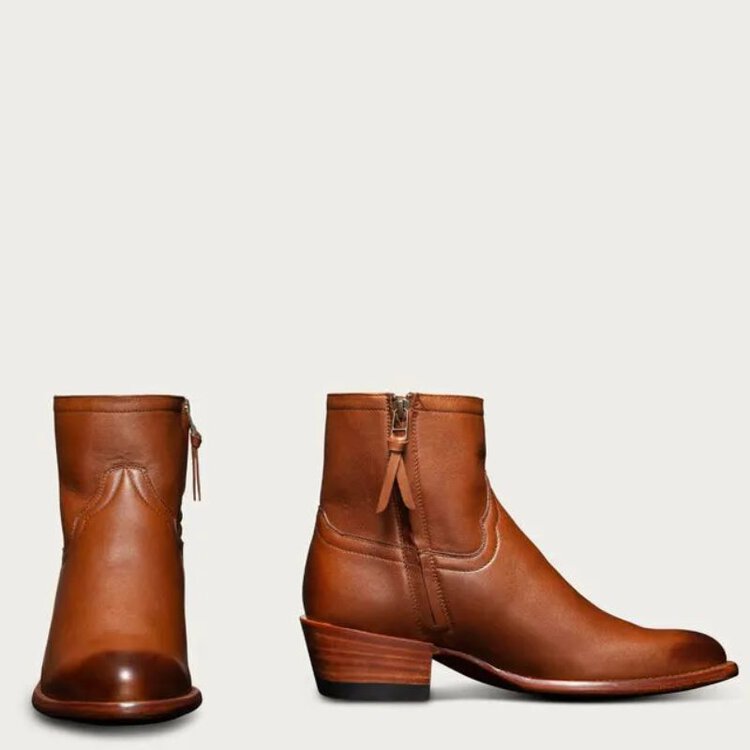 The Jenny is definitely what you are looking for!
2. The Daisy from Tecovas
If The Jenny boots are a pair of boots with a gentle and lovely appearance, The Daisy in the eyes of many people is a boot with more accents.
That can be attributed to the fact that these boots possess the snip toe and seductive curves of the vamp. In addition, the heel of this boot is also quite high at 2 1/2 inches.
All of these features are put together to create a neat look for your feet. The snip toe also makes your foot look longer and taller, bringing a confident, and attractive image.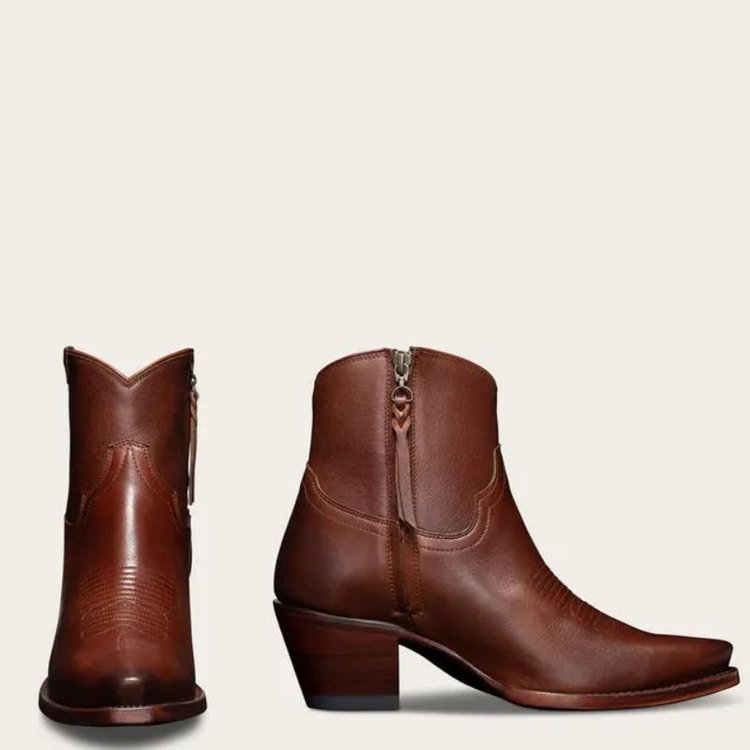 Besides, the curve of the leather soles is also really impressive. The leather sole is thinner than the rubber one, so it always gives a beautiful and elegant look to our girls.
Another thing that you will love is that these boots have a collection of colors and materials that create different finishes. That creates a diversity of styles for The Daisy.
If you like elegance, then The Daisy bovine boots with a polished look are great to go with jeans. But if you follow a dreamy style, the light suede layer is the best way to go!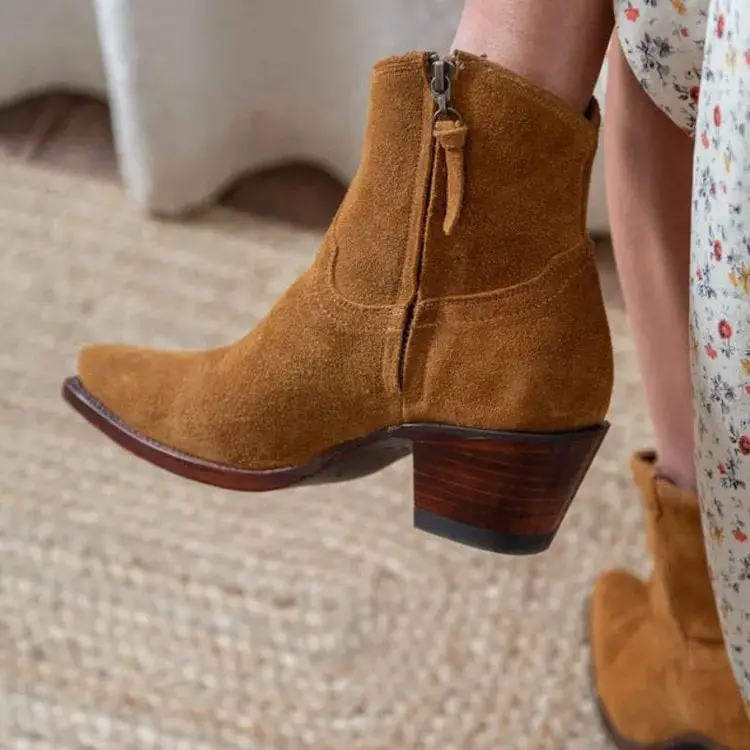 And The Daisy boots also have a zipper on the side. There exists a gentle fringe on the slider for a more sophisticated look.
The Daisy is so perfect for a youthful and energetic style!
3. ARIAT Women's Lovely Western Boot
Last update on 2023-05-27 / Affiliate links / Images from Amazon Product Advertising API
True to their name, these are extremely cute cowboy boots from an extremely familiar brand, Ariat.
Speaking of Ariat, by the way, this brand can be your destination when looking for boots with a side zipper, either for wide feet or for big calves. It owns a huge and diverse collection of cowboy boots and shows never lack of creativity for cowboy boots.
ARIAT Women's Lovely Western Boot has a low structure and is only slightly higher than the ankle.
Moreover, these boots are really charming as they possess great curves at the vamp.
And, quite similar to The Daisy by Tecovas, they have a high heel and snip toe. This will make the lady look tall, confident, and have slim feet.
Made from full-grain leather and well-polished, these lovely boots have a very classic look. Their surface is adorned with Ariat's signature stitching patterns, which are impressive and full of western soul.
In addition, Ariat also equips a 4LR™ footbed in these boots, creating a soft cushion for the wearer throughout the day.
Finally, you can find a zipper and a fringe that is gently attached to the slider for a light and feminine feel. With this zipper, you can easily on / off the boots without creasing them.
4. Junk Gypsy Women's by Lane Spirit Animal Boot
Junk Gypsy Women's by Lane Spirit Animal Boot will be a big hit for those who love the wild beauty of the western region.
Mixed with different colors and fringe, Junk Gypsy shows us freestyle that is not limited by any fashion rules. A contrasting inner lining and hand-painted ombre wild fringe are the main factors that contribute to the success of these boots.
However, the impressive distressed leather really makes up the main style of these boots. That's why we always talk about the material that makes cowboy boots. It is very important to construct the boot quality from the inside to the outside.
Besides, the combination of narrow snip toe and high heel creates a slim look for girls' feet, and at the same time makes them look taller and sexier.
These boots really give off a very sexy feel whether worn with skinny jeans, ripped jeans, or dresses and skirts.
And of course, these boots have the zipper presence you desire.
What more do you expect?
5. Roper Women's Short Stuff Fashion Boot
Last update on 2023-05-27 / Affiliate links / Images from Amazon Product Advertising API
Let's come to another pair that are equally adorable, the Roper Women's Short Stuff Fashion Boot. You will love them at first sight!
What distinguishes these boots from the others is the laser western design instead of the stitching patterns you usually see. This is really a breakthrough!
All of these boots are made from antiqued cognac faux leather, although it's hard to compare to full-grain leather, you'll love them because this material makes the boots budget-friendly.
A distressed faux leather outsole is also a good feature to keep these boots slim and girly.
In addition, these Roper boots have a low construction at your ankle, so you can put on them easily. With the appearance of a zipper, the convenience of these boots is no doubt here.
A short shaft combined with a round toe with lots of room and a low heel (reducing stress on joints), this is the construction of a boot that will definitely give you very high comfort.
I believe these boots will make you satisfied!
6. GLOBALWIN Women's The Western Cowgirl Boots
Sale
Last update on 2023-05-27 / Affiliate links / Images from Amazon Product Advertising API
GLOBALWIN Women's The Western Cowgirl Boots are definitely an extremely ideal destination for you in the fall and winter because this is a collection of diverse boots.
And the great news is that all these cowboy boots have what you're looking for, a zipper on the side.
However, the zipper is not the main highlight of the boots in this collection. These boots really excel in some other ways.
You can see that their structure can give girls an attractive and confident figure. They will make you look taller and your feet look slimmer thanks to the high heel and round toe that tapers towards the tip.
The texture of these boots is western, but you can still wear them with trendy fashion accessories like a midi dress or ripped jeans without any problems in style.
Also, what people love about these boots is that they are budget-friendly, which is mainly due to their faux leather material. But do not worry too much, it is still premium synthetic leather with good durability and a luxurious appearance.
However, thanks to the budget-friendly feature, you can absolutely own more than a pair of boots. Believe me, with the variety in style, you have many options for your taste.
I love camel and khaki versions, how about you?
7. Soda Picotee Women Cowgirl Boots
Last update on 2023-05-27 / Affiliate links / Images from Amazon Product Advertising API
The last cowboy boots that we want to introduce to you before making your final decision are the Soda Picotee Women Cowgirl Boots. You will fall in love with these boots at first sight!
The first highlight that you will love is that the construction of these boots is very traditional and extremely easy to match with different outfits.
These Soda cowboy boots will definitely create a beautiful country style when paired with short jeans, skinny jeans, or dresses and skirts.
The variety of colors also helps these boots serve many different tastes.
The 2 1/2 inch heel is actually the heel height I favor in terms of aesthetic, as it adds a lot of height to the wearer. This is the strength of cowboy boots that many people love.
The construction of the boots with a low shaft and a zipper on the side ensures you will easily put them on or take them off without causing the boots to wrinkle. This is really essential in synthetic boots like these Soda boots. For your information, synthetic is more prone to wrinkles than genuine leather.
The boots have plain color and no-frills detailing, but they are embellished with stitch patterns (also in one color only) that can create a clean look for the wearer.
If you are not really confident in your fashion sense, then Soda Picotee Women Cowgirl Boots should be your go-to choice!
Before you leave
In fact, owning cowboy boots with zippers is really an advantage. No matter what anyone says, zipper cowboy boots are still the perfect choice for style and function.
If you already own a pair of boots that don't have a zipper, you can still look to cobblers to add it.
Above are our reviews and insights on cowboy boots with zippers. Hope they will be helpful to you.
If you love cowboy boots with zippers, let me know by sending pictures via email. I've always loved looking at them!
Howdy y'all! I'm Grace, a western style enthusiast with over 10 years of experience. From cowboy boots to western gear, I'm passionate about all things western and dedicated to helping you find the perfect style to suit your taste. Join me and my fiancé Jay Gatz as we explore the rich history and timeless appeal of western fashion together!