Blisters are one of the most common problems that wearers face when wearing cowboy boots. This doesn't just happen with newbies in this field.
Longtime wearers like me often encounter them when I'm just starting to put on a new pair of cowboy boots or when I've been wearing them for too long.
No one likes the pain of these injuries. Especially since you'll often make them worse if you get blisters anywhere on your feet and still decide to keep wearing cowboy boots in the hopes that they'll heal on their own during the process.
But the first thing you should do when blisters appear from wearing new cowboy boots is to stop wearing them until the blisters are completely healed.
However, I do not encourage you to wait until such a dire situation occurs to act. The truth is, you can definitely figure out the potential causes of blisters happening to your feet in just a few walks in the new boots.
This article will help you find the causes of foot blisters when wearing cowboy boots and the simplest, quickest solution you can use to handle these painful issues.
Let's dive in!
Why Do My Cowboy Boots Give Me Blisters?
Cowboy boots are structurally complicated. That is to say, there are many things in their construction that can cause blisters on your feet since our feet and the way we experience them are different.
Here are some of the most common reasons why people do it.
1. Stiff leather
Cowboy boots are mainly made from real leather since most of us do not see faux leather as our cup of tea.
Full-grain leather, top-grain leather, and genuine leather are the stiffest materials. They need time to be softened by the warmth of our feet and how often we walk to break them in.
You may experience blister problems on the calves, heels, or toes during the first 0.5–1 week of break in due to constant rubbing of bare skin with a stiff leather surface.
But this is the price to pay for the durability of real leather, since this material can last for more than 10 years.
Suede and nubuck are much softer and more supple and take minimal time to break in. However, they don't last as long as real leather.
Don't fit well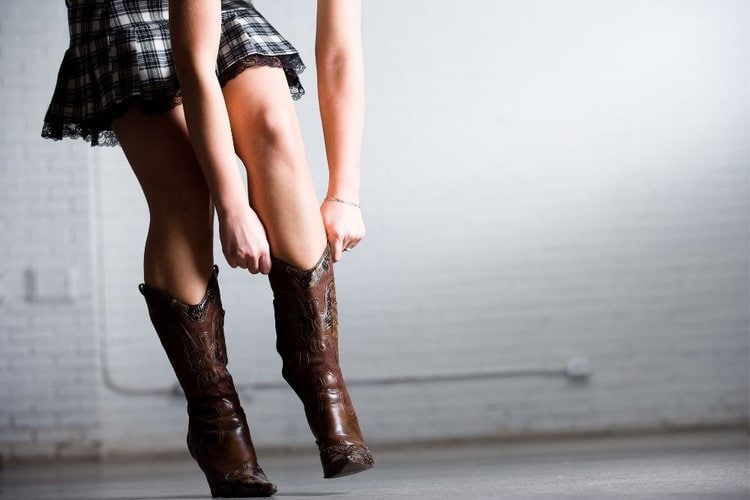 Wearing cowboy boots that don't fit your feet well is the second leading cause of blisters.
If you think cowboy boots should fit snugly like trainers usually fit, you're completely wrong.
You should take into account that pointed toes will be 3 times narrower than trainers' toes, and so cowboy heel counters will need to be provided with a wider space for your feet to slide properly.
If these areas fit too snugly, you'll get very bad blisters. Conversely, if heel counters and toes give too much room, you will experience heel slippage, leading to severe blisters and sores when you walk around a lot.
2. Poor construction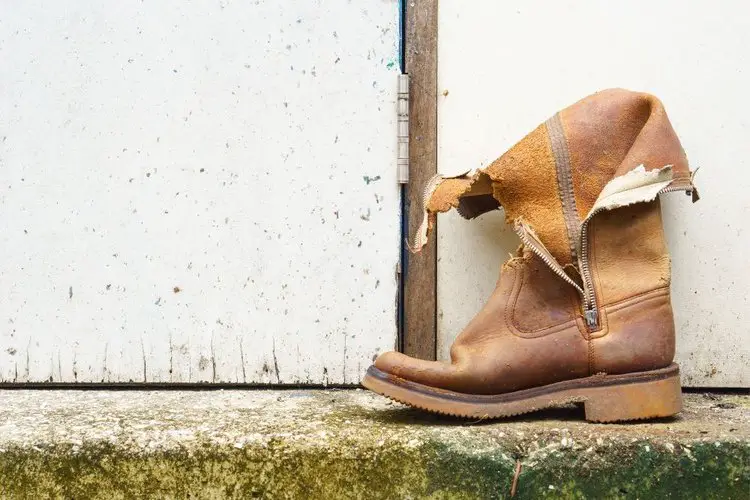 I've had very bad experiences with cowboy boots with poor construction (usually made in China). They have superfluous threads or unnecessary protrusions on the inside of the boots.
These will get in your way because they will rub against your skin very badly. In addition, cowboy boots made in Asia are often smaller in size than similar shoes made in Europe or America.
Therefore, buying these boots online really drives us crazy every time we buy them because they are sized differently with the same boot line and size number. I really hope the manufacturers find a quick solution to this problem.
3. Do not contain fabric linings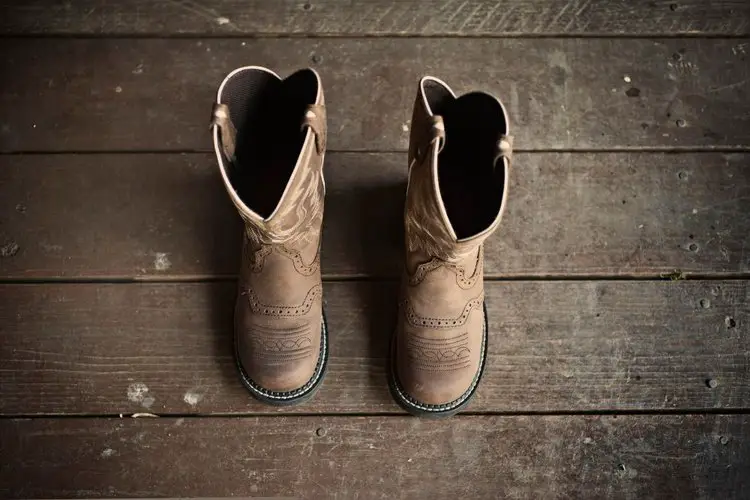 I've seen a lot of cowboy boots made entirely by hand using traditional methods (usually for ranchers or hunters). No soft fabric lining is lined underneath the leather upper, causing blisters in the heels, toes, and even insteps.
But those who wear them are so used to this that they see it as a sign of high-quality cowboy boots.
For most of us, soft fabric linings not only help keep feet warmer, but they are skin-friendly, thus reducing scratches and blisters caused by friction.
How To Prevent Blisters From Cowboy Boots?
Time for the most expected part of this article, I've got some good ways to help prevent blisters from cowboy boots for you, as below:
1. Stretch/Soften leather upper
Breaking in the process always takes time and effort. But it's essential to minimize the chance of blisters when wearing new cowboy boots. There are several ways to stretch stiff leather faster without having to walk on it constantly.
Boot Stretcher:
Last update on 2023-09-25 / Affiliate links / Images from Amazon Product Advertising API
This is the most professional and least laborious solution. All you need to do is buy boot stretchers and install the boots on your device.
You can also adjust the stretch of the leather upper to your liking. The rest is waiting for about 2–5 days to wear cowboy boots that have been stretched properly.
Leather Stretch spray:
Last update on 2023-09-25 / Affiliate links / Images from Amazon Product Advertising API
Another method that is also quite simple and effortless is spraying. Use the leather stretch spray on the areas of the boot that you want to stretch, like the toes, heels, or ankles.
However, they will not be as effective as boot stretchers. They are more suitable for genuine leather than top-grain or full-grain leather.
Hair Dryer: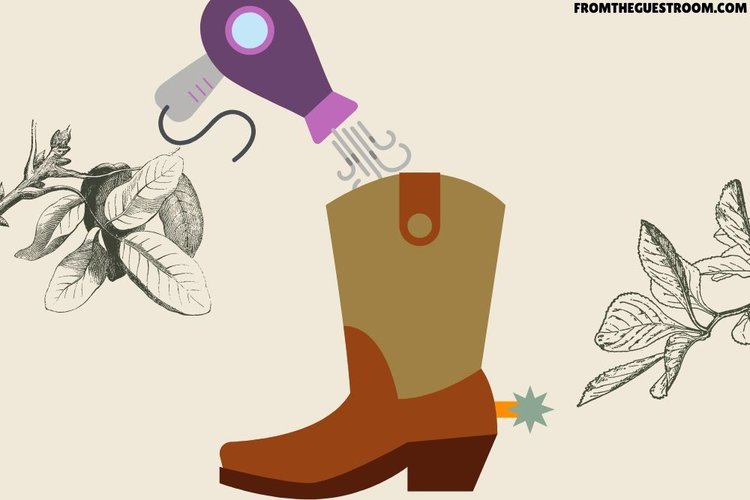 What we need from this method is the heat from the hair dryer, which will soften the stiff leather. But I am not saying that you will heat the leather upper directly from the outside.
Otherwise, you need to warm up inside the boots and walk in them for 3 minutes. You need to repeat the process about 10 times. Then, the painful breaking in of a new pair of cowboy boots can be done in just a half day.
Rest assured that when the leather is softened by heat, it will not rub your skin badly when you walk on them afterward.
Steam the boots from the outside: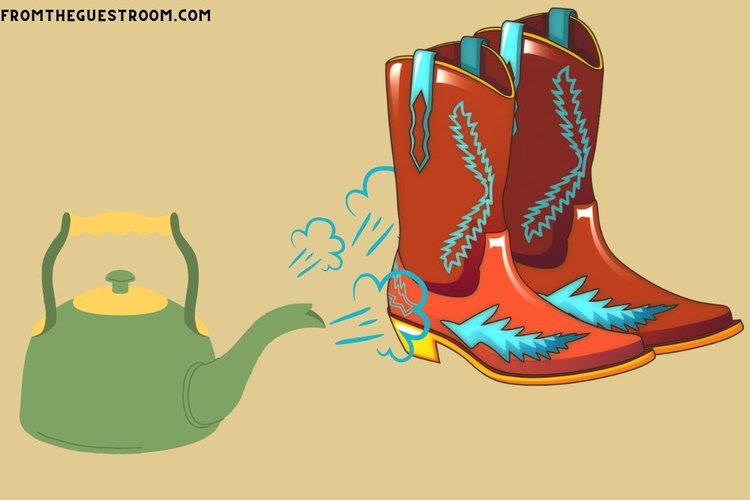 This is the best DIY method to soften stiff leather as the result comes out quickly right after applying. You may need hot steam from a pot of boiling water on the stove.
You need to put the stiffness areas of the upper in the middle of the rising steam. As a result, the skin's surface is gradually softened without harming its structure.
Remember that hot steam should not be allowed to penetrate the inside of cowboy boots. This will cause high humidity and lead to mold and odors inside.
Pros:
Easy to get done
Do require much effort
Availability
Con:
2. Insert extra insoles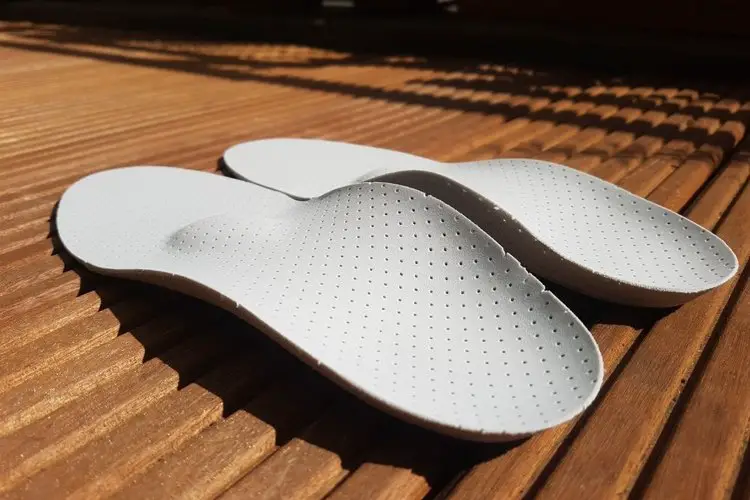 Most cowboy boots adapt to leather insoles in their construction.
However, for some people, this material seems too slippery and easily causes slides that cause blisters on the heels or toes of their feet. You may need extra insole support.
Also, you can benefit from exceptional arch support from these insoles.
The design, thin thickness, and material of the extra insoles play an important role in reducing foot pain and blisters.
Foam insoles:
Last update on 2023-09-25 / Affiliate links / Images from Amazon Product Advertising API
This material consists of regular PU foam and memory foam. Memory foam is more appreciated because it is more supple, softer and molds to the feet better.
Gel insoles:
Last update on 2023-09-25 / Affiliate links / Images from Amazon Product Advertising API
The type of insoles that have the best arch and heel support. They are fitted with gel pads in the arch, the ball of the foot, and the heel area to increase shock absorption since cowboy boots are completely lacking in these functions.
However, gel insoles are usually larger in size and thicker than usual. You may need to trim them a little bit so that they fit the internal space better.
Pros:
Extra foot support
Prevent toes and heel blisters
Prevent heel slippage
Easy to get things done
Long-lasting effects
Con:
Some won't fit snip toes/pointed toes well.
3. Go for longer socks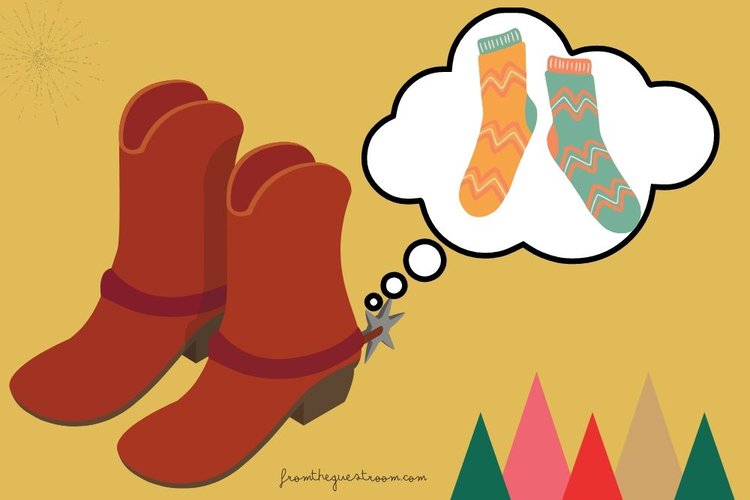 Socks can help you avoid blisters in any area of your feet or legs when wearing cowboy boots. They act as a barrier between the bare skin and the cowboy boots, preventing direct friction between the skin and the internal leather surface.
The rule is that you should choose socks that are longer than the length of your cowboy boots. This will ensure 100% protection for your skin from blisters, especially around the ankles and mid-calf.
Besides, the socks' materials matter. Some of the following materials are recommended:
Soft, thick pure cotton socks:
Sale
Last update on 2023-09-25 / Affiliate links / Images from Amazon Product Advertising API
This is a natural, breathable, and absorbent material. Pure cotton socks are very durable while also skin-friendly. You should choose pure cotton socks that are thick and soft instead of thin and stiff.
Merino wool socks:
Last update on 2023-09-25 / Affiliate links / Images from Amazon Product Advertising API
The material is recommended for winter use. Merino wool socks are made from merino sheep, so they are thick, soft, medium elastic and thermo-regulating on the feet.
If you must walk in cowboy boots for more than 10 hours a day, this is the best material for you to avoid any problems with blisters on your feet.
Bamboo socks:
Last update on 2023-09-25 / Affiliate links / Images from Amazon Product Advertising API
These are also made from natural materials made from bamboo fibers that have been treated to remove allergenic chemicals. Bamboo socks are soft, breathable, and absorbent.
They are also skin-friendly and hypoallergenic. They don't wear out as quickly as cotton.
Pros:
Long-lasting effect
No need to skip the break-in process.
Availability
Con: 
It requires replacement every day and changes over time.
4. Resole your cowboy boots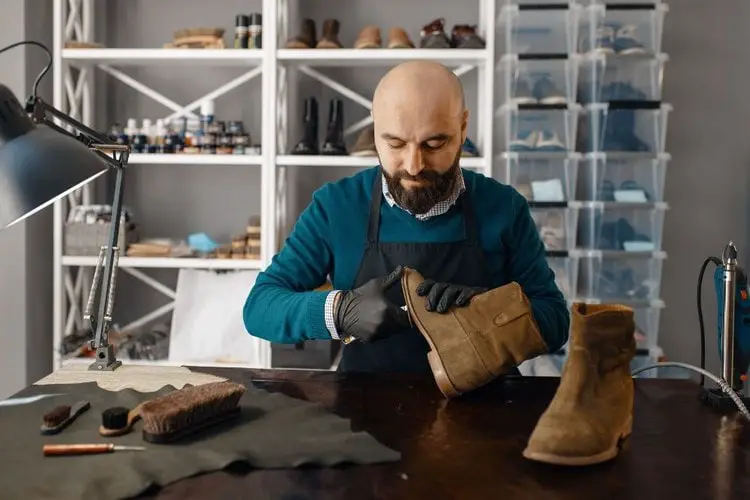 Leather-soled cowboy boots are prone to abrasion and wear. Most wearers will need to replace their leather soles every 2-3 years. Worn leather soles (usually on the heels or toes) will cause the soles to lose their evenness.
As a result, the wearers may have to put pressure on their feet unevenly, causing blisters, especially if they have to be on their feet for more than 10 hours a day.
If you find that your feet have unusual blisters formed by worn leather soles, this is the only way to handle this kind of blister problem.
Pros:
Long-lasting effect
It works well for blister problems due to worn-out leather soles.
Con:
Leather soles are pretty sleek and slippery.
5. Keep leather insole dry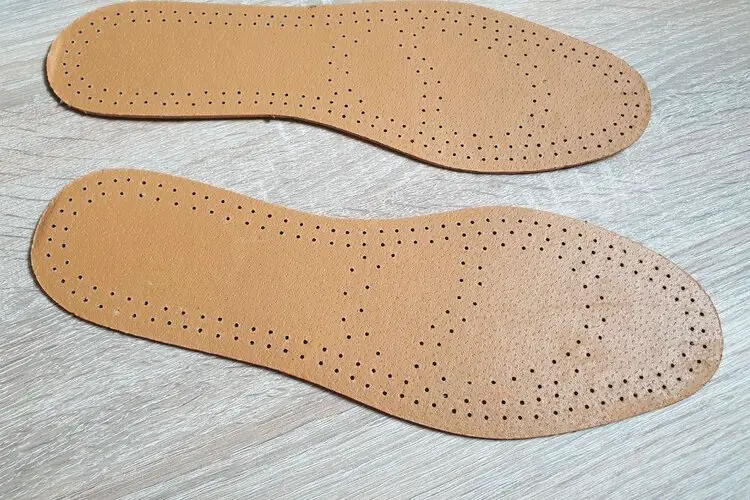 High humidity appearing in the interior of cowboy boots is also the cause of foot scratches and blisters when worn.
This can come from the wet lining, wet insole, or wet vamp that you have accidentally retained while wearing cowboy boots in the rain.
In addition, high humidity in boots also reduces blood circulation and nerve function due to coldness. They contribute to a significant amount of discomfort in your experience.
There are a few ways to fix this situation:
Air dry:
Remove insoles (if possible) separately from wet cowboy boots, then hang both in dry air. You have to make sure the humidity in that hanging place is low, otherwise, your boots will need at least a week to drain out all the dampness completely.
Sunlight dry: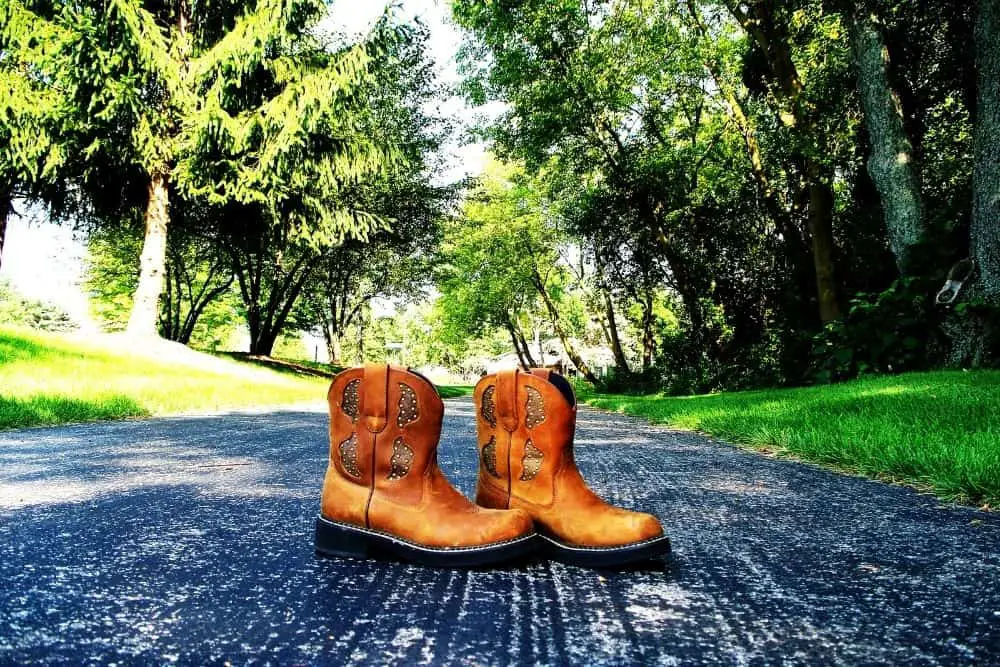 This can shorten the drying time of boots and insoles since direct sunlight is capable of evaporating water faster. However, you should not expose the leather upper directly to sunlight for too long.
You should only dry wet cowboy boots in the morning sunlight for about an hour. Avoid drying real leather cowboy boots in the hottest sun because it will damage the leather's quality and look.
Hair dryer:
A simpler way is to use a hair dryer. You just need to put the heat directly inside the cowboy boots to drain the wetness out. You need to move the machines constantly if you don't want them to produce burning smoke.
It may take you 30 minutes to finish drying the interior of your cowboy boots.
Boot dryer:
Sale
Last update on 2023-09-25 / Affiliate links / Images from Amazon Product Advertising API
Convenient and easy to use, the boot dryer is my indispensable device in the rainy season. The boot dryer machines provide the desired temperature and airflow, helping you find the best fit for your cowboy boots without damaging the quality of the leather.
Boot tree:
Stratton Men's Cedar Shoe Tree (Large)
TOP QUALITY - Providing only the highest level of shoe care, the Stratton Cedar Shoe Tree is...
CRISP CEDAR SMELL - Manufactured to optimize a long-lasting cedar aroma, these Shoe Trees absorb...
GREAT SHOE SHAPER - Regular use of shoe trees are known to maintain and preserve the original shape,...
Last update on 2023-09-26 / Affiliate links / Images from Amazon Product Advertising API
Another recommended method is to use the boot trees. They are mainly made from natural wood which boosts the drying process much faster while helping to deodorize bad odors that may happen during the drying process.
If your insoles are unremovable, that's when you know you damn need this device.
Pros:
Contribute to stretching out leather.
Softening stiff leather:
Doesn't take much effort.
Con:
It can be quite time-consuming.
6. Make the best use of heel insert/heel cups
If you often encounter the problem of heel and ankle blisters, these heel inserts and heel cups are your lifesavers.
They are small patches or gel pads that contain enough cushion to protect certain areas from rubbing against interior leather boots.
In addition, this is also a useful way to tighten the gaps between cowboy boots and ankles, another common problem that wearers often encounter. Using these stickers and heel cups is extremely simple.
With the heel insert, you simply remove the adhesive backing, then stick the adhesive side in place on the inside of your cowboy boots that embrace your ankle.
Premium Leather Heel Grips Liner Cushions Inserts for Shoes Too Big, Heel Pads for Heel Pain,Filler Protect Improved Women Men Shoe Fit and Comfort, Khaki,3 Pairs (0.35 inch Thicker)
Optimal Protection Pack:3 pair of heel grips.Softly cowhide, softly padded
Strong self-adhesive,Suitable for leather shoes, high heels, canvas shoes, casual shoes, etc
When you put on your shoes. Use your fingers or shoe plugs to press the pad used to keep a little...
Last update on 2023-09-25 / Affiliate links / Images from Amazon Product Advertising API
In terms of heel cups, you simply place them in place at the heel and put on the boots as usual. They will prevent direct contact between bare skin and heels, causing unexpected blisters in this area.
Sale
Last update on 2023-09-25 / Affiliate links / Images from Amazon Product Advertising API
Pros:
Easy to buy and easy to use.
Can be used regularly.
Do not change the boots' structure.
Cons:
Not fixed, easy to unfold.
It can be costly.
7. Tuck pants  into the boots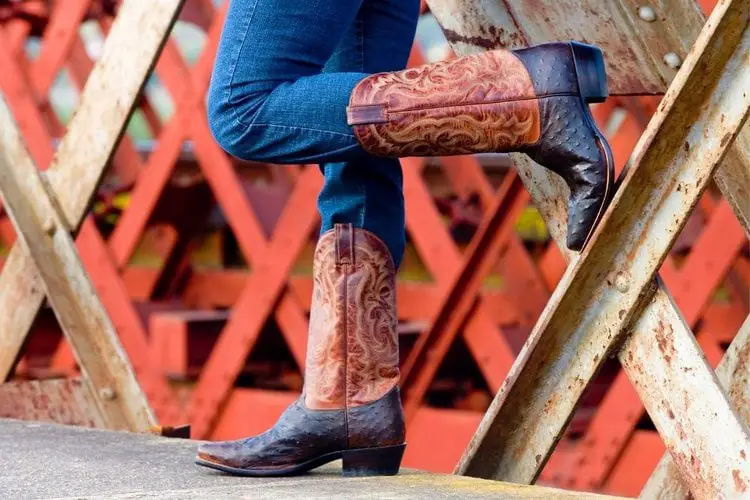 This is an extremely simple DIY solution if you catch a calf blister in the middle of work. If you don't feel too awkward tucking jeans inside the boots (which most men won't do), this solution can effectively and immediately prevent the formation of blisters on your calves.
Jeans are made of hard and durable material, so they are able to protect the bare skin of your calves well from constant rubbing with the leather in this area.
Pros:
Solve the problem immediately.
Don't waste money, time, and effort.
Con:
Does not support reducing toes or heel blisters.
8. Using moleskin
Ever Ready First Aid Extra Heavy Moleskin - 2" x 5 Yards
COMFORTABLE & PROTECTIVE - Moleskin is used primarily to reduce friction and reduce pressure. The...
CONVENIENT ADHESIVE - One side of the roll is adhesive and can be used to quickly and conveniently...
HOURS OF PROTECTION - Once applied, the moleskin will remain secure and in place for several hours.
Last update on 2023-09-25 / Affiliate links / Images from Amazon Product Advertising API
Moleskin is widely available at drug stores or even convenience stores. They are often used to attach bandages when dressing wounds. They are very durable, water-resistant, highly sticky and skin-friendly.
Therefore, if you do not have heel inserts, heel cups, or extra insoles, you can use moleskin as a temporary solution to prevent blisters from forming.
What you need to do is tape the areas that are at high risk of blistering when wearing cowboy boots before they become painful blisters.
However, you should not apply moleskin to open or severe blisters, as it will make the wound worse and more painful.
Pros:
Easy to buy, easy to use.
They are cheap.
Con: 
Work as temporary problem solving only.
9. Invest in good-quality cowboy boots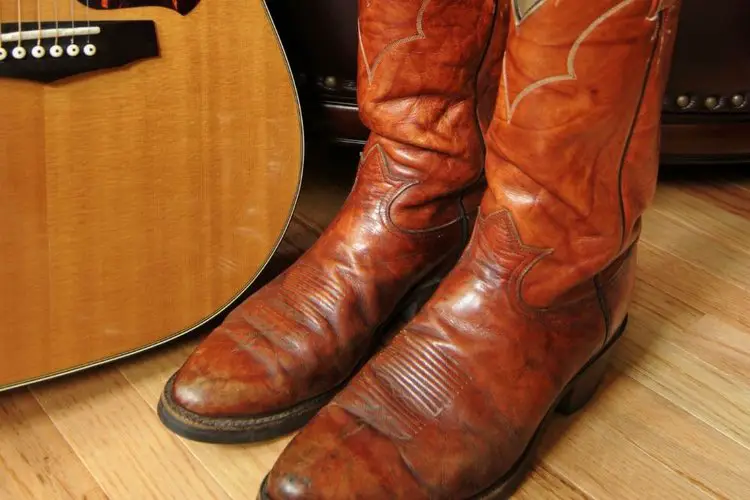 As mentioned above, poorly constructed cowboy boots are one of the causes of blisters on the wearer's feet. If possible, you should try on cowboy boots at the store before paying.
In addition, if an online shop is your only option, you should ask the seller carefully about the origin and exact place of production of cowboy boots.
I suggest you buy cowboy boots that are made entirely in the US, although they can cost twice as much as similar boots made in China. But you will never regret the money you spent on them.
Pros:
Prevent the risk of getting poorly constructed cowboy boots.
Support American-made products.
10. Get a half-size bigger pointed toes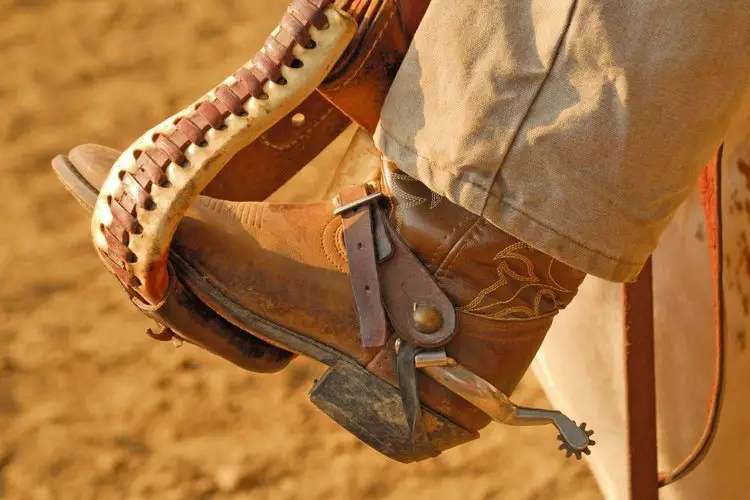 Wearing pointed-toe or snip-toe cowboy boots that fit snugly is a mistake. Actually, snip toes or pointed toes are not as cramped as you might think.
But as a general rule, choose pointed-toe cowboy boots half a size larger. This will give you more room for your toes to wiggle around comfortably, reducing the squeezing of the ball of your feet that causes blisters.
Pros:
Good for blood circulation around the feet.
Give more room for toe boxes.
Reduce blisters in the toes and the ball of the feet.
11. Soften leather with leather conditioner
Sale
Last update on 2023-09-26 / Affiliate links / Images from Amazon Product Advertising API
If you leave your cowboy boots in the shoe cabinet for too long without wearing them often, the chances of the leather upper becoming stiff and tough are very high.
One fine day you decide to put these boots back on and you get unexpected blisters even if you haven't experienced this before. This is because the leather upper becomes too hard during prolonged exposure to the air and then rubs against the skin, causing blisters.
No worry, just a few drops of leather conditioner or leather cream, this can soften the leather upper instantly and won't cause blisters on your feet and legs anymore.
The process of conditioning the boots is pretty simple. You need a soft cloth and some sort of leather conditioner.
Drop the liquid on the cloth then rub the duo on wherever in the leather upper that you want it to get softened. Remember to dry the boots thoroughly before putting them back on your feet.
Pros:
Contribute to prolong leather durability and lifespan
Help wipe the dirt away
Immediately soften the leather
Final thoughts
Life is too short to not wear cowboy boots if blisters are your only excuse. Blisters are the most common problem when wearing footwear; it doesn't just happen when wearing cowboy boots.
However, the sturdy construction and full leather of cowboy boots can make you endure this condition longer.
You may have to suffer from this problem for 5 days to 1 week. But these solutions above will help handle them all and make you feel like wearing cowboy boots is the most exciting and fun experience you will ever have.
Howdy y'all, and welcome to From The Guest Room, your ultimate guide to all things Western! I'm Jay Gatz, a lifelong cowboy boot enthusiast with over 5 years of experience in the Western style world. I'm excited to share my knowledge with you and help you discover the perfect cowboy boots and western gear to elevate your style. Let's explore the rich history and timeless appeal of Western fashion together!