If you are a sort of cowboy boot novice, the very first time you put your feet on the boots may give you some broken dreams. The boots will somewhat hurt your heels, insteps, ankles, and also around your mid-calf.
Aside from the fact that your feet are not really getting used to walking in cowboy boots.
This is also because your new boots haven't really stretched and molded to the foot well, causing unpredictably cramped and painful blisters to appear when friction with the inside of the boots occurs.
Don't worry, some Texan cowboy boot connoisseurs will also face the same problems if their new boots aren't molded to their feet right out of the box.
But what they do better than you is the experience of wearing cowboy boots for many years, giving them the choice of the best size boots for their feet, making the stretch-out process faster and more at ease.
Real leather cowboy boots are always the toughest and often require at least a few days to a week to completely break in. However, you can also get there quicker with my recommended methods below.
Since stretching leather is just the first step in how to make cowboy boots mold to the feet, scroll down and guess what's next!
How To Mold Cowboy Boots To Feet?
We have 2 steps needed to make cowboy boots mold to the feet.
Step 1: Soften the leather (break-in process)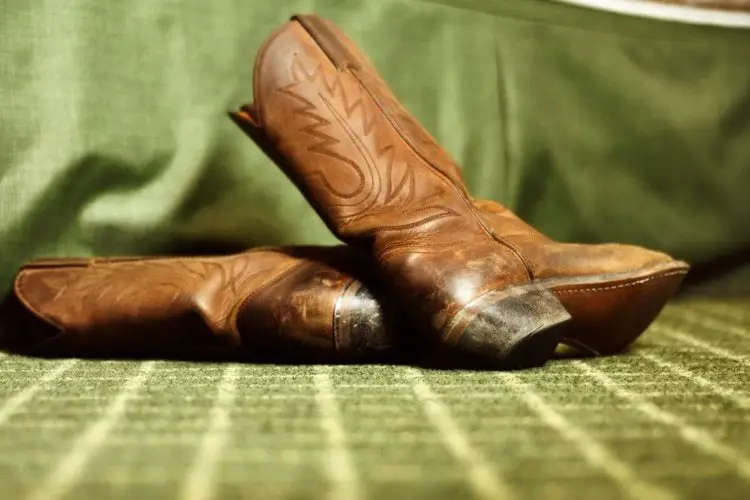 Usually, real leather will have the ability to stretch over time, even if you don't need to do anything to stretch it out.
However, this means you'll have to endure scratches and blisters every day until your cowboy boots really break in and mold to your feet to the point that they won't hurt you anymore. It sounds insane, right?
In this first step, our aim is to soften stiff real leather or in other words, we need to break in the cowboy boots first. 
We've got some good ways to make those leather cowboy boots stretch easily and effectively.
Read more:
Boot stretcher
Last update on 2023-09-23 / Affiliate links / Images from Amazon Product Advertising API
The cool thing is that you just need to wait overnight, and the next day, your cowboy boots will have been stretched to a certain extent by using a boot stretcher.
This is the easiest and simplest method I have ever known. This tool is used to stretch toes, vamps, and the ball of the boots. Therefore, if you have problems with heels, ankles, or scallop areas, it doesn't work things out.
In addition, boot stretchers are also contraindicated for use on cowboy boots with super hard toe caps in construction, such as steel toe caps or composite toe caps.
Some people also say this device does not work for sniped or pointed toes. They're right. It can still help stretch leather at the vamps and insteps in this case.
Pros:
Easy to buy
Only take a little time to learn the technique
Give great effects shortly (often overnight)
Work well for most cowboy boots
Con: 
Don't work on steel/composite toe cowboy boots.
Stretch spray
Last update on 2023-09-22 / Affiliate links / Images from Amazon Product Advertising API
I was very skeptical when I learned that we just needed to apply stretch spray on leather cowboy boots and wait for the material to automatically stretch instead of using a laborious boot stretcher.
After experiencing the product myself, my doubts were cleared. In fact, leather stretch spray only works to soften the leather material to a certain extent.
They do not provide overnight dilation without the need to do anything else. After spraying the liquid onto the leather surface, you will need to apply external force to effectively increase the stretch of the material.
That can come from a boot stretcher or anything that helps stretch the material away. However, in this step, we only need to soften the stiff leather, so this method is still recommended.
Pros:
Visibly softens real leather
Easy to buy
Less time-consuming and labor-intensive
Work well for all kinds of cowboy boots
Con: 
You need extra support to stretch real lead material.
Steam the boots from outside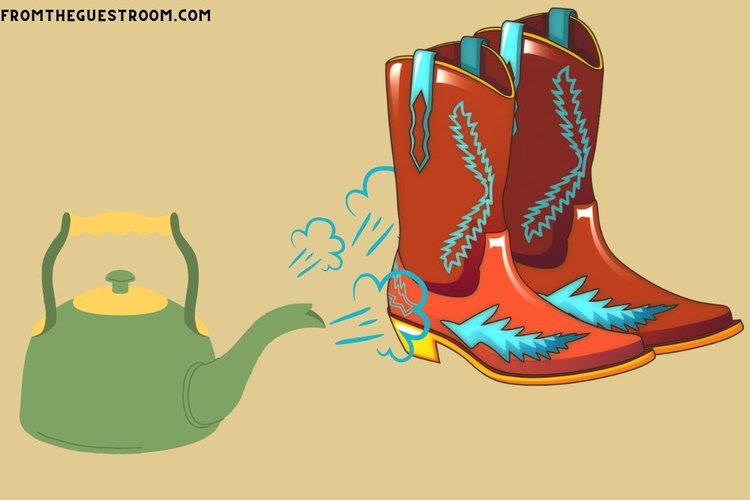 I have seen a lot of articles out there recommending steaming the inside of the boots for leather stretch since it's a good way to soften the leather.
Personally, I don't quite agree with this since I feel it can cause some unexpected troubles later on. For example, bad odors and mold may appear inside the boots.
When steam still carries a certain amount of water, and when we let it come into direct contact with the fabric lining of cowboy boots, it will be retained and become an ideal environment for bacteria and mold to grow.
Therefore, I have tested and you can trust that we should soften cowboy boots with hot steam from the outside.
This has a more direct effect on the stiff leather upper, causing the material to stretch out better without increasing moisture on the inside of the boots.
You also won't have to waste time drying the boots afterward because the hot steam won't overwhelm the stiff leather and soak into the inside of the boots.
Pros:
Don't harm the leather quality
Soften stiff leather effectively
Easy to clean dynamic water on the skin surface
Doesn't take much effort to make
Con:
May give unexpected wetness to decorative details.
Soften the leather with a boot dryer
Last update on 2023-09-22 / Affiliate links / Images from Amazon Product Advertising API
If you have a shoe or boot dryer at home, I will show you how to soften leather with this versatile home appliance. The boot dryers provide temperature and wind adjustments for the convection drying of many different materials.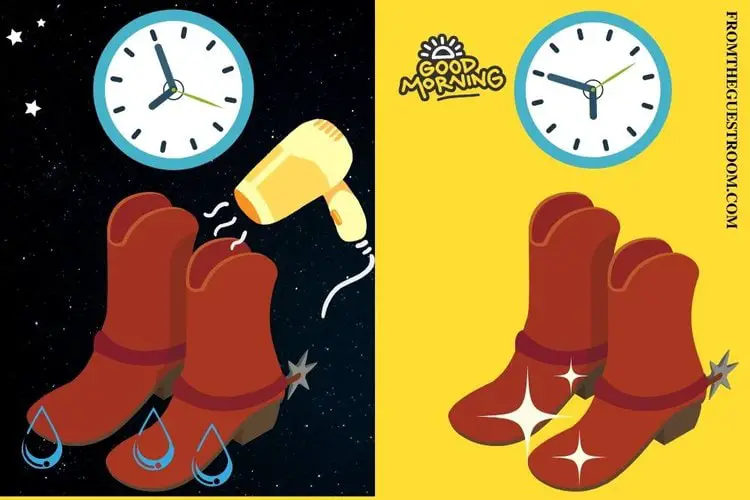 They usually help dry the insides of boots with low heat and take up to 6-8 hours to dry completely. During this process, the heat applied to the leather can work very well to soften the material.
The next morning, you will have much softer leather cowboy boots that are ready to be worn without any extra time to stretch out.
Pros:
Soften stiff leather effectively
Does not affect the structure of boots
Effortless to do
Con:
Wrap up with a hot towel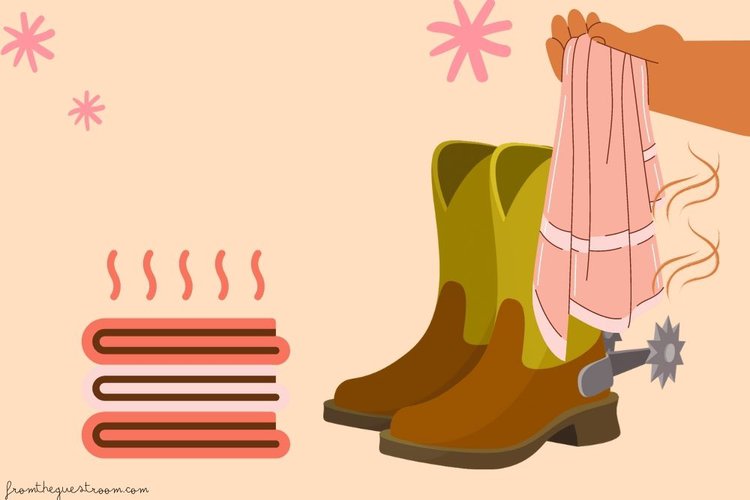 My friend successfully tried this method with her brand-new cowboy boots. If you do not have a boot dryer available in your home, you can make the best use of this method to soften leather right away.
She heats up dry towels (she uses towels because they're thick and are able to retain heat well) by placing the towel in a pan, turning on the gas stove at low-heat mode, and slowly heating the towel over 15 minutes.
You should turn the towel back and forth so that it is fully heated. If you leave the stove on high heat, the towel may get burned.
Once the towel is hot enough, she wraps it around the outside of the cowboy boots fully from scallop to vamp until the towel gets colder and colder.
You may need to do this a few more times to get the desired soft leather.
Pros:
Easy to do
You can control failure risks
Soft leather effectively
Con:
It's time-consuming and laborious.
Step 2: Wear them around
After partially softening or stretching the leather cowboy boots in step 1, wearing cowboy boots is the necessary step to make them mold to your feet but not to anyone else's feet (you know what I mean).
The more you wear them and the more you walk, the faster they mold to your feet size.
In this step, since the leather is already softened, you won't need to worry that it will scratch or cause blisters because of its rigidity. Here are some ways to make soft leather cowboy boots mold to your feet faster.
Wearing double socks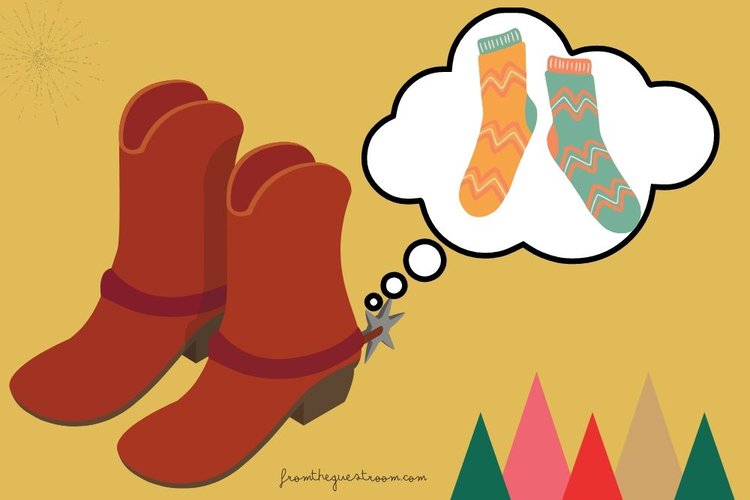 Wearing double socks can help dispel your concerns that cowboy boots can still scratch your feet from friction. In addition, double socks help put more pressure on the soft leather which causes the material to stretch and mold to the feet better.
Note that you will need to choose thick socks as they will put more pressure on the leather. However, this method seems only suitable for winter and cold weather. It will cause the feet to sweat heavily when applied in hot weather.
Pros:
Good to stretch leather and make the boots mold to the feet
Easy to do
Less time-consuming and laborious
Con:
Doesn't work in hot conditions.
Flex more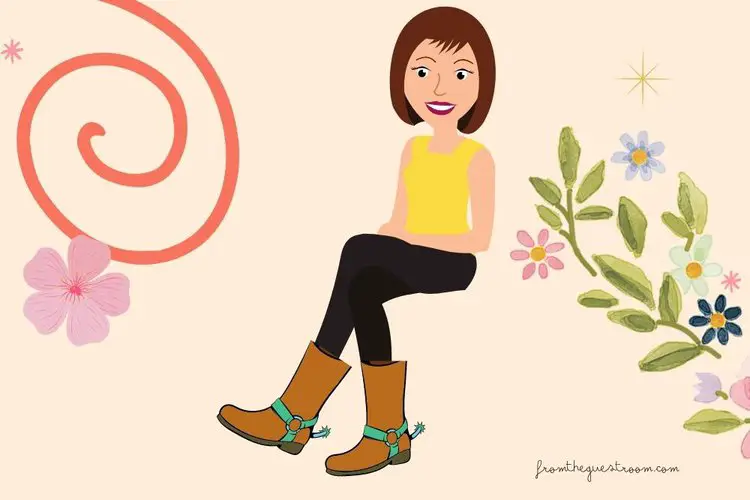 Some people often feel the tightness and stiffness of new cowboy boots around the vamps and heels. Therefore, you can bend these positions more to fully stretch them according to your foot size.
You just need to sit in one place and do many bends in the vamps and heel areas. Since leather is already softened properly, you won't encounter problems with scratches and blisters due to friction.
Pros:
Easy to do
Make the boots mold to the foot size
Cons:
Can be time-consuming
It's boring.
Wear cowboy boots for a ride (if possible)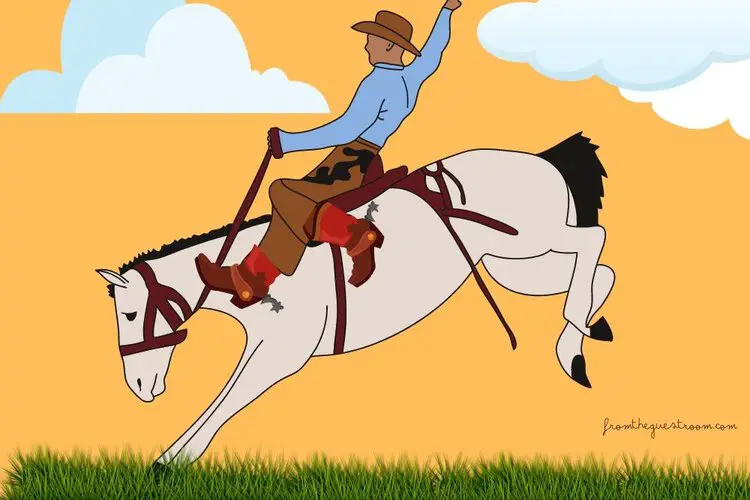 One of the most effective ways to make the boots mold the feet quickly without making you feel bored is to ride a horse in those cowboy boots. When riding, your feet will move a lot around the heels, toes, vamps and ankles.
This will stretch the leather completely from top to bottom and help mold the boots to the exact size of your feet. This activity is also very interesting. At the end of the day when you get home, I'm sure the cowboy boots are completely molded to your feet perfectly.
Pro:
Cons:
Not available for all people
It's time-consuming.
Final thoughts…
You don't have to try all of the above to make your new cowboy boots mold to your feet. Go with what is most readily available and easy to apply for your situation.
I hope you find this article helpful to you.
Howdy y'all, and welcome to From The Guest Room, your ultimate guide to all things Western! I'm Jay Gatz, a lifelong cowboy boot enthusiast with over 5 years of experience in the Western style world. I'm excited to share my knowledge with you and help you discover the perfect cowboy boots and western gear to elevate your style. Let's explore the rich history and timeless appeal of Western fashion together!