Cowboy boots are mostly made of leather and suede with over 11 inches tall in height and lots of textures on shafts and spikes. So properly storing these cowboy boots is essential.
Without good storage, cowboy boots can completely crack, break or lose color.
However, in reality, not everyone knows how to properly store cowboy boots.
Today, we will show you how cowboy boots should be stored. Don't worry, it's simple!
How should cowboy boots be stored?
The most important thing when storing your cowboy boots is: store them in a dry, well-ventilated place – neither hot nor wet. That is the point!
Storing cowboy boots in a dry and well-ventilated place can keep them in the required humidity, preventing them from drying and cracking.
Along with that is preventing the penetration and destruction of water. Leather and suede are very afraid of contact with water for a long time as water contact can cause your boots to quickly degrade (discoloration, stretching, wrinkling, etc). So, always keep your cowboy boots dry!
Besides, with a height of 11 inches, cowboy boots need to be kept in shape with their straight shaft. This makes cowboy boots look new for a longer time and easier to use (because they won't break or fold).
Finally, it is neccesary to keep cowboy boots clean all the time and know the methods of cleaning, conditioning and polishing cowboy boots. (We have clear instructions below)
Here are all the best practices you need to know about how to store cowboy boots!
Use a boot rack to hold cowboy boots away from the floor
Using a boot rack is one of the most effective methods to store cowboy boots and save space in your home if you have more than 2 pairs of cowboy boots.
The boot rack will help you keep your cowboy boots in shape as well as make them stay away from the floor (avoid moisture).
Use a boot box with ventilation holes to store expensive cowboy boots
What if you have a very expensive pair of cowboy boots (e.g. from Lucchese) and want to give them more special care than the other boots?
You can use boot boxes designed with multiple ventilation holes to make the boots well-ventilated and fresh.
In addition, the boot box keeps cowboy boots from folding or scuffing, letting them stay in shape.
Use a boot bag to store cowboy boots for long trips
One of the biggest causes of the scuff or saggy cowboy boots is that they are incorrectly stored on long trips.
Don't fold them up and throw them in the car, that's not good!
You can use boot bags to cover your cowboy boots. Putting the cowboy boots inside and carrying them everywhere, that's enough.
Use a boot stand to keep cowboy boots neat in your house
Sale
Whitmor 6905-5739 Gunmetal 4-Pair Boot Stand
Holds 4 pair of boots to organize a closet with limited space
Stores boots upright to help retain shape and add stability for all types of boots
Can be used on short or tall boots of varying size
Another very useful method of preserving your cowboy boots is to use a boot stand. This is also a very popular method to keep the cowboy boots straight, free from scuffs or sagging.
Depending on how you want to preserve your cowboy boots, the space in your house, the number of boots… you can pick your own boot rack, boot box, or boot stand.
Use a leather cleaner, conditioner, and leather polish
Leather Cleaner and Conditioner
Full Leather Shoe Polish Kit
Leather Cleaner and Conditioner
Full Leather Shoe Polish Kit
These are the 3 products that anyone who loves cowboy boots should own.
A leather cleaner is for cleaning cowboy boots and removing stains lying at the root. You can combine the leather cleaner with the horsehair brush  for cleaning.
A leather conditioner can hold the color of cowboy boots longer, make them softer, moisturize and keep the quality of leather intact,…
After cleaning the cowboy boots, apply the conditioner to their surface and then store them in the boot rack. That's exactly what you need to do.
Finally, use leather polish. This item may be necessary or not. You can use it to restore the color of your cowboy boots, helping them resist dirt, water…
Once your cowboy boots are fading, using a leather polish is essential. The shoe polish and horsehair brush or a dry rag are essential items for polishing your cowboy boots.
Besides, what I like after conditioning and polishing cowboy boots is that your cowboy boots can resist water invasion.
Yes, many conditioner and polish products on the market today can make your cowboy boots waterproof.
And that's all you need to bring the best preservation for your cowboy boots.
However, cleaning suede cowboy boots is very different from cleaning leather cowboy boots. If you want to know how, check here!
Use boot shapers
Products such as a boot rack, boot stand as mentioned above can store many pairs of cowboy boots at the same time.
What if you only have one pair of cowboy boots? Using boot shapers can keep your cowboy boots perfect without spending more money on a boot rack or boot stand.
Besides, some boot shapers are made from cedar trees, which not only keep your cowboy boots in shape, but also absorb moisture and leave the fragrance in your cowboy boots.
Use boot trees
The methods above are usually to keep the shaft of cowboy boots straight, thus retaining their shape.
Then to keep the shape of the cowboy boot vamp, you will need a boot tree. And this is also the reason why boot trees are very popular.
The feet of cowboy boots can completely lose shape after a long period of use, causing discomfort for the wearer and losing their dazzling appearance.
Boot trees can solve the problem. Just stuff them inside cowboy boots and that's it.
In addition, boot trees can absorb moisture, keep cowboy boots dry and prevent them from stinking.
Use household items – Paper and water bottles
When the boot trees, boot shapers, and boot jacks are not yet available, what can cowboys use to keep their boots straight and dry?
That is using paper (toilet paper, newspaper, absorbent paper) to tuck inside cowboy boots, keeping them in shape and dry (absorbent paper).
Or another way is to put a water bottle inside the cowboy boot, the water bottle will ensure your cowboy boot is always upright and not broken or wrinkled.
These are 2 classic ways to store cowboy boots!
Keep the inside of cowboy boots always fragrant and dry
You definitely don't want this: when you step into the house, the first smell coming to your nose is the odor of cowboy boots. It's horrible!
Cowboy boots are very tall (11 inches to 14 inches), so they are susceptible to stinking, and you need to treat them well.
There are a variety of methods to clean the inside of cowboy boots and keep them from staining from the inside, e.g. cleaning the inside of cowboy boots, using boot trees, air purifying bags , tea bags or shoe odor spray , etc.
Besides, keeping cowboy boots dry from the inside out also helps prevent them from stinking.
We have a very thorough guide here!
Conclusion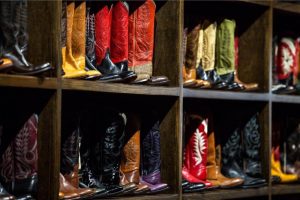 In general, all you need to keep in mind when storing a cowboy boot is:
Keep the cowboy boot straight, avoiding creases or scuffs.
Store cowboy boots in a well-ventilated, moisture-free place.
Put cowboy boots in a place that is not too hot to retain the right moisture for the leather and ensure it won't dry out.
Make cowboy boots clean inside and out.
Keep cowboy boots dry and free from mold
All you need to maintain a cowboy boot is just that!
Cowboy boots with careful care can last more than 15 years, especially when they are more expensive than other boots. So you need to find the best ways to store your cowboy boots.
Good luck!