If the biggest problem for new buyers is how to break in cowboy boots quickly, then the issue arising for loyal fans is dealing with the bad smell of their cowboy boots.
As one of the tallest and uniquely designed boots in the world, cowboy boots offer many great features for the wearer (comfort, safety, confidence…). But at the same time, they also bring a lot of trouble.
One of the big problems with cowboy boots is that it takes a long time to take care of them (clean, condition and polish). Besides, handling the unpleasant odor of your boots is also troublesome.
So, how do you get the smell out of cowboy boots?
Here, we get you covered. Let's join us to learn how to remove the smell from your cowboy boots!
How do you get the smell out of cowboy boots?
Cowboy boots are made of 2 materials: leather or suede. The methods to deodorize cowboy boots may differ from each boot material.
Don't worry, we'll show you some effective ways to remove the smell for both leather and suede cowboy boots.
Option 1: Clean inside cowboy boots
Yes, clean the inside of your cowboy boots right away, this helps expel the odor in them.
Usually, cowboy boots have fabric or leather lining, the way to clean these two materials will be different.
If your cowboy boots have leather lining and leather insole, use the following:
Get the horsehair brush, leather cleaner, a spray of warm water and a clean and dry rag.
Use a warm water spray to spray a thin layer inside the cowboy boot, then apply leather cleaner directly to the inner surface of the cowboy boot.
Then use a horsehair brush to scrub the inside of the cowboy boot, scrub thoroughly to make sure they are clean and free of odors.
Then use a clean, dry rag to remove any excess leather cleaner and dry the inside of the cowboy boot.
The method of fabric lining (or fabric insole) will be different from the leather lining, please follow these steps:
Get a soft bristle brush, fabric cleaner, a clean, dry rag and a spray of warm water.
Spray a layer of warm water over the entire inner surface of the cowboy boot, dampen the soft bristles brush, then apply fabric cleaner on it.
Use that  brush to thoroughly scrub the inner surface of the cowboy boot. Keep scrubbing until the boot is clean and the smell is gone.
Then take a clean and dry rag to remove any residues of the cleaner and water.
Make sure the inside of your cowboy boots is dry after the cleaning process. Boot trees or a boot dryer are good options, place them into your boots.
Do not let cowboy boots get wet as leather and suede will deteriorate if they get soaked for a long time.
We have instructions on how to dry cowboy boots here.
As for the removable insoles, you should take them out and clean them separately.
Depending on the material of the insole, choose the suitable methods we have shown above to handle it.
Option 2: Use shoe odor spray
Sale
Another reliable way to get rid of the unpleasant smell is the use of shoe odor spray.
The problem of stinking shoes or boots is very common, so there are many products on the market that solve this problem.
A deodorizing spray will eliminate the bad smell of your boots, and replace it with a cool and pleasant scent.
Use a spray bottle and spray directly on the inside of a cowboy boot, as the interior is easy to retain odors.
This product is easy to use and very effective!
Option 3: Use boot trees
Boot trees are among the very familiar products for cowboy boot fans. They work to absorb moisture, keep the shape of cowboy boots and make them always dry and not wrinkled.
Most boot trees are made from cedar trees, what does that mean? That means they leave a pleasant scent in your cowboy boots after use.
In fact, wet cowboy boots are one of the main causes of odor in them. All you need to do is insert the boot trees inside the cowboy boots and leave it overnight. That's it!
If you own a pair of cowboy boots, then you should also have boot trees in your house.
Option 4: Use household powder
One method you can do at home is to use powders to deodorize cowboy boots.
For your choices, there are many powders you can use such as cornstarch, baking powder, talcum powder, baby powder… to sprinkle inside cowboy boots.
You do not have to spend too much powder, just a thin layer of flour is enough. This ensures the boots are dry (the powder can absorb moisture well) and get out of smell.
This is a very popular home method.
Option 5: Use used coffee or tea
Another home remedy that won't waste your powder is to use coffee grounds or tea grounds.
While the coffee grounds or tea grounds are still damp, put them in a small cloth bag and place them into your cowboy boots.
This is a very effective method and easy to do that many people have adopted.
Do you know which coffee is most effective? That is Vietnamese coffee, I do not know if Vietnam's coffee grounds are more fragrant, but it is definitely the best coffee in the world.
Option 6: Use air purifying bag
Moso Natural Mini 50g Air Purifying bag, 1-Pack (2 Total), 2 Count
WHAT IS A MOSO BAG? An extremely effective air purifier that naturally absorbs odors and moisture....
ELIMINATES ODORS WITHOUT MASKING THEM: Traditional shoe sprays are filled with harmful chemicals and...
USE IN SMALL SPACES: Perfect for shoes, gym bags and sports gear.
Designed from bamboo charcoal, the air purifying bag will make your cowboy boots get out of smell by absorbing moisture and odors.
This is a specialized product to deal with the problems of smell and humidity of cowboy boots. Bamboo charcoal can absorb moisture and odor very well.
Your cowboy boots will be fresh, restored and dry, not smelly anymore.
Option 7: Use cedar boot shaper
What if you have cleaned the insole of your cowboy boot thoroughly but you still feel the bad odor?
It is possible that this smell comes from the lining of the cowboy boot shaft area.
In this case, you can use the cedar boot shaper. Similar to boot trees, the cedar boot shaper can hold the shaft of your cowboy boot and keep it straight.
In addition, after a period of using the cedar boot tree, your cowboy boot will get rid of the musty smell and have the scent cedar aroma instead.
Option 8: Replace the insole
One of the most likely places to smell in a cowboy boot is the insole. The insole of the cowboy boot is where your feet get sweat the most.
Some insoles are too old that they no longer can deodorize or absorb perspiration, that's why your cowboy boots smell a lot.
What you need to do is take these old insoles out and clean them. But if they're too old, consider replacing them with a new pair of insoles.
In case you cannot remove your insoles, try to make them clean as much as possible, then buy the new insoles to put on top.
Option 9: Keep cowboy boots dry
DryGuy DX Forced Air Boot Dryer and Garment Dryer
Forced-air boot, glove, and garment dryer works on four garments simultaneously
Includes two removable extension tubes for use with boots up to 16 inches tall; whisper quiet rotary...
Heats to 105 degrees F (40.5 degrees C); safe for liners, clothes, and boots; Includes two removable...
Cowboy boots getting damp for a long time can appear mold and mildew along with a stinking smell.
Please store cowboy boots in a dry and well-ventilated environment. And apply drying methods for your cowboy boots.
Cowboy boots that have been wet for a long time not only have a bad smell, but also deteriorate their quality in the long run (get crack, discoloration…).
If you have a lot of cowboy boots at home and it's currently the rainy season, consider using a boot dryer. Or at least, you should have boot trees to protect your cowboy boots.
Option 10: Use socks
Most of the stinking cowboy boots are due to the sweat on the wearer's legs. If you don't wear socks, that smell will appear more.
You can opt for padded socks as they have many benefits for you. They can absorb sweat better while supporting your feet and offering comfortable wearing experience.
Besides, I recommend using socks that are at least mid calf high, which will make sure the sweat on your calves doesn't get into the cowboy boots and make them smell.
In addition to the above effects, a good pair of socks usually has heel, arch and toe support, bringing the pleasant feeling for wearing boots all day.
Before you leave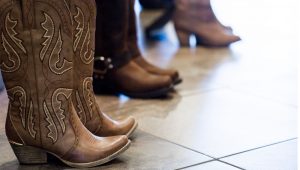 I'm sure that you can pick one of ten methods for your smelling. They are helpful anyway.
The essence of removing the smell from your cowboy boots is to keep them clean, not damp.
You should keep your cowboy boots in a dry and well-ventilated state. That will extend the life of your cowboy boots, keep them fragrant and make you want to put your cowboy boots on.
Good luck!