Black cowboy boots have long been a symbol of rugged Western style.
However, in today's fashion landscape, these iconic boots have undergone a transformation, evolving into versatile and stylish footwear that can effortlessly elevate any outfit for any occasion.
With a blend of rugged charm and a touch of modern elegance, black cowboy boots have become a fashion statement that transcends the ranches and rodeos they were originally associated with.
In this article, we will explore how black cowboy boots have evolved into a must-have accessory, showcasing their versatility and ability to add a touch of luxury to your wardrobe.
Whether you're dressing up for a special event or seeking a casual yet chic look, these boots have got you covered.
Join us as we delve into the world of outfit ideas that prove black cowboy boots are not just a wardrobe staple; they are a style statement waiting to be embraced.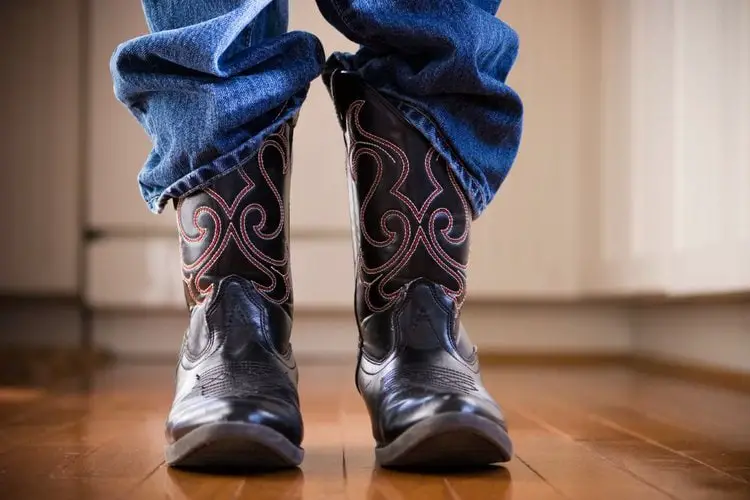 How Should We Style Black Cowboy Boots?
Black cowboy boots effortlessly adapt to various occasions, making them a versatile addition to your wardrobe. You can wear them for dressy casual, attending a formal event, or just for a fashion statement.
In your day-to-day wear, they blend seamlessly with jeans or casual dresses, injecting a touch of Western charm into your daily style.
For a bohemian-inspired look, pair flowy skirts or dresses with boho jewelry, and let the black cowboy boots provide an intriguing contrast.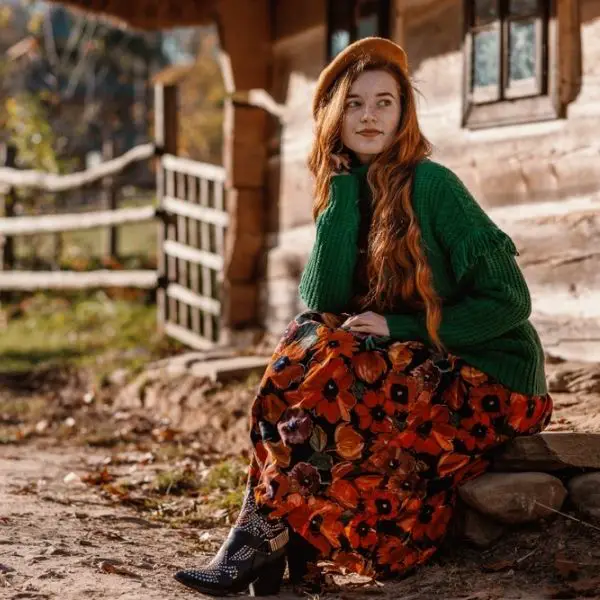 If you're going for an edgy urban style, consider teaming these boots with skinny jeans and a leather jacket for a bold and distinctive fashion statement.
When it's time to elevate your attire for special occasions, like a romantic dinner or a formal gathering, these boots can add a distinctive twist that complements tailored outfits with finesse.
Heading to a country-inspired festival? Picture these boots with denim shorts or leggings, capturing the carefree spirit of music festivals. Don't forget to top it off with a hat and some stylish shades for added flair.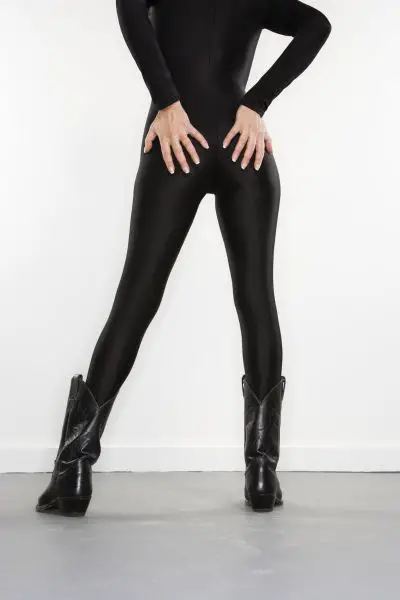 In professional settings, black cowboy boots can confidently enhance your work attire, effortlessly pairing with tailored trousers or skirts.
For an authentic Western experience at a rodeo or themed event, embrace the cowboy spirit with bootcut jeans, a Western shirt, and the iconic cowboy hat. Accessorize with Western-style details like bolo ties and leather gloves.
These are just glimpses of how you can style black cowboy boots, showcasing their adaptability for any occasion or outing. It's time to learn more interesting styles below!
Effortless Elegance: The Timeless Harmony of Jeans and Black Cowboy Boots
Jeans and black cowboy boots make for an iconic combination that's a staple in many wardrobes. It's a classic choice that offers a clean and versatile look suitable for various occasions.
The beauty of wearing jeans with black cowboy boots is their compatibility with nearly any top. Whether you're dressing for a casual outing or aiming for a more put-together appearance, this combination has you covered.
For everyday wear, you can opt for a simple yet timeless look by pairing black cowboy boots with classic blue jeans and a basic t-shirt. It's a go-to ensemble that exudes effortless style.
On those chilly days, a cozy sweater paired with black cowboy boots creates a perfect blend of comfort and fashion. The boots add a touch of rugged charm to the warmth of a sweater.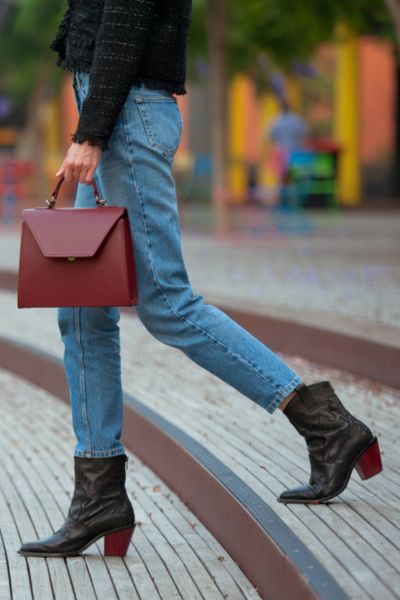 If you're looking to elevate your jeans-and-boots ensemble, consider adding a blazer or a trench coat. This combination strikes a balance between casual and smart, making it suitable for a wider range of settings.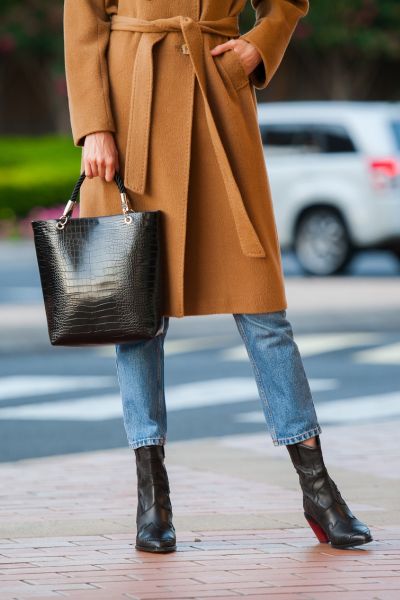 What makes this combination even more versatile is the fact that black cowboy boots can harmonize with various shades of jeans.
Whether you prefer light blue, dark blue, black, khaki, or any other denim hue, these boots effortlessly complement them all.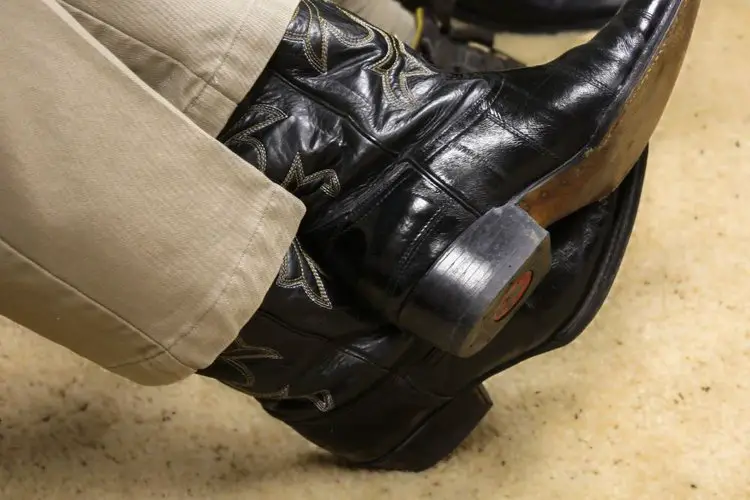 This versatility extends to both men and women, making black cowboy boots a must-have footwear choice for anyone seeking a timeless and adaptable style.
For Women:
Tucked-in Tight or Regular-fit Jeans:
Women can effortlessly pair tight or regular fit jeans with black cowboy boots with a shaft. Tucking the jeans into the boot shaft creates a sleek and streamlined appearance.
This look highlights the boots' intricate details and adds a touch of sophistication to your outfit.
Ankle Jeans or Cuffed Jeans:
For ankle boots, you should wear ankle jeans or cuff your jeans above the boots. An adequate gap between your jeans and boots will add a bit of flair and fashionable contrast but also showcase your black cowboy boots.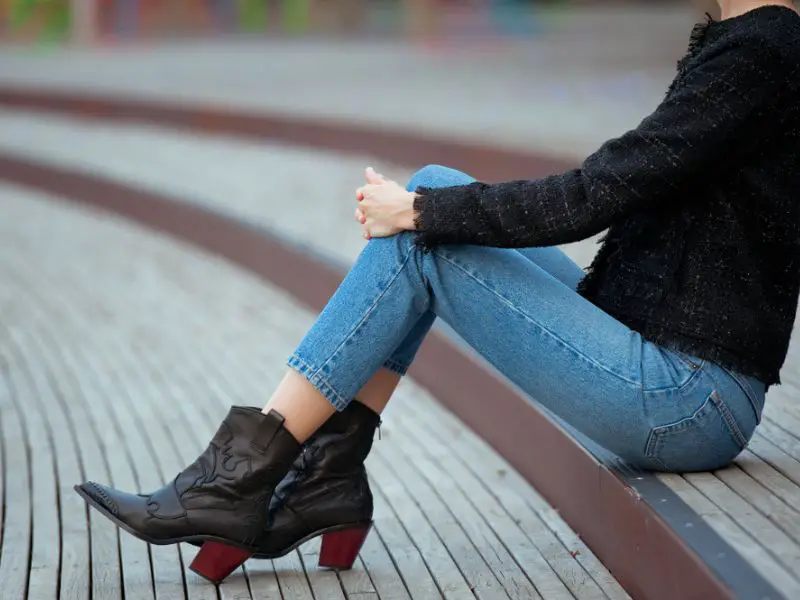 The cuffs create a stylish gap between the boots and jeans, giving your ensemble a playful and trendy edge.
This style combination adds a dynamic and visually intriguing element to your outfit.
Bootcut, Straight-cut Jeans for Versatility:
Bootcut or straight-cut jeans offer versatility when styling with black cowboy boots.
These jeans can be adapted to create different looks, making them a go-to option for various occasions.
You have the option to tuck them into the boots for a polished and put-together appearance.
Alternatively, you can leave them untucked, achieving a more casual and effortless vibe.
This adaptability allows you to effortlessly transition from one style to another, making these jeans suitable for a wide range of events.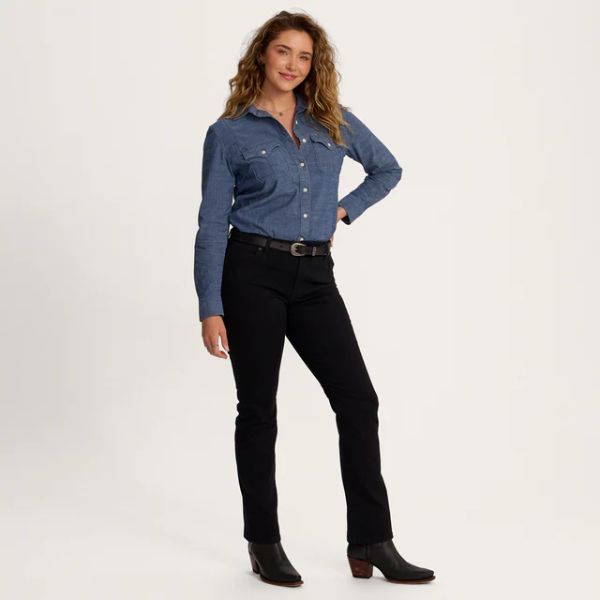 From bootcut to straight-leg and everything in between, cowboy boots effortlessly complement any type of jeans. Their versatility makes them the ideal choice for various occasions and styles.
This combination offers the freedom to dress up or down, ensuring you're well-prepared for casual outings, formal events, and everything in between.
Cowboy boots bring a touch of Western charm to your jeans, creating a fashion statement that's both timeless and adaptable.
For Men:
Men often prefer wearing jeans over cowboy boots. To achieve a clean and stylish appearance, opt for jeans with wide bottom legs.
These jeans accommodate the shaft of the boots comfortably, allowing them to sit neatly on the outside. This classic combination exudes a timeless charm suitable for everyday wear.
Men can choose from a range of jean styles, including bootcut, straight cut, or cowboy cut, to pair harmoniously with their cowboy boots.
However, men should avoid tight-fit jeans, as they may not comfortably fit over cowboy boots. Opting for regular or relaxed-fit jeans ensures a clean and comfortable look when wearing cowboy boots.
Both women and men can explore these diverse ways of wearing black cowboy boots with jeans, tailoring their choice to their personal style and the occasion.
Whether you prefer a tucked-in, cuffed, or untucked look, black cowboy boots offer versatility that complements your jeans effortlessly.
Pairing Black Cowboy Boots with a Dress or Skirt
Black cowboy boots offer an intriguing contrast when paired with dresses or skirts, making this combination an excellent choice for women who want to add a touch of Western charm to their outfits.
For a chic and effortless look, choose a dress that complements the style of your black cowboy boots.
A simple, solid-colored dress or a floral-print sundress can create a balanced and stylish outfit. The boots lend a unique edge to the overall feminine look.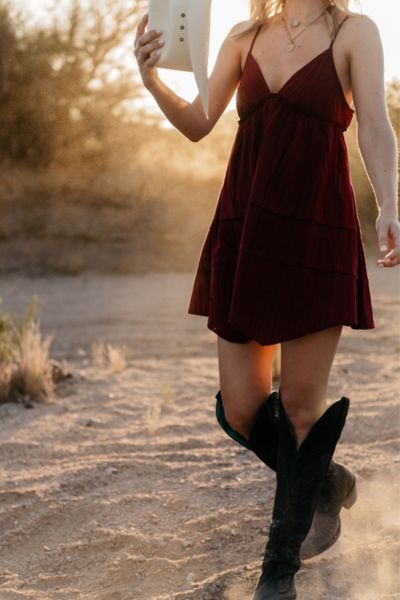 When opting for a skirt, consider various lengths and styles. A denim skirt with black cowboy boots exudes a casual and playful vibe, while a midi or maxi skirt adds elegance to your appearance.
The versatility of the boots means they can enhance both casual and semi-formal skirts.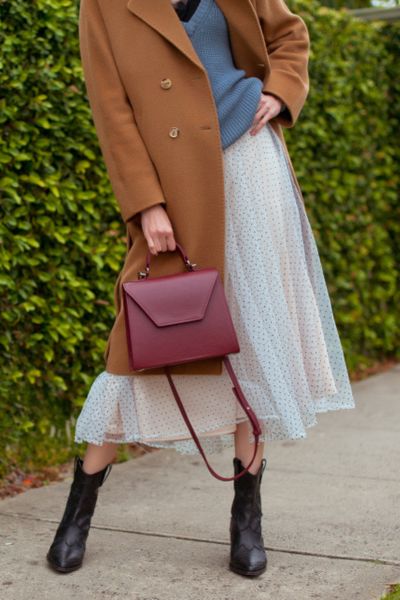 For cooler days, layering is key. A tailored blazer or denim jacket not only keeps you warm but also complements the rugged charm of the cowboy boots.
The contrast of the structured jacket and the boots creates a balanced and fashion-forward look.
A leather bag adds a stylish touch to the ensemble. Whether it's a crossbody bag or a tote, choose one in a coordinating color or a complementary shade to tie the outfit together.
The combination of black cowboy boots and a leather bag creates a cohesive and fashionable appearance.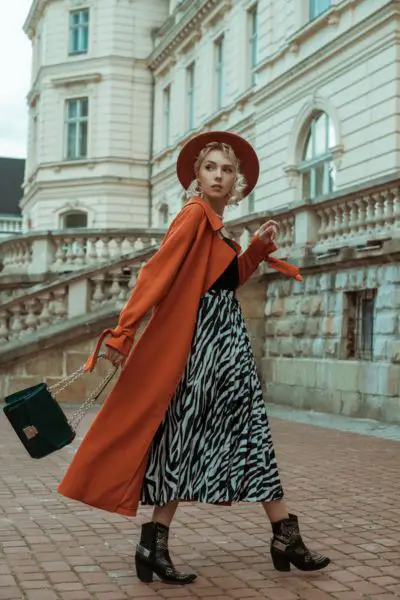 Other ideas for wearing black cowboy boots with dresses or skirts
By pairing a stylish boho dress with black cowboy boots and a boho bag, creates a surprising yet classic and chic look, perfect for various occasions, from festivals to casual outings.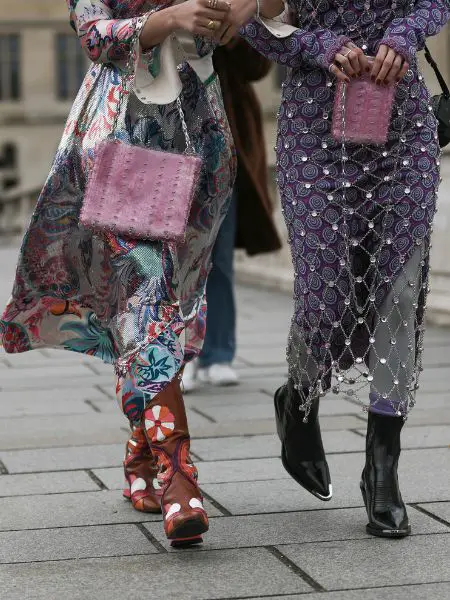 It's a fashion-forward choice that embodies the spirit of adventure and self-expression.
The stark contrast between the purity of a white mini dress and the ruggedness of black cowboy boots makes for a captivating and edgy ensemble.
The crease pattern on the dress adds a touch of texture and visual interest.
Pairing black cowboy boots with dresses or skirts allows you to experiment with different styles and create a unique fashion statement.
Whether you're aiming for a casual, semi-formal, or eclectic look, the black color of cowboy boots provides a versatile foundation for your outfit, ensuring you stand out with confidence and style.
Black Cowboy Boots with Shorts: Casual Chic for Any Occasion
Black cowboy boots and shorts create a stylish and comfortable ensemble that's perfect for everything from leisurely strolls through the city to fun nights out at bars.
This combination carries an inherent allure, offering a sexy and bold aesthetic that's remarkably easy to pair with a variety of tops.
Start with denim shorts as they are the quintessential partner for black cowboy boots. The rugged character of the boots beautifully complements the laid-back charm of denim, resulting in an effortlessly chic appearance.
While denim shorts are a classic choice, don't limit yourself. Experiment with other short styles like khaki or linen, as black cowboy boots can seamlessly adapt to a range of shorts, allowing you to diversify your look.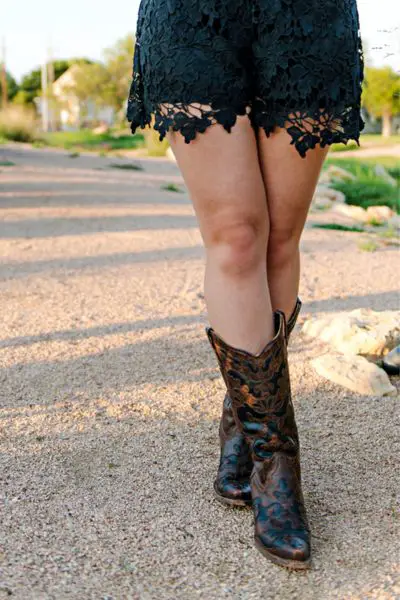 Keep things relaxed with a comfortable T-shirt that matches your personal style. Whether it's a graphic tee, a classic white shirt, or a vintage-inspired top, T-shirts are a natural fit for this pairing.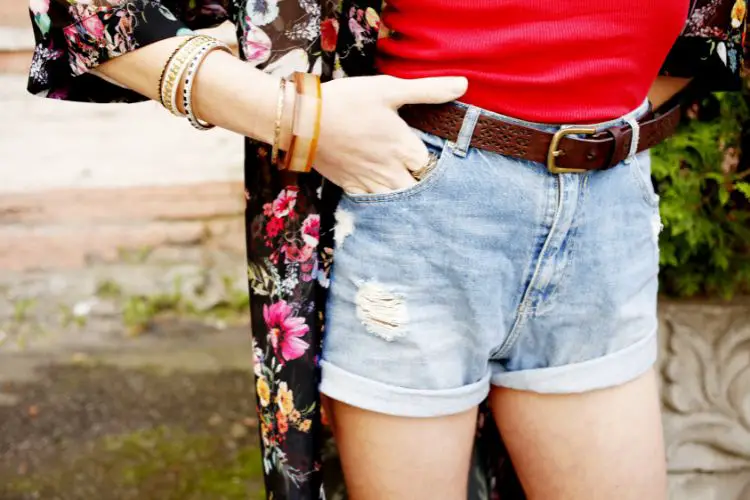 Depending on the weather, consider adding a light coat or jacket.
A denim jacket or a lightweight blazer not only adds style but also provides an extra layer for those cooler moments. For an extra fashion-forward touch, drape it over your shoulders.
To take your look up a notch, introduce accessories like statement belts, layered necklaces, or a stylish fedora hat. These touches inject personality and flair into your outfit.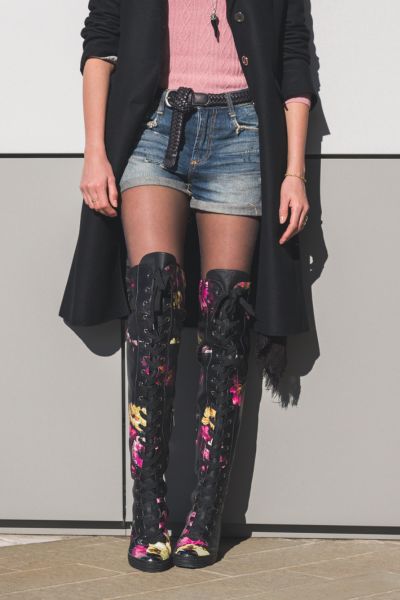 One of the perks of this combination is its versatility. It's equally at home during the day and as the sun sets.
For a night out at a bar, consider swapping the T-shirt for a chic blouse or a silky top to infuse a touch of sophistication into your look.
Embracing the bold spirit of wearing black cowboy boots with shorts is all about confidence. Strut your stuff with a self-assured style, and you'll effortlessly make a statement wherever you go.
Pairing black cowboy boots with shorts is a winning choice that combines comfort and fashion.
It's perfect for those who want to stand out while keeping things relaxed, whether you're exploring the city or embracing the nightlife.
Black Cowboy Boots for Business Casual Attire
Black cowboy boots, when chosen with a polished finish, can be a stylish addition to a business casual outfit, bringing a touch of Western flair while maintaining a polished appearance.
Smooth leather or exotic leather options like lizard, caiman, and alligator create a sophisticated look that aligns seamlessly with the dress code.
When pairing these boots with business casual attire, consider slacks, dress pants, or chinos. It's essential to ensure that the pants fit well and present a clean, tailored appearance.
This combination achieves a balanced ensemble that's both comfortable and professional.
If your cowboy boots feature colorful or decorative shafts, tucking the pants inside the boots is a practical technique.
This keeps the focus on the polished leather and delivers a neat and refined appearance suitable for business settings.
For women who prefer dresses or skirts, opting for ankle-length cowboy boots is a smart choice.
Ankle-length styles maintain a modest and professional appearance when paired with these outfits, creating an elegant blend of sophistication and Western charm.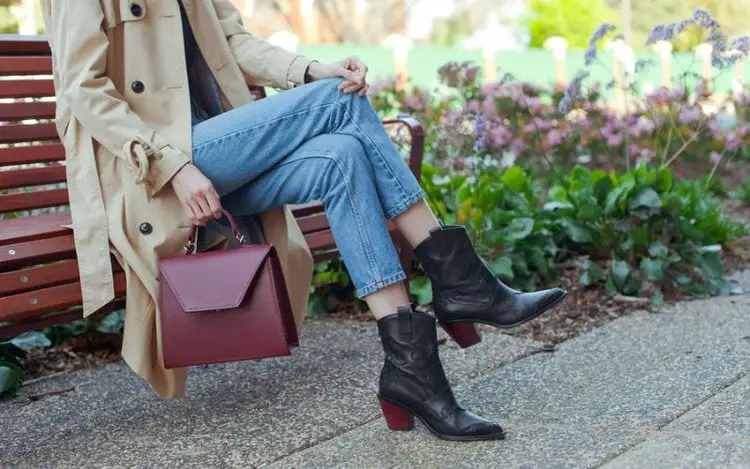 When accessorizing, keep it understated. A simple belt that matches the color of the boots can tie the outfit together elegantly.
Confidence is key when wearing black cowboy boots in a business casual setting. Embrace the unique fusion of traditional and contemporary elements that these boots bring to your ensemble, and carry yourself with assurance.
Incorporating black cowboy boots into your business casual attire offers a fresh and stylish twist on traditional office wear.
With careful selection and thoughtful coordination, you can achieve a look that's both professional and distinctive, ensuring you stand out in the workplace while maintaining an appropriate level of sophistication.
Last thoughts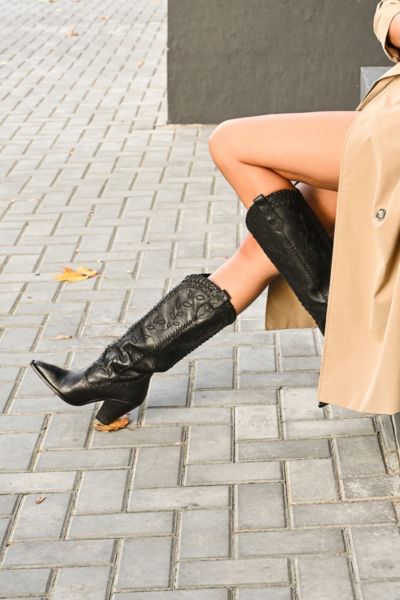 Black cowboy boots have proven themselves as far more than just rugged footwear for the Wild West. They are versatile, adaptable, and, when chosen thoughtfully, can seamlessly fit into various aspects of your wardrobe.
From pairing them with jeans, dresses, and skirts to incorporating them into business casual attire, black cowboy boots offer a unique blend of style and comfort.
They effortlessly transition from casual to more refined settings, allowing you to express your personality and fashion sense in countless ways.
Whether you're strolling through the city streets, enjoying a night out with friends, or stepping into a professional office environment, black cowboy boots can be your trusted companion.
Their timeless appeal and distinctive charm make them a valuable addition to any wardrobe.
So, embrace the possibilities and elevate your fashion game with these versatile and stylish black cowboy boots.
Whether you're aiming for a casual look with jeans, a chic appearance with dresses, or a polished presence in a business setting, these boots have the power to transform your outfit and leave a lasting impression.
Now, it's your turn to step into the world with confidence, make a statement, and let your style shine through the versatile allure of black cowboy boots.
Howdy y'all, and welcome to From The Guest Room, your ultimate guide to all things Western! I'm Jay Gatz, a lifelong cowboy boot enthusiast with over 5 years of experience in the Western style world. I'm excited to share my knowledge with you and help you discover the perfect cowboy boots and western gear to elevate your style. Let's explore the rich history and timeless appeal of Western fashion together!