Well, when asked if cowboy boots were dressy casual years ago, many people would laugh. That's right, how can something that only appears in sunny, sandy, and muddy fields be dressy casual? They are so distressed in style!
However, the story is different today, cowboy boots have experienced many evolutions, including structure, appearance, and more. These are game changers and you can completely choose cowboy boots for dressy casual.
What are those evolutions? I will tell you in the post.
Can Cowboy Boots Be Dressy Casual? And How To Choose The Right Ones?
In the early days, most cowboy boots had a very tough and rugged appearance, simply because they had to serve the heavy work on the ranch.
But if you have been a cowboy boot lover just about 15 years ago, you will know that cowboy boots nowadays are much more than that.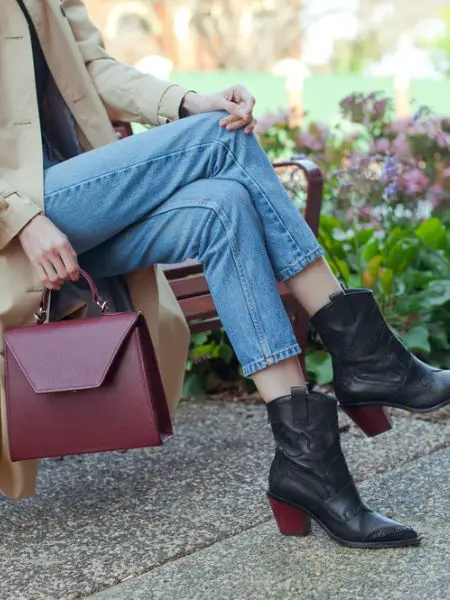 What do you need for dressy casual? The two most important factors are comfort and elegance. A lot of cowboy boots these days have that.
Today, many bookmakers start to equip their products with more advanced technologies to care for the wearer's feet.
For example, big brands like Ariat have applied new technologies to cowboy boots like EVA midsoles to create good cushioning for your feet.
Or Tecovas, a very popular brand of cowboy boots, also has cowboy boots with very good arch support thanks to the lemonwood pegging and shank construction. So whether you have a flat foot or a high arch, you can wear cowboy boots all day.
Today's cowboy boots also have diverse designs for casual wear, you can choose one for yourself depending on the weather.
If it is summer, cowboy boots with leather soles are a reasonable choice due to their moisture absorption and breathability. But if it is winter, a rubber sole is a great choice with a good grip and effective insulation.
Besides the technology in the sole, cowboy boots also have many great features in terms of lining or height.
A pair of cowboy boots that are over 10 inches tall will be a good choice to help you cope with cold, rainy, and muddy weather. Your feet can stay warm after all!
That is not to say that you will feel hot in summer. No, not at all, especially with cowboy boots possessing leather linings and leather soles with very good sweat absorption. Not to mention the 11-inch shaft also protects you well from intense sunlight.
Today's cowboy boots also come in a variety of toe shapes and heel heights.
So worries about narrow toe (pointed toe) should be put aside when the round toe and square toe have emerged as comfort saviors.
If you like comfort and want to keep classic and elegant, then a round toe is the best way to go.
In addition, today's heel also comes in many different heights, 1 1/2 inches would be a great choice in both style and function. It gives you a tall look but still maintains good stability.
One thing many newbies don't know is that many exotic leather cowboy boots nowadays have appeared with great features for casual wear. The various types of leather bring diverse styles for wearing cowboy boots.
You can find great comfort in ostrich boots as they are very very soft thanks to their natural oil richness. It ensures these boots do not dry out and become stiff.
Or cowboy boots made from goat leather are also a great choice for summer because they are very breathable thanks to many large pores in construction.
All of the above, from the construction to the materials of modern cowboy boots, proves that you can absolutely use them for casual wear.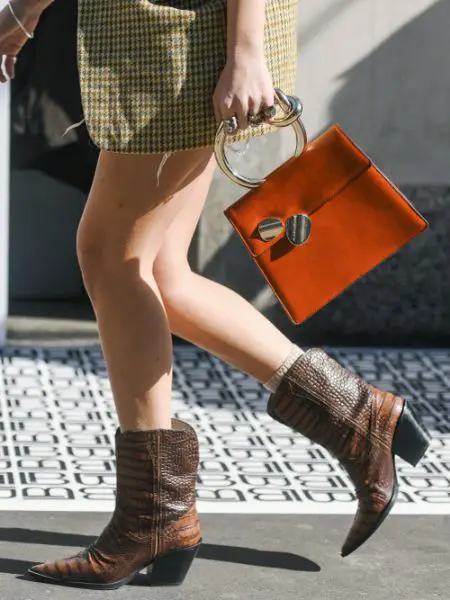 Cowboy boots and jeans are a great combination, but both of these fashion items are always in doubt when it comes to dressy style. That is understandable when the farmer only served on farms.
However, as I said above, they have developed every day!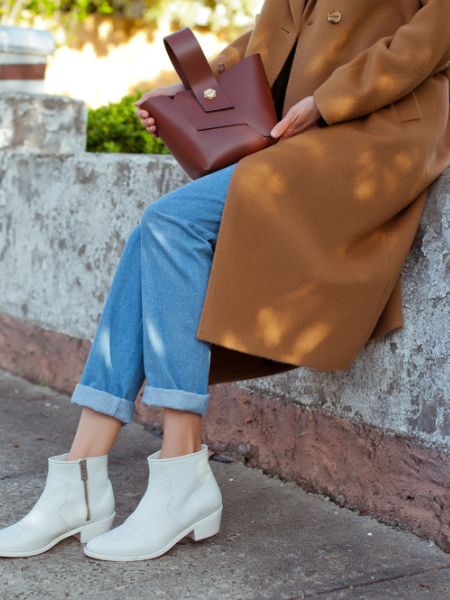 Nowadays, you can find very nice and fashionable cowboy boots. Traditional classic cowboy boots, roper style, for dressy casual.
Cowboy boots with a classic cowboy shape often bring a sense of confidence and a tall look to the wearer. Besides, the thin leather sole along with the round toe tapering towards the tip gives you an extremely sharp image.
Cowboy boots with a roper style often offer a more elegant look with simple prints, subtle round toes, and roper heels. Their shaft and heel construction is usually lower than the traditional style.
For girls looking for nice cowboy boots to go with dresses or skirts, western booties are smart choices.
However, what makes the difference, in my opinion, is the material of modern cowboy boots that offer so many stylistic choices.
These days, with exotic leather becoming more and more popular, you have more options to choose a cowboy boot style for dressy casual.
For example, if I work in an office, I would choose a pair of cowboy boots made of caiman leather. Its alluring scales and classy appearance will captivate you.
In addition to caiman, lizard boots with unique but delicate patterns will create a great accent when going with khakis pants for dressy wear.
Cowboy boots made from different types of exotic leather are easily recognized because they have a completely different appearance. And those surfaces offer interesting appeals. But boots made from crocodile, caiman belly, smooth ostrich, or lizard should be your preferred options.
Or, sometimes, no need for exotic leather, cowboy boots made from well-polished cowhide are enough for a dressy look.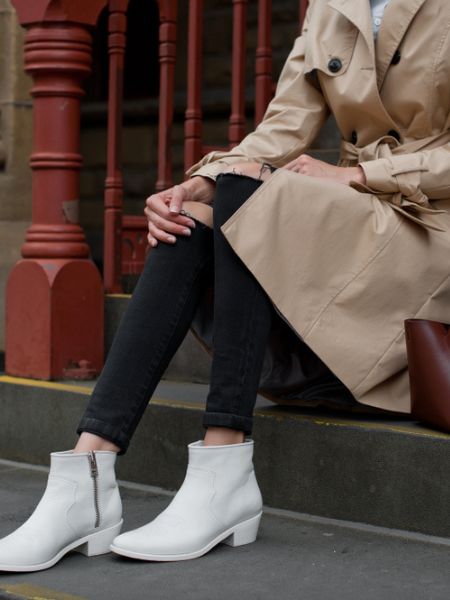 Apart from the two most important factors above (comfort and style), another feature of cowboy boots that pleases you in today's topic is their durability.
Most cowboy boots have a very long life if you use them properly and take good care of them. 10 years is by no means a large number.
Modern cowboy boots are well crafted so they can go with many different outfits for dressy casual. Khakis or dress pants for men, midi skirts or 70's dresses for women are all very good choices.
In general, in addition to specific boots for outdoor work, many cowboy boots today have a completely fashionable look but are still comfortable enough to cater to dressy casual.
Before you leave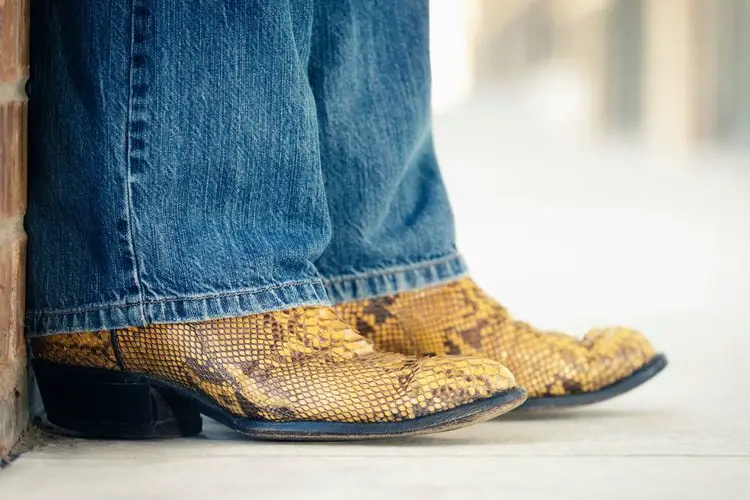 The modern cowboy boots embody the evolution in both structure and style. Finding a pair of cowboy boots with the classic style but having an elegant look and high comfort for dressy casual is not difficult, Tecovas or Ariat are good choices.
The harmony between outfits and cowboy boots is also important, you should choose cowboy boots with dark colors to go with elegant clothes, avoiding boots that are too colorful.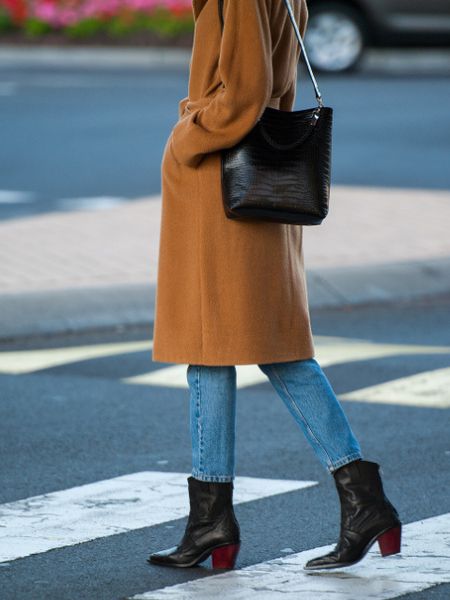 All in all, nothing to worry about, cowboy boots these days are perfectly suited for dressy casual.
Thank you for reading this article!
Howdy y'all, and welcome to From The Guest Room, your ultimate guide to all things Western! I'm Jay Gatz, a lifelong cowboy boot enthusiast with over 5 years of experience in the Western style world. I'm excited to share my knowledge with you and help you discover the perfect cowboy boots and western gear to elevate your style. Let's explore the rich history and timeless appeal of Western fashion together!