I know that many people are still hesitant to wear cowboy boots in the summer because of their high construction and 100% full-grain leather. You don't want your feet to be drenched with sweat.
Well, this worry is well-founded, so today's article will clarify your concern: can you wear cowboy boots in the summer?
We'll take a look at this issue and offer some solutions for you.
 Is it Okay to Wear Cowboy Boots in the Summer?
In fact, wearing cowboy boots in the summer is a very normal thing, especially for those who often do outdoor work.
With a high construction made from 100% leather, cowboy boots can protect you from the hot summer sun. In fact, you will be much more comfortable than wearing many other types of footwear such as sandals.
By protecting your feet from the scorching heat of summer, cowboy boots don't make your feet sweat as much as you might think.
Cowboy boots also have a lining (made of mesh or leather) and leather soles that are breathable and absorb sweat well. Therefore, there's no way cowboy boots will make your feet sweaty in the summer.
These days, many types of exotic leather are becoming more and more popular. When it comes to summer, you will likely need boots made from ostrich leather. This leather is extremely breathable and cool for the summer due to many pores in the structure.
Cowboy boots are really good for outdoor work in summer. However, if you wear them regularly for casual wear, I have to admit that they will make you feel a bit uncomfortable because they are also a bit hot, though not really much.
If you're uncertain, use cowboy boots with a shorter shaft, like roper-style cowboy boots (9 inches). For women, some western booties (6 inches) are also really good choices for summer.
Or simply, choose goat or ostrich leather boots, I guarantee you will be satisfied.
It can be said that modern cowboy boots are a type of footwear for the four seasons because of the variety of constructions, materials, and technologies applied to them.
In addition to picking the right cowboy boots for the summer, you should also consider the right outfits to go with them.
Choose clothes that are thin, sweat-wicking, and breathable to make sure you're as comfortable as possible.
For men, you should still choose jeans like bootcut or straight legs because they still provide high comfort. If you wear cowboy boots for office work, dress pants are not a bad choice.
You should choose thin T-shirts for casual wear or outdoor work. Don't forget to combine them with a sun-protective jacket.
For women, shorts, dresses or skirts are really good choices to wear with cowboy boots in the summer because they are so cool.
We have a very detailed article on how to choose cool cowboy boots for the summer here!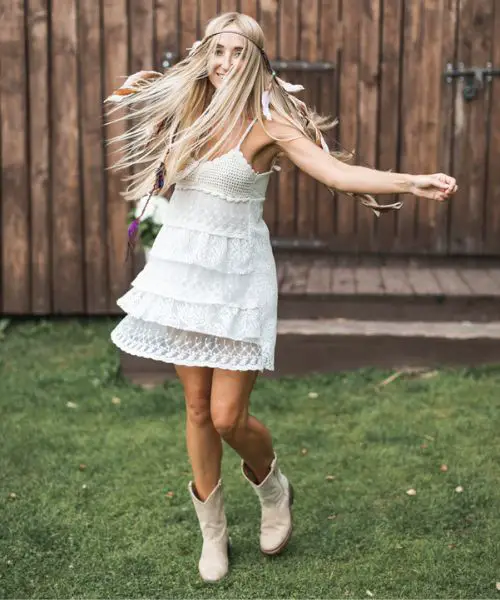 Conclusion
In short, cowboy boots aren't as bad for summer as you might think. With high construction and 100% leather material, they will protect you very well against the summer sun.
Besides, mesh or leather lining also helps to absorb sweat well to ensure your feet are not wet.
Also, you should choose boots with leather soles instead of rubber ones for casual wear because they are very breathable and absorb sweat well.
Meanwhile, rubber soles are more suitable for outdoor work and summer because they insulate well.
In addition, exotic leathers such as ostrich leather are good choices because they have many pores. Your feet can be more exposed to the air and feel cooler.
If you are still shy, choose boots with low shafts such as roper-style boots and western booties (for women).
In addition, the clothes worn with cowboy boots should also be thin and cool, avoiding wearing too many clothes that might discomfort you when moving.
That's all to have a wonderful summer! Best wishes to you!
Howdy y'all, and welcome to From The Guest Room, your ultimate guide to all things Western! I'm Jay Gatz, a lifelong cowboy boot enthusiast with over 5 years of experience in the Western style world. I'm excited to share my knowledge with you and help you discover the perfect cowboy boots and western gear to elevate your style. Let's explore the rich history and timeless appeal of Western fashion together!