If I have to pick one of the best duos in the world, I will not hesitate to choose cowboy boots and jeans.
Different types of jeans when worn with cowboy boots bring different styles to the wearer.
Choosing jeans to wear with cowboy boots has never been difficult in the world of cowboy boots. However, for newbies, it is not an easy task.
In addition to choosing reasonable and stylish jeans, you also have to know some unwritten rules if you don't want people to look at you with weird eyes.
Today, this article will give you just that!
Just take a look!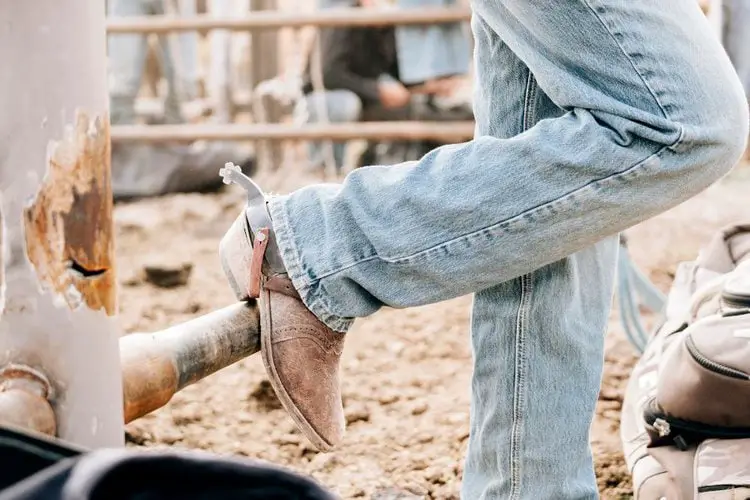 All types of Jeans can go well with cowboy boots
The way men and women wear cowboy boots with jeans has many things in common, but there are also many distinctions.
As a woman, you have almost no style constraints except your imagination when choosing a pair of cowboy boots and jeans.
Men, though they are the main target readers of this topic, are limited by many implicit rules that only people in the cowboy boots world are aware of.
So, first I will divide into 2 categories, types of jeans suitable for men and women when wearing cowboy boots.
However, knowing which jeans are good for cowboy boots isn't all. You need to know how to style them with cowboy boots. Luckily, we have the answer for you here!
What jeans do men wear with cowboy boots?
First, you will need to understand a little about the concept of "underground law" in the world of cowboy boots. For example, aesthetically, you won't tuck jeans into cowboy boots. One of the main reasons is that they create a stylistic contrast. You can see more here.
This tacit rule greatly affects the way you choose jeans a lot. This means that you will have to choose jeans that the shaft of a cowboy boot can fit into.
Therefore, jeans with a lot of room at the bottom are often worn with cowboy boots. Bootcut jeans are the type of jeans you definitely have to own.
The structure of bootcut jeans normally is above the knee, however, from the calf down to the bottom, they flare out. This is a great construction that ensures you can tuck the shaft of your cowboy boots into your jeans.
Bootcut jeans are the standard jeans in the cowboy boot world, they provide a classic look and are always in style.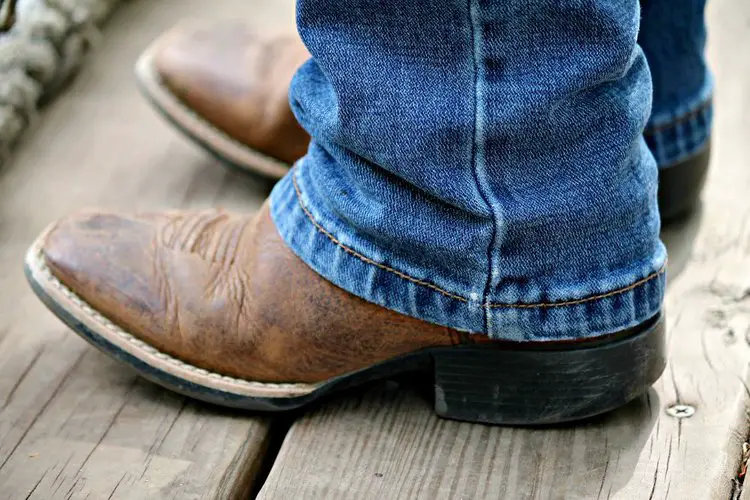 In addition to bootcut jeans, another type of jeans that is also very popular is straight-leg jeans.
You can easily recognize them, unlike bootcut jeans, these jeans do not flare at the bottom but straight from top to bottom, i.e. from waist to hem.
For straight-leg jeans, you have to pay more attention to the bottom, when choosing them, make sure their bottom has enough room for the cowboy boot shaft.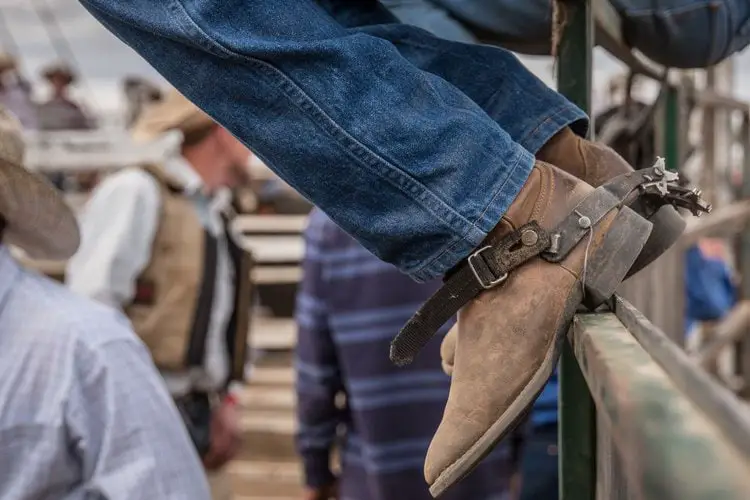 Most straight-leg jeans have a different bottom so that you can tuck the cowboy boot shaft in, not like skinny jeans. The combination of straight-leg jeans and cowboy boots gives you a clean and mature look while retaining the classic feel.
Today, if you asked 100 cowboy boot lovers which brand of jeans they would choose, I'm pretty sure you'd hear a lot of the answers being Wrangler.
That's right, Wrangler is currently one of the best sellers of jeans for cowboy boots in the world. The main reason is that they own a very nice line of cowboy cut jeans.
Well, overall, cowboy cut jeans are like a new version of bootcut jeans. They have a structure that hugs the body slightly from the thigh, buttock, and waist and expands from the calf towards the bottom (hem).
The special thing here is that cowboy cut jeans do not open too wide towards the bottom, but just enough for you to tuck the shaft of the cowboy boot in.
If the bootcut jeans flared at the bottom may seem a bit old, cowboy cut jeans ensure a more youthful appearance for the wearer. Besides, people with a slim body will also look taller when wearing cowboy-cut jeans.
In short, cowboy-cut jeans, bootcut jeans, and straight-leg jeans will be the best way to go with cowboy boots.
Note: 
It's a fact that men in the cowboy boots world don't like or almost don't wear shorts or skinny jeans with cowboy boots.
Short jeans are too simple in style, they don't create a clean look because they conflict with the classic aura of cowboy boots.
Similarly, skinny jeans are representative of a very youthful style and are almost suitable for sneakers. They have never been a good choice for leather shoes in general or cowboy boots in particular.
In addition, both types of jeans above violate the "no shaft" rule of cowboy boots. A small portion of the shaft of a cowboy boot peeking out from behind the jeans is fine, but not all of them.
In general, stay away from skinny jeans and short jeans!
What jeans do women wear with cowboy boots?
Unlike men, women have more choices. The main reason is that women's cowboy boots are not only a classic style accessory, but also offer a trendy, youthful and dynamic beauty.
Today, cowboy boots for women also have many variations, in addition to the traditional cowboy boots that we know, there are also western booties that are also very popular.
Most young girls like to wear skinny jeans with cowboy boots. The bottom of skinny jeans is often tucked into cowboy boots for a very youthful fashion.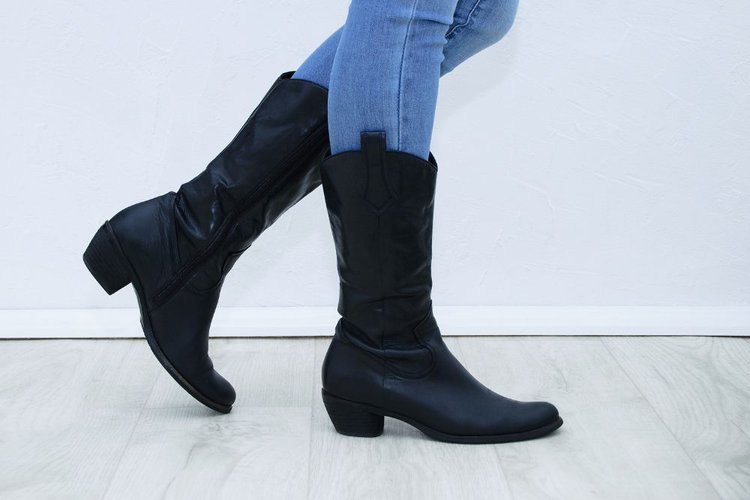 In addition, short jeans are also a good and charming choice when worn with cowboy boots. This combination has appeared many times in American movies.
However, not only youthful or sexy style, women can still find a classic beauty when combining bootcut jeans and cowboy boots.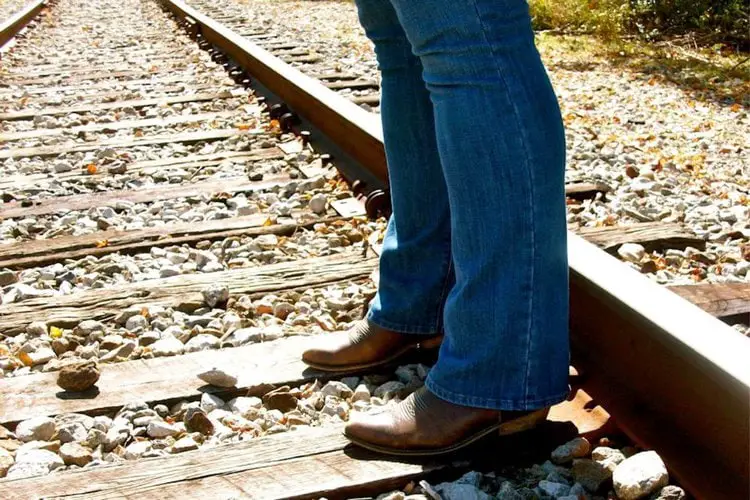 Like men, straight-leg jeans are also a very noticeable option. This combination also gives a clean look and you can bring them not only to the ranch but also to the office or simply casual wear.
Overall, for women, skinny jeans, short jeans, bootcut jeans, straight-leg jeans, or any type of jeans can go with cowboy boots perfectly. You just have to be creative!
Knowing what kind of jeans to wear isn't that all, though. You need to know how to wear them properly.
Conclusion
In short, men should wear bootcut jeans, straight-leg jeans or cowboy cut jeans with cowboy boots.
Bootcut jeans will give you a classic style, while straight-leg jeans offer a clean look, and cowboy-cut jeans bring a youthful and confident feel.
But stay away from skinny jeans or short jeans because they never give a good image when wearing cowboy boots!
Meanwhile, for women, things are completely simple. You can wear any type of jeans with cowboy boots.
Skinny jeans, short jeans, bootcut or straight leg jeans are all very good.
While each type of jeans will bring a different style as a whole, there is nothing to stop you from wearing jeans with cowboy boots.
Howdy y'all, and welcome to From The Guest Room, your ultimate guide to all things Western! I'm Jay Gatz, a lifelong cowboy boot enthusiast with over 5 years of experience in the Western style world. I'm excited to share my knowledge with you and help you discover the perfect cowboy boots and western gear to elevate your style. Let's explore the rich history and timeless appeal of Western fashion together!