If you are female, then this article may not be suitable for you. Because, women can almost wear cowboy boots any way they want, with any type of outfit.
However, for men, it is not so simple. There are many types of outfits that should not be worn with cowboy boots because they will make you look messy.
Today, we are not going to talk about what to wear with cowboy boots. On the contrary, we will discuss what you should avoid when matching with cowboy boots.
Let's check it out!
What Are The Worst Things To Wear With Cowboy Boots?
In terms of fashion, you should not wear any kind of pants that completely reveal the entire cowboy boots. That's the general rule for men.
That is to say, tight pants or shorts are not an acceptable style in the cowboy boots world.
What men are looking for in a pair of cowboy boots is a classic style with a clean look. If the entire shaft of cowboy boots is exposed beyond the pants, you won't get that.
Therefore, short or skinny jeans have no place in the hearts of cowboy boot fans.
You will have to tuck skinny jeans into the boots and leave the shaft exposed, while short jeans definitely do not cover the shaft of the boots.
It sounds weird, but that's what's happening in the world of cowboy boots. Shafts of boots only really work for women's fashion, not men's.
Of course, you can tuck cowboy boots into the pants if you're working outdoors. But usually, no one does that when wearing them daily.
The appearance of the entire shaft of cowboy boots makes you look quite ridiculous and showy, especially the ones with the contrasting color in the shaft and stitch with the vamp. You can't find a clean and classic look in this style.
In short, you shouldn't wear "too trendy" or "too simple" pants with cowboy boots. And you shouldn't tuck cowboy boots into your pants, since it creates contrast in style.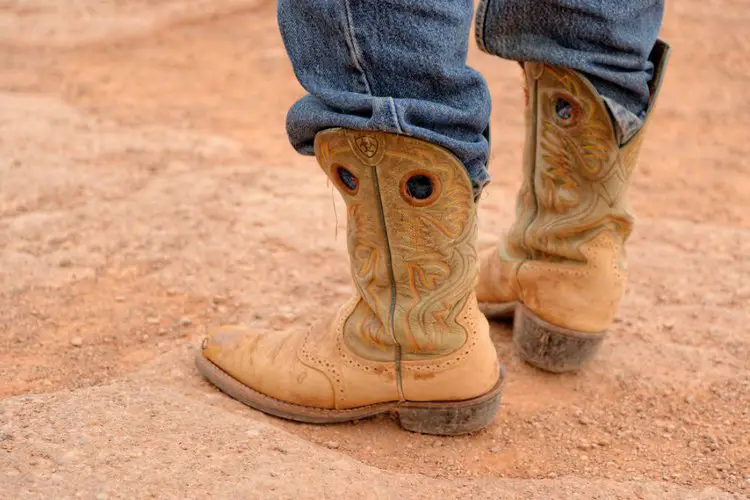 Classic jeans like bootcut, straight leg, or cowboy legs are reasonable choices compared to skinny or shorts.
Jean shorts look too simple and lack elegance to go with cowboy boots. Meanwhile, skinny jeans only go with sneakers instead of cowboy boots.
You can see a few models on Pinterest wearing skinny jeans and tucking the shaft of cowboy boots underneath. Well, it's not really a pretty style, as the V shape of the collar will print on the skinny jeans.
It is also a note for you, choose pants so that there is enough room in the bottom legs to tuck the shaft of cowboy boots in.
Another note is, men should not wear brightly colored pants with cowboy boots. For the same reason as above, it creates a clash of styles, classic on one side, and fussy on the other.
A simple reason people choose jeans to go with cowboy boots is that they are classic, not flashy. They are ton sur ton with cowboy boots!
Nowadays, many people also wear dress pants or suits with cowboy boots. Because some cowboy boots with lizard leather or caiman belly are very elegant and solemn, it is completely possible to match the two outfits above.
Remember, if you want to wear cowboy boots with elegant outfits to the office or wedding, opt for well-polished boots with dark colors and elegant looks.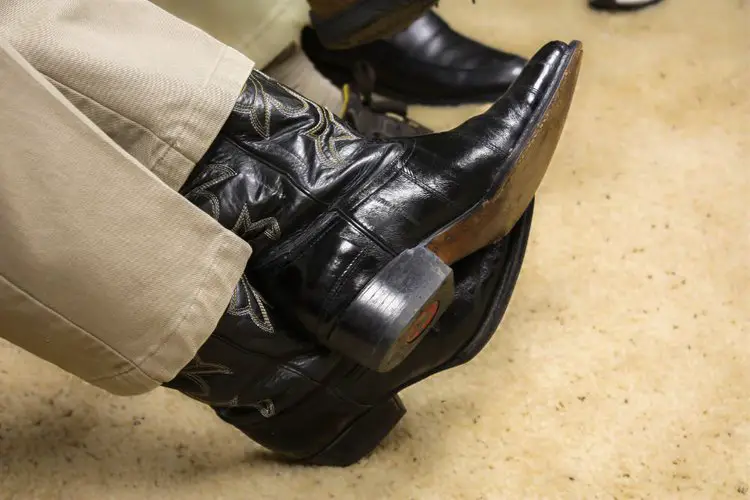 For women, whether cowboy boots are suitable for outfits or not depends much on women's senses.
But overall, girls don't have much trouble choosing what to wear with cowboy boots.
You just need to note the harmony in the style and color of the outfits with cowboy boots.
Don't wear a green dress with a pair of red cowboy boots.
If you are not confident in coordinating, wear a pair of cowboy boots in a classic brown color, because that is an extremely easy color to match and can go with many different outfits.
If your outfits include a youthful and dynamic skirt, then a pair of red cowboy boots might be appropriate.
In general, for women, the feeling is very important in wearing cowboy boots. There are no rules to impose on you, but don't choose an outfit whose style or color contrasts with that of cowboy boots.
Conclusion
In general, in order not to make the mistake of wearing cowboy boots with different outfits, you should save the following cases:
Note that it only applies to men. As for women, everything is much simpler.
Stay away from skinny or short pants, as they will reveal the shaft of the boot.
Do not wear pants with bottom legs that are too small, it will reveal the V shape of the cowboy boot collar (printed on the surface).
Stay away from pants that are too colorful, they will create a stylistic contrast with cowboy boots.
Do not tuck jeans into cowboy boots unless there are special requirements for the job.
For women, you will need to rely on your senses when you want to choose an outfit that matches your cowboy boots.
They should have the same style and not be too different to ensure you won't look silly.
For the rest, there aren't any rules that force you not to wear something with cowboy boots.