When I first learned about cowboy boots in my early twenties, I wondered if they could be worn in the sweltering Florida summers.
It's been 8 years of being a cowboy boot lover already, and now I can say, yes. The truth is that I've been wearing these lovely boots all year round.
But that doesn't mean I put on only a pair of boots every season.
I have mid-calf cowboy boots that are only meant to be worn in the 40-degree C temperature range, and I also store some specifically for -5°C.
The point here is that you need to figure out what fits your situation. Cowboy boots for summer should feature potential breathability from the outside in.
Keep in mind that cowboy boots are very diverse in design and style. If you think that wearing cowboy boots is all about a pair of breathless cowboy boots from scallop to sole, you may be missing out on something important that promotes a higher level of breathability in cowboy boots.
In this article, I'll answer the question "Are cowboy boots breathable?" and spot some features you should consider for a better pair of breathable cowboy boots.
Let's scroll down and see what we've got for you.
Are cowboy boots breathable?
The answer is "yes and no." The reason for this ambiguity is that not all cowboy boots are breathable and not all of them are non-breathable. The answer lies in your choice.
If you point at a pair of winter cowboy boots and say they're not breathable enough, it doesn't make any sense. But if you're wearing a regular pair of cowboy boots that are structured with a little inner fabric lining, they're basically pretty breathable.
Therefore, traditional cowboy boots containing leather insoles and leather linings are usually quite airy.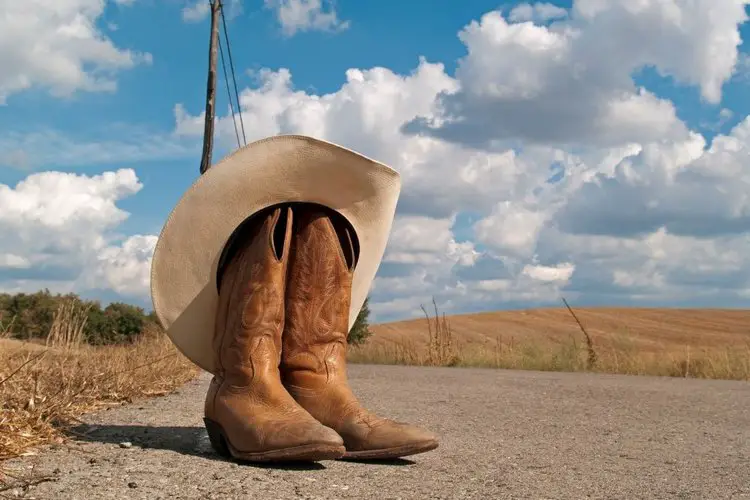 Real leather, which covers the majority of the total area of cowboy boots, is itself a breathable material, as they have the ability to release moisture in the form of vapor.
This is a very unique property of real leather (but not true for suede or nubuck).
Just like human skin, on the surface of real leather, there are tiny pores that help in the excretion of sweat in animals. Thanks to that, these microscopic holes also help the evaporation of water even when separated from the animal's body.
Besides, the structure of the skin is porous, not dense. Therefore, they have a high potential to absorb sweat and moisture much better while trying to drain them out quickly.
Believe it or not, real leather is one of the most breathable natural materials.
That's why sometimes you may experience less (or not at all) sweaty and wet feet when wearing a pair of leather cowboy boots in comparison to wearing a pair of sneakers at the end of the day.
Another thing is whether cowboy boots are breathable or not also depends on the type of leather that makes them!
For example, goat leather and ostrich leather are two very breathable materials when compared to cowhide or bull hide.
In fact, ostrich leather and goat leather cowboy boots are very popular in hot weather.
Goat leather itself possesses more large pores than other leathers, so it has very high air permeability.
Ostrich leather also has a lot of pores. Due to a lot of natural oils in this leather, it is very soft and comfortable and won't dry out or crack – durability is granted!
So, if you're looking for summer boots, goat and ostrich cowboy boots are the best way to go!
However, some types of leather like shark or elephant leather are not breathable at all. They're very durable, but if you're a person with sweaty feet, stay away from them.
That's not all, though! Let's look at other things that make up a breathable pair of cowboy boots as below.
These are also recommended features if you want to maximize the level of breathability and comfort of the boots.
What features make cowboy boots breathable?
Here is what you need to look for for the most breathable cowboy boots.
Pulling holes
You may notice that cowboy boots have some identifying things called "pulling helpers" attached to each side of the very top of each boot.
Most often, you'll find it as pulling straps-some small, long, rectangular pieces of leather that are bent to provide support to pull cowboy boots up more easily. If you're constantly having trouble pulling narrow mid-calf cowboy boots on your ankles and legs, I know it's damn useful.
But you also have another option, which is to pull out the holes.
While a pair of cowboy boots only have 4 straps, if they are without straps, they will be attached with 4 pulling holes which are located under the straps and symmetrically through the piping.
This increase in number and open size provides undeniably better ventilation from the outside to the inside, making your cowboy boots more breathable.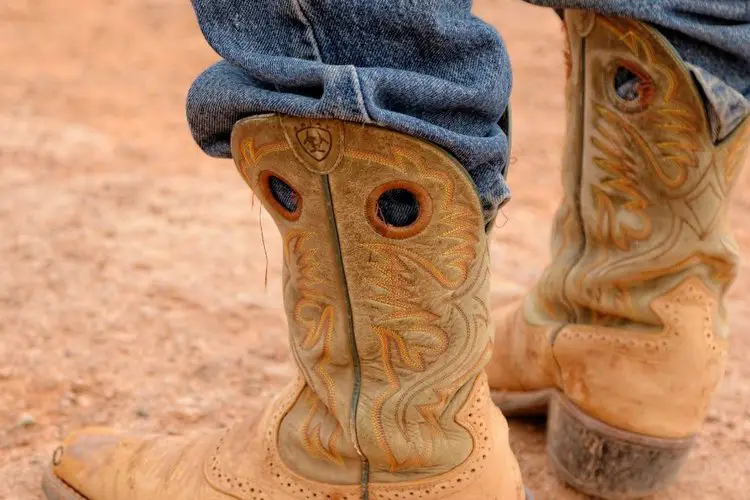 Leather outsole
Historically, leather outsoles have remained a hallmark of traditional cowboy boots, although you can fall to your death wearing leather outsoles and walking on slippery surfaces.
These days, with the aim of making cowboy boots more useful and safe to wear during heavy work, some manufacturers have replaced leather outsoles with rubber outsoles in some cowboy work boots.
The artificial (or natural) materials are much easier to form treads or lugs, have good water resistance, and therefore much better anti-slip.
But in terms of breathability, leather outsoles are far superior to rubber and other man-made materials.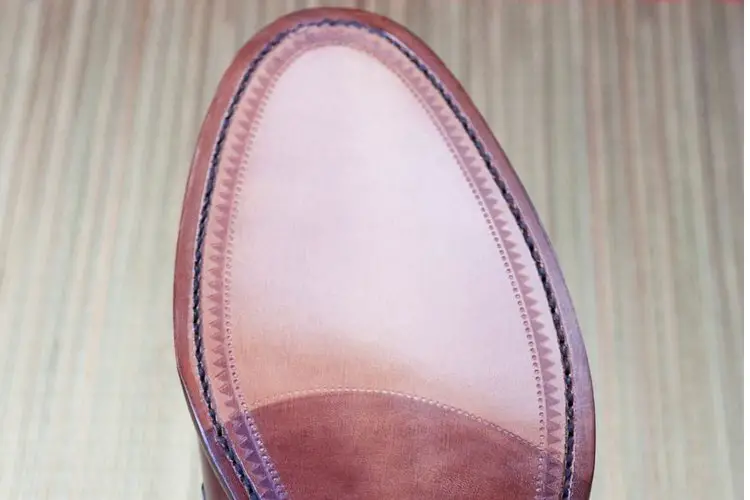 The reason lies in the differences between the structures of leather and rubber.
Leather has a porous construction that is light and therefore more ventilated, while rubber has a dense, heavy construction that is water-resistant and never breathable.
Therefore, I suggest wearing cowboy boots with leather outsoles in hot conditions and cowboy boots with rubber outsoles in cold and sub-zero conditions.
Stitching
It's obvious that traditional stitching methods are far more ventilated than modern gluing methods when it comes to the ventilation each method gives the wearer. Hold on! Let me explain!
When stitching cowboy boots, we inadvertently created a lot of tiny holes between the stitches throughout the stitched areas. You may wonder whether these micro-holes will have such a great effect that it will make cowboy boots noticeably more breathable.
But indeed, yes!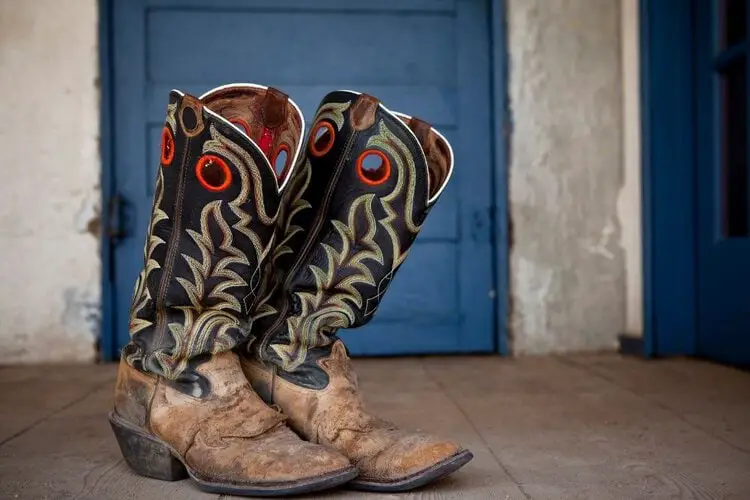 Every pair of cowboy boots is made by sewing small components together with thread. It is estimated that each cowboy boot will have a few dozen seams, and this will create hundreds or thousands of tiny ventilation holes running along with the boot from top to bottom.
This is not to mention the decorative stitching on the boot shaft also contributes to hundreds of other small holes, contributing to promoting ventilation from the inside out.
This is why you'll often find mid-calf cowboy boots don't sweat as much as when wearing a regular pair of trainers.
Deep Scallop
Traditional Stockman boots often feature a deeper scallop than other traditional lines. This is also a cool feature that helps increase breathability.
Simply, they create more space so that the outside air can flow inside the boots and reach the wearer's skin.
As a result, you will feel cooler and more breathable than the shallow scallop. In addition, this is also a recommended feature for people who have thick, muscular calves since the deep scallop creates more space to pull up easily.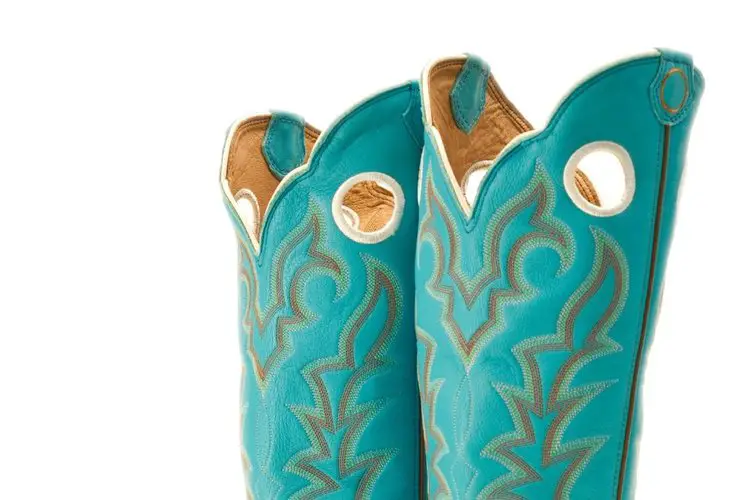 Ankle cowboy boots
Right, a shorter boot shaft means better ventilation. I believe most (even all) men will not be fans of ankle cowboy boots. But women love these lines of cowboy boots. Sometimes, wearing them is like wearing slippers, and you just put your feet on easily (no straps needed).
Most ankle cowboy boots are worn a lot in the summer and hot weather when the mid-calf seems too entangled or sticky for sweaty feet and legs.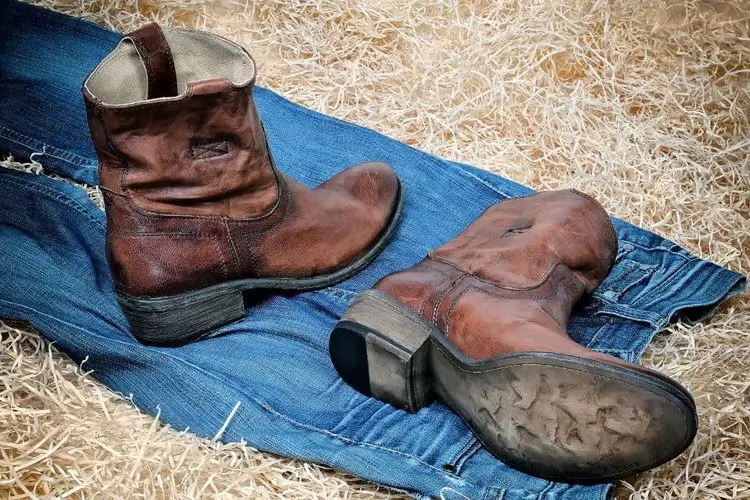 Featuring cut-out patterns on boots
Yes, you can find hundreds of cut-out cowboy boot designs ranging from mid-calf to ankle boots.
These patterns are formed by carving shapes such as flowers, leaves, or western-inspired things out on the boot shaft, creating some pretty, small blanks between the outside and the inside.
As a result, they provide breathability for the feet and feel better on the wearer. These holes act as ways for hot air to escape from the inside out.
But one drawback to this design is that you may encounter wet feet if you, unfortunately, catch rain on your way out.
Because these beautiful holes will create a path for water to flow into the boots more quickly.
The solution is to opt for cut-out designs that have a mesh lining just below those cut-out holes.
They still work effectively to enhance breathability but will reduce the amount of water seeping in from the outside.
No waterproof coating on boots
Since most real leather cowboy boots are naturally water-resistant, I know it doesn't mean you don't need to coat another waterproof layer on the surface – usually use waterproof spray products.
This will result in you trading the natural ventilation of the leather for water resistance.
This is because the waterproof coat has created a chemical film that prevents the leather from breathing and evaporating (thereby also preventing water from seeping inside through the pores on the surface of the skin and into the legs).
You will definitely feel the temperature change inside and around your feet immediately after spraying the compound on your boots.
Trust me, your feet will get sweatier and more slippery when moving inside the boots.
There is no solution to this problem. What you need to do is choose whether ventilation or absolute water resistance is what you need most.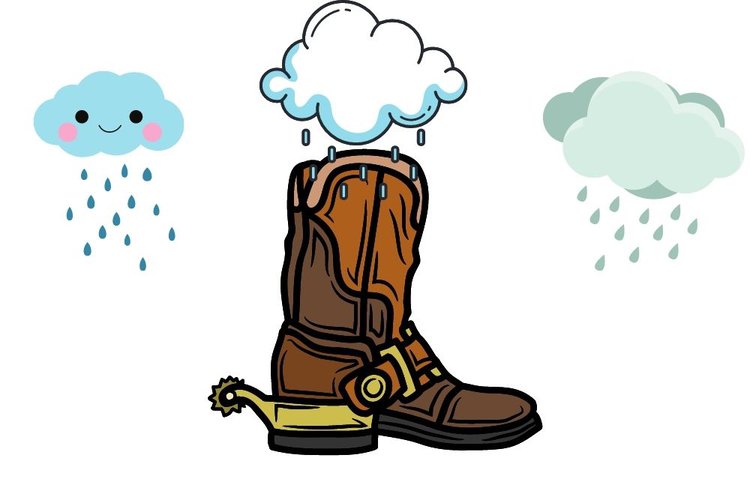 Leather lining and leather insole
Some cowboy work boots replace the traditional leather lining and leather insole with fabric ones.
This helps increase cushioning to support the foot during heavy activity. You know, leather insoles have almost zero cushioning at all to support your feet.
But when it comes to ventilation, leather lining and insoles are at the top, compared to fabric materials.
They have a porous structure and are fairly airy (as mentioned above). Besides, this leather stuff won't get extra cushioned with additional layers of padding underneath (for effective shock absorption).
Therefore, they are a good choice to wear in the summer in an attempt to not sweat your feet as much. I love putting bare feet on leather insoles. It feels cool and refreshing indeed.
Can you wear cowboy boots in the summer?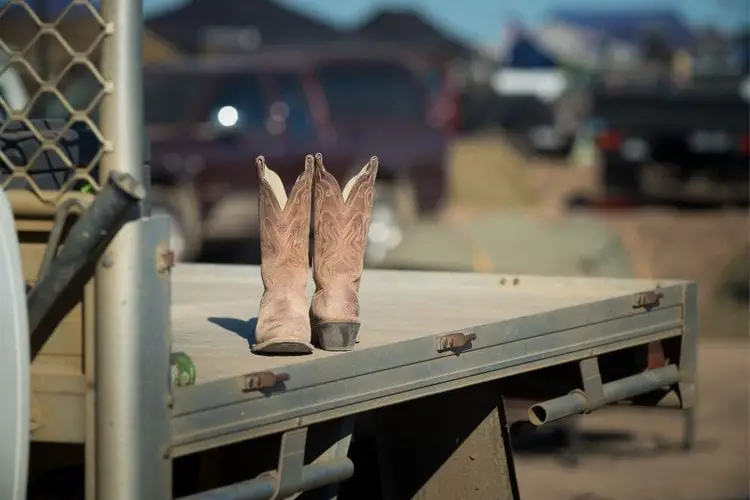 Yes, definitely. But it depends on what type of cowboy boots you will get. They must be something with leather lining, leather insoles, leather upper, leather outsole, and pulling holes (which are more breathable).
If you have to be on your feet more than 10 hours a day with cowboy boots and the protection is not such an important feature of your job, ankle cowboy boots are excellent when it comes to breathability.
Overall, traditional leather cowboy boots are great for wearing in summer as long as there's not much padding or there are no rubber outsoles in the boot's construction.
If you want to know more details on how to choose cowboy boots for summer, we have great instructions here!
Before you leave…
I love how comfortable and hold-up cowboy boots are when it comes to having some sort of versatile footwear from indoors to out on the street.
Since real leather cowboy boots are excellent for breathability in the summertime, you also need to be aware of keeping them dry from sweat and moisture.
Though leather won't retain bad odors too much like other fabrics, it still holds back some bad odors, while too much sweat and moisture will deform the structure of leather, shortening its lifespan.
So remember to hang up your boots in arid areas to properly dry them out.
Howdy y'all, and welcome to From The Guest Room, your ultimate guide to all things Western! I'm Jay Gatz, a lifelong cowboy boot enthusiast with over 5 years of experience in the Western style world. I'm excited to share my knowledge with you and help you discover the perfect cowboy boots and western gear to elevate your style. Let's explore the rich history and timeless appeal of Western fashion together!