You have a wedding invitation to western wedding this weekend. It's time to join a western wedding filled with laughter, revelry, hoot and holler.
Or if you are the bride in this wedding season, then we wish you, wish you a happy love.
Whether you are the bride or a wedding attendant, you ladies will need two essential items for a perfect wedding look. The first one, of course, is a dress for the wedding. The second one is a pair of cowboy boots to match with your dress. These two are the soul of every western wedding.
We have a ton of articles to evaluate and choose the best cowboy boots.
Today, let's refresh with a new topic! We're going to show you how to choose the best dresses for a country western wedding.
Let us, FromTheGuestRoom, guide you on a tour of The 10 Best Wedding Dresses to Wear with Cowboy Boots!
Shall we?
How to Wear a Wedding Dress with Cowboy Boots?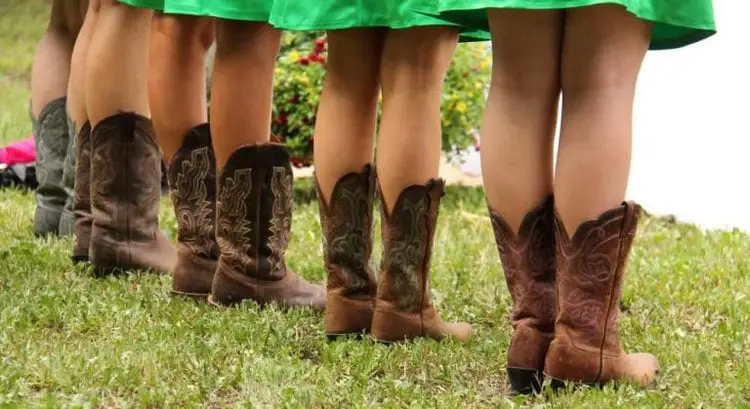 This might not be easy for you if you are a girl living in the city and invited to a country wedding for the first time in your life.
You cannot wear a dress that is too bright or luxurious like when you attend a grand wedding.
Also, you need to know how to mix your outfit properly to have the classic western beauty, but not too country-like.
Besides, your dress should have an adequate length that you can show your beloved cowboy boots.
How high should your cowboy boots be? How should they look?
Keep on reading!
What kind of Wedding Dresses is the best to go with cowboy boots?
We have 3 types of dresses most commonly used in country western wedding:
Tea-length bridal dresses
A tea-length bridal dress is one of the most popular dresses for western weddings.
They are dresses that aren't too long (just a little longer than the knees) so they can help you show off your cowboy boots.
These dresses give you femininity and a look that suits the wedding best.
Typically, this type of dress can be used for the bride, bridesmaids or female wedding guests.
Read more: Best Jeans to Wear with Cowboy Boots Mens
1950s-style short dresses
If you are one of these bridal entourages, a 1950s-style short dress is a right choice.
Women in the bridal entourage should choose 1950s-style short dresses of the same color. Don't choose the white color, it is better to wear other colors instead (like jade green).
Besides, cowboy boots for the bridal entourage should harmonize color and style.
However, if you are a guest, things are much simpler. Just choose a suitable and beautiful dress for your style.
You can wear a simple 1950s-style short dress with red color and polka dots, then add a pair of brown cowboy boots with fringe around.
A plaid dress with a pair of black cowboy boots is also a good choice.
1950s-style short dresses are similar to tea-length bridal dresses in their decent length (not too long). These dresses can let your boots shine in your legs.
This type of dress should be reserved for guests and bridal entourage.
If you are the bride, don't wear it.
Tea-length front dress
This dress is my favorite. I always love the tea-length front dress.
The tea-length front dress comes with a stylized design and a length flare out from the sides to the back.
It's the perfect design to keep the dress's glamor, femininity and show off your stylish cowboy boots.
What kind of cowboy boots should be used at a western wedding?
There are many different types of cowboy boots available.
First of all, you need to determine your purpose when buying cowboy boots.
If you buy cowboy boots for outdoor work (farm, ranch) then a pair of low heeled cowboy boots (stockman, western work boots, roper) is a good choice.
But if you buy cowboy boots to attend the wedding in the American West, you should choose traditional cowboy boots. Because western weddings have the same nature as a traditional party. And the unique cultural characteristics of the region are highly appreciated.
The cowboy boots that you wear to the western wedding should have the design of traditional cowboy boots, with heels 2 inches or more high. Moreover, the toe shape should be pointed toe, snip toe or round toe.
Regarding the patterns, we recommend choosing cowboy boots with the shaft and stitching featuring western-inspired embroidery motifs.
If it were me, I would choose a pair of vintage floral cowboy boots for the wedding party.
Besides, if there is a line dance after the wedding, you should choose cowboy boots with leather soles. A little slip at the leather sole will help you easily make line dancing moves (or rubber soles but not non-slip type).
10 Best Wedding Dresses to Wear with Cowboy Boots
Now, let's head to The 10 Best Wedding Dresses to Wear with Cowboy Boots!
1/ Meetjen Women's Vintage Floral Lace Dress Handkerchief Hem Asymmetrical Cocktail Formal Swing Dress
This lace dress offers an eye-catching, elegant and fancy look with lavender accents.
In addition, the dress is made of stretchy material so it can hug your body to contour your sexy curves.
Moreover, it is long enough to cover the entire knee that you can boast your stylish cowboy boots.
This is the dress you are looking for.
2/ Homrain Women's Vintage Floral Lace Off Shoulder Hi-Lo Wedding Cocktail Formal Swing Dress Plus Size
You ladies will be extremely feminine and charming in this Meetjen lace dress that guys will fall head over heels in love with you.
Different from the first dress, this dress exposes the shoulder and creates a sexy outlook. Besides, this tea-length front dress has the front length just a few inches above your knee. This design will enhance your posture, especially your lovely legs.
Besides, your cowboy boots also have a chance to shine with this dress.
Elegant yet sexy, this dress and cowboy boots is the perfect coordination for your wedding.
3/ Meetjen Women's Vintage Floral Lace Cocktail Dress Homecoming Prom Dress Cap-Sleeves
A dress with vintage floral would match 100% to a country western wedding.
The dress has a vintage look without looking country. The soft lace fabric will give you a smooth and comfortable feeling.
Besides, the two sides of the dress have a hidden back zipper closure for convenience on / off. The top has floral appliqué embellishment for a feminine and expensive look!
4/ Macria Women's Tea Length 3/4 Sleeve Lace Wedding Dresses Bridal Gowns
It would be meaningful to have a wedding dress just for you on your big day – an individually handmade dress.
It's time to own the Macria Tea Length dress! To have it, you need to book 7 days in advance and wait for another 2 to 3 shipping days.
Handmade dresses will match your body better than ready-made dresses. They highlight feminine curves and bring comfort, confidence to the wearer.
All of these things make you a stunning bride on your wedding day.
But remember to send them your measurements first!
5/ Faxpox Women's Knee Length Country Bridesmaid Dress Western Wedding Guest Dress
Unlike brides, bridesmaids need simple and same color dresses.
You can look to Faxpox bridesmaid dresses with simple designs and harmonious colors. They highlight the femininity of bridesmaids.
With an open shoulder design but not revealing, these dresses provide elegance and nobility for the bridesmaids.
6/ Dusty Turquoise Fields Lace Dress
The next dress has a dusty yet romantic look with turquoise fields as accents.
With 100% polyester lining and 90% nylon lace, this dress will give you great coolness with high comfort.
In addition, the dress has a gathered waistline and uneven layered hemline to show off your waist and your elegance.
Do you fancy this style?
7/ Scully Women's Honey Creek Amelie Dress
A very cute dress by Scully is extremely attractive for the country wedding this weekend.
This dress is suitable for country wedding guests. It's soft, comfortable and cool for summer days.
Besides, the design is very flattering with an empire style waist. This dress will give you a gentle look.
This Scully also has the same characteristics as the above dresses. It has an adequate length that you can show off your beautiful cowboy boots.
8/ AUSELILY Women's Long Sleeve Pleated Loose Swing Casual Dress with Pockets Knee Length
Another dress of our list today is a casual dress suitable for weddings on summer days. AUSELILY's dress has stretchy material so it creates comfort and balance for you when you wear it.
In addition, this dress has a blanket price with a simple design (streamlined).
This dress is suitable for active girls and girls who love creative patterns (it offers various options).
9/ Meetjen Women's Elegant Floral Lace Sleeveless Handkerchief Hem Asymmetrical Cocktail Party Swing Dress
This dress shows the femininity, elegance and fragility that women are looking for.
It features a see-through and floral appliqué embellishment on the top. This asymmetrical lace dress is made from soft lace fabric.
Also, it has a polyester lining that is soft, smooth, and comfortable, lightweight and breathable.
This dress is not only suitable for weddings, but it is also a dress for dating, afternoon tea or birthday parties.
10/ BeryLove Women's Floral Lace Hi-Lo Bridesmaid Dress V Neck Cocktail Formal Swing Dress
Our final dress is a tea-length front dress. Want a sexy look? The V neck takes charge of that 😉
This dress is made of stretchy and soft lace, polyester lining inside. It offers a detachable belt that the dresses above don't have.
Besides, you will be attracted by the beautiful floral lace from top to bottom. Along with that, this dress elongates your legs with a waistband design.
Elegance and femininity are what this dress owns.
Now, put on this beautiful dress with leather cowboy boots to the wedding and let your stunning look speak for you.
FAQ
What dresses look good with cowboy boots?
Normally, to show off your boots, the dress should be above your mid-calf.
So you should choose dresses such as tea-length bridal dresses, 1950s-style short dresses, tea-length front dress. These dresses have the right length to give you a good look without obscuring your cowboy boots.
Besides, you can also wear cowboy boots with a full-of-style sweater dress. You would get a gentle look without looking country.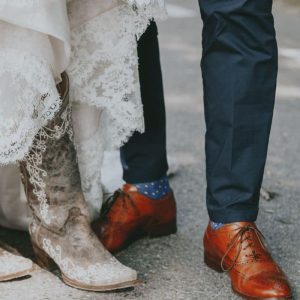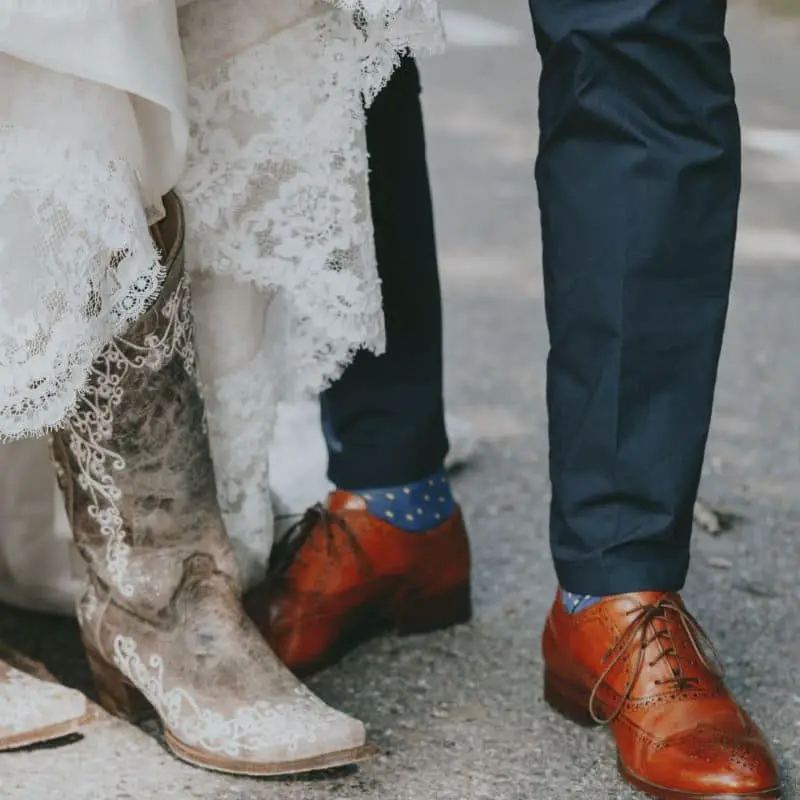 Conclusion
In general, let's choose the gentle and dynamic combination to enjoy yourself at the party.
Remember, your dress shouldn't be too long (just a few inches longer than the knee) to have a feminine and elegant look while you can reveal your beautiful cowboy boots.
The dress should be slightly styled on top. The waist should flatter your curves to create a charming look.
We have selected the best dresses to go with cowboy boots for you ladies. Now, it's your time for you to choose yourself one (or more) to attend western weddings. Have you got one in your mind?
Good luck!