Welcome to the world where the wild spirit of the West meets the elegance of modest fashion.
Cowboy boots have galloped beyond the rodeo, becoming a beloved staple for those who favor a touch of frontier flair in their wardrobe.
In this style guide, we'll show you how to pair these iconic boots with outfits that are both modest and modern, proving that you can uphold tradition without sacrificing your fashion-forward edge.
Whether you're stepping out in a flowy midi dress or layering up with a timeless trench, we've got tips to help you strut in style.
So, let's walk through the best ways to make cowboy boots a 'yeehaw' in your modest fashion lineup.
Midi Dresses: A Modest and Versatile Staple
Midi dresses are the quintessential choice for those who appreciate modest fashion. They strike a perfect balance between elegance and comfort, all while providing enough coverage to align with modest style standards.
Let's dive into why midi dresses are a fantastic option for crafting modest outfits with cowboy boots.
1. Floral & Boho Midi Dresses:
A floral midi dress brings a touch of femininity and softness to your wardrobe.
The key to modesty here lies in the length, typically reaching just below the knee to mid-calf, and in the often gentle flow of the fabric, which doesn't cling to the body.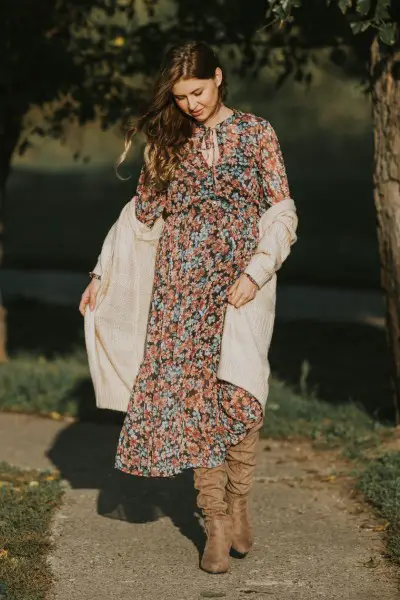 When paired with cowboy boots, the look becomes grounded and gains a hint of rustic charm.
This combination works beautifully for casual outings and can be dressed up with the right accessories for more formal events.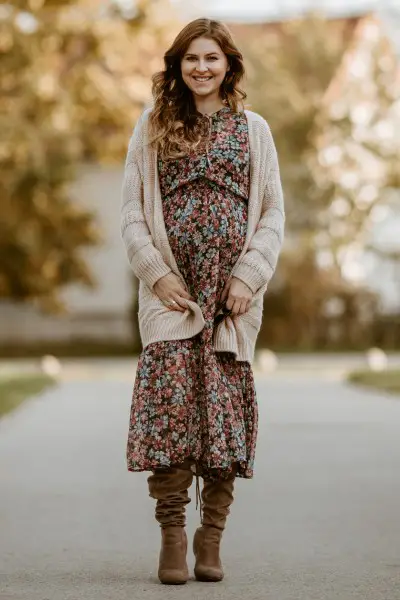 And when it comes to floral dresses, don't miss out on bohemian style!
Bohemian style is all about effortless style and comfort, which aligns perfectly with modest dressing.
Boho midi dresses usually have loose fits, intricate patterns, and lightweight materials.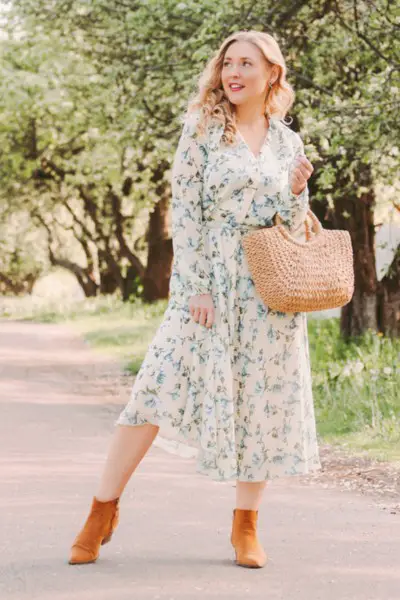 When styled with cowboy boots, they create an eclectic and laid-back look that's perfect for a free-spirited fashionista who values modesty.
2. Button-Front Midi Dresses:
For those who love a touch of vintage flair, button-front midi dresses are the way to go.
They often feature a full skirt and a structured bodice, which provides ample coverage while also offering a nod to classic styles.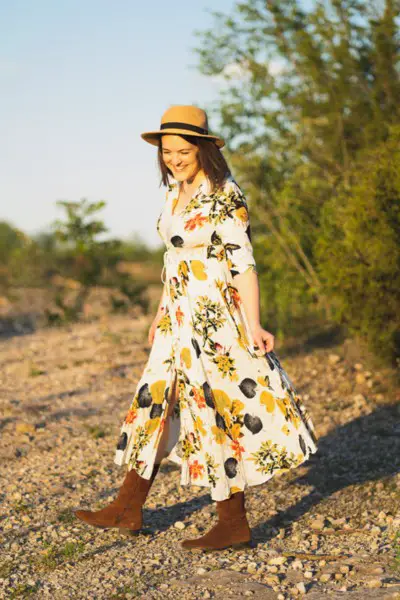 The buttons themselves can serve as a charming detail or allow for modest adjustments in neckline depth.
Slide into a pair of cowboy boots to give this old-school style a modern Western spin.
3. Wrap Midi Dresses:
The wrap midi dress is another gem for modest fashion enthusiasts.
Its adjustable wrap feature allows for a personalized fit that can be as relaxed or as defined as you prefer, without compromising on modesty.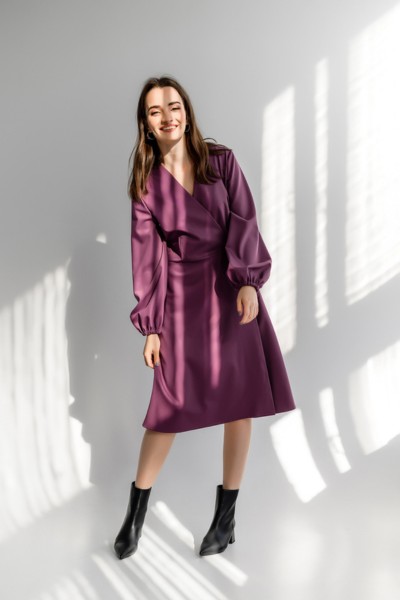 The v-neckline of a wrap dress is universally flattering and can be easily layered with a camisole if desired for additional coverage.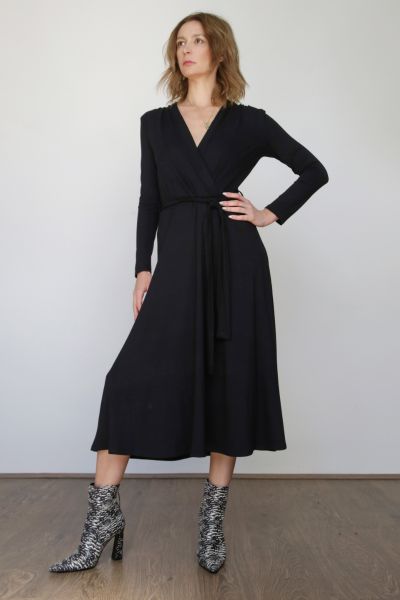 Cowboy boots complement wrap dresses by adding a structured element to the soft draping of the wrap.
4. Layered Midi Dresses:
Layering is a cornerstone of modest fashion, and layered midi dresses embody this principle beautifully.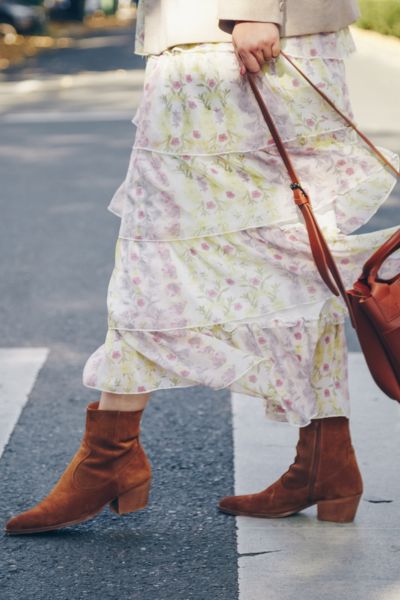 With layers, you can play with textures and volumes, adding depth and interest to your outfit.
Combine a layered midi dress with cowboy boots, and you've got a look that's as practical as it is stylish—ready for a change in weather or a shift from day to night.
Maxi Dresses and Skirts: The Epitome of Modest Elegance
Maxi dresses and skirts are beloved in modest fashion for their ability to provide full coverage while still allowing for graceful movement and style.
They are the perfect canvas for creating outfits that speak to both comfort and fashion sensibilities, and they're particularly stunning when paired with cowboy boots.
Here's a look into why maxi dresses and skirts are a modest style staple and how to style them with a Western twist.
1. Pleats and Leather:
A pleated maxi skirt is a classic that never goes out of style. The neat folds add elegance and movement to your look, making it a perfect match for sleek cowboy boots.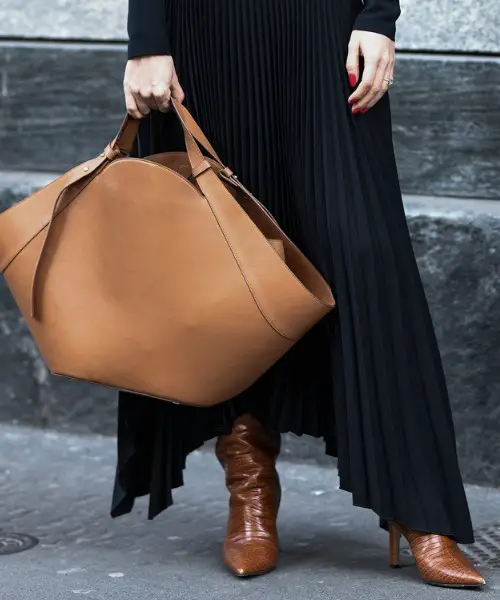 You can maintain the modest appeal with a long-sleeved top or a turtleneck, ensuring you stay covered and comfortable.
This outfit works great for office wear or an evening out, proving that modesty and professionalism can go hand in hand.
2. Cozy and Chic:
A maxi skirt paired with a chunky knit sweater and cowboy boots is the embodiment of cozy chic.
The contrast between the soft flow of the skirt and the ruggedness of the boots creates a balanced ensemble that's both practical and stylish.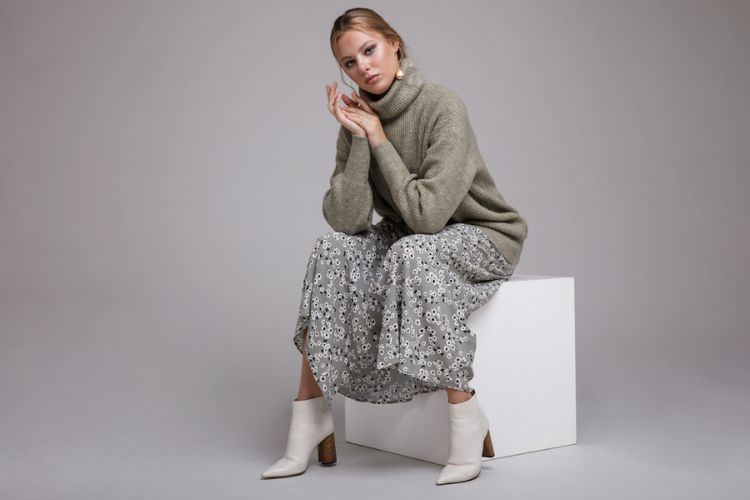 This look is perfect for those chilly days when you want to stay warm without sacrificing style. Opt for a skirt with a subtle print or texture to add depth to your outfit.
3. Layered Elegance:
Layering is a staple in modest dressing, and what better way to achieve this than with a flowing maxi dress?
Add a trench coat or a long cardigan over your dress for added warmth and style.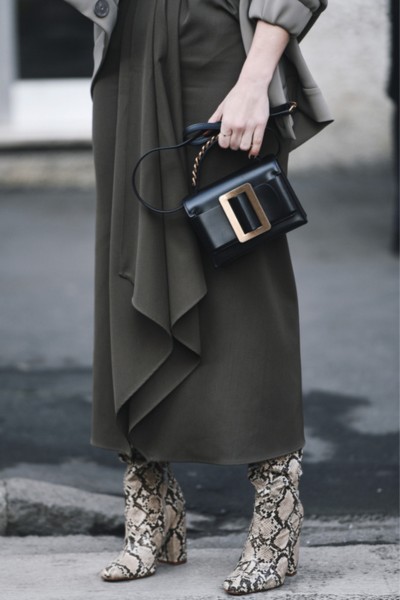 When it comes to boots, consider a pair with distinctive textures or patterns, such as python print, to make a statement.
This layered look not only adheres to modest fashion norms but also adds a sophisticated edge to your everyday attire.
4. Flowy and Feminine:
For a softer, more feminine look, choose a maxi pleated skirt with a fluid silhouette and gentle hues.
When paired with suede cowboy boots, the outfit gets an infusion of Western flair that's both unexpected and delightful.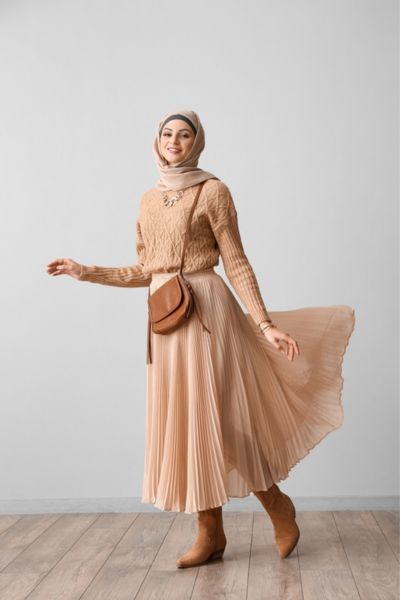 You can accentuate this style with accessories like a wide-brimmed hat or a statement belt, pulling the entire outfit together for a cohesive and modest look that's sure to turn heads.
Maxi dresses and skirts offer the perfect backdrop for showcasing cowboy boots. By choosing boots in a hue that complements or stylishly contrasts with your dress, you create a modern twist on the traditional modest outfit.
This look is about blending the old with the new and the delicate with the durable, showcasing how versatile and dynamic modest fashion can be.
Trench Coats and Blazers: Timeless Modesty with a Modern Edge
Trench coats and blazers are not just timeless wardrobe staples; they are also cornerstones of modest fashion.
They offer extra coverage, structure, and warmth, all while maintaining a polished look that's perfect for any occasion.
When paired with cowboy boots, these pieces transition from classic to contemporary with ease, giving you a modest outfit that's both stylish and sophisticated.
1. Trench Coats: Your Layering Hero:
A trench coat is the ultimate layering piece. It's long, it's belted, and it's effortlessly chic.
Whether you're wearing it over a dress, a blouse, and a skirt, or even a casual tee and jeans, it adds an instant upgrade to your outfit.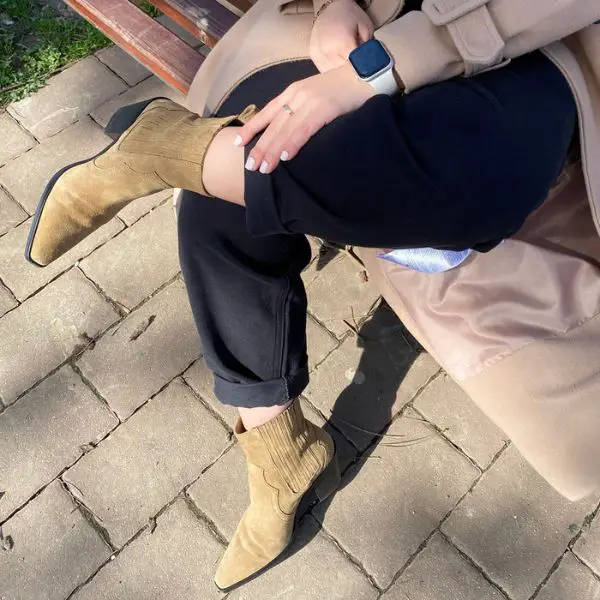 Trench coats provide ample coverage, adhering to modest style guidelines, and when paired with a set of cowboy boots, they bring a touch of ruggedness to an otherwise sleek silhouette.
Cowboy boots in a textured finish, like suede, can add a playful edge to the ensemble.
The boots should complement the color palette of your outfit, creating a harmonious look that's both modest and on-trend.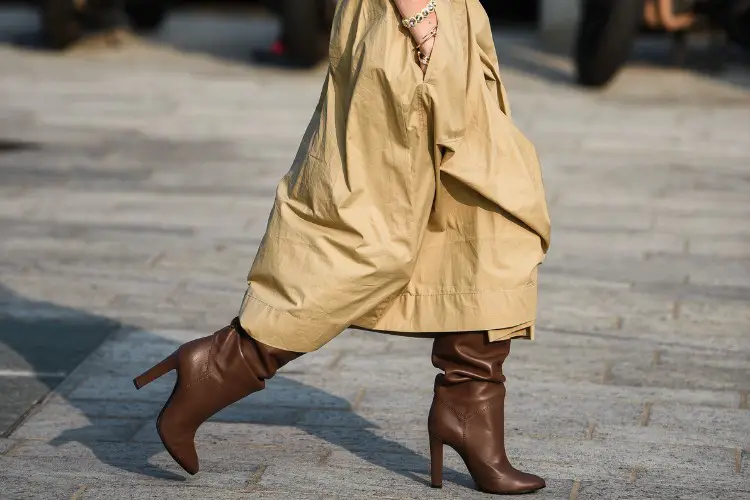 This is the type of outfit that works from day to night, from office to dinner, making it a versatile choice for the modest fashion enthusiast.
2. Blazer with a Modern Twist:
Modernize your blazer by pairing it with crisp white jeans for a fresh take on a classic piece.
This look plays with contrast—both in color and style. A structured blazer adds formality, while the cowboy boots bring a laid-back, Western vibe.
To keep the outfit modest, ensure your blazer is long enough to provide coverage and choose a boot with a modest heel.
This look works great for transitional seasons and can take you from a professional setting straight into a casual evening out.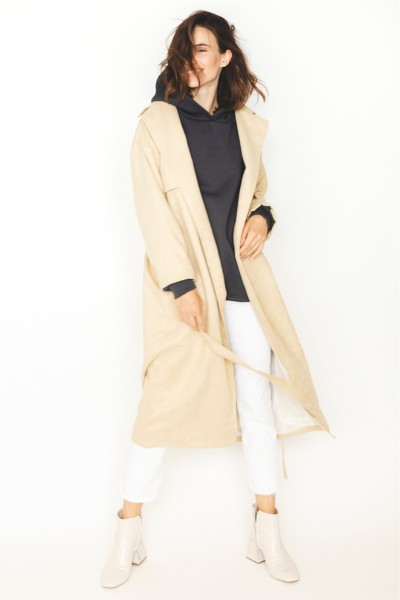 Opt for blazers that are slightly longer in length, which not only provide more coverage but also create a more contemporary line when paired with cowboy boots.
Or, a blazer paired with a midi boho dress strikes a perfect balance between polished and playful.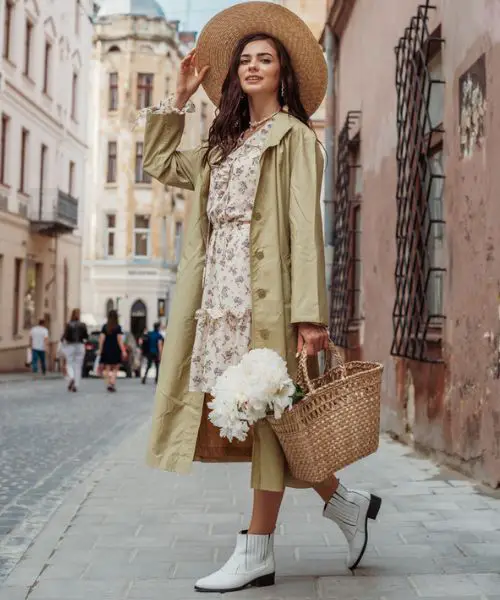 The structured blazer adds sophistication, while the dress keeps the look soft and feminine.
It's an outfit suited for semi-formal settings where you want to look approachable yet put-together.
3. Layered for Warmth and Style:
Layering is essential for a stylishly modest outfit that doesn't skimp on warmth.
Pair a cozy sweater with a midi or maxi skirt, and top it off with a trench coat that matches or elegantly drapes just beyond the skirt's hem.
This ensemble delivers comfort, coverage, and chic sophistication all in one.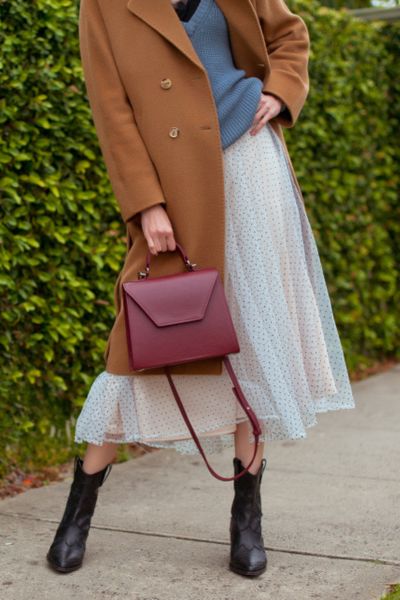 Choose ankle cowboy boots to complement your look with a subtle nod to Western flair.
These lower-cut boots add a stylish yet unobtrusive element that pairs perfectly with longer hemlines for a cohesive and modest outfit.
This outfit is perfect for those cooler days when you want to keep covered but still look put-together.
4. Statement in Leather:
Make a bold statement with a full-length leather coat. This piece is an investment in your wardrobe and your style.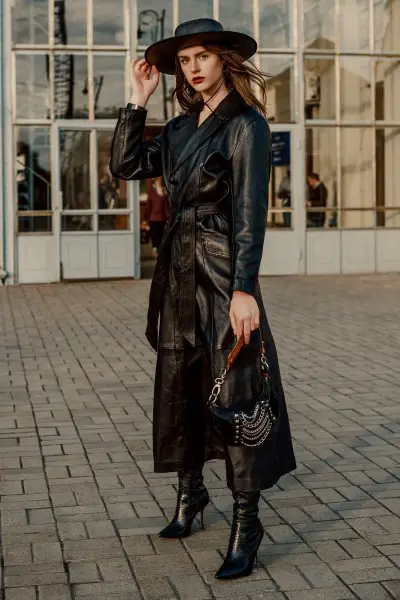 It offers complete coverage, perfect for modest dressing, and when paired with cowboy boots, it creates a look that's both commanding and stylish.
Choose boots with a glossy finish to match the sheen of the leather coat.
This look is all about textures and confidence, making it ideal for the fashion-forward woman who loves to combine modesty with high fashion.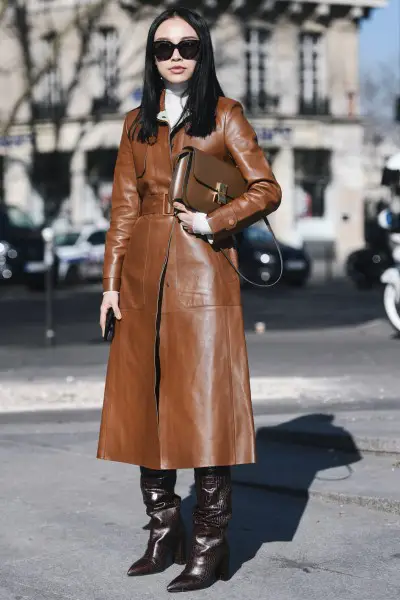 Remember to accessorize each outfit thoughtfully. Belts, watches, and bags can all play a role in finishing off your look with personal flair.
The goal is to create modest outfits that are not just functional, but also reflect your style and personality.
Wrap it up
As we've explored, cowboy boots are a versatile addition to the modest fashion enthusiast's closet, offering a blend of tradition and trendiness.
By pairing them with midi dresses, maxi skirts, and structured coats, we've shown that modesty and style can go hand-in-hand.
Remember, fashion is about expressing yourself, and with cowboy boots, you can stomp with confidence, comfort, and a touch of Western charm.
So embrace these tips, mix in your personal flair, and keep walking boldly in your modest, yet stylish, cowboy boots. Happy styling!
Howdy y'all, and welcome to From The Guest Room, your ultimate guide to all things Western! I'm Jay Gatz, a lifelong cowboy boot enthusiast with over 5 years of experience in the Western style world. I'm excited to share my knowledge with you and help you discover the perfect cowboy boots and western gear to elevate your style. Let's explore the rich history and timeless appeal of Western fashion together!