When it comes to creating an outfit with a perfect blend of femininity and rugged charm, pairing a midi dress with cowboy boots is an unbeatable choice.
The midi dress, characterized by its hemline that falls midway between the knee and ankle, offers a canvas of versatility that few other garments can match.
It's long enough to create an elegant silhouette, yet short enough to allow a pair of striking cowboy boots to take center stage.
Ankle cowboy boots, with their chic and compact design, are especially suited to this task. They peek out just below the hem, drawing attention to themselves without overpowering the look.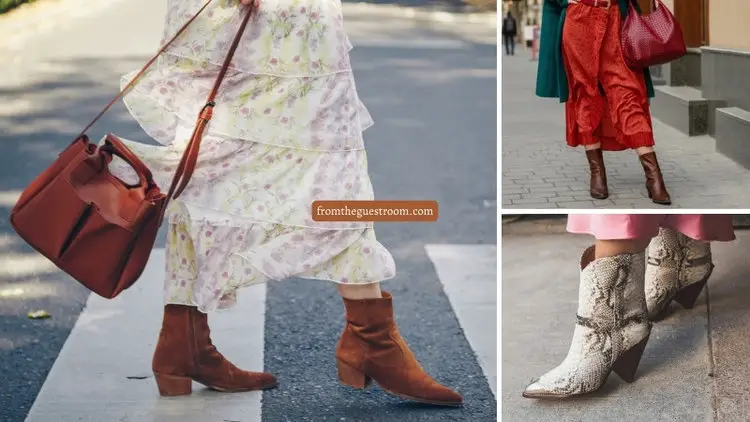 The cowboy boots and midi dress combo transcends the barriers of a single occasion wear, effortlessly fitting into a myriad of settings.
Whether you're attending a casual outdoor gathering, a fancy brunch, or even a rustic-themed wedding, this pairing can be dressed up or down to suit the ambiance.
The boots add a touch of Americana flair to the ensemble, while the midi dress keeps things sophisticated and stylish.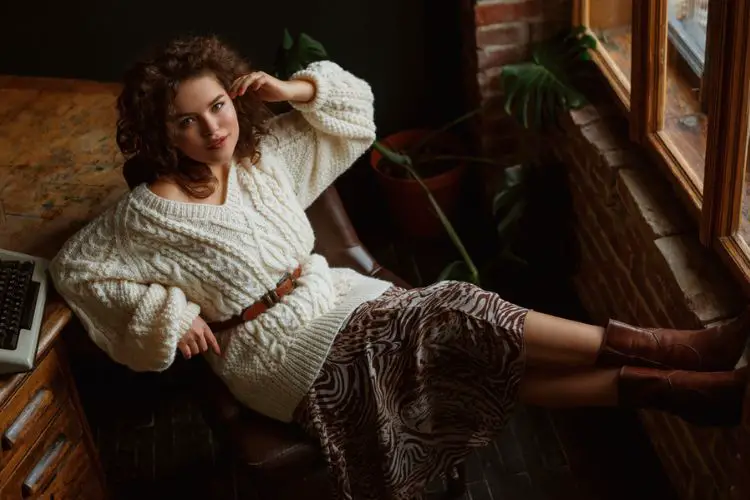 It's a sartorial choice that speaks to the adventurous spirit without sacrificing an ounce of style, making it a go-to for those who wish to make a statement with their wardrobe.
This dynamic duo proves that you don't have to choose between comfort and fashion; with a midi dress and cowboy boots, you stride in both worlds.
Casual Charm
For those laid-back days where comfort meets style, the effortless pairing of a midi dress with cowboy boots speaks volumes.
A lace midi dress, with its intricate patterns and delicate fabric, harmonizes beautifully with the rugged texture of suede cowboy boots.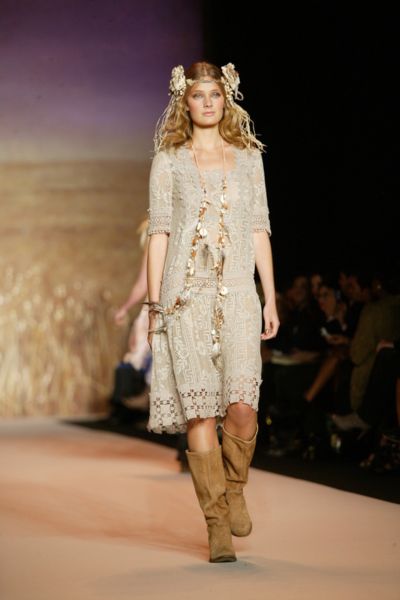 This combination strikes the perfect balance between relaxed and refined, making it ideal for a variety of casual settings.
The boots, be they short or tall, add a definitive Western touch that's both fashionable and functional.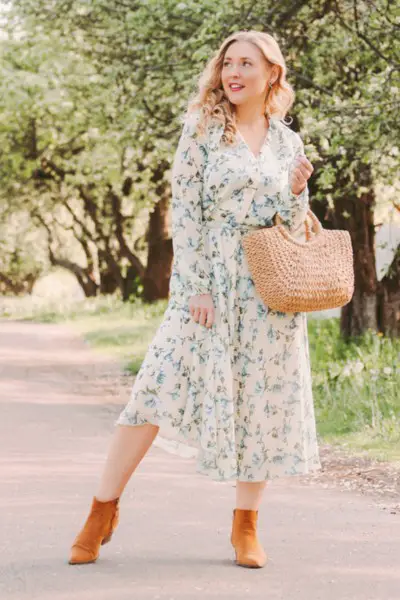 Bohemian-inspired midi dresses are another fantastic option for casual wear.
The floral textures and motifs blend seamlessly with cowboy boots, creating a look that is timelessly feminine and effortlessly chic.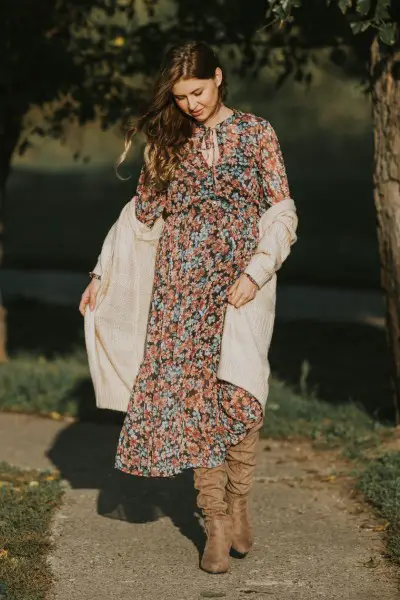 The ensemble is not only eye-catching but also exudes a sense of whimsy and freedom.
For cooler days, layering with a cardigan finds a cozy yet stylish middle ground with the boho dress and boots, uniting the elements in harmonious fashion.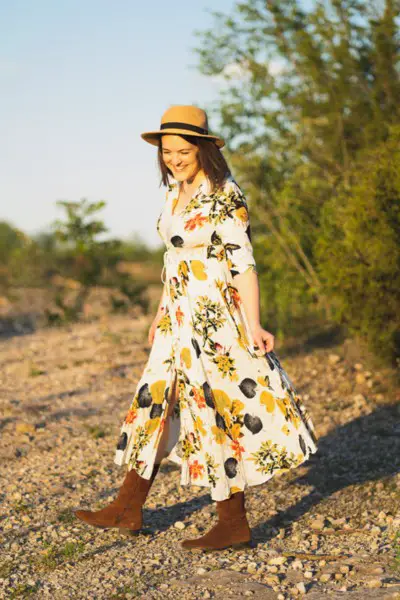 If you're aiming for something more unique, consider a midi dress with distinctive features like buttons or a front split. These elements add a touch of elegance and ease of movement, pairing perfectly with your cowboy boots for a day out.
Accessorize with a wide-brim hat or a handbag crafted from straw or leather to complete this charmingly casual outfit.
Urban Elegance
Transitioning to the cityscape requires a touch of sophistication and elegance. For an urban look, select a midi dress that exudes complexity and grace.
A pleated midi dress, when paired with textured lizard cowboy boots, creates an ensemble of harmonious elegance, suitable for the city's pulse.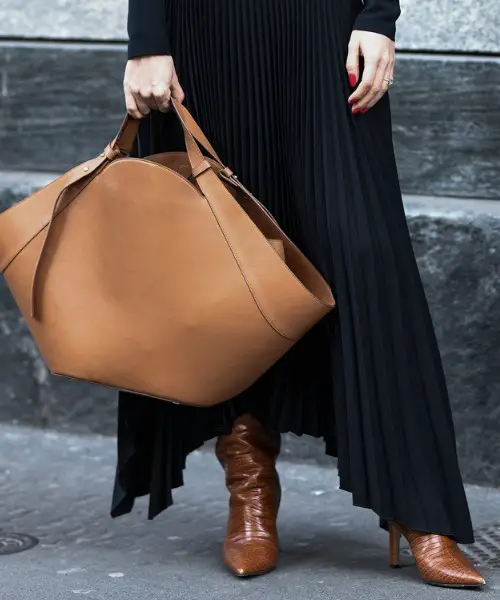 The intricate lines of the pleats and boots bring a refined aesthetic to your stride.
For a bolder statement, a balloon-sleeve wrap dress combined with ankle cowboy boots offers a chic contrast.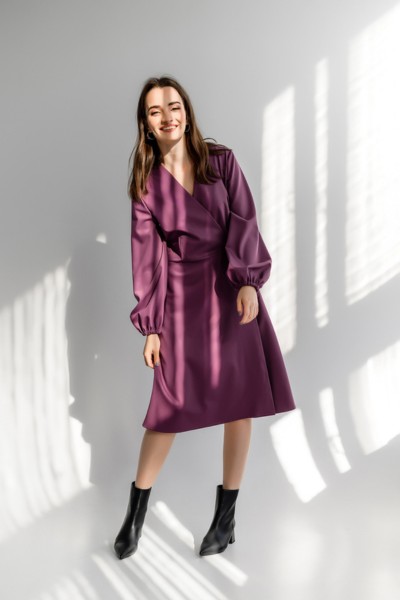 Choosing boots and dresses in differing colors can accentuate both pieces, making each stand out.
A white lace midi dress coupled with stark black cowboy boots can present a striking urban appearance.
Elevate this look with a sleek black leather coat and a matching handbag for an infusion of city elegance.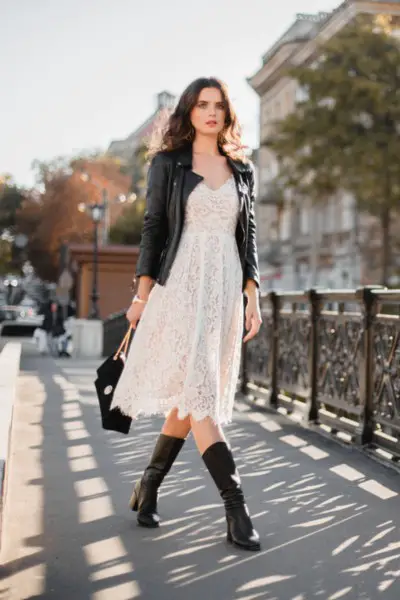 For those who appreciate a silhouette that speaks confidence, a pencil split midi dress paired with cowboy boots showcases your figure while maintaining an air of casual sophistication.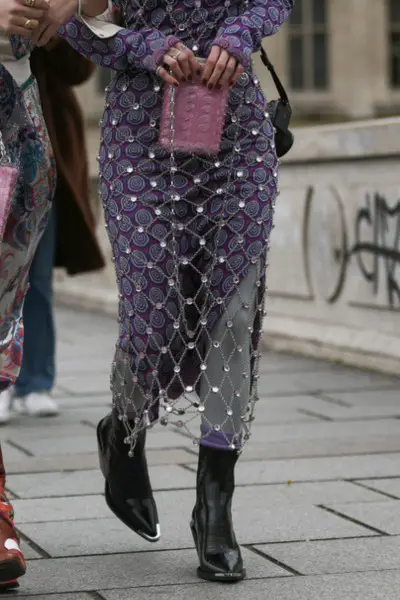 Alternatively, a layered midi dress might offer a more relaxed vibe, which you can sharpen with a blazer for an added touch of elegance.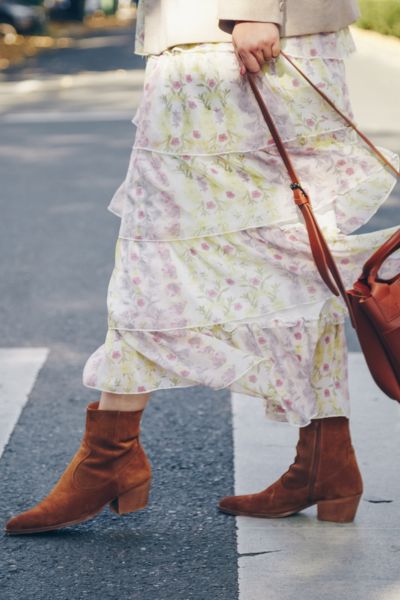 Indeed, a blazer is a versatile piece that can uplift not just midi dresses, but also jeans, skirts, and shorts when combined with cowboy boots.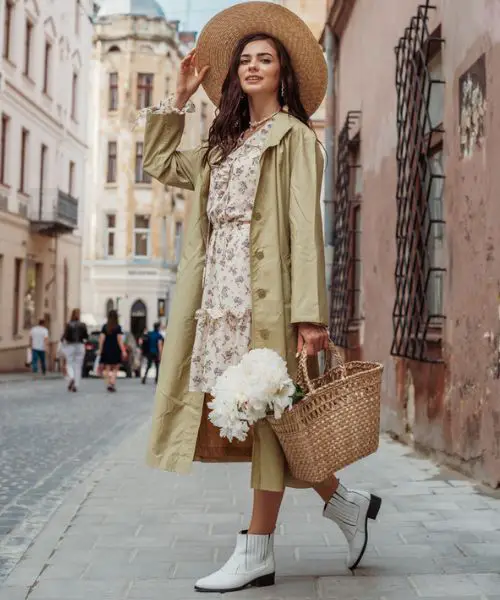 Business Casual with a Western Twist
In a business casual setting, the right mix of accessories can elevate the midi dress and cowboy boots ensemble to new heights.
Try a striking red midi dress paired with a contrasting green trench coat and complemented by brown cowboy boots.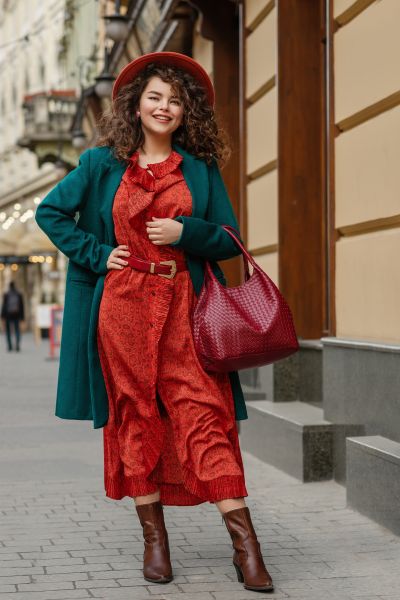 Accessorizing with a dark red leather tote and a wide-brim hat of the same hue adds a cohesive and stylish flair, while a matching belt cinches the look together.
For a business casual look that's polished without being overly monochromatic, a beige blazer layered over a boho midi dress introduces a tasteful blend of professional and playful.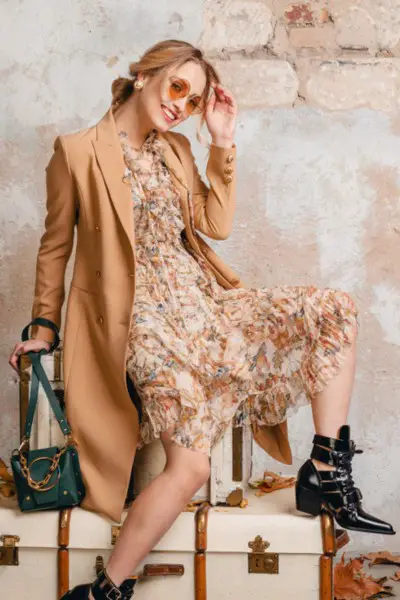 The earthy tones of the blazer complement the dress's bohemian patterns, while the ankle cowboy boots add a dash of Western flair.
A structured box handbag completes the ensemble, offering a smart, coordinated accessory that's perfect for the office environment.
Elevating professionalism a notch higher, black and white snakeskin cowboy boots paired with a black midi wrap dress create a compelling contrast.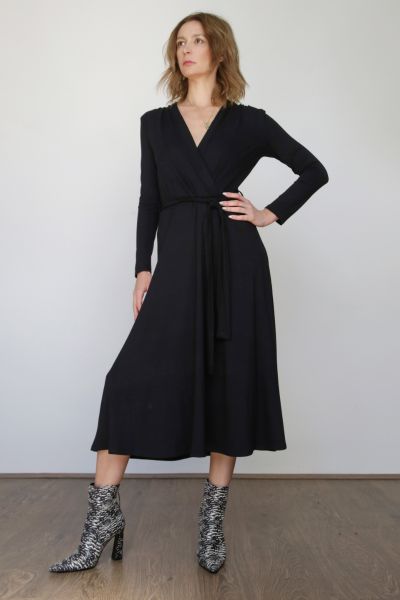 This pairing delivers an authoritative yet stylish statement, suitable for boardroom meetings or after-work engagements.
The boots' bold pattern stands out against the simplicity of the dress, making for an outfit that's confident and fashion-forward.
Conclusion
In the diverse world of fashion, the midi dress and cowboy boots combination stands out as a testament to versatility and timeless style.
From casual outings to urban explorations, and even into the professional realm, this pairing offers endless possibilities to express personal style while maintaining comfort and elegance.
Whether you opt for the delicate touch of lace, the earthy vibe of boho chic, or the sleek sophistication of a wrap dress, cowboy boots elevate the look with their distinctive charm.
Accessorize smartly with hats, handbags, or coats to transition smoothly across occasions.
Embrace this dynamic duo in your wardrobe, and you'll find that both midi dresses and cowboy boots will carry you confidently through life's varied scenes with effortless grace.
Howdy y'all, and welcome to From The Guest Room, your ultimate guide to all things Western! I'm Jay Gatz, a lifelong cowboy boot enthusiast with over 5 years of experience in the Western style world. I'm excited to share my knowledge with you and help you discover the perfect cowboy boots and western gear to elevate your style. Let's explore the rich history and timeless appeal of Western fashion together!