One thing is for sure, cowboy boots are great footwear to keep you warm in winter thanks to their over 11-inch tall construction and 100% leather. They are definitely a great choice for the cold season.
However, if it's winter, low temperatures aren't the only thing that can make you uncomfortable. There is also snowfall!
Snowfall brings slippery roads and uncomfortable dampness. In such conditions, you need to know how to choose or protect cowboy boots properly to ensure the comfort and durability of the boots.
In this article, we will bring the most comprehensive answer for you!
Key Takeaways
Cowboy boots are great for keeping you warm and dry in snowy weather because of their leather material.
The leather needs to be protected with waterproof spray during the snow season as moisture is its hidden enemy.
If you often use cowboy boots to work on a lot of snow, then choose cowboy work boots that are already waterproof.
Coming to the sole, you should choose cowboy boots with rubber soles instead of leather ones. The rubber sole can give better traction in slippery terrain conditions (due to snow).
When it's snow, you should dry your cowboy boots immediately after you come home. Boot Dryer is a good choice this season!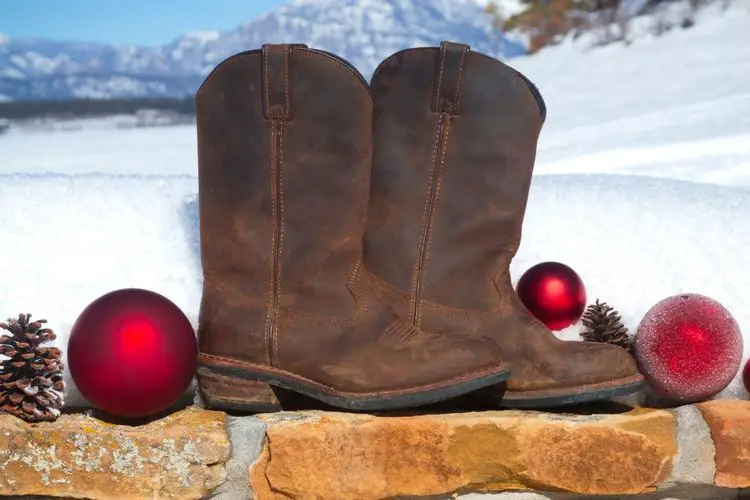 Is it OK to wear cowboy boots in the snow?
You can wear cowboy boots during the snow season, but… you need to be aware!
Cowboy boots were first invented in the late 18th and early 19th centuries. They were born to serve farmers on their farms.
For that reason, cowboy boots have a very solid and safe design to resist external forces such as heavy sun, rain, snowfalls and poisonous animals (snakes, scorpions).
Most cowboy boots are made from 100% cowhide with a high shaft design that makes them very durable.
So it can be said that with their tall, sturdy structure and all-leather materials, cowboy boots can keep you warm during winter. Normally, I wear cowboy boots with a pair of thick socks in the winter, and that combination ensures my feet are always best protected from the cold.
Cowboy boots made of leather are water-resistant, yes, but they are not waterproof (some cowboy work boots are waterproof but not much).
Therefore, if cowboy boots are exposed to water or snow for a long time and you don't dry them out, they may deteriorate in quality.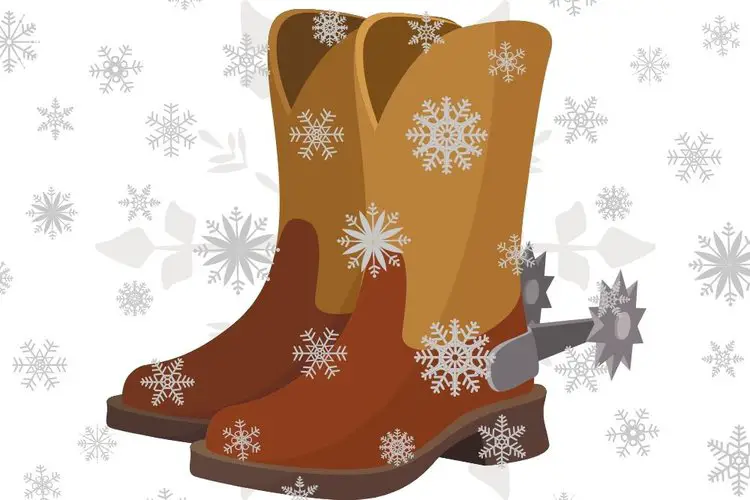 The good news is that you can protect leather cowboy boots from the destruction of snow and water with conditioner, mink oil, wax polish… These products can protect cowboy boots against water and snow very well.
In addition, there are many boot makers on the market today that develop waterproof cowboy boots. If the winter lasts too long, then this is also the solution you should consider.
However, these 2 methods are only effective for leather uppers. For leather outsoles, it's a different story. At this point, the problem will appear.
Water can completely penetrate into leather outsoles and destroy them. Not to mention, leather outsoles also don't really insulate well, the soles of your feet can get freezing cold.
This is quite harmful to leather soles, so we recommend you choose rubber or synthetic outsoles when you buy cowboy boots for the rainy or snowy season. Rubber soles are thick and well-insulated, so they are ideal for use in the snowy season.
Cowboy boots with leather outsoles are comfortable and lightweight, but it requires many effort to protect them in the rainy season and winter. Not to mention cowboy boots with leather outsoles are quite slippery, and that's not a good thing on snowy roads.
You can still use cowboy boots with leather outsoles during the snowy season. Keep in mind to dry them as soon as you get home. Personally, I don't like to wear cowboy boots with leather soles in winter because of the above inconveniences.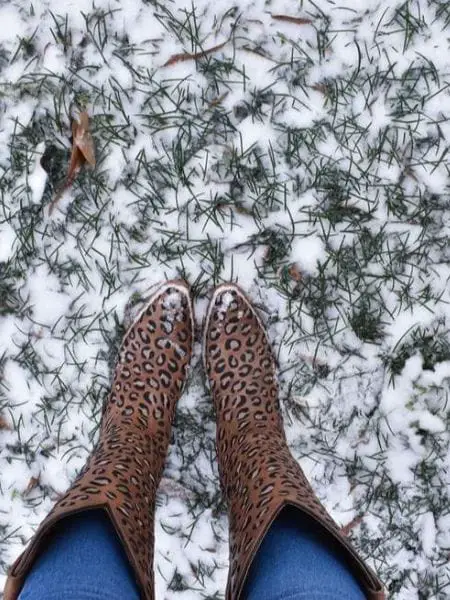 If you only have one pair of boots, a hair dryer is enough to dry your cowboy boots. In case you have multiple boots, a boot dryer is a wise choice for your convenience.
Before sleeping, I often use boot trees to put in cowboy boots. Boot trees will absorb moisture inside the boots and leave a pleasant scent.
In fact, it's essential to dry cowboy boots as early as possible during the snowy season.
First, damp cowboy boots can cause rot, mildew, and mold. Your boots might lose quality quickly (both in terms of feel and look) and leave a bad smell.
Secondly, water from snow can sweep away natural oils or waxes of full-grain leather (the main material that makes up boots). This causes them to quickly dry out, crack and lose their shape.
All of that won't happen if you keep them dry inside and out. We have a thorough guide on how to dry cowboy boots here!
Besides, I also want to talk a little more about cowboy boots losing natural oils and waxes due to water from snow. To fix this, (if the cowboy boots are already wet) you should use a leather conditioner.
Buffing the leather conditioner thoroughly and evenly on the surface of the boots will moisturize, nourish and retain their best qualities.
In short, it's totally okay to wear cowboy boots in the snow.
However, you should waterproof cowboy boots before you head out. And when you get home, make sure you take good care of them (dry and condition them).
Using cowboy boots with rubber (or synthetic) soles would be a wise choice.
Wearing Cowboy Boots in the Snow
Some other notes
When wearing cowboy boots for snow, make sure you wear socks with good absorbency.
When you sweat in cold weather, socks will become cold quickly and make your feet cringe.
You should choose over-the-calf socks to cover your feet better and bring more warmth to your feet.
Cowboy boots should also not have too high heels and should have rubber heel caps.
Because the snowy road is quite slippery, to enhance good balance and stability, the heel of cowboy boots should be no more than 1 1/2 inches high and have a wide, flat base – a stockman or a roper heel would be a good choice.
In addition, the rubber heel cap also ensures the heel of the boots has better traction.
The 5 Best Leather Waterproofing Products To Protect Cowboy Boots From Snow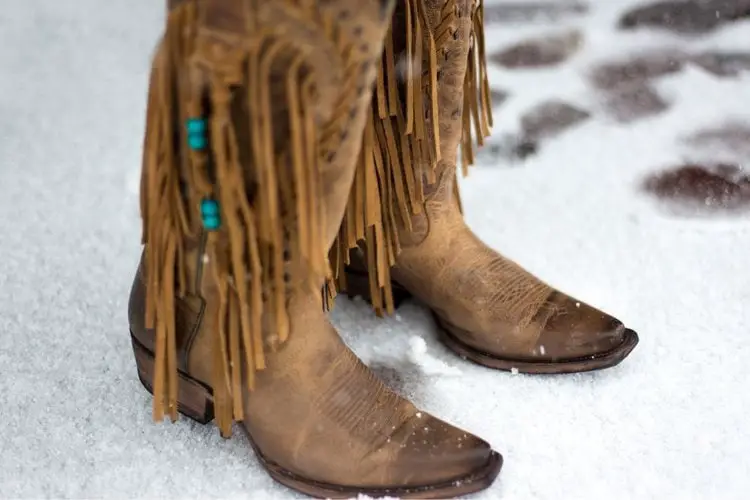 We get you 5 leather waterproofing products to support your cowboy boots during the snow season.
The process is very simple:
Step 1: Clean cowboy boots
First, spray a thin layer of warm water over the entire cowboy boots, then rub them thoroughly with a towel.
Make sure you scrub the corners of your cowboy boots, especially their seams and welts.
Next, spray leather cleaner on the cowboy boot surface, then use a special brush to scrub the cowboy boots.
Carefully clean the threads and welt, these are areas prone to get wet and dirty.
Then use a dry towel to wipe the cowboy boots.
Step 2: Apply conditioner and polish
This is an important step to protect cowboy boots against water and snow, choose a conditioner that is resistant to water.
If your current conditioner can't make leather water-resistant, you should use additional wax polish to do that.
1. Sof Sole Mink Oil
Mink oil protects cowboy boots against water and snow very well.
I like Sof Sole Mink Oils because they are easy to use, highly effective, and affordable.
However, you should be careful because mink oil can darken your cowboy boots.
2. Beeswax
After mink oil, Beeswax is a trusted product to protect your cowboy boots from the destruction of snow.
Having the effect of forming a barrier of water, snow and dirt, Beeswax is a solid wall against the onslaught of dirt, water, and snow.
3. Obenauf's Heavy Duty LP Leather Conditioner
Obenauf is also a very famous brand for leather protection products.
Besides waterproofing the leather, they also keep the colors of cowboy boots longer and extend the boot life.
In addition to cowboy boots, you can also use this product for anything made from leather such as sofas, car seats, etc.
4. KIWI Boot Waterproofer
If you have a pair of western work boots that are non-waterproof, we recommend using this Kiwi's Boot Waterproofer.
This waterproofer provides tough silicone that protects your boots very well from snow.
With a tough water barrier, Kiwi's Boot Waterproofer will be a great goalkeeper to protect the goal – your beloved boots.
5. Bickmore Gard-More Water & Stain Repellent
Besides Kiwi, Obenauf, it would be a regret if you didn't know this Bickmore product. This is a very famous item in the world of cowboy boots.
In addition to protecting smooth leather, Bickmore Gard-More can also protect suede cowboy boots from snow attacks.
One thing that you will love is that Bickmore products like this never darken leather (or very little). So cowboy boots can keep the original beauty.
Before you leave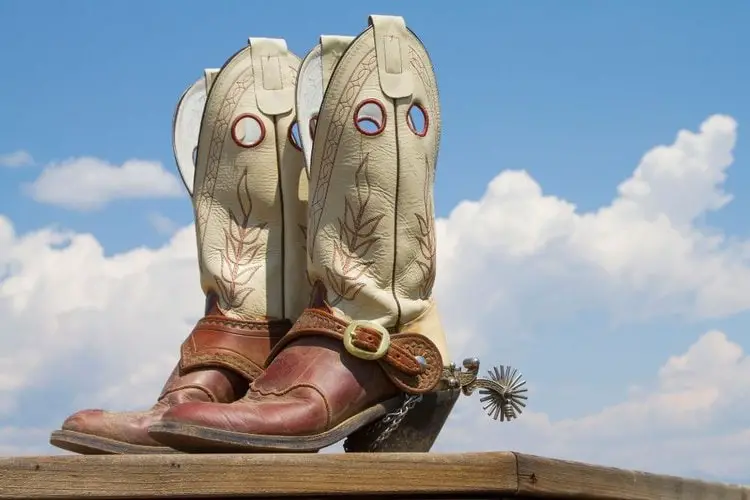 All in all, cowboy boots are a really good choice for winter and snow, as they will ensure you stay warm and dry.
However, you need to pay attention to a few things about how to winterize your boots and how to care for them during winter. In addition, choosing the right type of boots will also help you a lot.
Just remember some important rules:
Use waterproof spray (or wax polish, conditioner) to make leather waterproof before going out in the snow.
Keep the cowboy boots dry after you get home. Don't forget to condition your cowboy boots to make sure they don't lose their oils and waxes.
And enjoy yourself with cowboy boots!
Howdy y'all, and welcome to From The Guest Room, your ultimate guide to all things Western! I'm Jay Gatz, a lifelong cowboy boot enthusiast with over 5 years of experience in the Western style world. I'm excited to share my knowledge with you and help you discover the perfect cowboy boots and western gear to elevate your style. Let's explore the rich history and timeless appeal of Western fashion together!