Cowboy boots are familiar footwear in the spring, summer and autumn, but what about snow seasons?
Can you wear cowboy boots in the snow? Does snow have a bad effect on cowboy boots?
Don't worry, FromTheGuestRoom is here. Today, we're going to explain your question: Is it OK to wear cowboy boots in the snow?
Let's get started!
Is it OK to wear cowboy boots in the snow?
You can wear cowboy boots during the snow season, but… you need to be aware!
Cowboy boots were first invented in the late 18th and early 19th centuries. They were born to serve farmers on their farms.
For that reason, cowboy boots should have a very solid and safe design to resist external forces such as heavy sun, rain, snowfalls and poisonous animals (snakes, scorpions).
Most cowboy boots are made from cowhide with a high shaft design that makes them very durable and affordable.
So it can be said that with their tall and sturdy structure and all leather materials, cowboy boots can keep you warm during winter.
Cowboy boots made of leather are water-resistant, yes, but they are not waterproof (some cowboy boots are waterproof but not much). Therefore, if cowboy boots are exposed to water or snow for a long time and you don't dry them out, they may deteriorate quality.
The good news is that you can protect leather cowboy boots from the destruction of snow and water with conditioner, mink oil, wax polish… These products can protect cowboy boots against water and snow very well.
In addition, there are many boot makers on the market today that develop waterproof cowboy boots. If the winter lasts too long, then this is also the solution you should consider.
However, these 2 methods are only effective for leather upper. For leather outsoles, it's a different story. At this point, the problem will appear. Water can completely penetrate into leather soles.
This is quite harmful to leather soles, so we recommend you choose rubber or synthetic outsoles when you buy cowboy boots for the rainy or snowy season.
For your reference, here are cowboy boots with rubber outsoles:
Cowboy boots with leather outsoles are comfortable and lightweight, but it requires many efforts to protect them in the rainy season and winter. Not to mention cowboy boots with leather outsoles are quite slippery, and that's not a good thing on snowy roads.
You can still use cowboy boots with leather outsoles during the snowy season. Keep in mind to dry them as soon as you get home.
If you only have one pair of boots, a hair dryer is enough to dry your cowboy boots. In case you have multiple boots, a boot dryer is a wise choice for your convenience.
We have a thorough guide on how to dry cowboy boots here!
DryGuy DX Forced Air Boot Dryer and Garment Dryer
Forced-air boot, glove, and garment dryer works on four garments simultaneously
Includes two removable extension tubes for use with boots up to 16 inches tall; whisper quiet rotary...
Heats to 105 degrees F (40.5 degrees C); safe for liners, clothes, and boots; Includes two removable...
In the snow season, you should buy cowboy boots with rubber or synthetic soles.
These two types of soles also give you a better balance in the snow season than the leather soles because they have slip resistance and better grip.
In short, it's totally okay to wear cowboy boots in the snow. However, you should use the conditioner to keep cowboy boots waterproof before you head out. And when you get home, make sure you dry them out.
Besides, you should use cowboy boots with rubber or synthetic soles instead of ones with leather soles.
Read more: Are Cowboy Boots Waterproof?
Can you wear leather boots in the snow?
In fact, boots are accessories that are used a lot in the fall and winter.
You can wear leather boots during the snowy season, but make sure you protect them with specialized products.
Conditioner, wax polish and mink oil are three products that are very popular for leather boot lovers, they are used to soften boots, restore colors, increase the life of boots, and especially waterproof cowboy boots.
There are 3 simple steps to protect your cowboy boot skin with conditioner, wax polish or mink oil:
Apply skin protection products to the surface of cowboy boots
Wait for them to penetrate.
You can use a hair dryer and dry the skin around the leather boots to speed up the penetration process.
That's it, after using specialized products to protect leather boots, feel free to go outside in the snow with your cowboy boots!
However, after returning home, make sure that you keep your boots dry with a boot dryer or a hair dryer.
The 5 best leather waterproofing products to protect cowboy boots from snow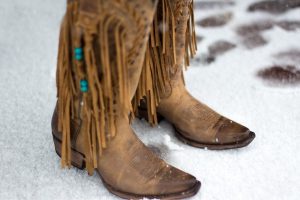 We get you 5 leather waterproofing products to support your cowboy boots during the snow season.
Basic usage method:
Step 1: Clean cowboy boots
First, spray a thin layer of warm water over the entire cowboy boots, then rub them thoroughly with a towel.
Make sure you scrub the corners of your cowboy boots, especially their seams and welts.
Next, spray leather cleaner on the cowboy boots surface, then use a special brush to scrub the cowboy boots.
Carefully clean the threads and welt, these are areas prone to get wet and dirty.
Then use a dry towel to wipe the cowboy boots.
Step 2: Apply conditioner and polish
This is an important step to protect cowboy boots against water and snow, choose a conditioner that is resistant to water.
If your current conditioner can't make leather water resistant, you should use an additional wax polish to do that.
1/ Sof Sole Mink Oil
Mink oil protects cowboy boots against water and snow very well. It is easy to use and cheap.
Sof Sole Mink Oil is one of the best selling products on Amazon. With many positive reviews, Sof Sole won't let you down.
2/ Atsko Sno-Seal Original Beeswax Waterproofing Leather Protector
Sno Seal - 7 oz 2 pack
Two Pack of Sno-Seal 7oz (200 gram) Jars
Made from Bee's Wax, not Grease, Oil or some other Animal Product
Dries to a Solid Wax that Stays Put on the Surface so it Lasts Longer.
After mink oil, Beeswax is a trusted product to protect your cowboy boots from the destruction of snow.
Having the effect of forming a barrier of water, snow and dirt, Beeswax is a solid wall against the onslaught of dirt, water, and snow.
3/ Obenauf's Heavy Duty LP Leather Conditioner
Obenauf is also a very famous brand for leather protection products.
Besides waterproofing the leather, they also keep the colors of cowboy boots longer and extend the boot life.
In addition to cowboy boots, you can also use this product for anything made from leather such as sofas, car seats,….
4/ KIWI Boot Waterproofer
If you have a pair of western work boots but they are non-waterproof, we recommend using this Kiwi's Boot Waterproofer.
This waterproofer provides tough silicone that protects your boots very well from snow.
With a tough water barrier, Kiwi's Boot Waterproofer will be a great goalkeeper to protect the goal – your beloved boots.
5/ Bickmore Gard-More Water & Stain Repellent
Bickmore Gard-More Water & Stain Repellent 5.5oz- Leather Protector and Suede Protector Waterproofing Spray Guard for Boots, Shoes, Clothing, Hats, Jackets & More
SUPERIOR WATERPROOF TREATMENT- Bickmore's Gard-More Water & Stain Repellent has been specially...
WORKS ON LEATHER, SUEDE, FABRIC, FELT, NUBUCK AND MORE- Protecting against dirt, water & stains on...
BREATHABLE: Gard-More provides a strong invisible layer of protection, while still allowing the...
Besides Kiwi, Obenauf, it would be a regret if you don't know this Bickmore product. This is a very famous item for leather support.
In addition to protecting cowboy boots, Bickmore Gard-More can protect suede cowboy boots from snow attack.
Conclusion
In short, you can use cowboy boots in the snow season, as long as you protect them before use or take care of them after use.
Just remember 2 rules:
Use conditioner (or wax polish) to make leather waterproof before going out in the snow.
Keep the cowboy boots dry after you get home.
And enjoy yourself with cowboy boots!