In fact, you can absolutely wear regular socks with cowboy boots for casual wear without much problem.
Even so, regular socks may not be the best choice. And if possible, it's better to choose socks that are more suitable to wear with cowboy boots.
Today, socks are popular and diverse for many different uses. You can find ones for your specific work or use in certain weather and environmental conditions.
The question is, is it really necessary to wear a special pair of socks with cowboy boots?
Well, today's article will explain this to you in detail!
What are the special socks for cowboy boots? Do you really need them?
As mentioned above, you can wear regular socks with cowboy boots, but in many cases, they are not the best choice. You will need something more than that!
The special choice I want to mention here is over-the-calf (OTC) socks, these socks are made for cowboy boots.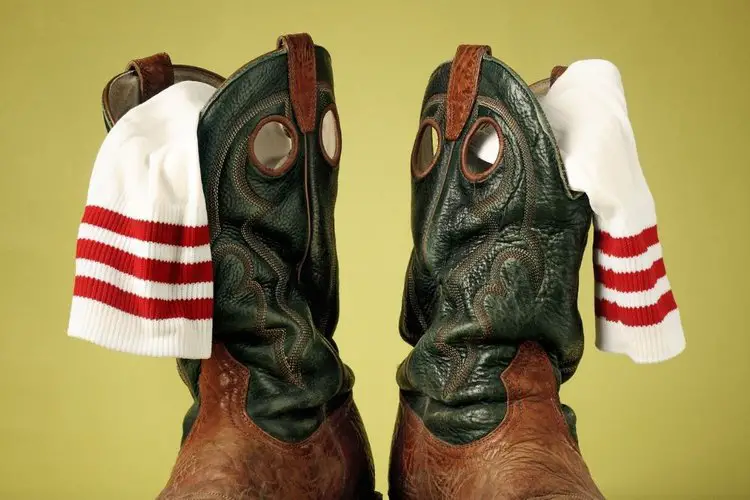 One of the simplest and most obvious reasons is that over-the-calf socks can effectively limit the friction between your calves and the boot shaft, thereby avoiding the skin irritation that causes blisters here. This is something that regular ones can't do (or don't do well).
Last update on 2023-09-22 / Affiliate links / Images from Amazon Product Advertising API
You should consider only using regular socks for light work or casual wear rather than heavy outdoor work, as they may not prevent blisters as well as over-the-calf socks.
Although cowboy boots today have lining to limit irritation or blister, but not completely, you still need an extra layer of socks in the calf to minimize irritation when working hard.
In addition, over-the-calf socks also absorb sweat at the calf better, your feet and legs will be more comfortable and dry. They prevent sweat from seeping into the lining of cowboy boots causing odors. Anyway, it's easier to wash socks than boots.
Over-the-calf socks may seem more special than regular socks, but in the world of cowboy boots, they are just the "ordinary ones".
These are the kind of socks that can keep you warm in winter and cool, free from sweat in summer. If you browse the cowboy boot communities, most people will also recommend OTC socks.
One way if you want to wear regular socks as you can't get along with over-the-calf socks is to use lower cowboy boots. Look for boots that are about 9 inches tall, usually, those cowboy boots will be stockman or roper styles.
Honestly, I also recommend that you consider socks specifically suited to each type of job and environment. Because this will ensure your foot health is much better.
For example, you should choose arch, ball and heel cushioned socks for heavy work to wear with cowboy boots.
Some socks are made from wool to ensure your feet are warm in winter, especially when the temperature is sub-zero.
Bamboo socks are a great choice for summer because they are extremely breathable.
Conclusion
Regular socks can totally be a good choice to match with cowboy boots for casual wear. But if you often do heavy work outdoors, you should choose a more special type, which is over the calf socks.
Regular socks can prevent skin irritation and keep your feet dry from sweat, but not as good as over-the-calf socks because they can't cover your entire calf (while cowboy boots are more than 11 inches tall).
Over-the-calf socks do just that, they also make sure cowboy boots don't stink from sweat.
But if you can't get along with over-the-calf socks and just want to wear regular ones, consider using lower cowboy boots (roper or stockman style).
You should also use some socks with specialized materials for each type of weather to protect the health of your feet, like wool for winter and bamboo for summer.
Some well-cushioned socks are also recommended if you want to feel comfortable wearing your boots all day long.
Howdy y'all! I'm Grace, a Western style enthusiast with over 5 years of experience. From cowboy boots to western gear, I'm passionate about all things Western and dedicated to helping you find the perfect style to suit your taste. Join me and my fiancé Jay Gatz as we explore the rich history and timeless appeal of Western fashion together!