If you list out the things you should pay attention to when owning cowboy boots, a pair of socks should be a must. But not a normal pair, they have to be long.
There is a fairly common question that people often ask, is it necessary to wear long socks with cowboy boots? Well, while you can totally wear regular socks with cowboy boots, I still recommend a pair of socks that are longer than the mid-calf.
Cowboy boots have high construction so they can offer a very different comfort than other footwear, but it also means that they come with different discomfort. So trust me, a pair of long socks will be better for you.
Now, come with me to explore when you should wear long socks with cowboy boots and the reasons behind it.
Let's check it out!
Are long socks a good choice for cowboy boots?
Because the construction is usually more than 11 inches tall, cowboy boots are very comfortable for the wearer. High construction and 100% leather material can protect you against negative effects such as wet and cold conditions (rain and snow), or sunburn.
Even so, because of the tall structure, your calves are very susceptible to irritation and discomfort. In addition, the sweat from the calves will also wet and stink your cowboy boots. Regular socks are hard to prevent such things, but over-the-calf socks can.
Therefore, you should use long socks (at least mid-calf) to wear with cowboy boots, especially for outdoor work with high working intensity.
On the other hand, you may not need to wear long socks just for casual or office work. In general, today's cowboy boots are equipped with lining (usually made of mesh and leather) which is quite soft. Therefore, skin irritation is not as common as before if you don't move too hard or much.
For many people who like to tuck jeans into cowboy boots (usually women), you probably don't even need to wear long socks. Because jeans can replace them to limit irritation between the calf and the leather.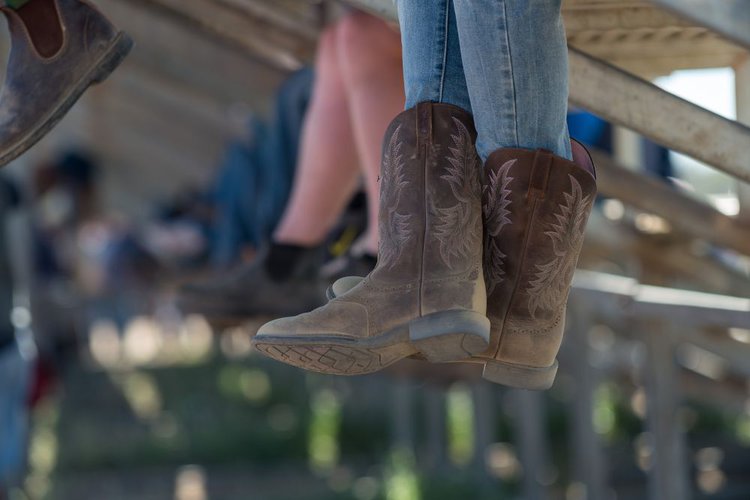 Long socks or over-the-calf socks are great choices to wear with cowboy boots for heavy work. They can ensure that the skin on the calf and the area around it does not rub against the leather, which is very effective in preventing blisters.
In addition, over-the-calf socks also absorb sweat from the entire calf better, your legs will be dry and you only need to wash the socks, not the whole pair of boots.
Even for cold or hot weather, wearing over-the-calf socks will also ensure you stay cooler or warmer than regular ones.
Another reason over-the-calf socks are superior to regular ones is that they are usually thicker and more durable with a softer cushion. Therefore, they are really suitable for your cowboy boots (like work boots).
Also, another use of the thickness of long socks is to make your slightly loose cowboy boots fit tighter. And since they are thicker, you can experience the break-in period of cowboy boots more smoothly.
Maybe many people will not completely agree with the above opinions because these days cowboy boots have a very absorbent and soft lining. This is true, but trust me, when you're working hard, the lining of cowboy boots isn't enough. Therefore, long socks are always necessary for your needs.
These days, it is very easy to find long socks on e-commerce sites or buy them online on the websites of major cowboy boots brands like Tecovas. I always buy 2 pairs of Tecovas long socks every time I buy a pair of their boots.
Conclusion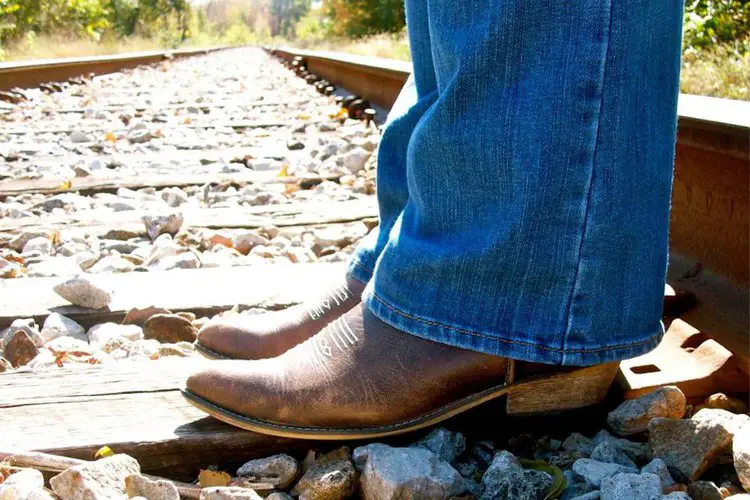 Overall, although regular socks can be a good choice for casual wear, you should consider long socks for cowboy boots as a priority.
Long socks that cover at least half of your calf will ensure that the calf is not irritated and uncomfortable. It also ensures that your boot lining doesn't get sweaty.
Long socks are especially suitable for those who often use boots for outdoor work because they not only possess the above advantages but also protect your feet well against the harsh temperatures of summer or winter.
And that's all you should know!
Howdy y'all, and welcome to From The Guest Room, your ultimate guide to all things Western! I'm Jay Gatz, a lifelong cowboy boot enthusiast with over 5 years of experience in the Western style world. I'm excited to share my knowledge with you and help you discover the perfect cowboy boots and western gear to elevate your style. Let's explore the rich history and timeless appeal of Western fashion together!