Believe me, a skinny body type is one of the best body shapes to wear jeans with cowboy boots. My father, a skinny guy, just chooses the jeans that fit well, and the rest is up to the setup of the gods. After all, he ends up in a super clean image.
Sometimes, I'm so jealous of his style, he looks very clean and sharp. But I also know that to make that look, he's tried a hundred different jeans throughout his youth to find the best one.
Actually, not any type of jeans can be worn with cowboy boots. The best type of jeans that can compliment your body is the one suitable for your body shape and leave enough room to tuck the cowboy boot shaft in.
Slim-fit jeans will be your great choice
In fact, some types of bootcut jeans are not for skinny guys – even many people still say these are the best jeans for cowboy boots. The main reason is that there are many different types of bootcut jeans.
Skinny bodies should avoid wearing relaxed or stretch-fit bootcut jeans. These types can cause a sloppy look instead of a neat and clean style. Regular fit may be ok, but the better choice should go to slim fit.
Slim-fit jeans will fit your butt, thigh, and the upper part of your calves tight. They also flatter your body shape better to bring a tall figure and confidence to every occasion.
The same principles should be applied to straight-cut jeans – the other popular type of jeans to wear with cowboy boots.
The bottom of the jeans should not be too big
One of the most well-known principles for men in the world of cowboy boots is always picking jeans with wide ends to tuck the boot's shaft in.
If your jeans have too large legs, this can result in an untidy look. It's not good at all. You know that the jeans' width is quite important to skinny guys!
The bottom legs should have adequate room to tuck the boot's shaft in to create a smooth, young and modern look from the boots to the entire jeans. You can have a tall shape and feel confident when going out.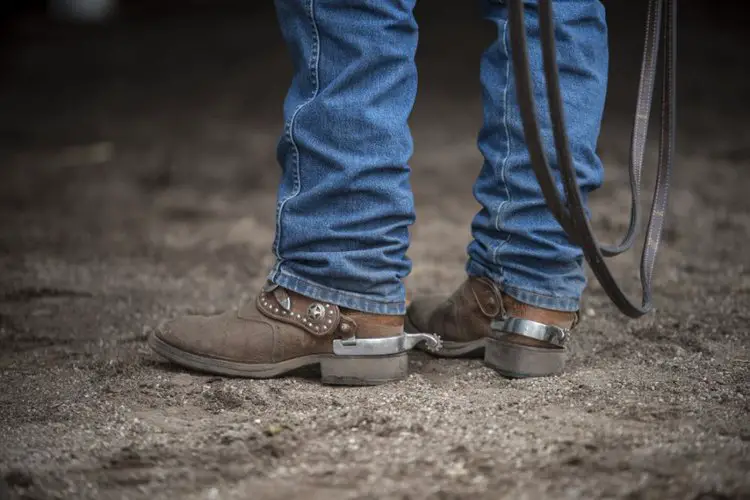 That means once again, bootcut jeans are not always the best choice since many of them have really loose bottom ends.
Nowadays, you can look for some types of jeans called "cowboy-cut" jeans. This is one of the best types nowadays that the Wrangler brand releases to suit the specific tastes of cowboy boot fans.
Not only Wrangler, but some other brands such as Levis also release jeans with the same structure (narrow ends, just enough to tuck the boot shaft in) but with different names.
Or you can opt for straight-cut jeans, they also have narrow legs compared to bootcut ones.
If you want more comfort, go for regular-fit jeans
In fact, the above is just recommended for a stylish look. If you want more comfort for working but still look good, regular-fit jeans are still a great choice.
Just make sure to choose the right size and fit, they still look good even though they might not flatter your body as much as the jeans mentioned above.
Best Jeans To Wear With Cowboy Boots for Skinny Guys
Actually, it's not hard at all to find some good jeans to wear with cowboy boots for skinny guys. You can find a ton of great jeans on e-commerce sites.
Well, I will help you find some. In addition, I will recommend more jeans that are loved by cowboy boot fans but not easy to find on some regular e-commerce sites.
Let's take a look!
1. Slim-fit jeans from Tecovas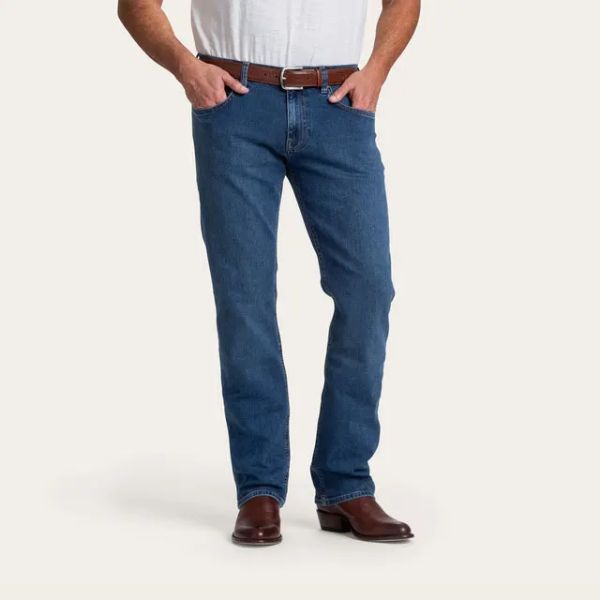 Alright, let's start with a pair of jeans that come from a super famous cowboy boot brand, Tecovas. People often know about Tecovas through their great boots, but not many know about their skillful craftsmanship in producing jeans.
Their slim jeans make for guys with slim thighs and straight legs – they will embrace your lower body shape.
Even if it's not fit really tight (enough stretch), the well-made design will contour your butt. It's really great for those who both want to be stylish and comfortable.
The bottom legs of these jeans are straight cut – so it's not too wide but enough to tuck your boot shaft in for a modern look.
In fact, all the products of Tecovas (including boots or shirts) follow traditional style, but still give the customer a feeling of modernity. And it's the main reason why Tecovas totally catches the heart of many fans.
If you want a pair of jeans good for both look and feel, the Tecovas slim jeans should be your top choice!
2. Wrangler Men's 0936 Cowboy Cut Slim Fit Jean
Sale
Wrangler Men's 0936 Cowboy Cut Slim Fit Jean, Rigid Indigo, 38W x 30L
SLIM FIT. Designed with a functional fit in mind, these jeans are made to stack over your favorite...
CLASSIC COWBOY JEAN. Made for authentic cowboys and worn by world champions, this cowboy cut jean is...
DURABLE MATERIALS. It's no question that this classic can withstand wear and tear. Made with durable...
Last update on 2023-03-16 / Affiliate links / Images from Amazon Product Advertising API
This type of jeans is what I love the most and want to recommend to you for a long time. As I said, they fit tight enough to compliment your lower body while not having too wide legs to make the sloppy look.
Wrangler Men's 0936 Cowboy Cut Slim Fit Jean offers a super modern look without looking country.
The pretty tight fit at the butt and thigh for a young and neat shape. While the bottom legs are just wide enough to hold the boot shaft beautifully to create a clean vibe. In fact, the combo of cowboy-cut jeans with cowboy boots is also my casual wear to the office due to their elegance.
Beyond that, this combo still fits well for ranch work since they aren't easy to tuck to the fence, truck pedal, or saddle stirrup – thanks to the neatness.
In addition, the durability of these jeans is undoubtedly due to the excellent materials, heavyweight cotton and felled seams. They last longer and are less worn. Besides, you can feel the durability and breathability of these jeans, they keep you cool and comfortable throughout the day.
Overall, for your skinny shape, these jeans are your ideal choices to wear with cowboy boots regarding both feel and look!
3. Levi's Men's 527 Slim Bootcut Fit Jeans
Last update on 2023-03-16 / Affiliate links / Images from Amazon Product Advertising API
Talking about jeans, we will always think of Levis, one of the most popular jeans brands in the world. And yes, you can wear them with cowboy boots! Levis produces a lot of types of jeans to wear with our beloved boots.
Levi's Men's 527 Slim Bootcut Fit Jeans are very favored by cowboys. The reason is simple – they have a sharp look. Also, they are super comfortable and offer various types for you to choose from.
Just look at the structure of 527 jeans, slim fit, it is the criteria I mentioned in the beginning! They will hug all your thighs, and butt to make your slim lower body look good.
From the knees down, the jeans will loosen to have more room for your cowboy boot's shaft. It may not look neat as cowboy-cut jeans, but you can put the shaft in easier and your legs have more air to breathe.
In addition, Levi's 527 has many different colors that can serve several styles of boots. You can pick one for outdoor work (wild style) and another for indoor jobs (elegant style). I like to wear dark blue ones with my brown bird boots (ostrich) for casual wear and blue-stone jeans with my Ariat boots for weekend yard work.
Overall, these jeans are a great choice for comfort, stylish and multi-purpose use!
4. Wrangler Men's Premium Performance Cowboy Cut Regular Fit Jean
Sale
Last update on 2023-03-16 / Affiliate links / Images from Amazon Product Advertising API
Okay, the last one will focus on the jeans for your work, Wrangler regular-fit jeans! I bet these jeans will enhance your performance!
Regular-fit jeans are the type of jeans that are most popular, almost everyone can wear them! And if you have a slender body, the room of these jeans will make you feel so comfortable to work and play!
These Wrangler jeans I recommend are more than that, they are not only suitable for function but also look great while the legs are not too wide (cowboy-cut) to make you look messy.
The materials are also breathable, you will feel relaxed for a long time of use. Plus, the durable seams and heavyweight cotton are suitable for heavy outdoor work. All of these turn jeans into your MUST-HAVE accessories in your closet for daily work.
Five-pocket design is not only stylish but also useful if you have a lot of bolts, screws, gloves, etc. in the workplace.
Last words
Overall, skinny bodies are super great to wear jeans with cowboy boots for a clean look. I wish I had that body but I can't due to some… Bud Light.
But to have the brilliant look, you need to choose jeans that suit your body well. Slim-fit type should be your first search! A better choice should be cowboy-cut jeans for a neater look.
Hope my picks will fit your needs well!
Good luck!