Believe me, a skinny body type is one of the best body shapes to wear jeans with cowboy boots. My father, a skinny guy, just chooses the jeans that fit well, and the rest is up to the setup of the gods. After all, he ends up in a super clean image.
Sometimes, I'm so jealous of his style, he looks very clean and sharp. But I also know that to make that look, he's tried a hundred different jeans throughout his youth to find the best one.
Actually, not any type of jeans can be worn with cowboy boots. The best type of jeans that can compliment your body is the one suitable for your body shape and leave enough room to tuck the cowboy boot shaft in.
Slim-fit jeans will be your great choice
In fact, some types of bootcut jeans are not for skinny guys – even many people still say these are the best jeans for cowboy boots. The main reason is that there are many different types of bootcut jeans.
Skinny bodies should avoid wearing relaxed or stretch-fit bootcut jeans. These types can cause a sloppy look instead of a neat and clean style. Regular fit may be ok, but the better choice should go to slim fit.
Slim-fit jeans will fit your butt, thigh, and the upper part of your calves tight. They also flatter your body shape better to bring a tall figure and confidence to every occasion.
The same principles should be applied to straight-cut jeans – the other popular type of jeans to wear with cowboy boots.
The bottom of the jeans should not be too big
One of the most well-known principles for men in the world of cowboy boots is always picking jeans with wide ends to tuck the boot's shaft in.
If your jeans have too large legs, this can result in an untidy look. It's not good at all. You know that the jeans' width is quite important to skinny guys!
The bottom legs should have adequate room to tuck the boot's shaft in to create a smooth, young and modern look from the boots to the entire jeans. You can have a tall shape and feel confident when going out.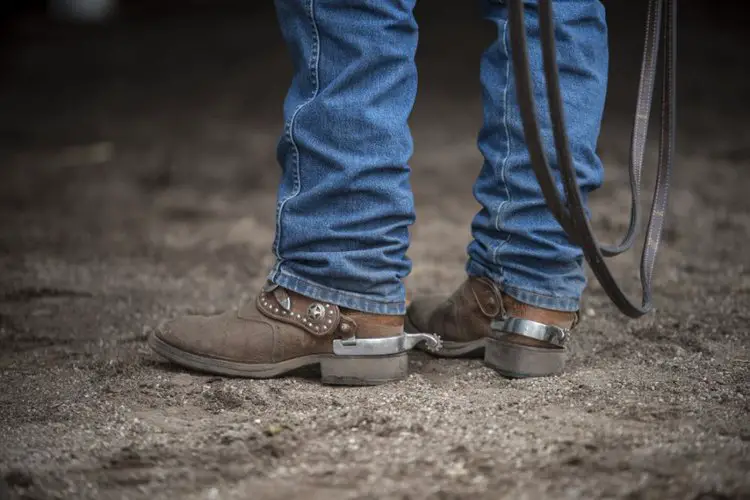 That means once again, bootcut jeans are not always the best choice since many of them have really loose bottom ends.
Nowadays, you can look for some types of jeans called "cowboy-cut" jeans. This is one of the best types nowadays that the Wrangler brand releases to suit the specific tastes of cowboy boot fans.
Not only Wrangler, but some other brands such as Levis also release jeans with the same structure (narrow ends, just enough to tuck the boot shaft in) but with different names.
Or you can opt for straight-cut jeans, they also have narrow legs compared to bootcut ones.
If you want more comfort, go for regular-fit jeans
In fact, the above is just recommended for a stylish look. If you want more comfort for working but still look good, regular-fit jeans are still a great choice.
Just make sure to choose the right size and fit, they still look good even though they might not flatter your body as much as the jeans mentioned above.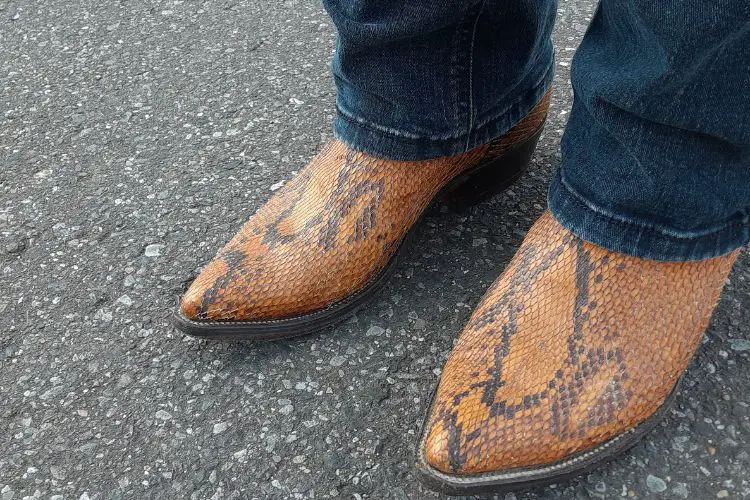 Best Jeans To Wear With Cowboy Boots for Skinny Guys
Actually, it's not hard at all to find some good jeans to wear with cowboy boots for skinny guys. You can find a ton of great jeans on e-commerce sites.
Well, I will help you find some. In addition, I will recommend more jeans that are loved by cowboy boot fans but not easy to find on some regular e-commerce sites.
Let's take a look!
1. Men's Premium Standard Jeans
Skinny gentlemen will find the Men's Premium Standard Jeans to be particularly accommodating due to their standard fit — snug enough to provide structure but relaxed enough to not accentuate thin legs excessively.
The cotton blend with generous stretch hugs the body comfortably, ensuring the jeans conform to the legs without being skin-tight.
This makes them an ideal backdrop for cowboy boots, allowing the boots to stand out without overpowering the overall outfit.
For skinny guys, these jeans offer a contemporary style with their medium wash and subtle fade, which can be dressed up or down.
Combine them with a black leather jacket and a plain tee to add an edge to your look, or opt for a patterned Western shirt tucked in to accentuate the waist.
Complete the look with polished brown cowboy boots for a sleek, modern cowboy aesthetic.
2. Men's Rugged Standard Jeans
The Men's Rugged Standard Jeans are an excellent match for skinny guys seeking a bit more presence in their denim.
The heavyweight denim offers substantial texture and visual weight, which can create the illusion of a fuller figure.
The cut, tailored through the hip and thigh, ensures the jeans don't sag or bag, which can often be a concern for slimmer frames.
The straight fit from the knee down means the jeans fall over cowboy boots in a clean line, avoiding a bunching effect that could detract from a streamlined silhouette.
These jeans are the epitome of rugged sophistication, making them a standout choice for skinny guys who want to project a more robust style.
The darker wash and sturdy fabric provide a canvas for versatility. Pair them with a fitted denim shirt for a double-denim look, and add a pair of vintage cowboy boots for an authentic Western vibe.
Alternatively, throw on a chunky belt and a crisp white tee to balance the heft of the jeans, finishing with suede cowboy boots for a textured contrast.
3. Men's Everyday Standard Jeans
The Everyday Standard Jeans offer a smart solution for skinny guys by providing a tailored fit that complements a leaner figure without overemphasis.
The light stretch in the fabric allows for a close fit that moves with the body, ideal for those with slim legs who often struggle with jeans that are too loose and lack definition.
The jeans' ability to fit over cowboy boots without adding bulk at the ankle ensures a smooth transition from leg to boot, showcasing a cohesive and well-put-together look.
The sand color and tailored fit of these jeans make them incredibly adaptable for a casual yet stylish ensemble.
They're perfect for creating a laid-back, effortless look when paired with a loose linen shirt and tan ankle cowboy boots.
For a smarter occasion, consider a fitted blazer over the shirt, ensuring the jeans are cuffed neatly over classic cowboy boots, to emphasize a clean, sharp look that's still relaxed.
Last words
Overall, skinny bodies are super great to wear jeans with cowboy boots for a clean look. I wish I had that body but I can't due to some… Bud Light.
But to have the brilliant look, you need to choose jeans that suit your body well. Slim-fit type should be your first search! A better choice should be cowboy-cut jeans for a neater look.
Hope my picks will fit your needs well!
Good luck!
Howdy y'all, and welcome to From The Guest Room, your ultimate guide to all things Western! I'm Jay Gatz, a lifelong cowboy boot enthusiast with over 5 years of experience in the Western style world. I'm excited to share my knowledge with you and help you discover the perfect cowboy boots and western gear to elevate your style. Let's explore the rich history and timeless appeal of Western fashion together!