Cowboy boots are very common and their users spread all over the country. Especially if you've ever been to Texas, you'll see them everywhere in this area.
Some non-native residents are curious about the reasons why cowboy boots are so popular here. Well, there are quite a few interesting reasons behind this.
Among them is that the use of cowboy boots is suitable for Texan's work because these boots are associated with their history, etc. and more.
We'll discuss more below!
Some Reasons Why Texans Wear Cowboy Boots
The most profound reason is that cowboy boots fit the Texan's work since time immemorial.
The land of Texas is known for its vast ranches and prairies, and many ranchers are there to tend the fields and livestock, who you often know as cowboys.
Cowboy boots were born to protect cowboys from the environment, weather, or dangerous animals.
Cowboy boots are made from 100% leather so they are very sturdy, along with a high shaft to keep ranchers warm in the winter and cool in the summer.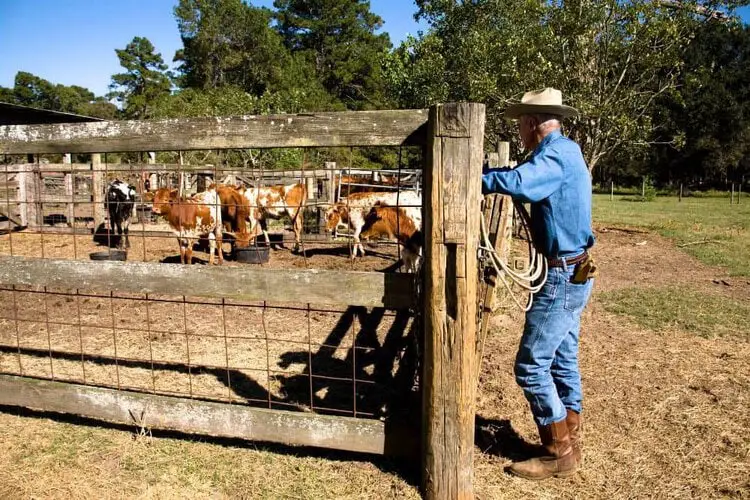 In addition, this construction of cowboy boots can also protect cowboy feet very well against thorns, small snakes, or scorpions. These are very common things in Texas.
Leather is a very durable material, you can see that leather boots last for decades. Leather was also cheap and easy to find, so it was very popular at the time.
In addition to the protective element, the structure of cowboy boots was also created to support riding, notably their outsole, toe shape, and heel.
Narrow toe box (pointed toe or round toe) allows cowboy boots to slip in and out of the saddle's stirrup easily.
Smooth outsole: This ensures cowboy boots slide into the stirrup without entanglement. Cowboys will have more flexibility when getting on or off the horse.
High Heel: Cowboy boots typically have a heel from 1 1/2 inch heel to over 2 inches. This way, cowboy boots won't slide forward and bounce off the saddle's stirrup because of the blocking heel. The heel will hook onto the stirrup when needed.
Can you imagine it yet?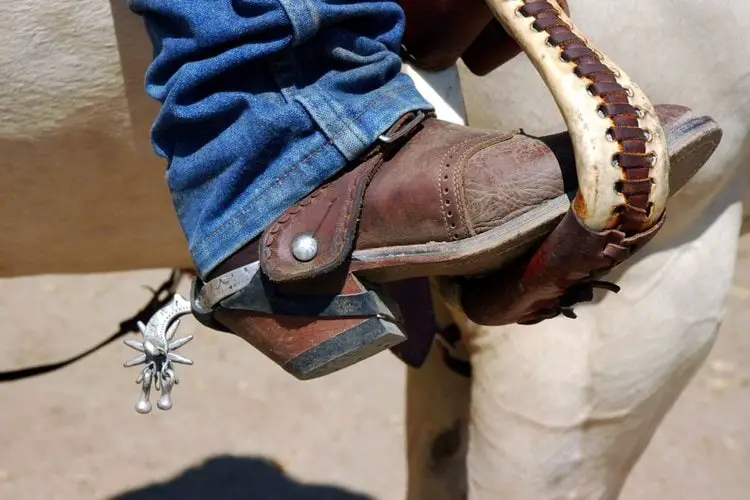 It is these characteristics that make cowboy boots so much safer and especially comfortable for the wearer.
Today, you'll still find Texans wearing cowboy boots a lot, although they no longer work on a horse ranch. Because cowboy boots have evolved and become more friendly to people who often work on their feet and also those who love their style.
Many cowboy boots these days are more comfortable on the feet as they have more room in the toe box with wide round toes or square toes. In addition, the heel also has a different height, is more eye-catching, and is easier to balance when walking.
Many famous cowboy boot brands like Tecovas or Ariat also apply modern technologies to ensure cowboy boots support the wearer's foot at the arch and heel.
Texans have the habit of wearing their cowboy boots as a longstanding tradition of people here because cowboy boots are associated with the history here (cowboy boots are said to have originated in the wild west).
But, the craftsmanship of bootmakers is also highly appreciated because they always develop cowboy boots to suit the taste of users in different periods. Otherwise, I'm not sure they could become as popular as they are today.
In addition to the various uses, the style of cowboy boots is also a topic of discussion as they are one of the greatest fashion accessories of the 20th century.
Today, they still hold a special place in style and you won't only just see them on the ranch.
Modern cowboy boots also offer a new elegant style that is suitable for casual wear, but sometimes they are luxurious enough to appear at weddings or go with suits.
In addition to the familiar style of men wearing jeans with well-polished cowboy boots for a clean look, today you can find many people wearing dress pants with a pair of caiman cowboy boots.
Girls in Texas have even more options with cowboy boots as they have very nice combinations like cowboy boots with skirts, dresses, or even leggings.
The variety of styles of cowboy boots today is an important reason why cowboy boots have always been the top choice of Texans.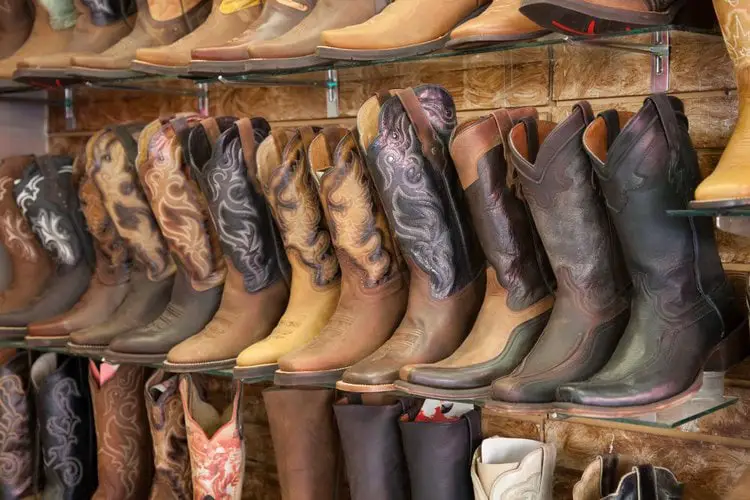 Another thing about the evolution of cowboy boots is the rise of exotic leather. The different characteristics of exotic leathers create different accents for cowboy boots today.
You can absolutely find the most luxurious cowboy boots made from blue alligator or caiman belly, or extremely durable boots made from ostrich leather.
The variations of exotic leather lead to the diverse style and use of cowboy boots. That's why they can appear and creep into all the nooks and crannies of Texans.
Conclusion
In short, the presence of cowboy boots since time immemorial is for very basic reasons. Cowboy boots bring perfect protection and comfort, and support ranchers well in their work.
Nowadays, cowboy boots are not only serving ranchers but they are becoming more comfortable and convenient for people who are often on their feet. In addition, cowboy boots also have a very attractive and diverse style.
You will see the appearance of cowboy boots for truckers, gardeners, and office workers.
The development of exotic leather makes cowboy boots more diverse in both style and use, so they appeared on many corners and streets in Texas.
Wearing cowboy boots is a habit familiar to Texans from the past, to this day, they still keep that habit because they love the style and use of cowboy boots.
Howdy y'all! I'm Grace, a Western style enthusiast with over 5 years of experience. From cowboy boots to western gear, I'm passionate about all things Western and dedicated to helping you find the perfect style to suit your taste. Join me and my fiancé Jay Gatz as we explore the rich history and timeless appeal of Western fashion together!