Cowboy boots are a perfect choice for men as they offer a classic style and clean look. Meanwhile, for women, they are an accessory that not only brings a classic beauty but sometimes also blends trendy style.
Because of that small difference, the principle of wearing cowboy boots between men and women is sometimes a little different.
For example, leggings should only be worn by women with cowboy boots, not men.
Why is that?
That is also the main content of today's post!
Wearing Leggings With Cowboy Boots: Is It Work?
A fairly common rule in the cowboy boot world for men is that you will not wear tight-fitting pants with cowboy boots.
Simply because men won't tuck the pants into cowboy boots to expose the shaft, which would cause a stylistic contrast.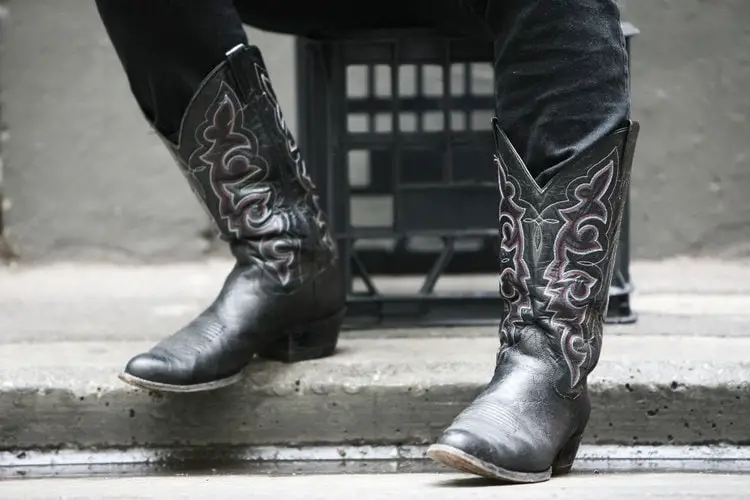 That's the first reason why leggings are not a good choice for men with cowboy boots. They are too tight for you to tuck the shaft of the boots into the pant legs.
If you ask die-hard fans of cowboy boots, it's really hard to come across anyone wearing skinny pants with cowboy boots.
Most men when wearing cowboy boots aim at a clean look and classic style, so tight-fitting pants like leggings have never been an appropriate choice.
Leggings don't have a classic look, it's true, that's why they can't go with cowboy boots when it comes to style. That is the second reason.
Most men wear leggings for sports, and cowboy boots are not really good enough footwear for sports like running because of their heavy weight and somewhat bulky construction.
And that is the final cause.
In short, leggings and cowboy boots are not really the right choice for men.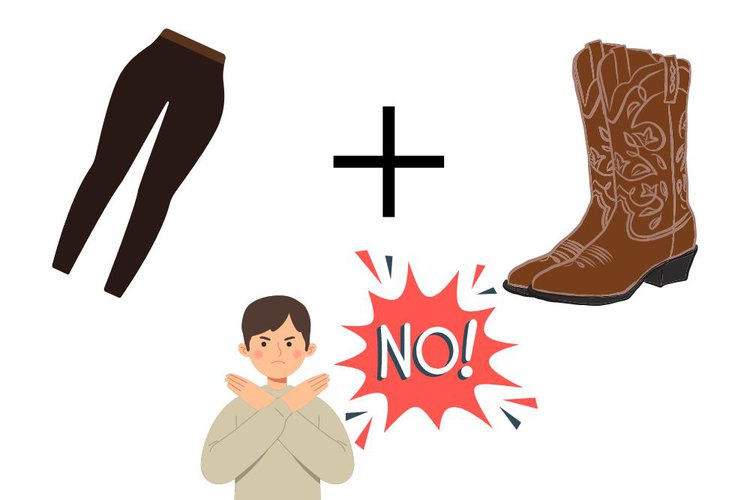 On the other hand, leggings can perfectly be worn with cowboy boots if the reader of this article is female.
Because in the eyes of girls, cowboy boots not only have classic beauty but also an impressive and attractive fashion style. Therefore, women's cowboy boots can go with any type of trendy pants.
However, the fact that leggings are often too tight can make cowboy boots look out of place. You should choose cowboy boots with leather around the calf that is not too wide, which means your calf should almost fill that area. This will ensure a nice and clean look.
In fact, the combination of leggings and cowboy boots today is not uncommon among girls. This style can also perfectly be a style for casual wear.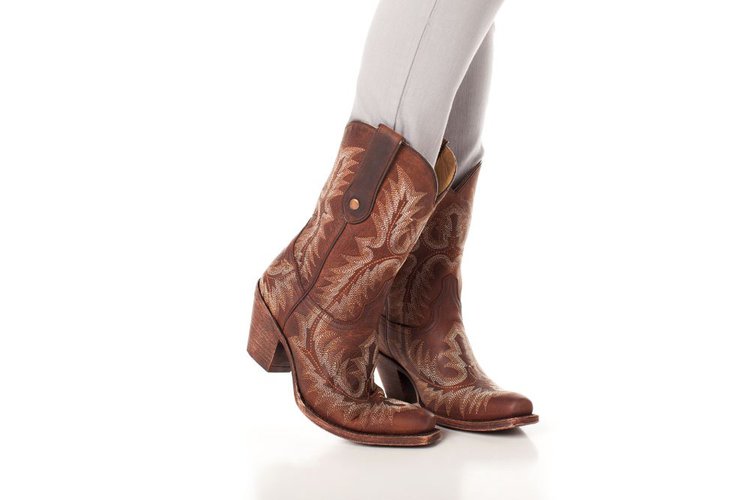 You will easily find girls in the west wearing a pair of leggings, cowboy boots, and a long T-shirt with a jacket as an autumn/winter outfit.
This is a fairly common and cool style. So don't worry!
Wearing leggings with women's cowboy boots is also a good thing because with the tight construction, leggings easily get into the shaft of cowboy boots.
The softness, neatness, and comfort of leggings can also be called a sophisticated choice to go with a pair of cowboy boots that are often considered a bit heavy and a bit fussy in fashion. This combination has a stylistic harmony that makes them both striking and attractive, yet elegant and sophisticated.
Girls definitely can't go wrong with leggings when it comes to cowboy boots!
Before you leave
In conclusion, leggings are not a wise choice for men to wear with cowboy boots because their style does not match.
Men don't usually tuck their pants into cowboy boots, and leggings don't match the classic style of men's cowboy boots, either.
On the contrary, the combination of leggings and cowboy boots is perfect for women to create an attractive yet elegant style.
Girls just need to remember to choose cowboy boots so the leather around the calf should not be so loose that your calves should almost fill them all.
The style created by leggings and cowboy boots for women can be worn for casual wear without fear of anything.
That's all you need to know!