Cowboy boots exude timeless charm and a crisp aesthetic, making them an ideal choice for both men and women. However, these versatile boots serve different fashion purposes based on gender.
When it comes to women, cowboy boots not only evoke classic allure but can also infuse a touch of contemporary style into their outfits. This versatility allows for a wider range of fashion possibilities.
But here's where the distinction lies: leggings are a fantastic pairing with cowboy boots for women, but the same isn't true for men.
Now, let's delve into the reasons behind this intriguing gender-based style choice.
Wearing Leggings With Cowboy Boots: Is It Work?
A fairly common rule in the cowboy boot world for men is that you will not wear tight-fitting pants with cowboy boots.
Simply because men won't tuck the pants into cowboy boots to expose the shaft, which would cause a stylistic contrast.
That's the first reason why leggings are not a good choice for men with cowboy boots. They are too tight for you to tuck the shaft of the boots into the pant legs.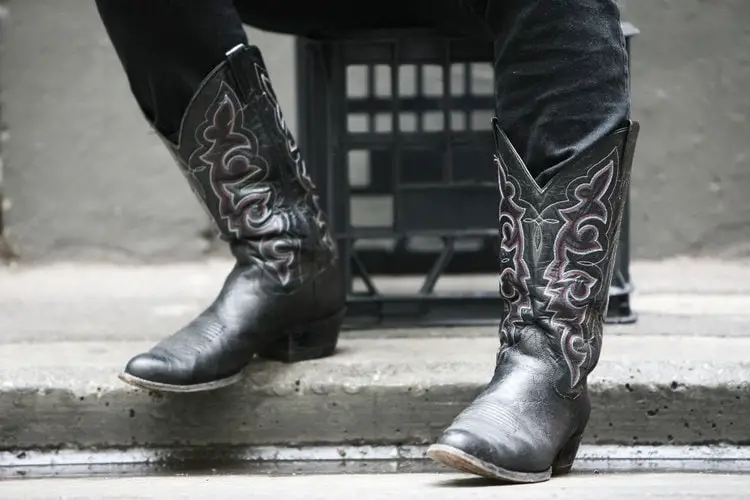 If you ask die-hard fans of cowboy boots, it's really hard to come across anyone wearing skinny pants with cowboy boots.
Most men when wearing cowboy boots aim at a clean look and classic style, so tight-fitting pants like leggings have never been an appropriate choice.
Leggings don't have a classic look, it's true, that's why they can't go with cowboy boots when it comes to style. That is the second reason.
Most men wear leggings for sports, and cowboy boots are not really good enough footwear for sports like running because of their heavy weight and somewhat bulky construction.
And that is the final cause.
In short, leggings and cowboy boots are not really the right choice for men.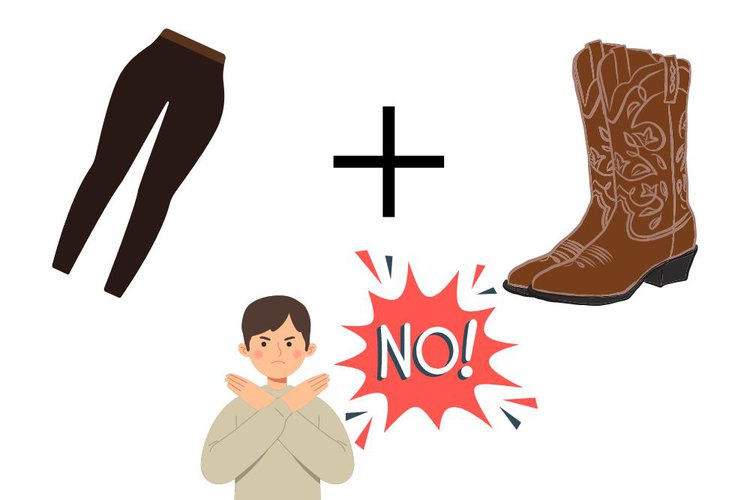 On the other hand, leggings can perfectly be worn with cowboy boots if the reader of this article is female.
Because in the eyes of girls, cowboy boots not only have classic beauty but also an impressive and attractive fashion style. Therefore, women's cowboy boots can go with any type of trendy pants.
However, the fact that leggings are often too tight can make cowboy boots look out of place. You should choose cowboy boots with leather around the calf that is not too wide, which means your calf should almost fill that area. This will ensure a nice and clean look.
In fact, the combination of leggings and cowboy boots today is not uncommon among girls. This style can also perfectly be a style for casual wear.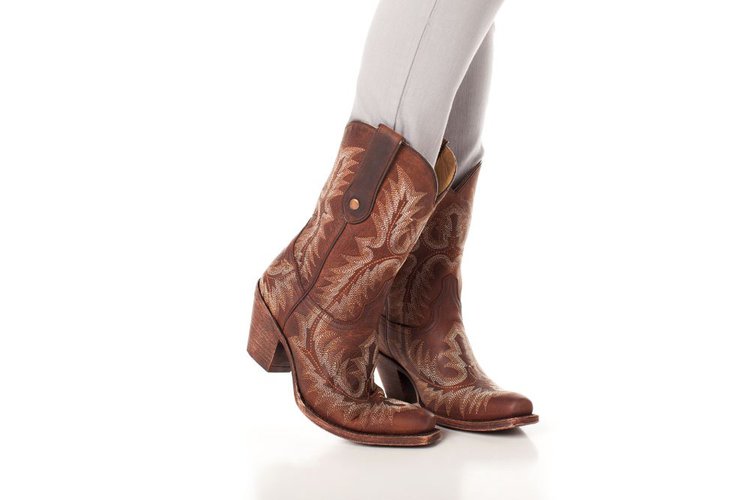 You will easily find girls in the west wearing a pair of leggings, cowboy boots, and a long T-shirt with a jacket as an autumn/winter outfit.
This is a fairly common and cool style. So don't worry!
Wearing leggings with women's cowboy boots is also a good thing because with the tight construction, leggings easily get into the shaft of cowboy boots.
The softness, neatness, and comfort of leggings can also be called a sophisticated choice to go with a pair of cowboy boots that are often considered a bit heavy and a bit fussy in fashion. This combination has a stylistic harmony that makes them both striking and attractive, yet elegant and sophisticated.
Girls definitely can't go wrong with leggings when it comes to cowboy boots!
When and How to Style Leggings with Cowboy Boots
For a fashionable and comfortable ensemble, consider pairing leggings with ankle cowboy boots. This look effortlessly blends the sleekness of leggings with the rugged charm of cowboy boots.
Opt for classic black leggings to create a timeless outfit, and add a tailored blazer to achieve a chic, modern twist. This combination not only elongates your legs but also exudes confidence and sophistication.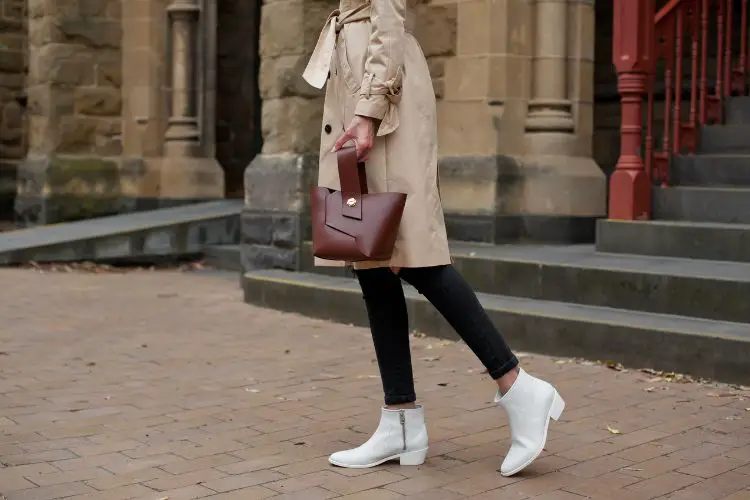 Denim leggings, often referred to as "jeggings," offer the perfect blend of comfort and style.
They mimic the appearance of traditional denim jeans but provide the flexibility and ease of leggings. This makes them an excellent choice for a seamless pairing with cowboy boots.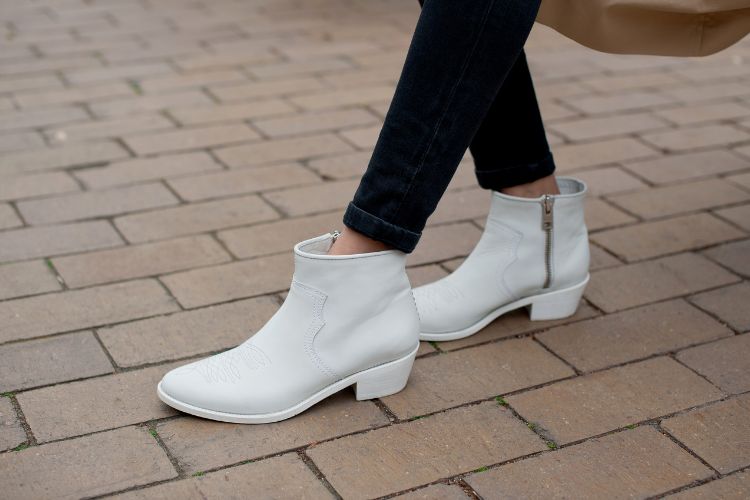 If you're a dance enthusiast ready to take the floor with style and flair, look no further than this stunning ensemble.
Black cowboy boots, paired with sleek leggings and a form-fitting spandex bodysuit, create a striking and powerful look that's perfect for showcasing your dance moves.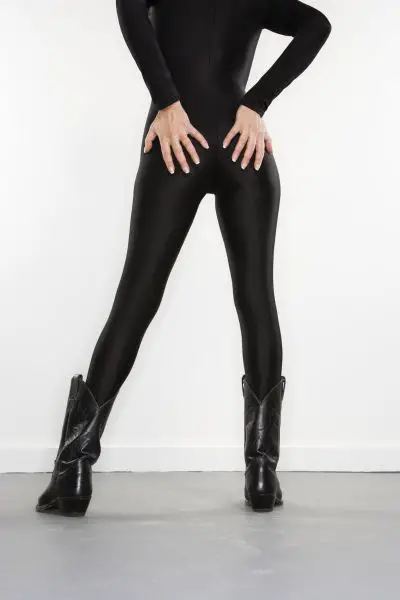 Black is a timeless and versatile color that exudes confidence and sophistication. When combined in this outfit, it delivers a sleek and impactful statement. Whether you're hitting the dance floor, performing on stage, or enjoying a night of dancing with friends, this ensemble is designed to make you shine.
Combining leggings with cowboy boots is a fashion-forward choice that effortlessly blends comfort and style. Whether you're aiming for a casual, chic, or Western-inspired look, this versatile combination offers endless possibilities.
The Versatility of Leggings
Leggings come in various colors and patterns, making it easy to adapt them to different occasions.
Classic black leggings are a safe bet for a timeless look, but don't hesitate to experiment with other colors and textures to create unique outfits.
Choosing the Right Cowboy Boots
When selecting cowboy boots, consider the length and style that best suits your outfit.
Ankle or mid-calf boots work well with leggings, creating a seamless transition from your leggings to your boots.
Meanwhile, traditional leather boots or those with decorative details can add a touch of Western flair.
1. Tuck your leggings into the boots for a polished appearance or fold them slightly above the boots for a more relaxed vibe.
2. Experiment with various tops, from casual tees to tailored blazers, to match the occasion.
3. Accessories like Western-inspired belts and jewelry can enhance the overall look.
4. Consider the season and layer with jackets, cardigans, or cozy sweaters when it's cooler.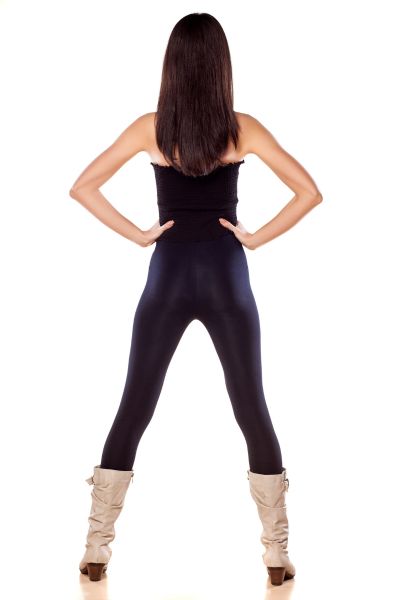 Wearing leggings with cowboy boots can be a stylish choice for various occasions, depending on your personal style and the specific look you want to achieve. Here are some occasions when you can consider this fashionable combination:
Casual Outings: Leggings paired with cowboy boots make for a comfortable and trendy casual outfit. Whether you're going shopping, meeting friends for brunch, or running errands, this look can keep you both stylish and at ease.
Date Nights: For a stylish date night outfit, combine leggings with ankle cowboy boots. Add a flattering top and some accessories, and you'll have a chic and eye-catching ensemble.
Concerts or Festivals: Western-inspired fashion is a great choice for concerts and festivals, especially if they have a country or folk theme. Leggings with cowboy boots fit right into the atmosphere.
Fall and Winter Fashion: When the weather gets cooler, leggings and cowboy boots can be a practical and stylish choice. You can layer with a sweater or jacket to keep warm while looking fashionable.
Western-Themed Events: If you're attending an event with a Western or cowboy theme, like a rodeo or a country-themed party, leggings and cowboy boots are the perfect choice to embrace the theme.
Traveling: If you're exploring rural areas or going on a road trip, this combination is both comfortable and fitting for the surroundings.
The key is to adapt the style to your personal preferences and the specific occasion. Leggings with cowboy boots offer versatility and can be dressed up or down to suit various situations.
Before you leave
In conclusion, leggings are not a wise choice for men to wear with cowboy boots because their style does not match.
Men don't usually tuck their pants into cowboy boots, and leggings don't match the classic style of men's cowboy boots, either.
On the contrary, the combination of leggings and cowboy boots is perfect for women to create an attractive yet elegant style.
Girls just need to remember to choose cowboy boots so the leather around the calf should not be so loose that your calves should almost fill them all.
The style created by leggings and cowboy boots for women can be worn for casual wear without fear of anything.
That's all you need to know!
Howdy y'all! I'm Grace, a Western style enthusiast with over 5 years of experience. From cowboy boots to western gear, I'm passionate about all things Western and dedicated to helping you find the perfect style to suit your taste. Join me and my fiancé Jay Gatz as we explore the rich history and timeless appeal of Western fashion together!