Most cowboy boots fans know that one of the most important positions determining the fit of cowboy boots is the top of the foot.
The top of the foot fits snugly with cowboy boots, which means your feet stay in cowboy boots without shifting.
Although the fit in other positions is not as important, in fact, they still affect your comfort more or less.
For example, the heel of cowboy boots should fit well with a very small amount of slip at first, or, the toe box should have room for your toes rather than fit snugly.
However, for newbies, this can still be a bit difficult, simply because they don't really understand how it should feel to wear cowboy boots.
One of the questions we get is whether cowboy boots should be loose at the ankle. Well, this question is quite simple. Today, we will tell you all!
Key Takeaways
Cowboy boots that are loose in the ankle usually won't affect your experience. It's also quite common for them to be loose in the ankle, you don't need to worry.
If cowboy boots are too wide in the ankle, you may have a hard time tucking them into your jeans, or they will create a slightly sloppy look.
Unlike other types of boots such as military boots, tactical boots, or hiking boots, cowboy boots are not tight in the ankle area.
Although cowboy boots can be loose at the ankle, you should ensure the fit of the boots as shown in the intro. That will help you get the best comfort and flexibility.
Cowboy Boots Are Loose In The Ankle: Is It Normal?
In fact, cowboy boots do not have as much ankle support as some specialized boots like hiking boots or tactical boots. These boots weren't made to wrap around your ankles to protect them from twisting on bumpy roads.
Because of that, cowboy boots usually won't fit tight or snugly at the ankle, instead, they offer some room there.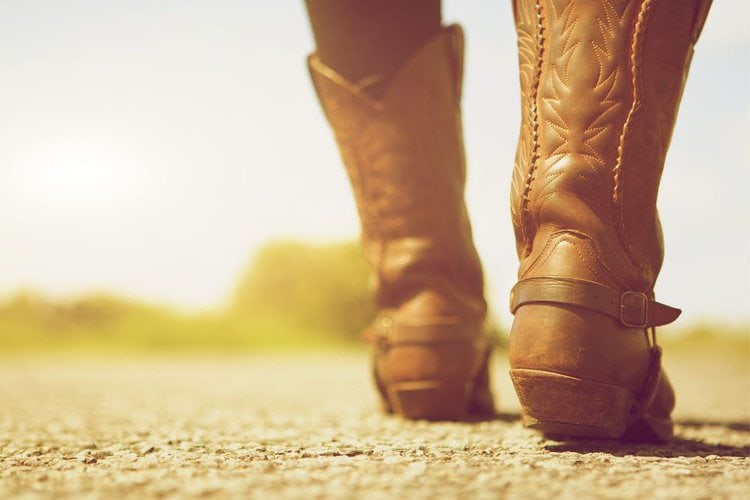 As you can see from the outside, the shaft of cowboy boots is not tapered to the ankle or very little. Their high shaft works to protect your ankle from external threats such as thorns, snakes, scorpions, rain, sun, snow, etc.
The shafts of cowboy boots don't fit tight and don't wrap tightly around the ankles to stabilize them. Since they were born to work on plains, on farms or ride horses. For such jobs, ankle stability is not so important.
Not to mention, our ankles are usually smaller than our calves. As for cowboy boots with a shaft that doesn't taper to the ankle, you'll definitely feel loose there.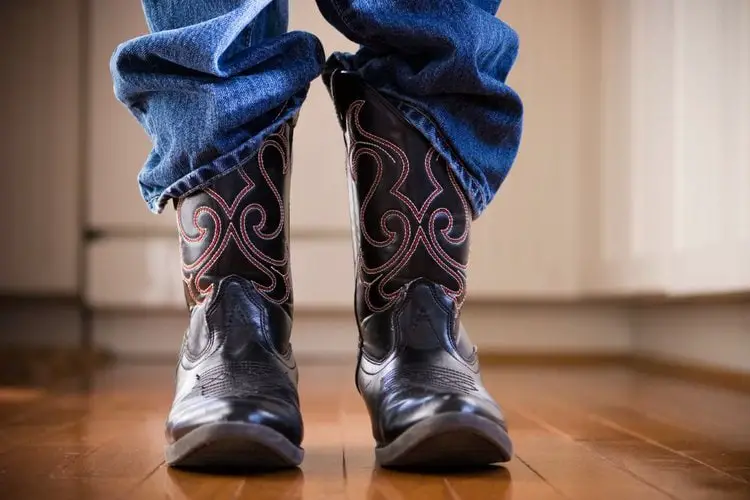 In short, if your cowboy boots are loose in the ankle, don't worry as they do not make you uncomfortable during use.
However, to achieve the highest level of comfort, you should still follow the principle that cowboy boots should fit snugly in the instep, have room in the toe box and fit almost snugly in the heel. You can see more about how cowboy boots are supposed to fit here!
Besides, if cowboy boots are too loose at the ankle, it will not only affect your feeling but also make you look sloppy. This is not beautiful and can affect your flexibility when working.
Especially if you are a man and often tuck boots into your pants, it can cause a lot of trouble for you. Or, the patterns of the shaft can be imprinted on the pants and make you not look good.
Therefore it's not a good thing if cowboy boots are too loose in the ankle. If they are still new, you should return them.
There are also many ways to tighten cowboy boots around the ankle, such as using leather straps to tie around this area. I have a detailed tutorial here in case you need it!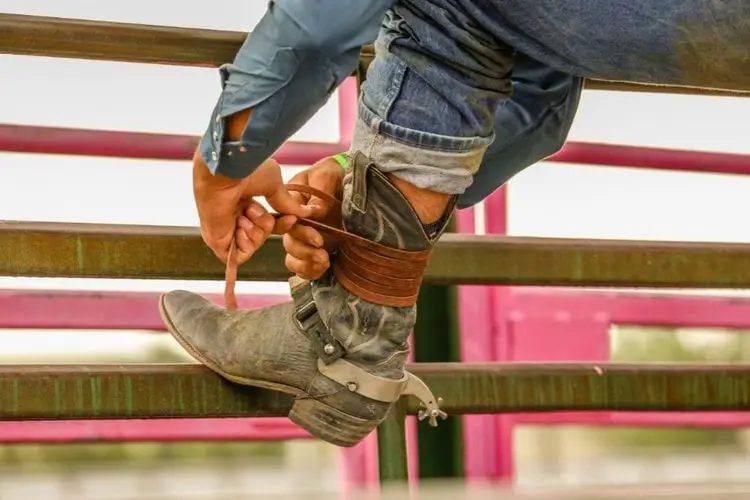 Before you leave
In short, it's not a big deal about the fit of cowboy boots if they're loose at the ankle. You won't lose a great experience wearing them.
However, it should be noted that if they are too loose, they create a bad look.
You should try them with some pants, feel them and make good decisions.
Good luck!
Howdy y'all! I'm Grace, a Western style enthusiast with over 5 years of experience. From cowboy boots to western gear, I'm passionate about all things Western and dedicated to helping you find the perfect style to suit your taste. Join me and my fiancé Jay Gatz as we explore the rich history and timeless appeal of Western fashion together!