Cowboy boots of the 21st century are not only used on farms, but they are also expensive accessories.
Nowadays, cowboy boots still remain one of the essential fashion items for cowboys and cowgirls.
However, many people still make mistakes when choosing the size of cowboy boots. Some boots may fit your feet, but they don't fit in the calves. This is not good at all…
Cowboy boots that don't fit your calves can adversely affect the aesthetics of cowhands and make it difficult for wearing cowboy boots.
So how should cowboy boots fit on the calf? Let's find out.
How should Cowboy Boots Fit on the Calf?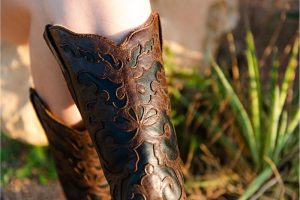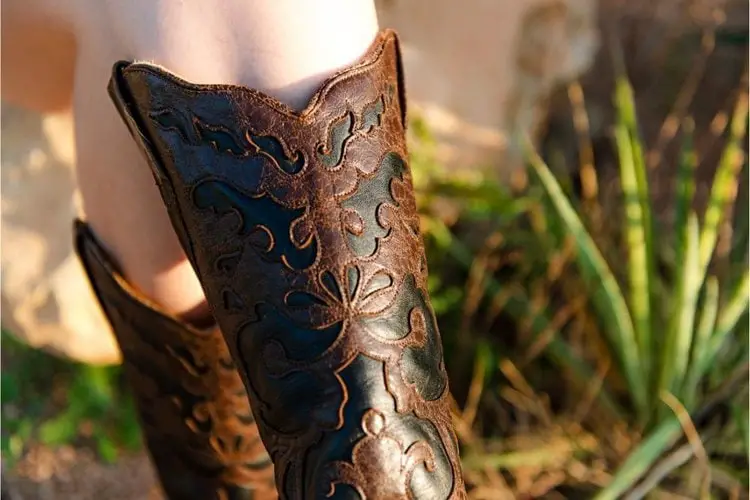 For your comfort, cowboy boots should be slightly loose in the calves, not too wide or too tight.
For cowboys
Cowboys usually stuff their cowboy boots inside the bootcut jeans.
If the calf of cowboy boots is too large, you will have trouble tucking them inside the jeans. Or when you tuck your cowboy boots into your jeans, the V-cut of the scallop will show up clearly, this might be bad for your outlook.
If the boot calf is too tight, it will definitely cause discomfort. You will feel unconfident and inflexible when going out.
For cowgirls
Cowgirls do it oppositely. They tuck skinny jeans into the shaft of cowboy boots.
In this case, the boot calf should be a bit loose, which allows cowgirls to easily tuck the jeans into the boot shaft.
For girls with wide calves, you should avoid wearing cowboy boots with too tight calves. They are uncomfortable and make you look fatter.
If you can't find cowboy boots that are slightly loose around the calf, look for short cowboy boots.
"Cowboy boots with a slightly wide around the calf will help you easily tuck jean into the shaft and vice versa."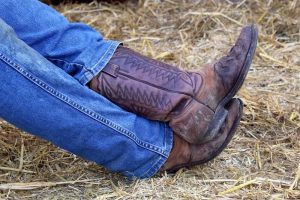 Should cowboy boots be loose around the calf?
Cowboy boots shouldn't be too wide at the calf. A bit loose is needed.
Technically, instep is the most important part of choosing cowboy boots that perfectly fit your feet. You should choose ones with a snugly fit instep, your feet will sit neatly in cowboy boots whether the calf is loose or not.
As noted above, cowboy boots that are too loose around the calf make it difficult to tuck the shaft into your jeans.
If you are a cowgirl and plan to wear cowboy boots with skinny jeans, dress or skirt, then cowboy boots that are loose at the calf will be okay.
But if you plan to wear cowboy boots with bootcut jeans, cowboy boots should only be slightly loose at the calf.
Read more: How are Cowboy Boots Supposed to Fit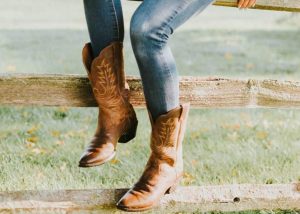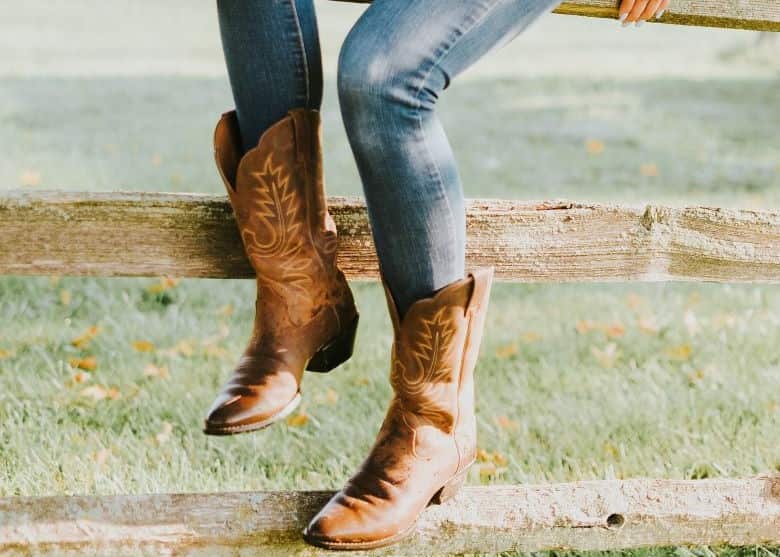 Do you size up or down for cowboy boots?
Cowboy boots size up or down depends on different boots and your foot types.
As you already know, If you have wide feet, you will have to go up size. And if you have narrow feet, you will probably have to go down size.
However, that advice is not completely accurate. When buying cowboy boots, it is best to consult the advice from those who have purchased the boots. These reviews will help you a lot.
However, you also need to base on your experience and your foot types.
For example, some might say that a pair of cowboy boots fit true to size. But for your feet, you might want to go down half/ a size.
So, to draw the best conclusion, it could take you some effort and considerable time.
Sounds tough, right? Don't worry, we have a very detailed cowboy boot buying guide here!
Conclusion
Cowboy boots are a great accessory for casual fashion or formal wear.
However, if the calf doesn't fit your feet, then it will affect the aesthetics and comfort. You will find it difficult to on / off the boots, affecting your experience.
Again, cowboy boots should be a bit loose around the calf, not fit snugly, not too loose, not too tight.
Howdy y'all, and welcome to From The Guest Room, your ultimate guide to all things Western! I'm Jay Gatz, a lifelong cowboy boot enthusiast with over 5 years of experience in the Western style world. I'm excited to share my knowledge with you and help you discover the perfect cowboy boots and western gear to elevate your style. Let's explore the rich history and timeless appeal of Western fashion together!