Cowboy boots are popular because of the beauty and sophistication of the design. They carry the culture and long history of the American West.
When walking in cowboy boots also, it emits a distinct and glorious sound – the sound of confidence, of the cowboy style and of freedom.
However, sometimes, it happens to be not this good sound, especially when it's too loud, or it's annoying squeak sounds.
We don't always need the sound of freedom coming from cowboy boots, sometimes it's better to be quiet in meetings (lots of cowboy boots work in the office).
So how to walk quietly in cowboy boots? We will guide you!
Shall we?
How to Walk Quietly in Cowboy Boots?
We need to determine what that sound is and where it comes from.
Typically, the click cluck sound comes from the heel of cowboy boots or from cowboy boots with stacked leather heels. The noise usually emits when you're walking on hard and smooth floors (like marble floors, wooden floors).
There are also annoying squeaky sounds that may come from inside or outside your cowboy boots.
Don't worry, all of them have solutions!
A click cluck sounded from the heel of the cowboy boot
Traditional cowboy boots often have stacked leather heels (that are quite hard) and rubber heel caps. Nowadays, cowboy boots with rubber soles are also very popular. And these two heels are very easy to make click-cluck noises when walking.
This noise can be great for cowboy style lovers, but not always good, especially if it's too loud.
Here's how to fix the cluck click sound coming from the heels of cowboy boots: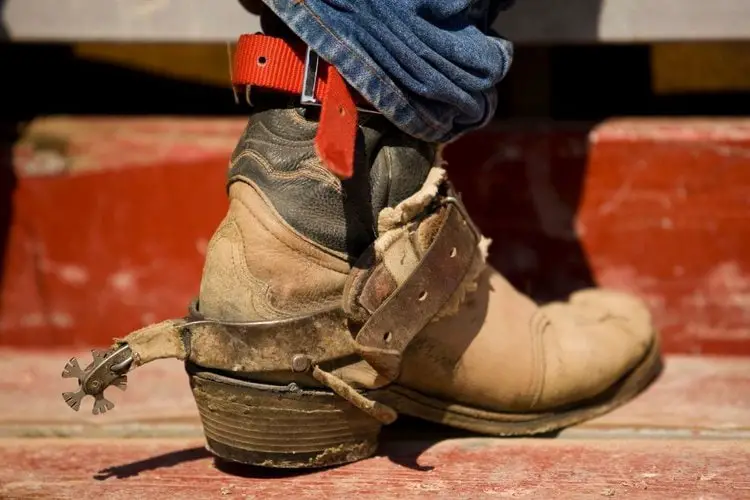 Method 1: Use new heel caps
A common way to prevent your cowboy boots from making click-cluck noises is to change new heel caps.
The cowboy boot heel is usually made from stacked leather, so it is hard and causes cluck clicks. Or simply the cowboy boot heel is not well designed.
Option 1: There are many heel caps made from rubber for cowboy boots sold on the market today.
You just need to buy them, use glue to paste them on the heels of cowboy boots, so as to get rid of annoying click-cluck.
Last update on 2023-03-16 / Affiliate links / Images from Amazon Product Advertising API
Option 2: You need a professional shoe repair kit, remove your old heel caps and replace them with the new ones, that's it.
This is an article to help you replace heel caps.
If you're not confident doing that, then take your cowboy boots to a good cobbler, they know what to do.
You should use the new heel caps made from rubber. Rubber is elastic and soft so it can reduce the click-cluck sound significantly.
Last update on 2023-03-16 / Affiliate links / Images from Amazon Product Advertising API
Method 2: Use gaffer tape
If you don't want to replace heel caps, another method is to attach gaffer tape to the heels of cowboy boots.
This will help your base reduce noise when you are walking on a flat floor, marble or wooden floor.
However, when using this method, you have to change the glue quite often, which is quite an inconvenience.
The noise from half sole of cowboy boots
Besides the loud click-cluck sound from the heel, the cowboy boots half sole could produce annoying noise too.
Traditional cowboy boots are usually very smooth and different from other shoes. Plus, they get a very hard base, so they easily produce tab sounds.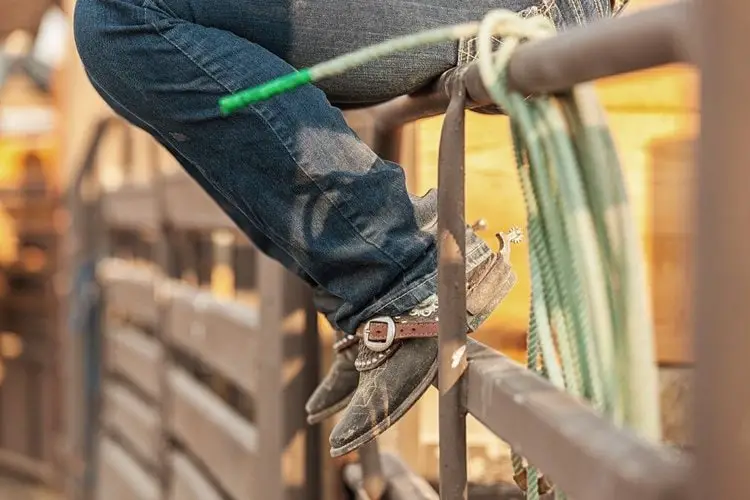 Method 1: Resole cowboy boots
And in the same way, you can replace your half sole with a new type of half sole – softer and less tab-sounding.
You can completely replace a half sole instead of a whole sole. And again, you can do it yourself at home or find a good cobbler to do it. (We recommend finding a cobbler, replacing soles is not as simple as replacing heel caps)
Method 2: Use gaffer tape
Last update on 2023-03-16 / Affiliate links / Images from Amazon Product Advertising API
An easy home-made method is to use duct tape to attach to the sole of a cowboy boot. The tape will help half cowboy boots to reduce noise as you go.
This method is cheap, easy to make and effective, but sometimes annoying because you have to change the gaffer tape constantly.
Method 3: Use shoes grip rubber adhesive sole
Another effective method to help you walk quietly in cowboy boots is to use shoe grip rubber adhesive sole.
This type of product is usually made from rubber. It keeps cowboy boots walking smoothly on a smooth and flat surface and prevents them from slipping.
Last update on 2023-03-16 / Affiliate links / Images from Amazon Product Advertising API
The sound of squeaks emanating from cowboy boots
This is what happens with newly purchased cowboy boots. You need to identify the squeaks emanating from inside or outside the cowboy boots to get the right treatment.
To stop cowboy boots squeaking is simpler than to handle click-cluck, you can read more here: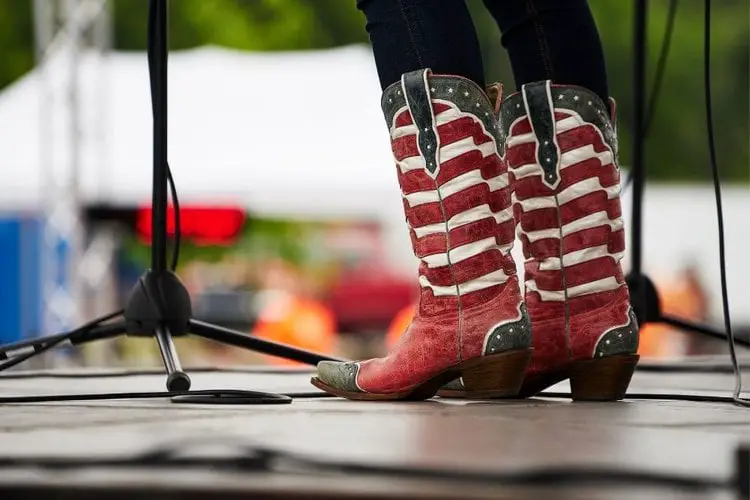 In general, here are some ways to handle this problem:
The squeaks from inside cowboy boots:
The reason may be because the cowboy boots are moist, you can use household powder to desiccate cowboy boots. (Or you can use cornstarch, baby powder, talcum powder…)
If cowboy boots have removable insoles, replace them with new ones.
Besides, if your feet often sweat, use socks when wearing cowboy boots, cowboy boots will no longer be moist.
Make sure your cowboy boots are dry inside, use a hair dryer or boot dryer to ensure that cowboy boots are not damp, thereby preventing nasty squeaks.
Sale
Last update on 2023-03-16 / Affiliate links / Images from Amazon Product Advertising API
The squeaks from bottom of cowboy boots
In general, if the sole of a cowboy boot is too new, there is often a squeak sound from the beginning. If so, don't worry, the squeaking noise will disappear over time.
If you're impatient, you should put on cowboy boots and rub the boots on the surface of the cement road. Or use sandpaper to wear out the cowboy boots a little bit, the squeak will disappear.
The squeaks from top of cowboy boots
Another reason cowboy boots make a whooping sound when you wear them is because the cowboy boot instep is too tight.
If so, you have to find ways to break in / stretch the instep of cowboy boots. There are many ways such as using a boot stretcher, boot stretch spray, steaming inside, using a hair dryer… to stretch the instep of cowboy boots.
We have very detailed instructions here!
Besides, you can use saddle soap to make the instep of cowboy boots softer, smoother, thereby avoiding the annoying squeaks.
Once again, we have a separate article on how to stop cowboy boots from squeak here!
Some other methods to help cowboy boots get rid of squeaks, click-cluck
Walk carefully
The click-cluck usually happens when you go up or down the stairs and your weight largely puts on the cowboy boots. In this case, use your hand to grip the railing to reduce your weight on cowboy boots and reduce click-cluck.
In some cases, such as entering the meeting room, you should put the ball of the foot on the ground before placing your heels, which will help reduce the noise disturbing others.
Walking slowly and gently will lessen the click-cluck, you'll become more elegant and confident.
Read more: How to Walk in Cowboy Boots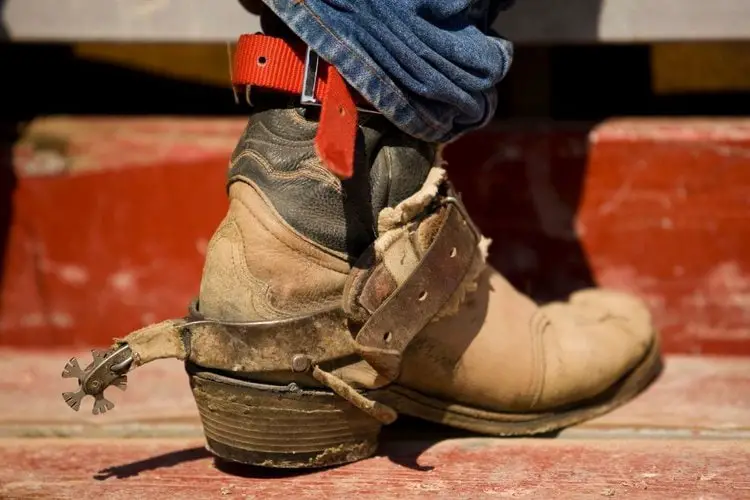 Break in cowboy boots
If your cowboy boots are new, don't rush, give them time.
Recently bought cowboy boots are quite new and hard, so they can cause click-cluck or squeak.
You can break in cowboy boots by wearing them often at the beginning, or applying methods to accelerate the break in process such as steam, boot stretcher, boot stretch spray, hair dryer…
We have an article about break in methods here
Clean and condition cowboy boots thoroughly
Dirty cowboy boots can lead to squeaking sound, all you need to do is clean them.
After cleaning cowboy boots, use a little conditioner to make cowboy boots soft and smooth. This will help a lot in preventing annoying squeaks.
Before you leave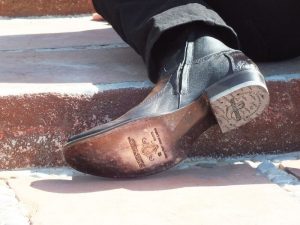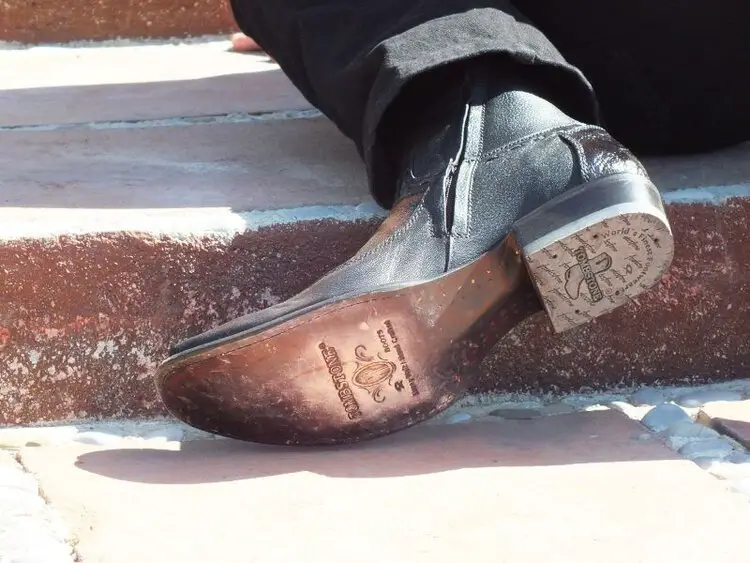 In summary, we need to note the following to walk quietly in cowboy boots:
If the click-cluck comes from the heel of the cowboy boots: it looks like you need a new heel cap (shoud be made of rubber). Or can also use gaffer tape to paste on cowboy boots, this is also an effective method.
If click-cluck sounds come from half sole: then you can change them, use gaffer tape or rubber sole pads.
If the squeak sound comes from inside cowboy boots: maybe because your cowboy boots are wet, use household powder to handle.
The squeaks emanate from the outsole of cowboy boots: use sandpaper to solve, or walk them a lot until the sound disappears.
If the squeaks come from the top of your foot (instep), it's probably because cowboy boots are too tight on instep, try to stretch them, make them softer (use conditioner, saddle soap)
Good luck!