Cowboy boots not only bring classic beauty to the wearer, but they can also steal the hearts of many fans by making them significantly taller.
Many die-hard fans of cowboy boots will say, are you kidding me, who doesn't know that?
Yes, this advantage can be obvious for die-hard fans, but it is a different story for newbies since they are all new to this.
In fact, each type of cowboy boot can make you taller at different heights and such heights are suitable for serving different uses.
Some cowboy boots will give you much more height. But if you use them for the wrong purposes, they can harm you.
On today's topic, we will tell you how much taller cowboy boots make you.
Besides, we also provide you with some tips for choosing the right type of cowboy boots and tell you how many inches each type of cowboy boot can give you.
How much taller do cowboy boots make you?
A pair of cowboy boots can make you 1 inch to over 3.5 inches taller – it depends on cowboy boot types and their heel height.
Cowboy boots for men usually make them 1 inch to 2 inches taller.
On the other hand, cowboy boots for women can add 1 inch to more than 3.5 inches to their height.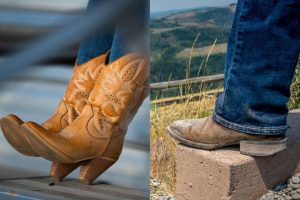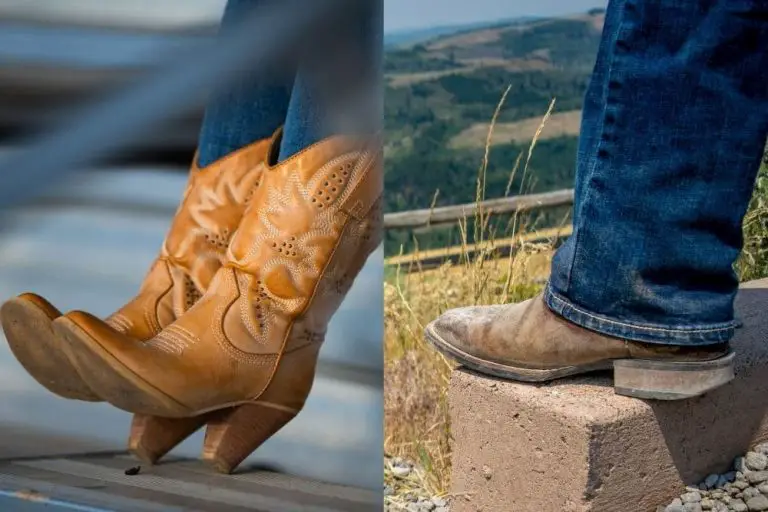 As you know, it is the heel height of cowboy boots that makes the wearer taller.
To get it straight, we will give you an illustration for each type of cowboy boot:
Cowboy boots with roper style usually have 1-inch heels.
The hybrid cowboy boots with work boots (western work boots) typically feature a standard heel height of 1.5 inches.
Traditional cowboy boots (riding boots) come with 2-inch heels (so that the heels can be easily hooked to the stirrup).
Now, you can determine your purpose and consider these types of boots above.
Women's cowboy boots are more innovative these days with heels that are sometimes quite a bit taller than 2 inches. Cowboy boots with spiked heels can add up to 3.5 inches for girls. Whereas, men's cowboy boots can only help mean taller than 2 inches maximum.
Read more: Different Types Of Heels On Cowboy Boots
How to choose cowboy boots with the perfect heel height for you?
For those who use cowboy boots for fashion, go for cowboy boots that can make you 2 inches or even taller (if you're a man, 2-inch height should be the final destination).
Cowboy boots with heels 2 inches or more will give you a confident and arrogant look like a real cowboy.
Wearing cowboy boots with a high heel height of 2.25 inches to 3.5 inches can help girls look taller, confident and sexy.
For those who wear cowboy boots for business purposes and must wear cowboy boots every day, cowboy boots with heels 1 inch to 1.5 inches high are great choices. This height is decent to keep you comfortable, balanced and flexible throughout the day though it won't make you much taller.
However, some job features need you to ride a horse or drive a motorbike, you may need cowboy boots with 2-inch high heels to be able to balance well while driving.
You should clearly define your purpose, cowboy boots can help you grow a lot, but misuse (like using 3.5-inch cowboy boots for farming) can adversely affect your foot health.
Some notes
For your information, cowboy boots with 1-inch high heels are low-heel boots, while 1.5-inch high heels are considered the standard heel height.
Regarding cowboy boots with heels that are 1.5 inches taller, your knee is subjected to 23% more compression pressure for every inch increase in heel height.
In fact, if your job doesn't require you to wear tall boots, then you should not wear cowboy boots with a height of 2.75 inches.
In our opinion, a pair of cowboy boots that make you 2 inches taller is the right height.
If you have to wear cowboy boots with around 2.75-inch heels, don't wear them too often.
Conclusion
In short, men's cowboy boots can make the wearer 1 inch to 2 inches taller. Women's cowboy boots can increase the wearers' height from 1 inch to over 3.5 inches.
However, you should be aware when wearing cowboy boots that are more than 2 inches tall as using the wrong way can affect the health of your feet.
Howdy y'all, and welcome to From The Guest Room, your ultimate guide to all things Western! I'm Jay Gatz, a lifelong cowboy boot enthusiast with over 5 years of experience in the Western style world. I'm excited to share my knowledge with you and help you discover the perfect cowboy boots and western gear to elevate your style. Let's explore the rich history and timeless appeal of Western fashion together!