It's not a weird thing if your cowboy boots may run smaller or bigger than your usual sneaker fit size. People have the same issue with cowboy boot sizing all the time, regardless of how long they have been wearing them.
The truth is that the way cowboy boots fit our feet comfortably is so much different from the way a pair of sneakers or trainers do.
Cowboy boots possess a laceless construction, which means you have no way to tighten the boots around vamps, insteps, or ankles as you would with regular shoes. You may have heard a lot of advice that you should choose cowboy boots that adapt snugly.
That's right! But how snug should it be?
Since the leather upper will expand over time and during your use, it's essential to have close-fitting vamps and perfect toe boxes right from the start. Accordingly, the heels and the widest parts of your feet will also be in a safe place inside the cowboy boots without discomfort.
In all cases, a highly practical fit will save you a lot of time when either being on your feet or in the saddle all day long.
But what are the so-called perfect toe rooms that you need to achieve when wearing cowboy boots since our foot size and length are not the same?
This article will reveal specific measurements so you can get an answer to the question, "how much room should your toes have in cowboy boots?"
Let's dive in!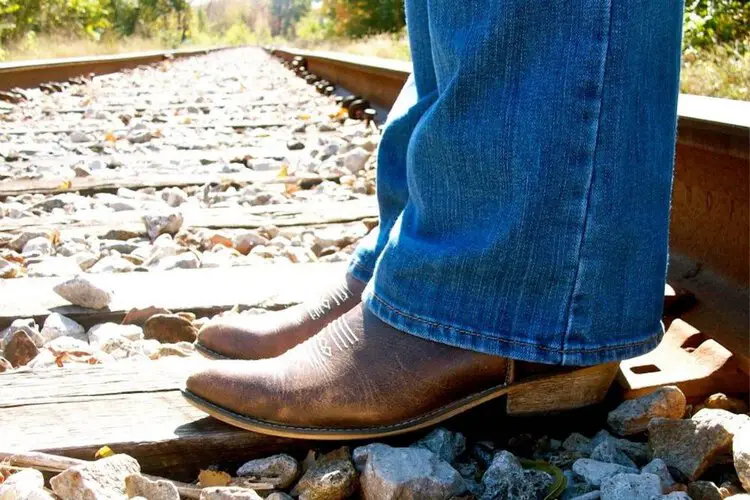 How much room should your toes have in cowboy boots?
The biggest barrier to finding perfect toe room when wearing cowboy boots is that the boot toes range from snippy, and pointed to very broad sizes. That way, fitting shoes with the right toe boxes can be very tricky.
Before we come to discuss the width of toe rooms, you need to make sure some of the following happens:
When you put your feet into cowboy boots, as soon as your heel touches the heel cups and your feet slip in, you will hear a distinct "pop". See if you heard it clearly or not.
Stand on your cowboy boots, walk and feel your feet adapt to the footwear.
Now is the time to measure the required width of the toe box that you need to achieve. You put sideways thumbs between the tips of the toes and the top of the boot toes.
Note that some dressier cowboy boots will have toes that extend slightly longer than usual, making them outliers in finding the perfect size for toe room in cowboy boots.
Normally, the sideways side of an adult will reach about 1 inch. You should now be able to get 1 of the following measurements. Guess what you should go with?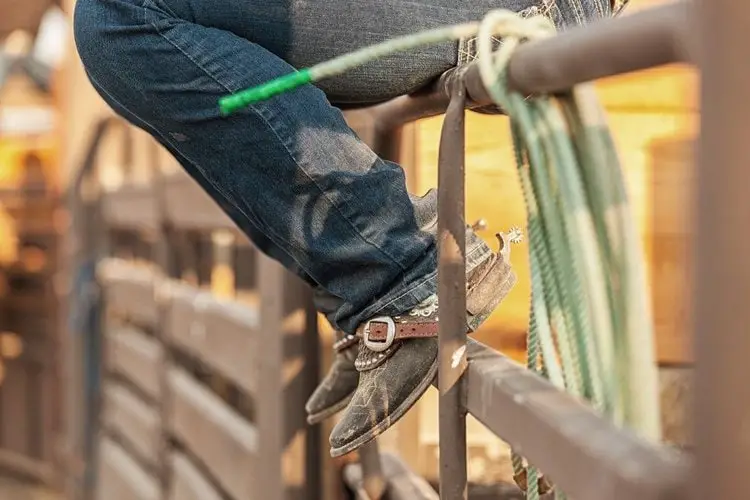 3/4 inches
If you measure a mere 3/4 sideways thumb between the tips of the toes and the end of cowboy boots, this size might be a bit too small for snip toes, pointed toes, and variations thereof.
The reason is that these toe designs are inherently very tight for most wearers' feet. Therefore, you need to get a wider space to reduce friction with the boots as well as the pressure on the feet' circulation, reducing the risk of foot fatigue and blisters at the end of the day.
However, this toe box size can be reasonable when wearing broad round toes or broad square toes, as you will still experience quite a bit of comfortable toe wiggling.
Overall, ¾ inches toe rooms are fairly good, in case you own slender feet and you don't get assigned constant walking or heavy lifting tasks.
They also make you feel your feet better when pressing the brakes or accelerators while driving. But if you need to move a lot, go up and down stairs, or carry heavy loads while at work, you will need a roomier toe room.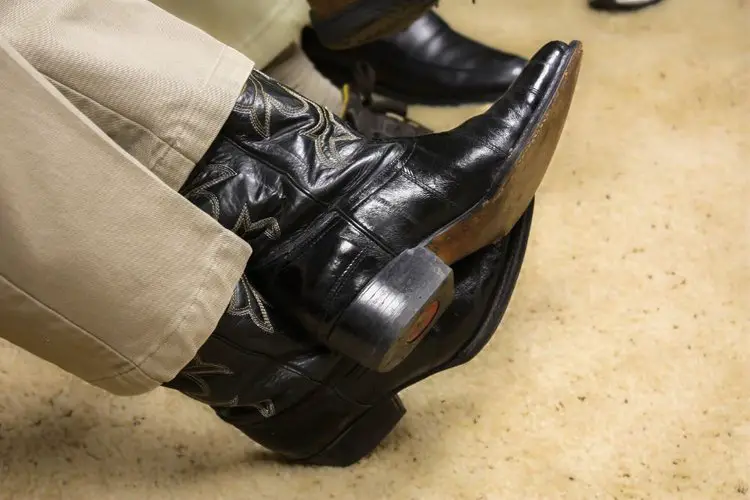 Pros:
It works best for office jobs with fewer moves.
It's okay with broad round toes and broad square toes.
A fairly reasonable space for toe wiggling.
It works best for slender and normal feet.
Cons:
It doesn't work for pointed toes, snip toes, and their variations.
It's not ideal for wide feet or lengthy feet.
It doesn't give a proper heel lift.
It may not fit with thick socks.
1 inch
This is a good measurement for roomy toe boxes, as Ariat is also recommending cowboy boot wearers to achieve this.
This is the right toe box space that ensures your toes can wiggle comfortably and your heels can slide and lift properly while you are on your feet in the middle of work.
One inch between the tip of the toes and the end of cowboy boots works well for most casual cowboy boots with round toes, square toes, and broad toe designs.
This type of toe box is also ideal for heavy workers like construction site workers, hunters, ranchers, or farmers. Since their feet and legs are moving continuously throughout the day, they need fairly wide toe boxes to relieve tension in their toes and the balls of their feet while at work.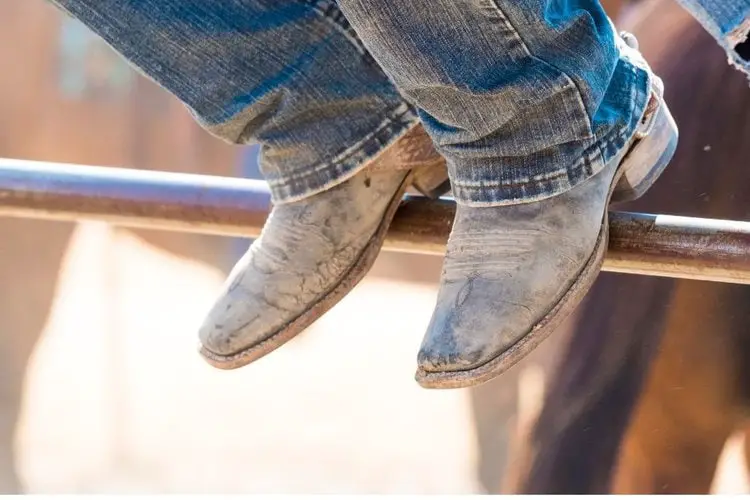 Do you know why? Most people in these occupations have large feet, which are wider or longer than usual.
Being on your feet all day long to carry heavy loads often causes the feet to swell, and over time, the shoe size will expand.
Therefore, 1-inch toe boxes are ideal for them to wear comfortably from the early morning to late night without blisters and discomfort. This size also works with wide feet and lengthy feet if you are seeking the perfect toe boxes.
Pros:
It works well for all kinds of cowboy boots.
It allows better blood circulation around the feet.
Wearers hold up boots and function well.
It's all good for wide feet, lengthy feet, and swollen feet.
It provides excellent toe wiggling.
It fits thick socks well.
Con: 
It's not wide enough for snip toes and pointed toes.
1 ½ inches
For most casual cowboy boot wearers with round toes, square toes, and broad toes, 1 ½  inches measured between the tip of the toes and the top of the boot toes can be quite a bit extra for most casual cowboy boot wearers.
Some people may find the toe boxes so wide that you won't be able to feel your feet well when you need to press the brakes and accelerators continuously while driving, such as heavy truck drivers.
Also, this wide space makes you feel like your toes are drowning inside broad square toes, broad round toes, or fatbaby toes. This can lead to great heel slippage and blisters when rubbing the foot with the inside of the cowboy boots while at work.
Besides, 1 ½  inches toe room is a sign that you're wearing a size that's too big for you, which leads to wide boot shafts and lost vamps.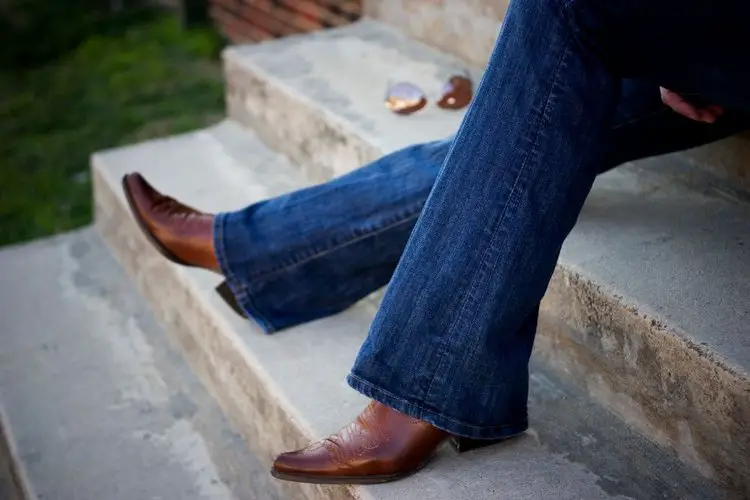 However, if you have super lengthy feet, this toe room size can still be quite suitable for your feet as it will give you heavenly comfortable toe wiggling.
For your sake, I recommend this size for pointed-toe and snip-toe cowboy boots. They will reduce the chance of your toes getting pinched in the cramped space between the snip toes.
In general, 1 ½  inches roomy toe boxes are also likely to be suitable for heavy-abused jobs that often cause feet to swell during work. In addition, they also allow you to wear double-thick socks to stretch out the boots without any discomfort.
Pros:
It works best for snip toes and pointed toes.
It fits double socks for leather stretch.
It's good for swollen feet, super lengthy feet, and super thick feet.
Cons:
Driving is not good.
It can cause blisters around the heels and the balls of the feet.
Where should toes sit in cowboy boots?
Toes should be placed in the normal position and straightened when sitting inside cowboy boots. This means, when you achieve the most recommended standard of roomy toe boxes space of 1 inch (or the full length of the sideways thumb) between the tip of the toes and the top of the boot toes, the toes will lie in the middle of the toe boxes and can wiggle freely without any pressure from vamps or side toes.
However, there are two prerequisites before going to measure the toe box.
First, the widest part of the foot—the ball of the foot must be centered on the widest part of the boot soles. As a result, while walking continuously, the heels, toes, and balls of the feet will not experience any unexpected tension (even if it is slight).
Second, the vamp should fit your instep snugly with comfort since the boots don't have lace and leather will stretch over time.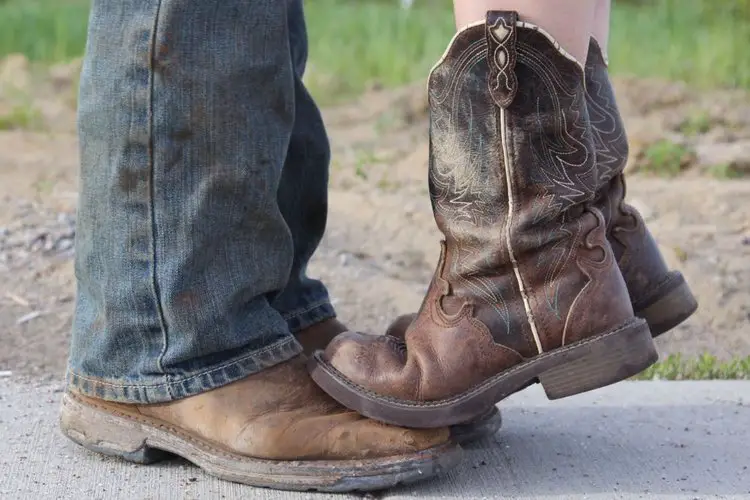 Should my toes touch the end of my cowboy boots?
No, you shouldn't, especially when it comes to trying out a new pair of cowboy boots. This little space is pretty bad since it doesn't come with roomy boxes for toe wiggling. You mostly end up pinching and scratching your feet with the inside of the boot toes.
Your feet will be squeezed harder if you have to be on your feet all day long, lifting heavy loads and catching swollen feet. Besides, touching the end of cowboy boots means you won't have enough space for the heel to lift and slide properly.
Are cowboy boots supposed to squish your toes a little bit?
This is even worse than touching the end of cowboy boots' toes. This is a sign that your cowboy boots are too tight and rubbing the toes against the inside of the boot toe creates some soft squelching sound while walking.
You will inevitably run the risk of blisters around the tip of the toes, insteps, heels, and the ball of the feet. Even if leather cowboy boots can stretch over time, the size that makes cowboy boots squish toes a little is still unacceptable and unforgiving.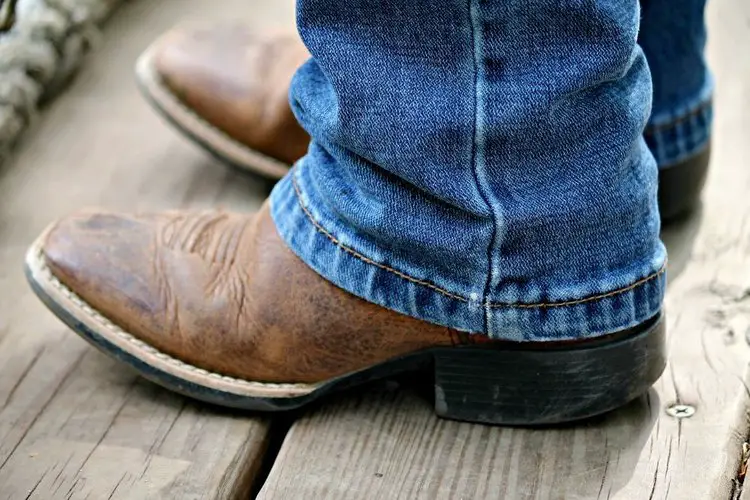 Final thoughts…
Finding the right roomy toe boxes is critical for the health of your feet. It doesn't just affect your comfort and productivity.
If you, unfortunately, end up with cramped toe boxes, this can cause the foot bones to deform after a long time of wearing cowboy boots. I don't quite like seeing you feel so bad about your feet when it comes to wearing cowboy boots at work.
For me, it's been a really fun experience. So, I hope this article is helpful to you in figuring out which toe boxes work best for your case.
Howdy y'all, and welcome to From The Guest Room, your ultimate guide to all things Western! I'm Jay Gatz, a lifelong cowboy boot enthusiast with over 5 years of experience in the Western style world. I'm excited to share my knowledge with you and help you discover the perfect cowboy boots and western gear to elevate your style. Let's explore the rich history and timeless appeal of Western fashion together!