When you buy any footwear, you will care about the fit of the foot or ankle. But with cowboy boots, you need to pay attention to the calves as well.
Cowboy boots usually go up to 11 inches high and can completely irritate your calves if they don't have a good fit. It happens even more often when you have big calves.
Well, it's a dilemma, do cowboy boots fit well with wide calves?
This article is the answer for you!
Do any Cowboy Boots Fit my Wide Calves?
It can be said that cowboy boots today have a very good fit for many different types of foot thanks to the creativity and understanding of the bootmakers.
Whether you have a wide foot or narrow foot, there is always a cowboy boot that fits your specific type. And the same is true for big calves.
Today, many manufacturers have deliberately created cowboy boots with much wider leather around the calf for people with wide calves.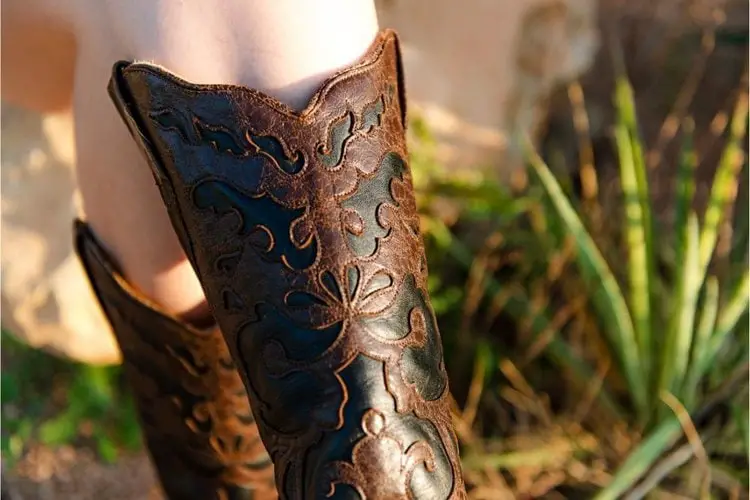 However, the number of cowboy boots that can fit wide calves is not as many as regular cowboy boots, so when choosing cowboy boots, you will have many things to keep in mind.
Some manufacturers will clarify this in the product description, others will not. So, for those with wide calves, in case you want to buy online, you may need to read the product description carefully, or read the reviews of people who have purchased and used them before you.
In another article, we have compiled a lot of beautiful cowboy boots that fit wide calves, you may need them!
In addition to the traditional cowboy boots with too high shafts that can interfere with the wide calf, you may want to check out more boots with roper style, booties or ankle style.
That's because roper boots, booties or ankle boots don't usually reach mid-calf, so they won't disturb your wide calves.
Roper boots are usually around 8 or 9 inches high and are very popular with men. 
Ankle boots are slightly above the ankle, while western booties are below the ankle. Both types of boots are very popular with women.
If you own cowboy boots whose leather around the calf is too narrow, making it difficult for you to wear and put on. Maybe you should return them if you can. Otherwise, we have some methods to stretch leather around the calf here!
How do Cowboy Boots Fit Big Calves?
The best thing you can do is ask the manufacturer and read the product description or buyer reviews first. The above 3 things will ensure your cowboy boots fit wide calves.
If not, you may be interested in methods of stretching cowboy boots at the shaft, the most common ways are using a boot shaft stretcher, boot stretch spray or steaming them.
FootFitter Cast Aluminum Combination Boot Instep and Shaft Stretcher
We all agree that cowboy boots look best when the leather around the calf isn't too wide, which means your calves should almost fill them. This is true for big calves as well.
For girls who like to show off entire cowboy boots (including the shafts), leather around the calf that is too narrow will not only make you uncomfortable, it will also make you look bigger and even shorter.
Cowboy boots with leather around the calf should not be too wide, or they will make girls look sloppy. If men tuck cowboy boots into pants, the shaft will print on the pants for sure. This is absolutely not good in terms of aesthetics.
In general, cowboy boots should have leather around the calf that is neither too wide nor too narrow.
Your wide calves should almost fill the leather around the calf, but still leave a little room for a beautiful, neat, and possibly slimmer, longer look.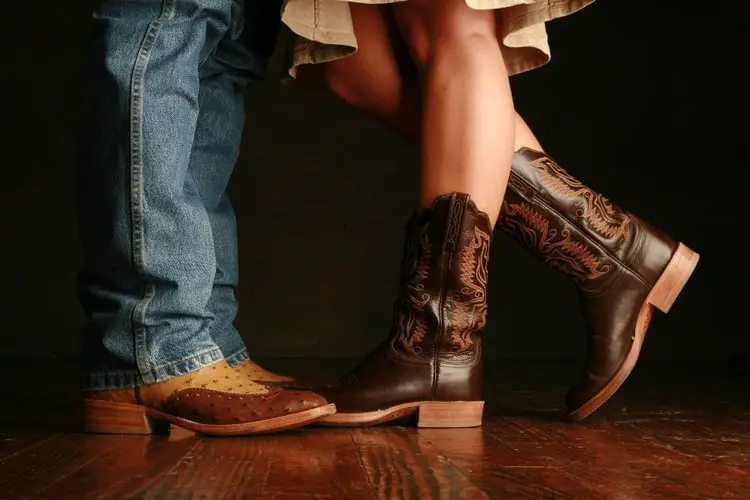 Conclusion
In short, cowboy boots nowadays can fit wide calves, but not all of them can. So, spend your time searching for the right one for you.
To check it, cowboy boots may have a note in the product description for you. Otherwise, ask the store owner, or go to the store to try it on in person, or read all the user reviews with real experience to know more. These are good ways to find your love.
If you are a man, you should consider roper boots, while it is a western bootie or ankle boots for women. What those boots have in common is that they don't reach mid-calf, the widest part of your calf. They won't disturb your wide calves.
If you've bought a pair of cowboy boots that don't fit your calves and can't be returned, there are ways to save them. You can stretch the leather around the calf with a boot stretcher, boot stretch spray, or steam them.
Overall, don't worry, be patient, it always has cowboy boots that match your wide calves!
Howdy y'all! I'm Grace, a Western style enthusiast with over 5 years of experience. From cowboy boots to western gear, I'm passionate about all things Western and dedicated to helping you find the perfect style to suit your taste. Join me and my fiancé Jay Gatz as we explore the rich history and timeless appeal of Western fashion together!