One thing is for sure, you will never misidentify between cowboy boots and lace-up boots.
Lace-up boots, as the name implies, are more of a fashion item with dense lace strings running from top to vamp.
Meanwhile, cowboy boots represent a generation of laceless footwear, so you will never see cowboy boots with laces (if they do, they are not real cowboy boots).
If you are wondering which footwear to spend your money on, this article is for you. Hopefully, by the end, you'll know what's best for you!
Let's dive in!
Something you need to know about Cowboy Boots vs Lace Up Boots
First, let's take an overall look at two types of boots!
Last update on 2023-09-23 / Affiliate links / Images from Amazon Product Advertising API
Boot construction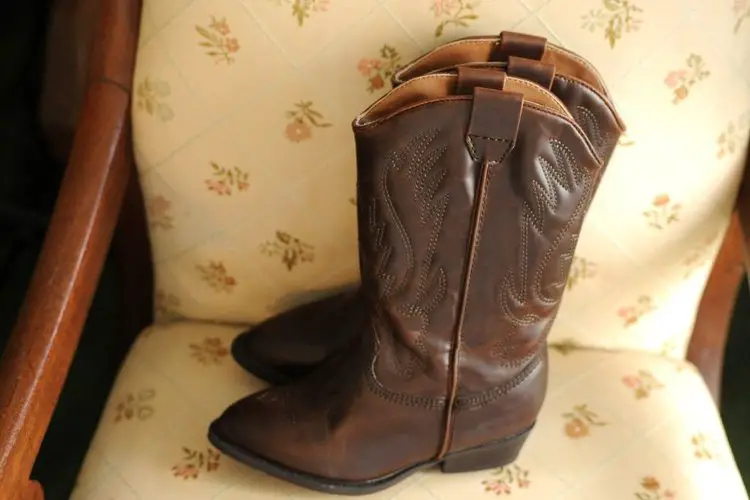 Cowboy boots are really a work of the typical fashion culture in America. They are symbols of freedom, wildness and convenience. That's also why they don't have shoelaces.
Regarding the structure of cowboy boots, the first thing to mention is the length of the boot body.
They range from above 10″ (classic cowboy boots) up to 14″-16″ (Buckaroo boots). The toes often form a strict shape like a square, snip or round, depending on the intended use. The heel of the boots is also an interesting feature.
They are usually 1.5″ high, made of layers of leather layered on top of each other and machined to have considerable stiffness, helping to stabilize the step.
The shaft of the heels is slightly curved inward instead of perpendicular to the ground as usual, helping to keep stirrups stable while riding.
The shaft of cowboy boots is vastly different from lace-up boots. It extends slightly from the ankle upwards and ends with a nice deep V-cut (scallop).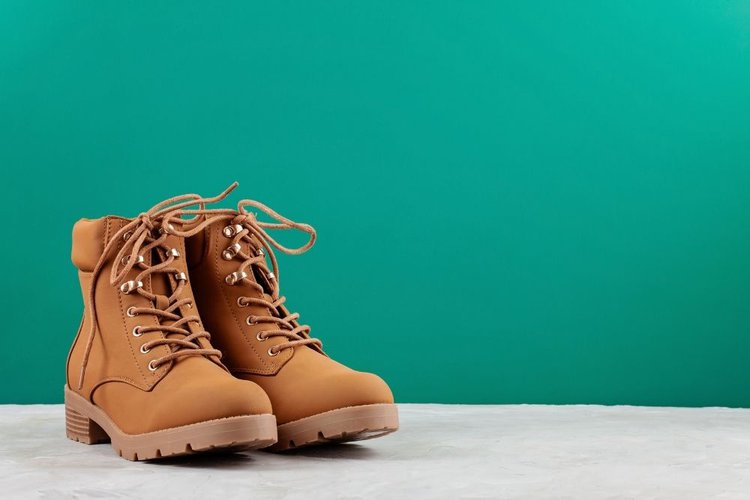 Lace-up boots have a relatively simpler structure and are not as sophisticated as cowboy boots.
Their biggest feature is the lacing system that stretches from the top to the bottom of the boots' vamp.
In addition, the heels of boots are rarely as small and narrow as the heels of cowboy boots. Most lace-up boots adapt to square-off heels. You will also rarely find these boots with square toes or snip toes.
Most of them are round and more elongated in shape. The shaft length of lace-up boots is also quite customizable. They can be as high as the ankles and can also reach up to just above the knee.
The shafts of lace-up boots fit snugly around the ankles and calves thanks to their lacing system.
One thing is certain: the length of the lacing system from the top to the vamp of the boots is proportional to the length of the boots.
As long as the boots have laces that extend from the top to the vamp, they can all be called "lace-up boots" regardless of the shape of their designed toes, heels, or cut-out shafts.
Materials
Most cowboy boots are made from real leather. Others may prefer suede or nubuck for their softness, and very rarely are cowboy boots made from faux leather.
But you'll never find cowboy boots made from woven fabrics. There is a huge difference between these boots and lace-up boots.
In addition, real players are always looking for cowboy boots made from exotic leather such as ostrich skin, crocodile skin, lizard skin, snake skin, or sheep skin, which show class and luxury. These boots can literally cost a leg and an arm.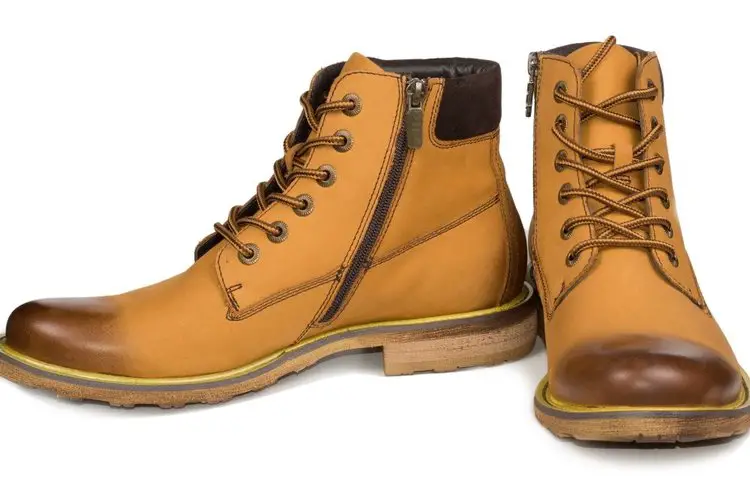 In terms of materials, lace-up boots are somewhat more popular. I often see a lot of these boots that are made of faux, suede, nubuck, woven, or even mesh (you heard it right, it's mesh).
Some high-end footwear manufacturers also produce lace-up boots made from genuine leather. However, the sales capacity of this boot line is not very good.
This is because lace-up boots are considered more of a fashion item than daily work-and-live boots like cowboy boots.
Therefore, the change in style according to the trend makes the wearer quickly want to change to a new design. So they don't seem to be made for last.
That's why they incorporate glossy faux as the main material. However, they look exceptionally unique, dynamic, and fancy. Lace-up boots with a high shine are often preferred.
Origin
Cowboy boots are noted for appearing in the late 18th and early 19th centuries. They were designed and made with the purpose of making riding easier.
Today, cowboy boots are further developed with the cowboy work boots line that inherits the design of Roper-style boots. They also add foot support, water resistance, anti-slip soles and toe caps to protect the toes.
There is almost no document that specifically records the time that lace up boots were invented. But I believe that the Victorian lace up boots designs of the 1950s are the earliest versions of this line of boots.
Some designs with small, pointed heels and tapered round toes were worn by aristocratic women of that time. Other designs with flat, low heels are worn by the lower class to easily commute to work.
Functions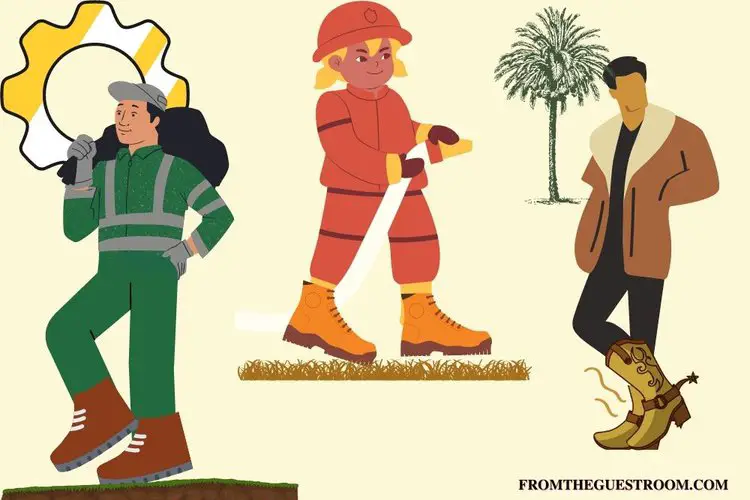 Functionally, both cowboy boots and lace-up boots are used for a variety of purposes, from indoors to out on the street and at work.
Some special lines of cowboy boots and lace-up boots are integrated with important foot support and protection features so they can function as heavy-abused work boots.
However, in terms of being a part of business attire, classic cowboy boots with snip toe designs highlight professionalism and courtesy more than lace-up boots.
Many people will think you're wearing stylish dress shoes underneath your pants if they only see the vamp and snip toes of your boots that you reveal. Therefore, these boots are also suitable for formal business purposes.
Lace-up boots have a design that seems to express style, fashion and freedom more clearly.
They will probably function as motorcycle boots or hiking boots, but are rarely recommended to be worn to professional meetings. This is partly due to the dense lanyard design that creates the confusion and untidiness that professional work environments do not like.
Cowboy Boots vs Lace Up Boots
The biggest difference between cowboy boots and lace up boots, of course, is the dense lacing system in its structure. But that's not all, though!
Durability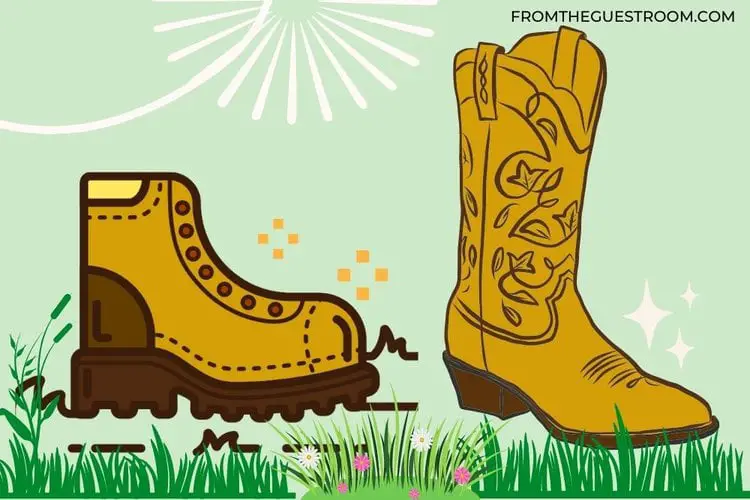 I would go for cowboy boots in this regard. Considering the construction of 90% real leather in cowboy boots, there is no doubt that cowboy boots can last more than 10 years with proper care.
In addition, the stitching method used to stitch the parts of the boots together is also said to be more resistant to water and water-based liquids than the modern gluing method.
They don't come apart easily, so cowboy boots won't require constant stitching repair. My cowboy boots are more than 5 years old and still in good use. I even just dried them in a well-ventilated place without any other special care.
Lace-up boots obviously have a shorter lifespan than cowboy boots. They are usually made from faux leather or fabrics that are certainly not as durable as real leather.
In addition, having to constantly untie the laces can increase the risk of damage to these components more quickly, prompting you to seek immediate repair. Some lines of lace-up boots that use the gluing method are likely to fall apart faster when exposed to water very often.
Style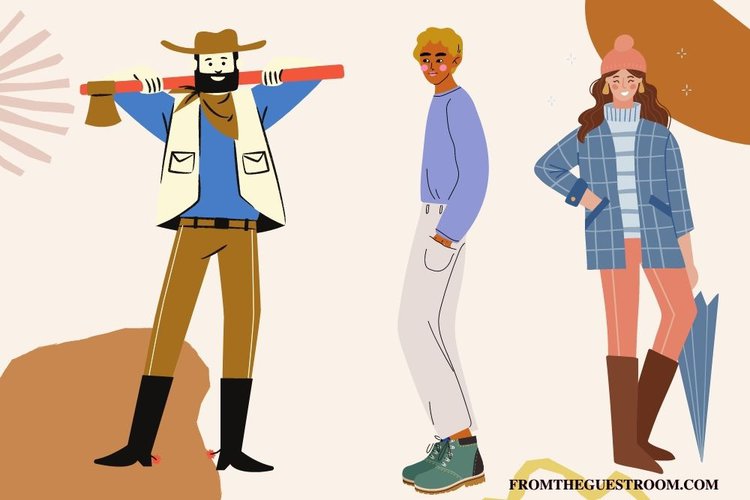 Regarding the variety of shapes, I would give lace-up boots 1 point. They come in a million different styles, including monstrous designs with unbelievable cut-outs, as long as they provide a lace system from the top to the vamp of the boots.
In terms of the variety of materials and decorations, cowboy boots are superior. These boots are decorated with embroidered, engraved, touched, or punched patterns (usually western-inspired patterns) all over the boot shaft.
In addition, genuine leather materials such as cowhide, goatskin, or special exotic leathers also make these cowboy boots valuable and impressive.
Protection & Safety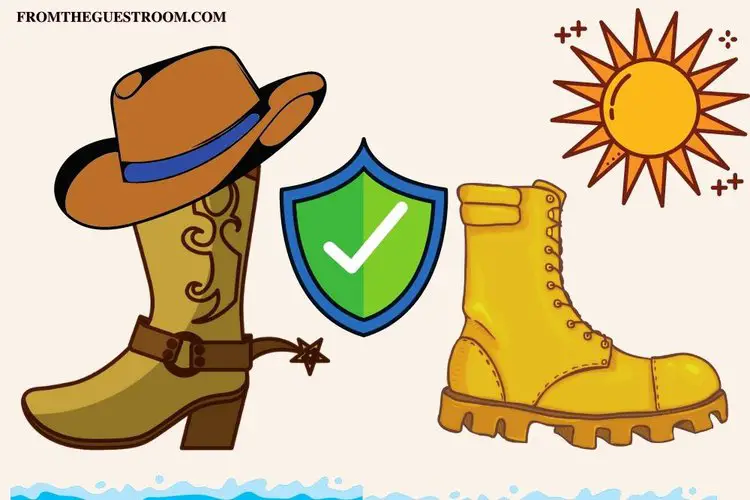 I would give cowboy boots 1 point in this regard due to their mid-calf tough real leather construction. Let me explain!
Most cowboy boots cover all of your feet and legs from mid-calf to above, which means they tend to protect you better from external forces or unexpected splashing. Real leather is also fireproof and does not conduct heat.
Therefore, if you have to work around hot metal environments, you will not be at risk of burns and your boots will not often get deformed. As a result, you will be protected for longer.
The majority of lace-up boots are just ankle high or a little above. They are made of faux leather, which can burn and conduct heat. As a result, you will still have the possibility of minor burns from the hot gas and won't get better protection from the boots.
In addition, dense lace systems may look great in an outing outfit, but they can slip off and cause a fall if the wearer accidentally steps on them.
However, one plus point for lace-up boots is that their rubber soles often come with deep grooves that are excellent for anti-slip. Meanwhile, cowboy boots often send off some sleek leather outsoles, causing wearers to easily slip and fall on slippery and greasy surfaces.
Comfortability
Experiencing lace-up boots is much more enjoyable than wearing most cowboy boots since most cowboy boots will take too long to break in. You often don't encounter blisters and pain during this process.
The reason is that the faux leather is softer and more supple. They mold to the feet and legs well after just a few walks.
In addition, the dense lace system holds up the feet and legs much better. They don't make you tirelessly search for different methods to fill the ankle gaps or mid-calf gaps like when wearing cowboy boots.
Thanks to that, they are a good choice to use as a pair of motorcycle boots.
Lace-up boots' heels and toes do not irritate your feet as much as cowboy boots' snip toes or cowboy heels. Most lace-up boots come with thick and squared-off heels, reducing pressure on the feet when walking for more than 10 hours a day.
Convenience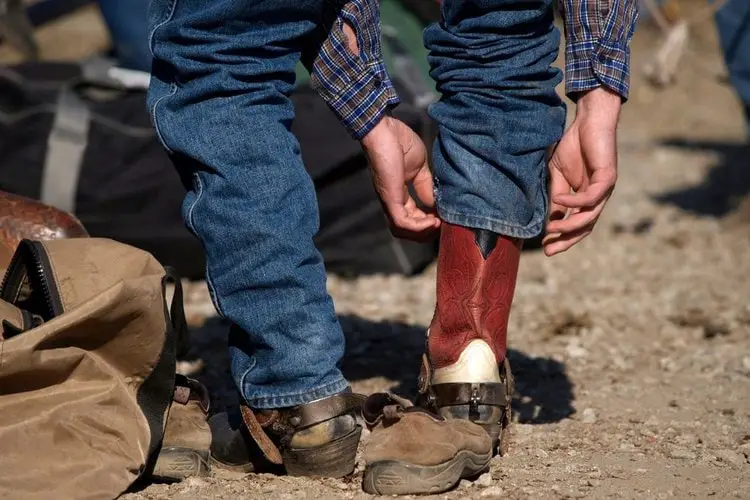 I would give cowboy boots 1 point on this criterion.
I understand that waking up every morning and trying to tighten dozens of shoelaces on lace-up boots before being ready to go to work is a nightmare. In addition, if a lace hole is damaged, it can take a long time to find a repair for your boots.
Lace-up boots are especially troublesome when you start the process of washing, drying, and making them ready to wear.
You would have to remove all the shoelaces that are tens of inches long, wash and dry them, and then reassemble them into the boot structure (I really don't want to think about this any further).
Cowboy boots work almost like slippers. You simply put your feet up and you are ready to go to work. In addition, cleaning and washing them is also very simple and not really time-consuming.
Comparison Table
Below is a visual comparison of the above features between cowboy boots and lace up boots that I've stated above.
| | | |
| --- | --- | --- |
| Features | Cowboy boots | Lace-up boots |
| Comfortability | ⭐⭐⭐ | ⭐⭐⭐⭐ |
| Durability | ⭐⭐⭐⭐⭐ | ⭐⭐⭐ |
| Protection & Safety | ⭐⭐⭐⭐ | ⭐⭐⭐⭐ |
| Style | ⭐⭐⭐⭐ | ⭐⭐⭐⭐ |
| Convenience | ⭐⭐⭐⭐ | ⭐⭐⭐ |
Some last words…
Cowboy boots and lace-up boots have opposite characteristics. If you love American cowboy culture and the elegance of classic cowboy boots, you will be addicted to these boots.
But if you are a fan of young, dynamic, and unique fashion styles, lace-up boots will be more suitable for you. I have both lines of boots in my closet.
I usually wear cowboy boots for work and will go with lace-up boots for picnics with friends and family. I hope you find interesting information in this article.
Howdy y'all, and welcome to From The Guest Room, your ultimate guide to all things Western! I'm Jay Gatz, a lifelong cowboy boot enthusiast with over 5 years of experience in the Western style world. I'm excited to share my knowledge with you and help you discover the perfect cowboy boots and western gear to elevate your style. Let's explore the rich history and timeless appeal of Western fashion together!