When it comes to fashion, some combinations stand the test of time. The pairing of a lace dress with cowboy boots is a prime example of a style fusion that transcends trends and seasons.
If styled with care and creativity, these outfits can become your go-to choice for twelve months a year, through every season.
It's a combination that exudes a unique charm, offering a delightful blend of elegance and rugged, Western allure.
So, let's explore how to master the art of combining lace dresses with cowboy boots to create looks that are as sweet as they are timeless.
1. Casual Chic and Stay Cool and Stylish on Hot Days
For those days when you're looking to effortlessly blend comfort and style, a white lace dress paired with cowboy boots is your ultimate go-to choice.
This combination exudes a laid-back vibe that's perfect for casual wear. The elegance of the lace dress harmoniously merges with the rugged charm of cowboy boots to create a look that's as comfortable as it is stylish.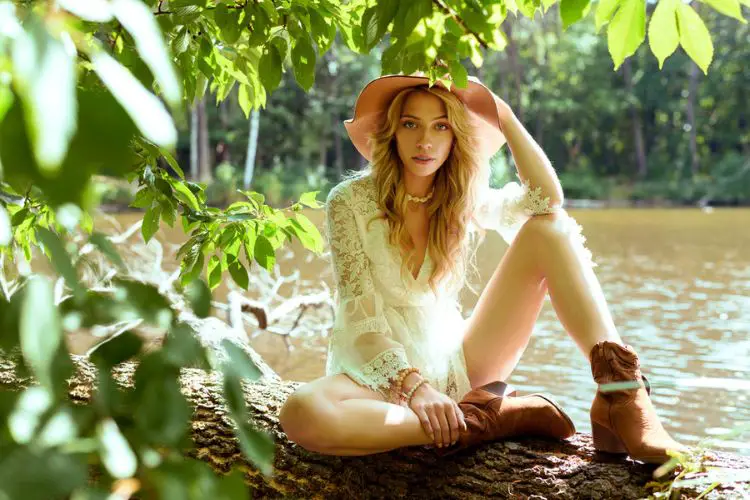 When the sun is scorching and the temperature is rising, it's essential to stay comfortable without compromising on style. Opt for a thigh-length lace dress in these conditions.
The shorter length not only adds a touch of flirtatious charm to your outfit but also keeps you feeling cooler on those sweltering days.
A V-neckline or a two-strap lace dress enhances the cooling effect, allowing for better air circulation and comfort.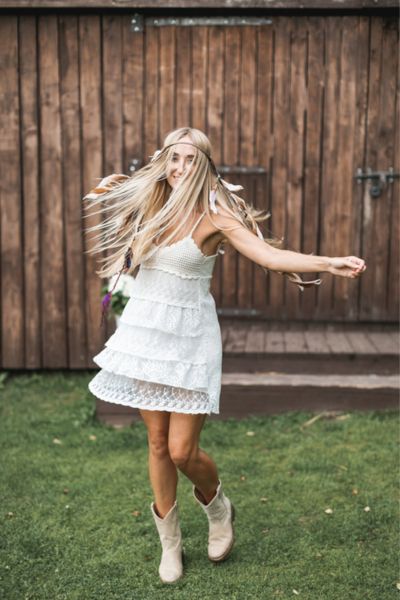 Whether you're heading to a summer festival, a backyard barbecue, or a casual outdoor gathering, this combination ensures you'll look and feel your best, even in the most scorching weather.
2. Versatility for Beautiful Weather
On days blessed with beautiful weather, your lace dress options open up to a whole new level of versatility.
Choosing a lace dress with a slightly thicker texture adds depth and character to your outfit while still keeping you comfortable.
This texture not only enhances the visual appeal but also feels substantial enough to maintain its structure gracefully.
Imagine yourself in a white dress with long lace sleeves – a choice that exudes elegance. To make it even more charming, pair this dress with suede cowboy boots.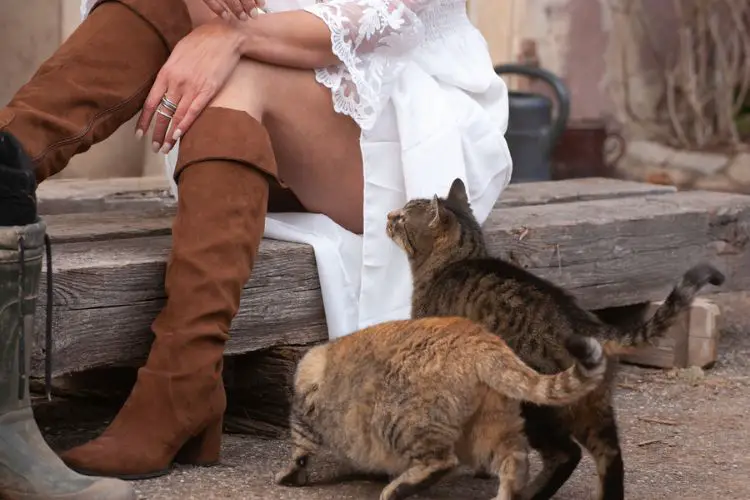 The long lace sleeves add a touch of romance to your outfit, and the soft, suede texture of cowboy boots complements this femininity beautifully.
For those who want to add a touch of drama to their outfit, opt for a high-low lace dress. This style allows you to showcase your cowboy boots while still enjoying the elegance of a lace dress.
The high-low design adds a dynamic element to your look, making it perfect for garden parties, evening outings, or any occasion where you want to make a stylish statement.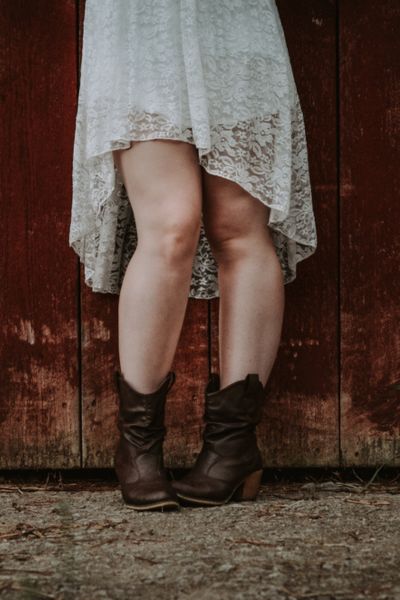 With textured lace dresses and these varied styles at your disposal, you can embrace the beauty of the weather while staying true to your fashion sensibilities.
For a laid-back, casual ensemble, combine your dotted lace dress with a pair of well-worn cowboy boots.
This combination exudes a sense of effortless charm, making it suitable for everyday wear. Whether you're running errands or meeting friends for brunch, this outfit strikes the right balance between comfort and style.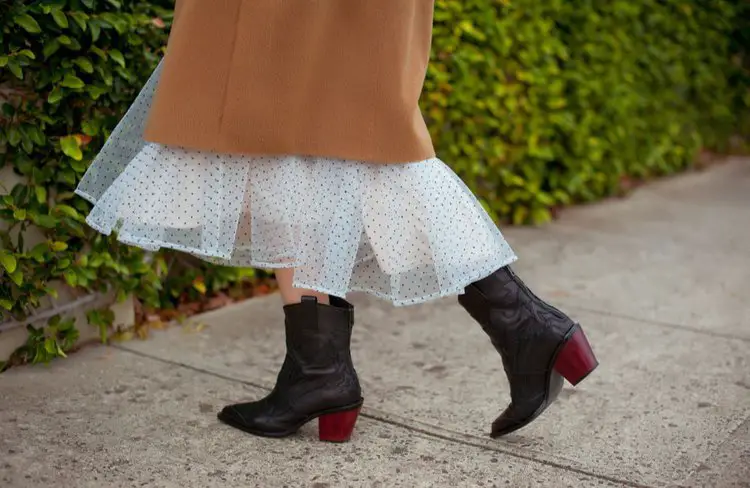 On the other hand, if you're aiming for a more sophisticated appearance, the dotted lace dress can be dressed up with the right accessories and footwear.
Add a statement belt and heeled cowboy boots to transform this outfit into a chic, evening-ready ensemble. It's the ideal choice for dinners, parties, or date nights when you want to make a lasting impression.
3. Boho-Chic with a Twist
Moreover, when it comes to style, the possibilities are endless. Consider embracing the boho chic aesthetic with a lace dress that features free-spirited patterns and designs.
The bohemian lace dress, paired with your trusty cowboy boots, creates a relaxed, yet fashion-forward look that's perfect for outdoor events, picnics, or summer concerts.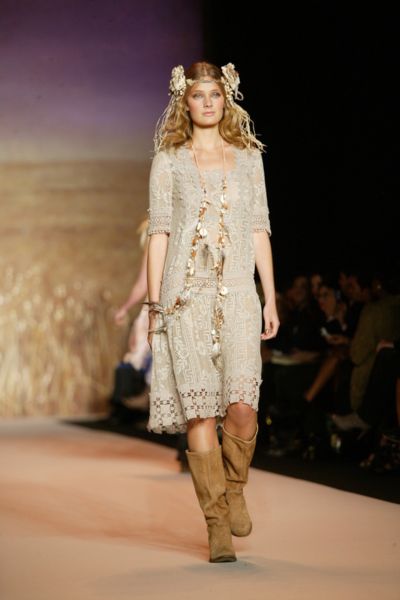 For those with an adventurous spirit and a flair for fashion, the fusion of colored cowboy boots with a floral lace dress is a recipe for a truly unique boho look.
This dynamic combination adds a pop of personality to your outfit and allows you to make a statement, especially if you're a style sensation in the city.
To achieve this boho-chic aesthetic, begin with a vibrant floral lace dress that exudes a sense of whimsy.
Choose a color palette that resonates with your personality and complements your colored cowboy boots.
These boots, with their distinctive shades, will undoubtedly draw attention and serve as the centerpiece of your ensemble.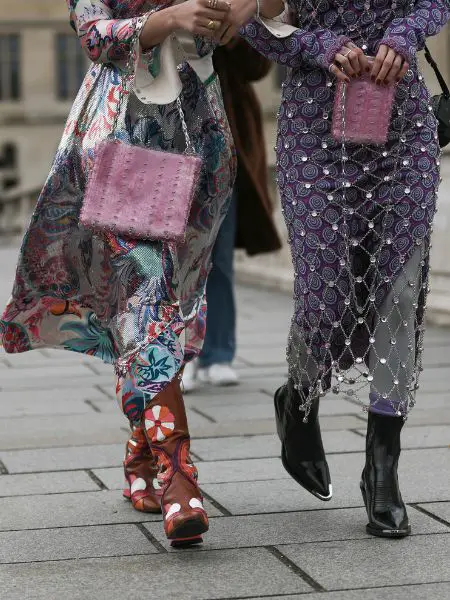 If you're looking for an edgier twist on the boho theme, consider a lace dress with a tight fit adorned with shiny studs.
Paired with traditional cowboy boots or western booties, this ensemble offers a contemporary take on the Western trend, ideal for those who aren't afraid to experiment with their style.
One crucial aspect of this combination is sensational styling. Opt for accessories that enhance the boho vibe, such as layered necklaces, fringe bags, or a wide-brimmed hat.
These elements will complete your look and make you stand out in the urban fashion scene.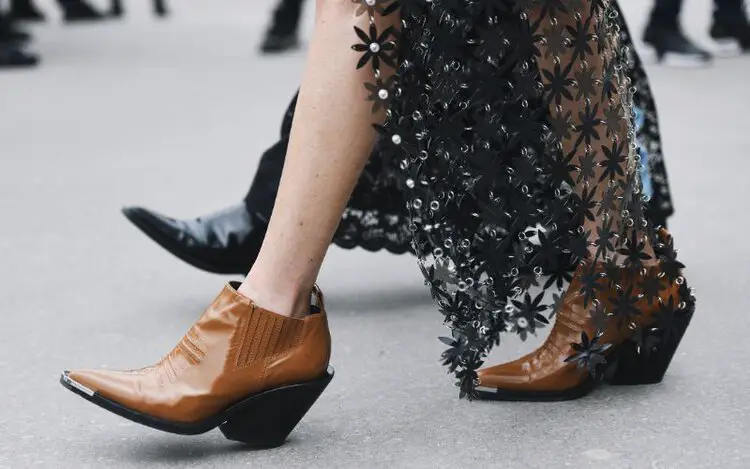 And don't forget to pair your outfit with a stylish handbag, as it can significantly elevate the overall impact of your ensemble.
Whether it's a crossbody bag, a tote, or a clutch, the right handbag choice adds a touch of sophistication to your boho-chic look.
4. Lace Elegance on the Wedding Day
The allure of lace extends beyond everyday fashion; it also finds a special place on one of the most significant days in a person's life—the wedding day.
Lace dresses are a popular choice for bridesmaids and brides alike, and they add a touch of timeless elegance to any wedding ceremony.
For bridesmaids, consider the classic and romantic off-shoulder knee-length lace dresses in a blue theme. This choice not only adds a pop of color but also radiates a sense of charm and sophistication.
Bridesmaids standing around the bride, who wears a resplendent white lace bridal wedding dress, create a visual masterpiece that captures the essence of a stunning wedding.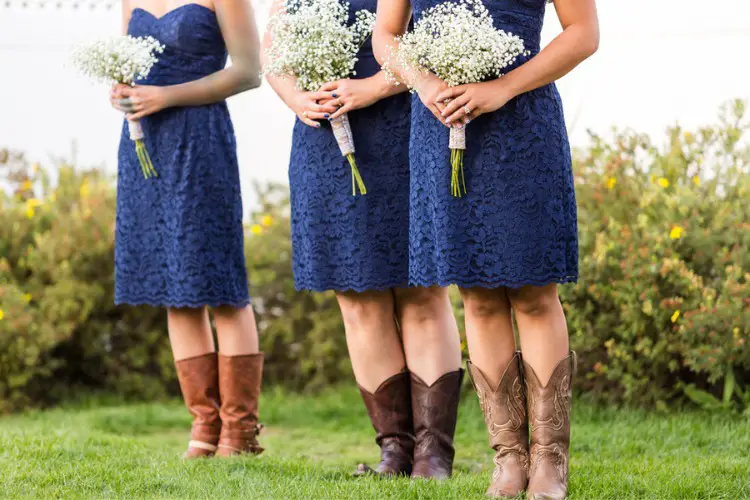 The contrast of blue against the bride's pristine white gown creates a striking and memorable visual.
The bridesmaids' lace dresses complement the bridal dress beautifully, creating a cohesive and harmonious look.
This ensemble not only symbolizes the union of the couple but also celebrates the unity and support of the bridal party.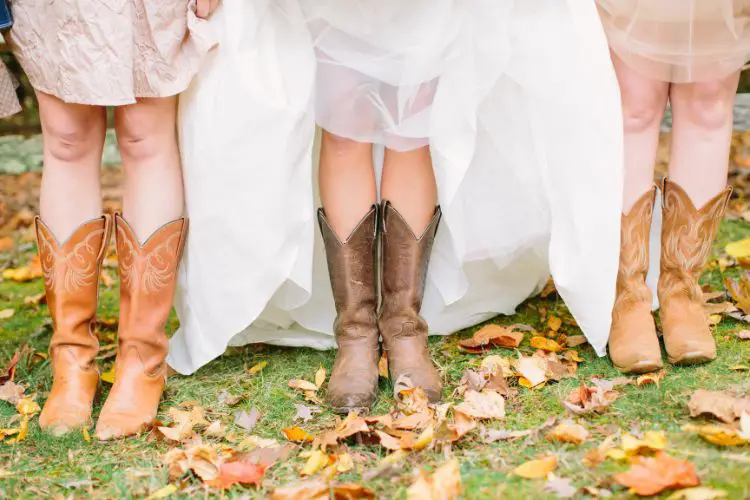 The combination of lace dresses for brides and bridesmaids on the wedding day is a testament to the enduring appeal of lace in the world of fashion.
It's a choice that transcends time, bringing a sense of elegance and romance to one of life's most cherished moments.
Accessorize with Style
To complete your lace dress and cowboy boots outfit, the right accessories play a pivotal role. They add that extra touch of flair and personalization, making your look truly your own.
Opt for a tote with a design that complements your lace dress and cowboy boots. It's perfect for carrying your essentials while maintaining a stylish appearance.
If you prefer a more streamlined and hands-free approach, a crossbody bag is an excellent choice. It's both functional and fashionable, and the right design can elevate your outfit to a whole new level.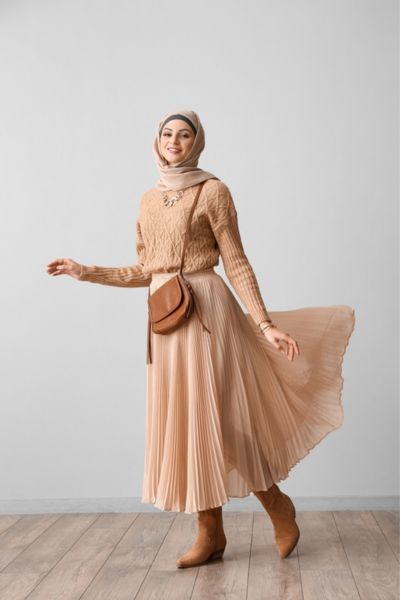 Whether you choose a delicate pendant, a statement choker, or layered necklaces, these adornments can draw attention to your neckline and add a touch of sophistication.
Select a necklace that complements the neckline of your lace dress, whether it's a V-neck, off-shoulder, or scoop neck.
Final Thoughts
To sum it up, lace dresses and cowboy boots make a winning fashion combo that stands the test of time. Whether you're going for a relaxed look, a chic boho style, or dressing up for a special occasion, these outfits have got you covered.
Don't forget to top off your outfit with the right accessories like tote bags, crossbody bags, or a pretty necklace. They can take your look from good to great.
So, when you're picking out what to wear, remember that lace dresses and cowboy boots are a classic choice that always looks sweet and stylish.
Howdy y'all, and welcome to From The Guest Room, your ultimate guide to all things Western! I'm Jay Gatz, a lifelong cowboy boot enthusiast with over 5 years of experience in the Western style world. I'm excited to share my knowledge with you and help you discover the perfect cowboy boots and western gear to elevate your style. Let's explore the rich history and timeless appeal of Western fashion together!