There are many ways to clean cowboy boots, some people use a leather cleaner, while others prefer to use a water hose.
In the world of cowboy boots, in addition to the two ways mentioned above, some people also like to use saddle soap to clean. So the answer to the main question is very simple, yes, you can use saddle soap to clean cowboy boots.
In fact, saddle soap is a familiar product and is used a lot to clean different types of leather items such as furniture.
While these are good and widely used methods, they still bear some risks. But the good news is that you can control those risks.
Today's article will give you the most comprehensive view on using saddle soap on cowboy boots.
Let's go!
Key takeaways
Saddle soap can be used very easily, quickly, and effectively on cowboy boots.
You only need to use a little warm water to soften the saddle soap to help apply it on a brush or cloth easily and start the cleaning process.
You can use saddle soap to clean stains, mud, water marks, dry rot, and mildew on cowboy boots.
What you need to keep in mind is that saddle soap can make your cowboy boots dry because it can sweep away natural oils and waxes. You should prepare a leather conditioner to fix that.
Some saddle soaps can darken the color of cowboy boots, especially light-colored ones. In addition, they may leave some residue on the surface.
Saddle soap may not be a good choice for suede, nubuck, or rough out. Because they can flatten the surface and leave some residue.
Saddle soap for cowboy boots: Good or Bad?
In fact, saddle soap today is very popular, not only used to clean saddles. You can see people using them to clean furniture, car seats, baseball gloves, and many other things made from leather, including footwear, and here are cowboy boots.
One main reason is that saddle soap is very effective when used to clean different types of stains on cowboy boots, including dirty mud, watermark, dry rot, mildew, mold, oil, etc. This is easy to explain since the composition of saddle soap has mild soap.
In addition, after using saddle soap to clean cowboy boots, the boots look newer and richer in color. Their dirt and water resistance ability are increased. This is largely due to preservatives such as neatsfoot oil or beeswax (depending on the manufacturer) in the saddle soap, which help condition and protect the boots.
Many people really like the way saddle soap removes stubborn mud and dirt. When compared to leather cleaners, saddle soap is even more appreciated.
Saddle soap is also very easy to use, store or carry because they are compact. Affordable price is also an important factor that makes them so "hot" in the world of cowboy boots.
What you need to do is put a little warm water (or even cold water) into the saddle soap to soften them, sweep the horsehair brush or cloth to get a bit of soap, and then rub it on the surface of cowboy boots until clean. Finally, wipe off the residue. For a more detail guide, you can check it here!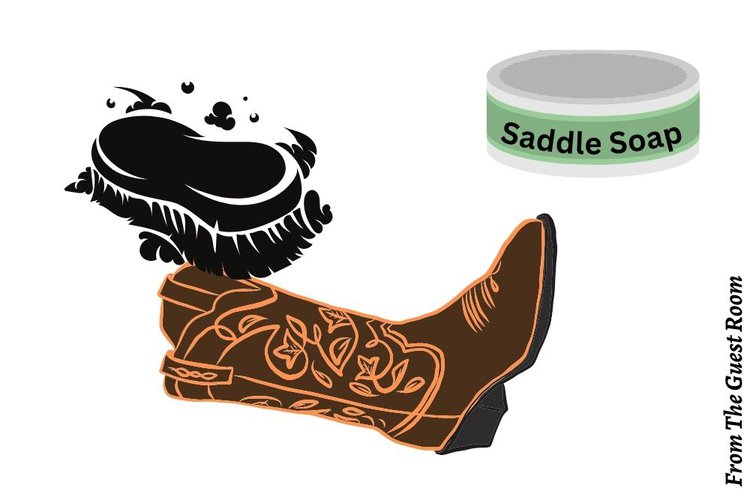 However, that's not to say that saddle soap is perfectly fine for cowboy boots. There are still some risks when using saddle soap on cowboy boots, but the great thing is that you can handle it.
We will let you know!
Some notes on using saddle soap to clean cowboy boots
As you know, most cowboy boots are made from full-grain leather, this is a high-quality material and is the least changed after the tanning process.
Therefore, full-grain leather has more natural oils and waxes than other leathers. It is also much more comfortable.
However, the problem is that those natural oils and waxes will be swept away over time due to saddle soap.
Some leather cleaners for cowboy boots like Bickmore's often come with good maintenance and moisture retention, while most saddle soaps don't have these features.
Last update on 2023-09-27 / Affiliate links / Images from Amazon Product Advertising API
The amount of oil (usually neatsfoot oil) or waxes (usually beeswax) of the saddle soap may not be enough to compensate for the natural oil of the leather they sweep away.
This causes cowboy boots to dry out over time, thereby reducing their inherent comfort. To make sure this won't happen, you need to add an extra step to maintain the boots. Use a leather conditioner or some oils like mink oil to moisturize them.
This ensures cowboy boots retain proper moisture and don't dry out.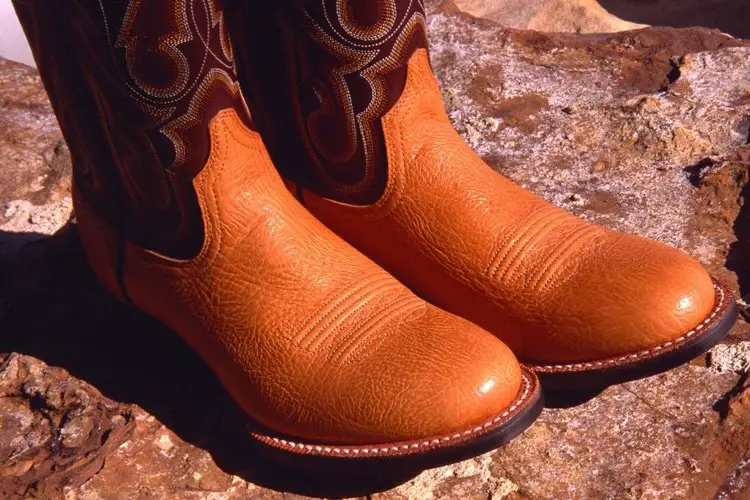 Another thing to note is that according to many people, saddle soap can darken the leather. Many people enjoy having cowboy boots in richer colors, while others do not. Another fun case is turning dark brown cowboy boots into tan color.
Although not all saddle soap causes the leather to be darkened, it is better to be careful.
If your cowboy boots are black, that's okay. But if they're white or light in color and you don't want to mess with that, maybe you should consider using a leather cleaner.
Also, it would be prudent to try a small amount of saddle soap on your cowboy boots before applying a large amount!
Saddle soap should also not be used to clean suede, nubuck, or rough-out leather. These types of leather are not as popular as full-grain leather, but in fact, many cowboy boots are still made from them.
The main reason is that the residue will easily get trapped between the fluff, a prominent feature of suede, nubuck, or rough-out leather! You will have a hard time removing it.
In addition, using saddle soap can also flatten their fuzzy surfaces.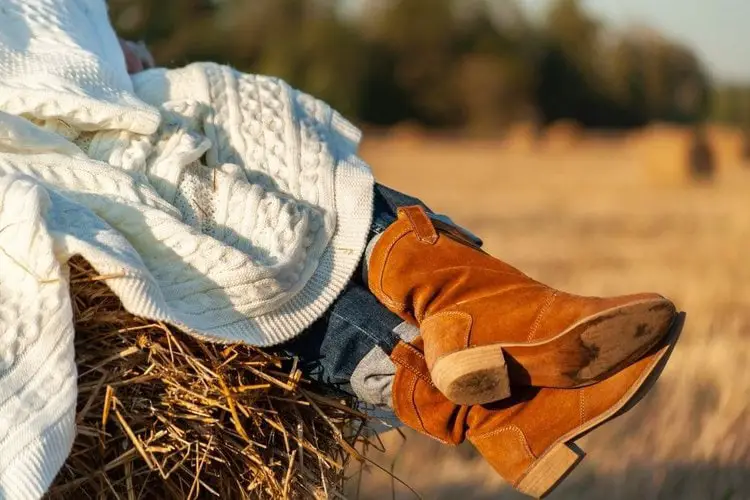 Speaking of excess residue, you also need to keep in mind that other leather cleaners with a foam-like texture don't leave residue, but saddle soap does.
So check the nooks and crannies of cowboy boots, and don't forget to use a warm, damp cloth to wipe away residue on cowboy boots to finish.
Before you leave
Overall, saddle soap is a versatile, effective, budget-friendly, and easy-to-use product that leather lovers should have, not just cowboy boots fans.
However, after using the saddle soap, you should use additional oils or leather conditioners to moisturize them, this ensures that cowboy boots do not dry out.
And don't forget to only use saddle soap for smooth leather, not napped leather like suede.
Finally, using a dry and damp cloth to clean the saddle soap residue will be essential.
Good luck!
Howdy y'all! I'm Grace, a Western style enthusiast with over 5 years of experience. From cowboy boots to western gear, I'm passionate about all things Western and dedicated to helping you find the perfect style to suit your taste. Join me and my fiancé Jay Gatz as we explore the rich history and timeless appeal of Western fashion together!