As one of the most versatile footwear in the world, cowboy boots have always been the pride of Westerners as these boots can carry most of their work, both indoors and outdoors.
There are many different questions about cowboy boots that we have answered before. Are cowboy boots suitable for suits? Can cowboy boots be worn as a casual dress? Or should they appear on construction sites?
Well, most of the answers to the above questions are positive. However, on today's topic, even a longtime fan of cowboy boots like me, finds it difficult to get a positive answer.
Many people wonder if they can run in cowboy boots. Well, this is not easy because cowboy boots are not really made to serve runners for various reasons.
For the best overview, I'll tell you why right below!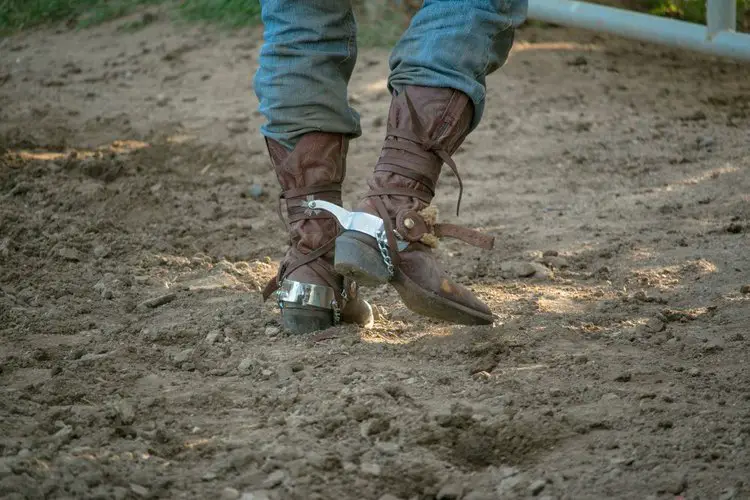 Can You Run in Cowboy Boots?
After reading Shoe Dog: A Memoir by the Creator of Nike about the journey of this famous brand and its founder Phil Knight, it is hard for me to say that cowboy boots are a good choice for running.
One of the interesting math I read from Shoe Dog is that for each pair of shoes that is 1 ounce lighter, a 6-foot tall person will reduce the burden of 55 pounds when running 1 mile (with 880 steps).
That means the weight of the footwear matters a lot when you run!
Nike running shoes typically range in weight from 6.5 to 13 ounces. So with cowboy boots weighing about 3.5 to 5 lbs, they are not really ideal for you to run on them for long distances.
You will get tired quickly!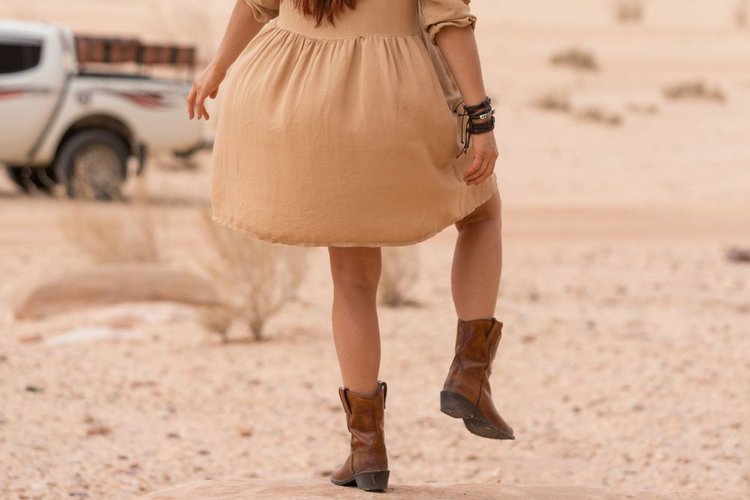 Most running shoes are made from lightweight materials such as fabric to reduce weight. Meanwhile, the majority of good cowboy boots are entirely made from 100% leather. That's why cowboy boots are much heavier than running shoes.
Another factor that influences the use of cowboy boots is that they do not have laces. Having shoes with laces will make it easy for you to tighten them to the extent you want.
But with cowboy boots, choosing the right size at the beginning is very important. If the top of the feet doesn't fit, the boots won't fit and you can't run in them.
Even if you choose the right cowboy boots and keep using them for long runs, the leather will quickly stretch and no longer hold up well. The weight of cowboy boots will cause them to slip off your feet.
You can try to ask some soccer players, after soccer shoe manufacturers launched soccer boots without laces, they complained about these boots not providing the desired fit like lace-up shoes.
Even though soccer shoes are specialized shoes for running, problems still arise! Do you think cowboy boots are really good enough for running?
Finally, most traditional cowboy boots do not have as good support as sneakers, typically arch support.
Cowboy boots often have a flat insole that doesn't support the arch, so the pressure on your arch, ankle, knee or back will be greater than when wearing running shoes.
Although nowadays, some big cowboy boot brands like Tecovas or Ariat have paid attention to adding arch support to cowboy boots. But most traditional bootmakers don't really take that into account.
Another thing is that you can hardly run in traditional cowboy boots with leather soles because they are slippery due to the flat bottom and no lugs.
Traditional cowboy boots, if not chosen wisely, will not have enough room in the toe box to avoid toe problems, especially those with pointed toes. Besides, the high heel of traditional cowboy boots is also not a good choice for you to have good balance when running.
Well, the post so far seems negative. But in conclusion, using cowboy boots for long runs or long distances is not really a good choice.
I think I should end the negative receiving part here.
Hey, I'm still a big fan of cowboy boots! So there will still be positive sides in this article!
Honestly, suppose you use còwboy boots for light running, it's completely possible.
As mentioned above, many boot brands today have begun to focus on developing technologies for cowboy boots so that they can better support the wearer's feet like the familiar EVA midsole.
That's why you can go hiking in cowboy boots, once you choose the right cowboy boots as I mentioned in this article!
Yeah, light running in cowboy boots is not impossible if you know how to choose the right type of boots. What kind of cowboy boots, you ask?
If you insist on running in cowboy boots, do a light run! But with some notes below!
Here, I sort out some improved features of cowboy boots to help you choose the ones for a light run. Let's check out these tips:
The heel of cowboy boots should have a flat, wide bottom and be no more than 1 1/2 inches high.
The shaft of cowboy boots should be only about 10 or 11 inches high – stockman or roper-style cowboy boots can be good choices. The short construction also makes them not too heavy to affect your runs.
Cowboy boots should have a roomy toe box, opt for boots with round toe or square toe instead of pointed toe or snip toe.
Cowboy boots must fit snugly at the top of the foot and have a proper break-in period.
Cowboy boots should have a shank for good stability. Besides, choosing cowboy boots with good arch support, you should look to Ariat or Tecovas!
The bottom of cowboy boots should be wide and flat to provide a good balance. You will need rubber soles to make sure they provide enough traction for every step.
And remember, you should only do light runs with cowboy boots! If you want to have a long-distance run, then specialized running shoes will do the job, not cowboy boots.
Choose cowboy boots with leather lining, as they absorb sweat better and are more breathable than mesh ones.
Before you leave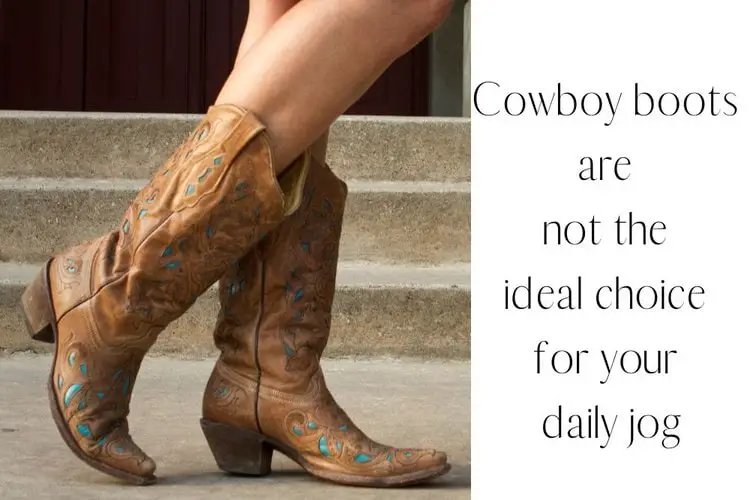 Overall, cowboy boots are not the ideal choice for your daily jog. You can run in them gently and when it's really necessary.
I'm a cowboy boots enthusiast and often use them for casual wear, rain, weddings or office, but running in cowboy boots is totally not my choice.
Cowboy boots can be very comfortable and durable, but for comfortable and easy running you will need more than that.
How about you? What do you think about this topic?
Howdy y'all, and welcome to From The Guest Room, your ultimate guide to all things Western! I'm Jay Gatz, a lifelong cowboy boot enthusiast with over 5 years of experience in the Western style world. I'm excited to share my knowledge with you and help you discover the perfect cowboy boots and western gear to elevate your style. Let's explore the rich history and timeless appeal of Western fashion together!