It is quite certain that in the early days, cowboy boots were mainly used for men. This is quite easy to explain, cowboy boots were born as a type of boots specialized for working on the ranch. People who use them are farmers, also known as cowboys.
The jobs on the ranch are often heavy, and men are the ones who can handle them better. Cowboy boots were born to help do these jobs, and they gradually became popular with time.
Even so, everything is continuously changing and cowboy boots are becoming closer to the masses. Today, cowboy boots are no longer just used as a type of work boots, but also worn as an expensive fashion accessory.
With the growth of use and taste, fashion can be interchangeable between men and women. Cowboy boots are no exception, I can tell you that they are unisex these days. And their diversity makes them become multifunctional so that you can use them for many purposes as well as going to different places.
Coming back to our topic, let's see why cowboy boots can be unisex. Shall we?
Key takeaways
Cowboy boots today are very popular for both men and women. They offer different structures to serve a variety of purposes.
Bootmakers usually have two categories of cowboy boots, one for men and one for women. The construction of cowboy boots for men will have some differences from women's.
Although these cowboy boots are now unisex, their customer base is still mostly men. As men usually utilize these boots for work more.
Women can still use men's cowboy boots because, in fact, there are many cowboy boots that are suitable for both genders on the market.
Can Cowboy Boots Be Worn By Both Men and Women?
Today, cowboy boots are very widely used by both men and women. You'll see them a lot on Texas ranches worn by cowboys or truckers. At the same time, you'll also find girls wearing fancy cowboy boots in big cities throughout America.
This is also easy to explain. The simplest and most obvious answer is that cowboy boots have evolved.
The change and development of cowboy boots mainly come from the structure, which in turn creates many different styles for them. From there, cowboy boots gradually became closer to the mass market, i.e. they became unisex.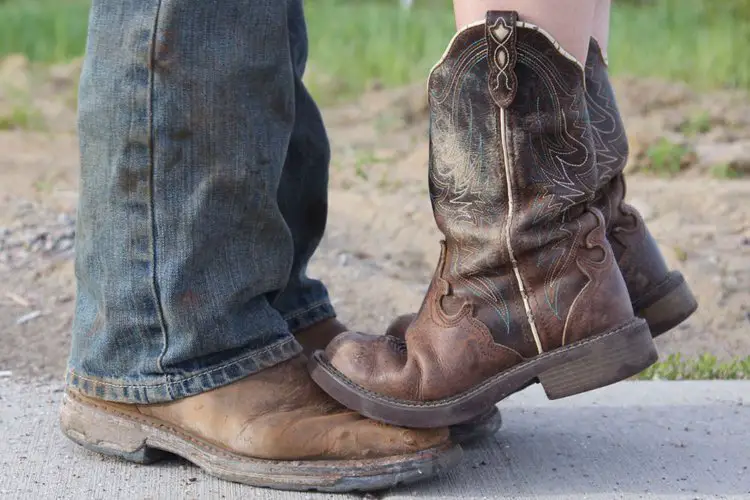 For men, you will see cowboy boots that are mainly classic in style and have simpler colors and textures than women's.
In addition to outdoor jobs, today many men prefer to use well-polished boots with an exotic leather surface to work in luxurious and polite places.
Meanwhile, for women, the way to use cowboy boots is somewhat more diverse. Women's cowboy boots are not only a traditional item but also a trendy fashion accessory.
You'll easily see girls wearing brightly colored cowboy boots on the city streets these days, not just the classic country ways.
Women also have the option of cowboy boots for work such as ranching (ranching has many different types of jobs), but the number of women's boots is generally less than men's.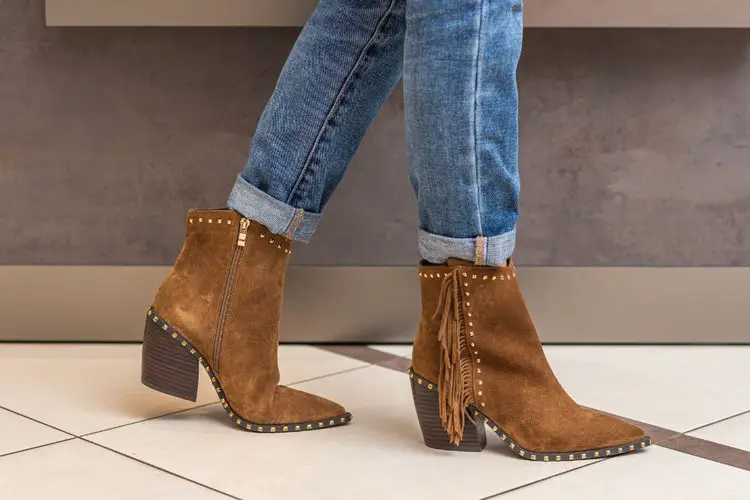 I might say too much, but just to show you, cowboy boots are unisex these days.
There still exist some differences between cowboy boots for men and women, you can learn more here!
Because of the great demand from women, bootmakers have understood that and launched many cowboy boots specifically for women in the market.
These boots often have a softer texture and more curves to create a feminine and seductive look.
Even so, if you are female and prefer a pair of men's cowboy boots, you can still wear them without hesitation.
In fact, a pair of cowboy boots can sometimes be worn by both men and women. For many boots, even though the manufacturer claims to be made specifically for men or women, in reality, the difference is not much or almost none.
As long as you feel beautiful and confident wearing those cowboy boots, everything else doesn't need to be a big deal.
In fact, many women still wear men's cowboy boots because these boots suit their taste. Because, in general, cowboy boots for men still are way more diverse. They can serve more purposes, both in terms of aesthetics and use.
As long as the boots suit your taste and purpose, don't worry too much! Ignore the bootmaker's description and give them a chance.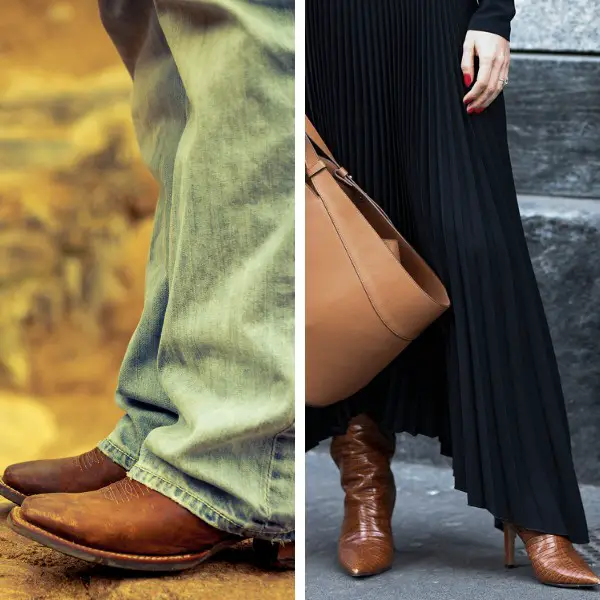 Before you leave
In short, cowboy boots today have a very diverse design and construction, they can serve the majority of the masses, including unisex style.
You can easily find a matching pair of cowboy boots regardless of gender at bootmakers' homepages, or stores.
And even if you're a woman and want to wear a pair of men's boots, that's okay, as long as you feel good.
Just that! I hope you got your answer now.
Howdy y'all, and welcome to From The Guest Room, your ultimate guide to all things Western! I'm Jay Gatz, a lifelong cowboy boot enthusiast with over 5 years of experience in the Western style world. I'm excited to share my knowledge with you and help you discover the perfect cowboy boots and western gear to elevate your style. Let's explore the rich history and timeless appeal of Western fashion together!